Abstract
Purpose
The Kellgren and Lawrence (K/L) system and Osteoarthritis Research Society International (OARSI) atlas are frequently used to define radiographic knee osteoarthritis (OA). The purpose of the current study was to determine the extent to which tibiofemoral OA rates differ between the K/L system and OARSI atlas criteria and to compare qualitative (K/L and OARSI) and quantitative (millimetres) measures of joint space narrowing (JSN).
Methods
Posteroanterior radiographs of 1,178 knees, from 621 individuals with varying severity of OA, were graded by a trained physician with the K/L system (grade 0–4) and the OARSI atlas (osteophytes/JSN graded 0–3). Using the K/L system, the presence of OA was defined with the traditional cut-off of ≥grade 2 (definite osteophyte and possible JSN) and an alternative cut-off of at least a definite osteophyte alone (≥grade 2/osteophyte). For the OARSI atlas, OA was considered present if the sum of osteophytes or JSN ≥grade 2, or grade 1 JSN occurred in combination with grade 1 osteophyte. Minimum joint space width (mJSW) was measured manually in millimetres.
Results
According to the K/L system (≥grade 2), 167 knees (14.2 %) had tibiofemoral OA and 203 (17.3 %) had ≥grade 2/osteophyte. In contrast, 309 knees (26.2 %) had tibiofemoral OA according to OARSI atlas criteria. K/L and OARSI JSN descriptions were significantly associated with mJSW (p < 0.022).
Conclusions
Radiographic tibiofemoral OA was almost twice as common using OARSI atlas criteria compared with the K/L system. This discrepancy is likely to contribute to the large variability of OA prevalence observed in the literature and is important for clinicians to consider when diagnosing radiographic OA. The cut-off for defining radiographic knee OA using the two systems should not be considered comparable.
Level of evidence
III.
This is a preview of subscription content, log in to check access.
Access options
Buy single article
Instant access to the full article PDF.
US$ 39.95
Price includes VAT for USA
Subscribe to journal
Immediate online access to all issues from 2019. Subscription will auto renew annually.
US$ 199
This is the net price. Taxes to be calculated in checkout.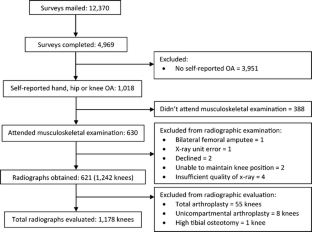 References
1.

Ahlbäck S (1968) Osteoarthrosis of the knee: a radiographic investigation. Acta Radiol Diagn (Stockh) suppl 277:7–72

2.

Ajuied A, Wong F, Smith C, Norris M, Earnshaw P, Back D et al (2013) Anterior cruciate ligament injury and radiologic progression of knee osteoarthritis: a systematic review and meta-analysis. Am J Sports Med. doi:10.11777/0363546513508376

3.

Altman RD, Gold GE (2007) Atlas of individual radiographic features in osteoarthritis, revised. Osteoarthr Cartil 15:A1–A56

4.

Altman RD, Hochberg M, Murphy WA Jr, Wolfe F, Lequesne M (1995) Atlas of individual radiographic features in osteoarthritis. Osteoarthr Cartil 3:A3–A70

5.

Baert IAC, Jonkers I, Staes F, Luyton FP, Truijen S, Verschueren SMP (2013) Gait characteristics and lower limb muscle strength in women with early and established knee osteoarthritis. Clin Biomech 28:40–47

6.

Bellamy N, Tesar P, Walker D et al (1999) Perceptual variation in grading hand, hip and knee radiographs: observations based on an Australian twin registry study of osteoarthritis. Ann Rheum Dis 58:766–769

7.

Buckland-Wright C (1995) Protocols for precise radio-anatomical positioning of the tibiofemoral and patellofemoral compartments of the knee. Osteoarthr Cartil 3:A71–A80

8.

Claes S, Hermie L, Verdonk R, Bellemans J, Verdonk P (2013) Is osteoarthritis an inevitable consequence of anterior cruciate ligament reconstruction? A meta-analysis. Knee Surg Sports Traumatol Arthrosc 21:1967–1976

9.

Culvenor AG, Cook JL, Collins NJ, Crossley KM (2013) Is patellofemoral joint osteoarthritis an under-recognised outcome of anterior cruciate ligament reconstruction? A narrative literature review. Br J Sports Med 47:66–70

10.

Culvenor AG, Lai CCH, Gabbe BJ et al (2014) Patellofemoral osteoarthritis is prevalent and associated with worse symptoms and function after hamstring tendon autograft ACL reconstruction. Br J Sports Med 48:435–439

11.

Delince P, Ghafil D (2012) Anterior cruciate ligament tears: conservative or surgical treatment? A critical review of the literature. Knee Surg Sports Traumatol Arthrosc 20:48–61

12.

Englund M, Lohmander LS (2005) Patellofemoral osteoarthritis coexistent with tibiofemoral osteoarthritis in a meniscectomy population. Ann Rheum Dis 64:1721–1726

13.

Englund M, Roos EM, Lohmander LS (2003) Impact of type of meniscal tear on radiographic and symptomatic knee osteoarthritis. Arthritis Rheum 48:2178–2187

14.

Felson DT, Naimark A, Anderson J, Kazis L, Castelli W, Meenan R (1987) The prevalence of knee osteoarthritis in the elderly. Arthritis Rheum 30:914–918

15.

Felson DT, Niu J, Gross KD et al (2013) Valgus malalignment is a risk factor for lateral knee osteoarthritis incidence and progression. Arthritis Rheum 65:355–362

16.

Felson DT, Niu J, Guermazi A, Sack B, Aliabadi P (2011) Defining radiographic incidence and progression of knee osteoarthritis: suggested modifications of the Kellgren and Lawrence scale. Ann Rheum Dis 70:1884–1886

17.

Gensburger D, Arlot M, Sornay-Rendu E, Roux JP, Delmas P (2009) Radiological assessment of age-related knee joint space changes in women: a 4-year longitudinal study. Arthritis Care Res 61:336–343

18.

Guermazi A, Hunter DJ, Li L et al (2012) Different thresholds for detecting osteophytes and joint space narrowing exist between the site investigators and the centralized reader in a multicentre knee osteoarthritis study—data from the osteoarthritis initiative. Skeletal Radiol 41:179–186

19.

Gunther KP, Sun Y (1999) Reliability of radiographic assessment in hip and knee osteoarthritis. Osteoarthr Cartil 7:239–246

20.

Hannan MT, Felson DT, Pincus T (2000) Analysis of the discordance between radiographic changes and knee pain in osteoarthritis of the knee. J Rheumatol 27:1513–1517

21.

Hunter DJ, Arden N, Conaghan PG et al (2011) Definition of osteoarthritis on MRI: results of a Delphi exercise. Osteoarthr Cartil 19:963–969

22.

Kellgren J, Lawrence J (1957) Radiological assessment of osteo-arthrosis. Ann Rheum Dis 16:494–502

23.

Kothari M, Guermazi A, von Ingersleben G et al (2004) Fixed-flexion radiography of the knee provides reproducible joint space width measurements in osteoarthritis. Eur Radiol 14:1568–1573

24.

Lane NE, Brandt KD, Hawker G, Peeva E, Schreyer E, Tsuji W, Hochberg MC (2011) OARSI-FDA initiative: defining the disease state of osteoarthritis. Osteoarthr Cartil 19:478–482

25.

Lanyon P, O'Reilly S, Jones AC, Doherty M (1998) Radiographic assessment of symptomatic knee osteoarthritis in the community: definitions and normal joint space. Ann Rheum Dis 57:595–601

26.

Le Graverand MP, Mazzuca SA, Duryea J, Brett A (2009) Radiographic-based grading methods and radiographic measurement of joint space width in osteoarthritis. Radiol Clin North Am 47:567–579

27.

Lohmander LS, Ostenberg A, Englund M, Roos H (2004) High prevalence of knee osteoarthritis, pain, and functional limitations in female soccer players twelve years after anterior cruciate ligament injury. Arthritis Rheum 50:3145–3152

28.

Luyton FP, Denti M, Filardo G, Kon E, Engebretsen L (2012) Definition and classification of early osteoarthritis of the knee. Knee Surg Sports Traumatol Arthrosc 20:401–406

29.

Mikesky AE, Mazzuca SA, Brandt KD, Perkins SM, Damush T, Lane KA (2006) Effects of strength training on the incidence and progression of knee osteoarthritis. Arthritis Care Res 55:690–699

30.

Neogi T, Felson D, Niu J et al (2009) Association between radiographic features of knee osteoarthritis and pain: results from two cohort studies. BMJ 339:b2844

31.

Neuman P, Englund M, Kostogiannis I, Friden T, Roos H, Dahlberg L (2008) Prevalence of tibiofemoral osteoarthritis 15 years after nonoperative treatment of anterior cruciate ligament injury: a prospective cohort study. Am J Sports Med 36:1717–1725

32.

Øiestad BE, Engebretsen L, Storheim K, Risberg MA (2009) Knee osteoarthritis after anterior cruciate ligament injury: a systematic review. Am J Sports Med 37:1434–1443

33.

Øiestad BE, Holm I, Engebretsen L, Risberg MA (2011) The association between radiographic knee osteoarthritis and knee symptoms, function and quality of life 10–15 years after anterior cruciate ligament reconstruction. Br J Sports Med 45:583–588

34.

Østeras N, Risberg MA, Kvien TK et al (2013) Hand, hip and knee osteoarthritis in a Norwegian population-based study—the MUST protocol. BMC Musculoskelet Disord 14:201–217

35.

Pollard TCB, Gwilym SE, Carr AJ (2008) The assessment of early osteoarthritis. J Bone Joint Surg Br 90:411–421

36.

Riddle DL, Jiranek WA, Hull JR (2013) Validity and reliability of radiographic knee osteoarthritis measures by arthroplasty surgeons. Orthopedics 36:e25–e32

37.

Roos H, Lauren M, Adalberth T, Roos E, Jonsson K, Lohmander LS (1998) Knee osteoarthritis after meniscectomy: prevalence of radiographic changes after twenty-one years, compared with matched controls. Arthritis Rheum 41:687–693

38.

Salaffi E, Carotti M, Stancati A, Grassi W (2003) Radiographic assessment of osteoarthritis: analysis of disease progression. Aging Clin Exp Res 15:391–404

39.

Schiphof D, Boers M, Bierma-Zeinstra S (2008) Differences in descriptions of Kellgren and Lawrence grades of knee osteoarthritis. Ann Rheum Dis 67:1034–1036

40.

Sharma L, Song J, Felson DT, Cahue S, Shamiyeh E, Dunlop DD (2001) The role of knee alignment in disease progression and functional decline in knee osteoarthritis. JAMA 286:188–195

41.

Spector TD, Hart DJ, Byrne J, Harris PA, Dacre JE, Doyle CV (1993) Definition of osteoarthritis of the knee for epidemiological studies. Ann Rheum Dis 52:790–794

42.

Sun Y, Gunther KP, Brenner H (1997) Reliability of radiographic grading of osteoarthritis of the hip and knee. Scand J Rheumatol 26:155–165

43.

Von Porat A, Roos EM, Roos H (2004) High prevalence of osteoarthritis 14 years after an anterior cruciate ligament tear in male soccer players: a study of radiographic and patient relevant outcomes. Ann Rheum Dis 63:269–273
Acknowledgments
The authors thank the participants and all researchers involved in the MUST, particularly Nina Østeras PT, PhD and the project leader Bård Natvig. The MUST is funded by the South-Eastern Norway Regional Health Authority Osteoarthritis research group. AC was the recipient of the Felice Rosemary-Lloyd Travel Scholarship, and a Commonwealth Government of Australia Endeavour Travelling Research Fellowship Award to assist with travel and data collection in Norway. None of the sponsors had any involvement in the study, in manuscript preparation or the decision to publish the manuscript.
Conflict of interest
All authors declare no conflict of interest.
About this article
Cite this article
Culvenor, A.G., Engen, C.N., Øiestad, B.E. et al. Defining the presence of radiographic knee osteoarthritis: a comparison between the Kellgren and Lawrence system and OARSI atlas criteria. Knee Surg Sports Traumatol Arthrosc 23, 3532–3539 (2015). https://doi.org/10.1007/s00167-014-3205-0
Received:

Accepted:

Published:

Issue Date:
Keywords
Radiographic

Osteoarthritis

Knee

Kellgren and Lawrence

OARSI

Classification