Abstract
Purpose
Adverse local soft tissue reactions can occur in response to wear debris or corrosion products released from total hip arthroplasty (THA). Hip arthroscopy is a useful diagnostic adjunct in the investigation of painful THA.
Methods
A patient with a painful primary metal-on-highly cross-linked polyethylene THA underwent hip arthroscopy to confirm the diagnosis of trunnion corrosion.
Results
The prosthetic implants were well fixed and aligned with no indication of infection. Hip arthroscopy was used to confirm the presence of corrosion on the trunnion of a titanium stem at its junction with a cobalt-chrome head. Due to persistent symptoms, the patient subsequently underwent arthrotomy, which confirmed the diagnosis, and revision hip arthroplasty to a titanium adapter sleeve, ceramic head and liner exchange, with relief of his symptoms.
Conclusion
Hip arthroscopy may prove a useful additional diagnostic tool in the investigation of this emerging clinical entity.
Level of evidence
IV.
This is a preview of subscription content, log in to check access.
Access options
Buy single article
Instant access to the full article PDF.
US$ 39.95
Price includes VAT for USA
Subscribe to journal
Immediate online access to all issues from 2019. Subscription will auto renew annually.
US$ 199
This is the net price. Taxes to be calculated in checkout.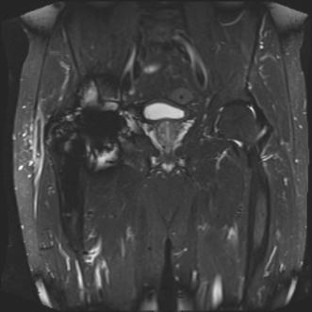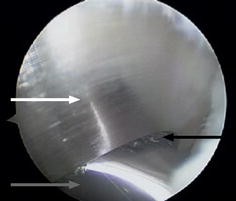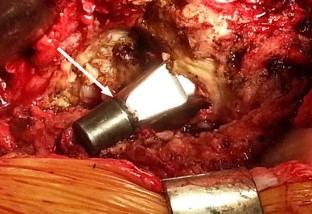 References
1.

Browne JA, Bechtold CD, Berry DJ, Hanssen AD, Lewallen DG (2010) Failed metal-on-metal hip arthroplasties: a spectrum of clinical presentations and operative findings. Clin Orthop Relat Res 468:2313–2320

2.

Center for Devices and Radiological Health (2013) Metal-on-metal hip implants. US Food and Drug Administration. http://www.fda.gov/MedicalDevices/ProductsandMedicalProcedures/ImplantsandProsthetics/MetalonMetalHipImplants/ucm241604.htm

3.

Collier JP, Surprenant VA, Jensen RE, Mayor MB (1991) Corrosion at the interface of cobalt-alloy heads on titanium-alloy stems. Clin Orthop Relat Res 271:305–312

4.

Cooper HJ, Valle Della CJ, Berger RA, Tetreault M, Paprosky WG, Sporer SM, Jacobs JJ (2012) Corrosion at the head–neck taper as a cause for adverse local tissue reactions after total hip arthroplasty. J Bone Joint Surg Am 94:1655–1661

5.

Grammatopolous G, Pandit H, Kwon Y-M, Gundle R, McLardy-Smith P, Beard DJ, Murray DW, Gill HS (2009) Hip resurfacings revised for inflammatory pseudotumour have a poor outcome. J Bone Joint Surg Br 91:1019–1024

6.

Haddad FS, Thakrar RR, Hart AJ, Skinner JA, Nargol AVF, Nolan JF, Gill HS, Murray DW, Blom AW, Case CP (2011) Metal-on-metal bearings: the evidence so far. J Bone Joint Surg Br 93-B:572–579

7.

McCarthy JC (2004) Hip arthroscopy: when it is and when it is not indicated. Instr Course Lect 53:615–621

8.

McCarthy JC, Jibodh SR, Lee J-A (2009) The role of arthroscopy in evaluation of painful hip arthroplasty. Clin Orthop Relat Res 467:174–180

9.

Medicines and Healthcare Products Regulatory Agency (2012) MHRA press release. Medicines and Healthcare Products Regulatory Agency. http://www.mhra.gov.uk/home/groups/comms-po/documents/news/con143785.pdf

10.

Munro JT, Masri BA, Duncan CP, Garbuz DS (2014) High complication rate after revision of large-head metal-on-metal total hip arthroplasty. Clin Orthop Relat Res 472:523–528

11.

Pandit H, Glyn-Jones S, McLardy-Smith P, Gundle R, Whitwell D, Gibbons CLM, Ostlere S, Athanasou N, Gill HS, Murray DW (2008) Pseudotumours associated with metal-on-metal hip resurfacings. J Bone Joint Surg Br 90-B:847–851

12.

Willert HG (2005) Metal-on-metal bearings and hypersensitivity in patients with artificial hip joints. A clinical and histomorphological study. J Bone Joint Surg Am 87:28–36
Conflict of interest
One of the authors (CPD) certifies that they have or may receive payments or benefits (e.g. serve as a consultant) from a commercial entity (Zimmer, Inc, Warsaw, IN, USA) related to this work. One of the authors (MRW) certifies that they have no commercial associations (e.g. consultancies, stock ownership, equity interest, patent/licensing arrangements) that might pose a conflict of interest in connection with the submitted article. The institution of the authors (MRW, CPD) has received funding from Zimmer, Inc.
Ethical standard
The subject of the case report gave informed consent for the submission of this case report.
About this article
Cite this article
Whitehouse, M.R., Duncan, C.P. Arthroscopy as a diagnostic tool for painful trunnion corrosion after hip arthroplasty. Knee Surg Sports Traumatol Arthrosc 23, 2601–2604 (2015). https://doi.org/10.1007/s00167-014-3184-1
Received:

Accepted:

Published:

Issue Date:
Keywords
Corrosion Product

Anterior Capsule

Soft Tissue Reaction

Adverse Local Tissue Reaction

Composite Capsule