Abstract
Purpose
In anteroposterior (AP)-gliding mobile-bearing total knee arthroplasty (TKA), the femoral component can theoretically slide forward resulting in a more anterior contact point, causing pain due to impingement. A lower lever arm of the extensor apparatus can also attribute to higher patella pressures and pain. The goal of this study was to determine the contact point in a cohort of mobile- and fixed-bearing TKAs, to determine whether the contact point lies more anteriorly in mobile-bearing TKA and to confirm whether this results in anterior knee pain.
Methods
We used 38 fixed-bearing TKA and 40 mobile-bearing TKA from a randomized trial with straight lateral knee X-rays and measured the contact point. The functional outcome was measured by Knee Society Score at 12 months postoperatively. Pain scores were analysed using a VAS score (0–100 mm) in all patients at rest and when moving. Difficulty at rising up out of a chair was also assessed using a VAS score.
Results
The contact point in mobile-bearing TKA was situated at 59.5 % of the AP distance of the tibia and in the fixed-bearing TKA group at 66.1 % (P< 0.05). Patients with mobile- and fixed-bearing TKAs had similar knee scores, pain scores and difficulty in chair rise. No significant correlation was found between contact point and knee pain.
Conclusion
The hypothesis of a more anterior contact point in the mobile-bearing cohort was confirmed but no correlation with functional and pain scores in this cohort could be found. The tibiofemoral contact point could not be correlated with a different clinical outcome and higher incidence of anterior knee pain. This study further adds to the knowledge on possible differences between mobile- and fixed-bearing prostheses. Next to that, bad outcomes could not be explained by CP.
Level of evidence
Case series, Level IV.
This is a preview of subscription content,
to check access.
Access this article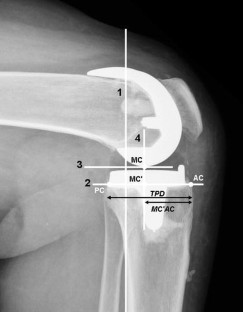 Similar content being viewed by others
References
Aglietti P, Baldini A, Buzzi R, Lup D, De LL (2005) Comparison of mobile-bearing and fixed-bearing total knee arthroplasty: a prospective randomized study. J Arthroplasty 20(2):145–153

Apostolopoulos AP, Michos IV, Mavrogenis AF, Chronopoulos E, Papachristou G, Lallos SN, Efstathopoulos NE (2011) Fixed versus mobile bearing knee arthroplasty: a review of kinematics and results. J Long Term Eff Med Implants 21(3):197–203

Bhan S, Malhotra R, Kiran EK, Shukla S, Bijjawara M (2005) A comparison of fixed-bearing and mobile-bearing total knee arthroplasty at a minimum follow-up of 4.5 years. J Bone Joint Surg Am 87(10):2290–2296

Breugem SJ, Sierevelt IN, Schafroth MU, Blankevoort L, Schaap GR, van Dijk CN (2008) Less anterior knee pain with a mobile-bearing prosthesis compared with a fixed-bearing prosthesis. Clin Orthop Relat Res 466(8):1959–1965

Browne C, Hermida JC, Bergula A, Colwell CW Jr, D'Lima DD (2005) Patellofemoral forces after total knee arthroplasty: effect of extensor moment arm. Knee 12(2):81–88

Cheng M, Chen D, Guo Y, Zhu C, Zhang X (2013) Comparison of fixed- and mobile-bearing total knee arthroplasty with a mean five-year follow-up: a meta-analysis. Exp Ther Med 6(1):45–51

Christen B, Heesterbeek P, Wymenga A, Wehrli U (2007) Posterior cruciate ligament balancing in total knee replacement: the quantitative relationship between tightness of the flexion gap and tibial translation. J Bone Joint Surg Br 89(8):1046–1050

D'Lima DD, Poole C, Chadha H, Hermida JC, Mahar A, Colwell CW Jr (2001) Quadriceps moment arm and quadriceps forces after total knee arthroplasty. Clin Orthop Relat Res 392:213–220

de Jong RJ, Heesterbeek PJ, Wymenga AB (2010) A new measurement technique for the tibiofemoral contact point in normal knees and knees with TKR. Knee Surg Sports Traumatol Arthrosc 18(3):388–393

Geijsen GJP, Heesterbeek PJC, van Stralen G, Anderson PG, Wymenga AB (2014) Do tibiofemoral contact point and posterior condylar offset influence outcome and range of motion in a mobile-bearing total knee arthroplasty? Knee Surg Sports Traumatol Arthrosc 22(3):550–555

Gioe TJ, Glynn J, Sembrano J, Suthers K, Santos ER, Singh J (2009) Mobile and fixed-bearing (all-polyethylene tibial component) total knee arthroplasty designs. A prospective randomized trial. J Bone Joint Surg Am 91(9):2104–2112

Harrington MA, Hopkinson WJ, Hsu P, Manion L (2009) Fixed- vs mobile-bearing total knee arthroplasty: does it make a difference?–a prospective randomized study. J Arthroplasty 24(6 Suppl):24–27

Jacobs WC, Christen B, Wymenga AB, Schuster A, van der Schaaf DB, ten Ham A, Wehrli U (2012) Functional performance of mobile versus fixed bearing total knee prostheses: a randomised controlled trial. Knee Surg Sports Traumatol Arthrosc 20(8):1450–1455

Kievit AJ, Breugem SJ, Sierevelt IN, Heesterbeek PJ, van de Groes SA, Kremers KC, Koëter S, Haverkamp D (2013) Dutch translation of the Kujala anterior knee pain scale and validation in patients after knee arthroplasty. Knee Surg Sports Traumatol Arthrosc 21(11):2647–2653

Kim YH, Kook HK, Kim JS (2001) Comparison of fixed-bearing and mobile-bearing total knee arthroplasties. Clin Orthop Relat Res 392:101–115

Kim TW, Park SH, Suh JT (2012) Comparison of mobile-bearing and fixed-bearing designs in high-flexion total knee arthroplasty: using a navigation system. Knee Surg Relat Res 24(1):25–33

Kramers-de Quervain I, Engel-Bicik I, Miehlke W, Drobny T, Munzinger U (2005) Fat-pad impingement after total knee arthroplasty with the LCS A/P-Glide system. Knee Surg Sports Traumatol Arthrosc 13(3):174–178

Ladermann A, Lubbeke A, Stern R, Riand N, Fritschy D (2008) Fixed-bearing versus mobile-bearing total knee arthroplasty: a prospective randomised, clinical and radiological study with mid-term results at 7 years. Knee 15(3):206–210

Li YL, Wu Q, Ning GZ, Feng SQ, Wu QL, Li Y, Hao Y (2014) No difference in clinical outcome between fixed- and mobile-bearing TKA: a meta-analysis. Knee Surg Sports Traumatol Arthrosc 22(3):565–575

Nam SW, Lee YS, Kwak JH, Kim NK, Lee BK (2012) A comparison of the clinical and radiographic results of press fit condylar rotating-platform high-flexion and low contact stress mobile bearing prosthesis in total knee arthroplasty: short term results. Knee Surg Relat Res 24(1):7–13

Oh KJ, Pandher DS, Lee SH, Sung JS Jr, Lee ST (2009) Meta-analysis comparing outcomes of fixed-bearing and mobile-bearing prostheses in total knee arthroplasty. J Arthroplasty 24(6):873–884

Ostermeier S, Hurschler C, Windhagen H, Stukenborg-Colsman C (2006) In vitro investigation of the influence of tibial slope on quadriceps extension force after total knee arthroplasty. Knee Surg Sports Traumatol Arthrosc 14(10):934–939

Schuster AJ, von Roll AL, Pfluger D, Wyss T (2011) Anteroposterior stability after posterior cruciate-retaining total knee arthroplasty. Knee Surg Sports Traumatol Arthrosc 19(7):1113–1120

Shemshaki H, Dehghani M, Eshaghi MA, Esfahani MF (2012) Knee Surg Sports Traumatol Arthrosc 20:2519–2527

Skwara A, Tibesku CO, Ostermeier S, Stukenborg-Colsman C, Fuchs-Winkelmann S (2009) Differences in patellofemoral contact stresses between mobile-bearing and fixed-bearing total knee arthroplasties: a dynamic in vitro measurement. Arch Orthop Trauma Surg 129(7):901–907

Smith H, Jan M, Mahomed NN, Davey JR, Gandhi R (2011) Meta-analysis and systematic review of clinical outcomes comparing mobile bearing and fixed bearing total knee arthroplasty. J Arthroplasty 26(8):1205–1213

Smith TO, Hing CB, Davies L, Donell ST (2009) Fixed versus mobile bearing unicompartmental knee replacement: a meta-analysis. Orthop Traumatol Surg Res 95(8):599–605

Van der Bracht H, Van Maele G, Verdonk P, Almqvist KF, Verdonk R, Freeman M (2010) Is there any superiority in the clinical outcome of mobile-bearing knee prosthesis designs compared to fixed-bearing total knee prosthesis designs in the treatment of osteoarthritis of the knee joint? a review of the literature. Knee Surg Sports Traumatol Arthrosc 18(3):367–374

van Hal CT, van Hellemondt GG, Wymenga AB, Jacobs WC (2007) The anterior-posterior laxity after total knee arthroplasty inserted with a ligament tensor. Knee Surg Sports Traumatol Arthrosc 15(8):1019–1022

van Jonbergen HP, Reuver JM, Mutsaerts EL, Poolman RW (2014) Determinants of anterior knee pain following total knee replacement: a systematic review. Knee Surg Sports Traumatol Arthrosc 22(3):478–499

van der Voort P, Pijls BG, Nouta KA, Valstar ER, Jacobs WC, Nelissen RG (2013) A systematic review and meta-regression of mobile-bearing versus fixed-bearing total knee replacement in 41 studies. Bone Joint J 95B(9):1209–1216

Watanabe T, Ishizuki M, Muneta T, Banks SA (2012) Matched comparison of kinematics in knees with mild and severe varus deformity using fixed- and mobile-bearing total knee arthroplasty. Clin Biomech 27(9):924–928

Wen Y, Liu D, Huang Y, Li B (2011) A meta-analysis of the fixed-bearing and mobile-bearing prostheses in total knee arthroplasty. Arch Orthop Trauma Surg 131(10):1341–1350

Woolson ST, Northrop GD (2004) Mobile- vs. fixed-bearing total knee arthroplasty: a clinical and radiologic study. J Arthroplasty 19(2):135–140

Wylde V, Learmonth I, Potter A, Bettinson K, Lingard E (2008) Patient-reported outcomes after fixed- versus mobile-bearing total knee replacement: a multi-centre randomised controlled trial using the Kinemax total knee replacement. J Bone Joint Surg Br 90(9):1172–1179

Wyss T, Schuster AJ, Christen B, Wehrli U (2008) Tension controlled ligament balanced total knee arthroplasty: 5-year results of a soft tissue orientated surgical technique. Arch Orthop Trauma Surg 128(2):129–135
About this article
Cite this article
van Stralen, R.A., Heesterbeek, P.J.C. & Wymenga, A.B. Different femorotibial contact points between fixed- and mobile-bearing TKAs do not show clinical impact. Knee Surg Sports Traumatol Arthrosc 23, 3368–3374 (2015). https://doi.org/10.1007/s00167-014-3178-z
Received:

Accepted:

Published:

Issue Date:

DOI: https://doi.org/10.1007/s00167-014-3178-z
Keywords