Abstract
Purpose
The aim was to study whether the degree of ankle dorsiflexion differs between subjects with an anterior cruciate ligament (ACL) injury and uninjured controls. Another aim was to study ankle dorsiflexion between the injured and the uninjured leg and in addition between women and men with an ACL injury.
Method
Sixty subjects (ACL injury, n = 30 and controls, n = 30) were enroled consecutively at two physical therapy settings. Ankle dorsiflexion was measured with a goniometer in a standardized way in a weight-bearing lunge position.
Results
Repeated-measures ANOVA revealed a significant difference (p < 0.001) in ankle dorsiflexion between subjects with an ACL injury (mean 41.1° SD 5.7) and those without (mean 46.6° SD 5.3). No difference in ankle dorsiflexion was found between the injured leg and the uninjured or between women and men with ACL injury.
Conclusion
The present findings suggest lower degree of ankle dorsiflexion in subjects with an ACL injury than in uninjured controls. A functional test measuring ankle dorsiflexion with a goniometer may be one way of identifying individuals at increased risk of ACL injury.
Level of evidence
Comparative study, Level II.
Access options
Buy single article
Instant access to the full article PDF.
USD 39.95
Price excludes VAT (USA)
Tax calculation will be finalised during checkout.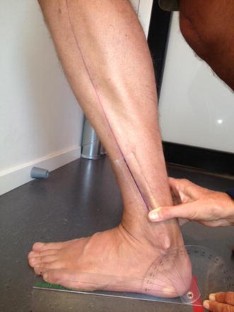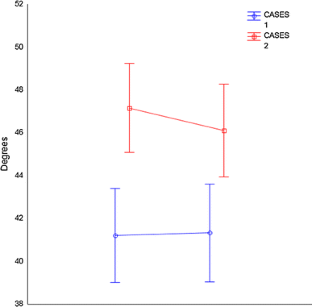 References
Aitkenhead I (2002) Ankle joint dorsiflexion assessment; the development of a new weight-bearing method. Br J Pod 5(2):32–35

Alentorn-Geli E, Myer GD, Silvers HJ, Samitier G, Romero D, Lázaro-Haro C, Cugat R (2009) Prevention of non-contact anterior cruciate ligament injuries in soccer players. Part 1: mechanisms of injury and underlying risk factors. Knee Surg Sports Traumatol Arthrosc 17(7):705–729

Backman L, Danielson P (2011) Low range of ankle dorsiflexion predisposes for patellar tendinopathy in junior elite basketball players: a 1-year prospective study. Am J Sports Med 39(12):2626–2633

Bell DR, Oates DS, Clark MA, Padua DA (2013) Two- and 3-dimensional knee valgus are reduced after exercise intervention in young adults with demonstrable valgus during squatting. J Athl Train 48(4):442–449

Bennell KL, Talbot RC, Wajswelner H, Techovanich W, Kelly DH, Hall AJ (1998) Intra-rater and inter-rater reliability of a weight-bearing lunge measure of ankle dorsiflexion. Aust J Physiother 44(3):175–180

Chisholm MD, Birmingham TB, Brown J, MacDermid J, Chesworth BM (2012) Reliability and validity of a weight-bearing measure of ankle dorsiflexion range of movement. Physiother Can 64(4):347–355

Devita P, Skelly WA (1992) Effect of landing stiffness on joint kinetics and energetics in the lower extremity. Med Sci Sports Exerc 24(1):108–115

Fong C-M, Blackburn JT, Norcross MF, McGrath M, Padua DA (2011) Ankle-dorsiflexion range of motion and landing biomechanics. J Athl Train 46(1):5–10

Frobell RB, Roos HP, Roos EM, Roemer FW, Ranstam J, Lohmander SL (2013) Treatment for acute anterior cruciate ligament tear: five year outcome of randomised trial. BMJ 345:232

Gogia PP, Braatz JH, Rose SJ, Norton BJ (1987) Reliability and validity of goniometric measurements at the knee. Phys Ther J Am Phys Ther Ass 67(2):192–195

Granan LP, Bahr R, Lie SA, Engebretsen L (2009) Timing of anterior cruciate ligament reconstructive surgery and risk of cartilage lesions and meniscal tears: a cohort study based on the Norwegian National Knee Ligament registry. Am J Sports Med 37(5):955–961

Hagins M, Pappas E, Kremenic I, Orishimo KF, Rundle A (2007) The effect of an inclined landing surface on biomechanical variables during a jumping task. Clin Biomech 22(9):1030–1036

Hewett TE (2000) Neuromuscular and hormonal factors associated with knee injuries in female athletes: strategies for intervention. Sports Med 29(5):313–327

Hewett TE, Myer GD, Ford KR et al (2005) Biomechanical measures of neuromuscular control and valgus loading of the knee predict anterior cruciate ligament injury risk in female athletes: a prospective study. Am J Sports Med 33(4):492–501

Hewett TE, Myer GD, Ford KR (2006) Anterior cruciate ligament injuries in female athletes: part 1, mechanisms and risk factors. Am J Sports Med 34(2):299–311

Konor MM, Morton S, Eckerson JM, Grindstaff TL (2012) Reliability of three measures of ankle dorsiflexion range of motion. Int J Sports Phys Ther 7(3):279–287

Lam MH, Fong DT, Yung PS, Ho EP, Chan WY, Chan KM (2009) Knee stability assessment on anterior cruciate ligament injury; clinical and biomechanical approaches. Sports Med Arthrosc Rehabil Ther Technol 1(1):20

Macrum E, Bell DR, Bolin M, Lewek M, Padua D (2012) Effect of limiting ankle-dorsiflexion range of motion on lower extremity kinematics and muscle-activation patterns during a squat. J Sport Rehabil 21(2):144–150

Mauntel TC, Begalle RL, Cram TR, Frank BS, Hirth CJ, Blackburn T, Padua DA (2013) The effects of lower extremity muscle activation and passive range of movement on single leg squat performance. J Strength Cond Res 27(7):1813–1823

McLean SG, Huang S, Su A, Van den Bogert AJ (2004) Sagittal plane biomechanics cannot injure the ACL during sidestep cutting. Clin Biomech 19(8):828–838

Moses B, Orchard J, Orchard J (2012) Systematic review: annual incidence of ACL injury and surgery in various populations. Res Sports Med 20(3–4):157–179

Mølgaard C, Rathleff MS, Simonsen O (2011) Patellofemoral pain syndrome and its association with hip, ankle, and foot function in 16- to 18-year-old high school students: a single-blind case-control study. J Am Podiatr Med Assoc 101(3):215–222

Rabin A, Kozol Z (2010) Measures of range of motion and strength among healthy women with differing quality of lower extremity movement during the lateral step-down test. J Orthop Sports Phys Ther 40(12):792–800

Sigward SM, Ota S, Powers CM (2008) Predictors of frontal plane knee excursion during a drop land in young female soccer players. J Orthop Sports Phys Ther 38(11):661–667

Venturini C, Ituassu NT, Teixeira LM (2006) Intrarater and interrater reliability of two methods for measuring the active range of motion for ankle dorsiflexion in healthy subjects. Brazilian J Phys Ther 10:377–381

Witvrouw E, Lysens R, Bellemans J, Cambier D, Vanderstraeten G (2000) Intrinsic risk factors for the development of anterior knee pain in an athletic population: a two-year prospective study. Am J Sports Med 28(4):408–409
Acknowledgments
We would like to express our gratitude to all subjects participating in the study and to the physiotherapists at Täby Rehab Center and Capio Artro Clinic for assisting in the recruitment of participants.
About this article
Cite this article
Wahlstedt, C., Rasmussen-Barr, E. Anterior cruciate ligament injury and ankle dorsiflexion. Knee Surg Sports Traumatol Arthrosc 23, 3202–3207 (2015). https://doi.org/10.1007/s00167-014-3123-1
Received:

Accepted:

Published:

Issue Date:

DOI: https://doi.org/10.1007/s00167-014-3123-1
Keywords