Abstract
Purpose
The purpose of this cross-sectional study was to compare the prevalence of low back pain (LBP) among female elite football and handball players to a matched non-professional active control group.
Methods
The participants were requested to answer a questionnaire based on standardized Nordic questionnaires for musculoskeletal symptoms to assess the prevalence of LBP. Included participants were elite female football (n = 277) and handball players (n = 190), and a randomly selected control group from the Norwegian population (n = 167).
Results
Fifty-seven percentage of the football players, 59 % of the handball players and 60 % of the control group had experienced LBP the previous year. There were no significant group differences in the prevalence of LBP ever (p = 0.62), the previous year (p = 0.85) or the previous 7 days (p = 0.63). For both sports, there was a significant increase in prevalence of LBP from the resting period to the competitive periods of the season (p ≤ 0.001). Seventy percent of the goalkeepers in both football and handball had experienced LBP the previous year.
Conclusion
There were no difference in LBP among female elite football and handball players compared with the control group. However, female elite athletes in football and handball reported a high prevalence of LBP compared to previous studies. The variations in LBP and playing positions indicate that specific field positions, in football and handball, is a risk factor for developing LBP.
Level of evidence
III.
This is a preview of subscription content, log in to check access.
Access options
Buy single article
Instant access to the full article PDF.
US$ 39.95
Price includes VAT for USA
Subscribe to journal
Immediate online access to all issues from 2019. Subscription will auto renew annually.
US$ 199
This is the net price. Taxes to be calculated in checkout.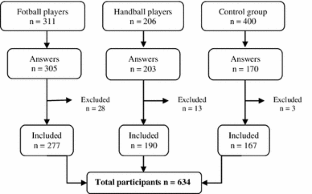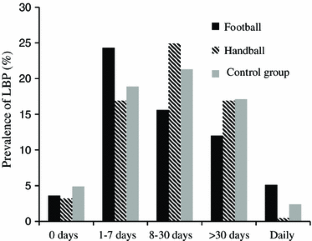 References
1.

Andersson G, Biering-Sorensen F, Hermansen L, Jonsson B, Jorgensen K, Kilbom A, Kuorinka I, Vinterberg H (1984) Scandinavian questionnaires regarding occupational musculo-skeletal disorders. Nord Med 99(2):54–55

2.

Aoki H, Kohno T, Fujiya H, Kato H, Yatabe K, Morikawa T, Seki J (2010) Incidence of injury among adolescent soccer players: a comparative study of artificial and natural grass turfs. Clin J Sport Med 20(1):1–7

3.

Bahr R (2009) No injuries, but plenty of pain? On the methodology for recording overuse symptoms in sports. Br J Sports Med 43(13):966–972

4.

Bahr R, Andersen SO, Loken S, Fossan B, Hansen T, Holme I (2004) Low back pain among endurance athletes with and without specific back loading–a cross-sectional survey of cross-country skiers, rowers, orienteerers, and nonathletic controls. Spine (Phila Pa 1976) 29(4):449–454

5.

Bahr R, Reeser JC (2003) Injuries among world-class professional beach volleyball players. The Federation Internationale de Volleyball beach volleyball injury study. Am J Sports Med 31(1):119–125

6.

Baranto A, Hellstrom M, Cederlund CG, Nyman R, Sward L (2009) Back pain and MRI changes in the thoraco-lumbar spine of top athletes in four different sports: a 15-year follow-up study. Knee Surg Sports Traumatol Arthrosc 17(9):1125–1134

7.

Bennett DL, Nassar L, DeLano MC (2006) Lumbar spine MRI in the elite-level female gymnast with low back pain. Skeletal Radiol 35(7):503–509

8.

Clarsen B, Myklebust G, Bahr R (2013) Development and validation of a new method for the registration of overuse injuries in sports injury epidemiology: the Oslo Sports Trauma Research Centre (OSTRC) Overuse Injury Questionnaire. Br J Sports Med 47(8):495–502

9.

El RG, Takemitsu M, Woratanarat P, Shah SA (2005) Lumbar spondylolysis in pediatric and adolescent soccer players. Am J Sports Med 33(11):1688–1693

10.

Eriksson K, Nemeth G, Eriksson E (1996) Low back pain in elite cross-country skiers. A retrospective epidemiological study. Scand J Med Sci Sports 6(1):31–35

11.

Fuller CW, Ekstrand J, Junge A, Andersen TE, Bahr R, Dvorak J, Hagglund M, McCrory P, Meeuwisse WH (2006) Consensus statement on injury definitions and data collection procedures in studies of football (soccer) injuries. Clin J Sport Med 16(2):97–106

12.

Goldstein JD, Berger PE, Windler GE, Jackson DW (1991) Spine injuries in gymnasts and swimmers. An epidemiologic investigation. Am J Sports Med 5(19):463–468

13.

Granhed H, Morelli B (1988) Low back pain among retired wrestlers and heavyweight lifters. Am J Sports Med 16(5):530–533

14.

Greene HS, Cholewicki J, Galloway MT, Nguyen CV, Radebold A (2001) A history of low back injury is a risk factor for recurrent back injuries in varsity athletes. Am J Sports Med 29(6):795–800

15.

Hangai M, Kaneoka K, Hinotsu S, Shimizu K, Okubo Y, Miyakawa S, Mukai N, Sakane M, Ochiai N (2009) Lumbar intervertebral disk degeneration in athletes. Am J Sports Med 37(1):149–155

16.

Hangai M, Kaneoka K, Okubo Y, Miyakawa S, Hinotsu S, Mukai N, Sakane M, Ochiai N (2010) Relationship between low back pain and competitive sports activities during youth. Am J Sports Med 38(4):791–796

17.

Hoogendoorn WE, Bongers PM, de Vet HC, Douwes M, Koes BW, Miedema MC, Ariens GA, Bouter LM (2000) Flexion and rotation of the trunk and lifting at work are risk factors for low back pain: results of a prospective cohort study. Spine (Phila Pa 1976) 25(23):3087–3092

18.

Hoskins W, Pollard H, Daff C, Odell A, Garbutt P, McHardy A, Hardy K, Dragasevic G (2009) Low back pain status in elite and semi-elite Australian football codes: a cross-sectional survey of football (soccer), Australian rules, rugby league, rugby union and non-athletic controls. BMC Musculoskelet Disord 10:38. doi:10.1186/1471-2474-12-158

19.

Ichikawa N, Ohara Y, Morishita T, Taniguichi Y, Koshikawa A, Matsukura N (1982) An aetiological study on spondylolysis from a biomechanical aspect. Br J Sports Med 16(3):135–141

20.

Jacobson I, Tegner Y (2007) Injuries among Swedish female elite football players: a prospective population study. Scand J Med Sci Sports 17(1):84–91

21.

Keene JS, Albert MJ, Springer SL, Drummond DS, Clancy WG Jr (1989) Back injuries in college athletes. J Spinal Disord 2(3):190–195

22.

Kuorinka I, Jonsson B, Kilbom A, Vinterberg H, Biering-Sorensen F, Andersson G, Jorgensen K (1987) Standardised Nordic questionnaires for the analysis of musculoskeletal symptoms. Appl Ergon 18(3):233–237

23.

Langevoort G, Myklebust G, Dvorak J, Junge A (2007) Handball injuries during major international tournaments. Scand J Med Sci Sports 17(4):400–407

24.

Lundin O, Hellstrom M, Nilsson I, Sward L (2001) Back pain and radiological changes in the thoraco-lumbar spine of athletes. A long-term follow-up. Scand J Med Sci Sports 11(2):103–109

25.

Myklebust G, Maehlum S, Holm I, Bahr R (1998) A prospective cohort study of anterior cruciate ligament injuries in elite Norwegian team handball. Scand J Med Sci Sports 8(3):149–153

26.

Ozturk A, Ozkan Y, Ozdemir RM, Yalcin N, Akgoz S, Sarac V, Aykut S (2008) Radiographic changes in the lumbar spine in former professional football players: a comparative and matched controlled study. Eur Spine J 17(1):136–141

27.

Papageorgiou AC, Croft PR, Thomas E, Ferry S, Jayson MI, Silman AJ (1996) Influence of previous pain experience on the episode incidence of low back pain: results from the South Manchester Back Pain Study. Pain 66(2–3):181–185

28.

Rachbauer F, Sterzinger W, Eibl G (2001) Radiographic abnormalities in the thoracolumbar spine of young elite skiers. Am J Sports Med 29(4):446–449

29.

Raty HP, Kujala UM, Videman T, Impivaara O, Crites BM, Sarna S (1997) Lifetime musculoskeletal symptoms and injuries among former elite male athletes. Int J Sports Med 18(8):625–632

30.

Ristolainen L, Heinonen A, Turunen H, Mannstrom H, Waller B, Kettunen JA, Kujala UM (2010) Type of sport is related to injury profile: a study on cross country skiers, swimmers, long-distance runners and soccer players. A retrospective 12-month study. Scand J Med Sci Sports 20(3):384–393

31.

Seil R, Rupp S, Tempelhof S, Kohn D (1998) Sports injuries in team handball. A one-year prospective study of sixteen men's senior teams of a superior nonprofessional level. Am J Sports Med 26(5):681–687

32.

Soderman K, Adolphson J, Lorentzon R, Alfredson H (2001) Injuries in adolescent female players in European football: a prospective study over one outdoor soccer season. Scand J Med Sci Sports 11(5):299–304

33.

Stallard MC (1980) Backache in oarsmen. Br J Sports Med 14(2–3):105–108

34.

Stanton TR, Henschke N, Maher CG, Refshauge KM, Latimer J, McAuley JH (2008) After an episode of acute low back pain, recurrence is unpredictable and not as common as previously thought. Spine (Phila Pa 1976) 33(26):2923–2928

35.

Sward L, Hellstrom M, Jacobsson B, Nyman R, Peterson L (1991) Disc degeneration and associated abnormalities of the spine in elite gymnasts. A magnetic resonance imaging study. Spine (Phila Pa 1976) 16(4):437–443

36.

Sward L, Hellstrom M, Jacobsson B, Peterson L (1990) Back pain and radiologic changes in the thoraco-lumbar spine of athletes. Spine (Phila Pa 1976) 15(2):124-129

37.

Tegnander A, Olsen OE, Moholdt TT, Engebretsen L, Bahr R (2008) Injuries in Norwegian female elite soccer: a prospective one-season cohort study. Knee Surg Sports Traumatol Arthrosc 16(2):194–198

38.

Videman T, Sarna S, Battie MC, Koskinen S, Gill K, Paananen H, Gibbons L (1995) The long-term effects of physical loading and exercise lifestyles on back-related symptoms, disability, and spinal pathology among men. Spine (Phila Pa 1976) 20(6):699–709

39.

Wai EK, Roffey DM, Bishop P, Kwon BK, Dagenais S (2010) Causal assessment of occupational bending or twisting and low back pain: results of a systematic review. Spine J 10(1):76–88

40.

Wai EK, Roffey DM, Bishop P, Kwon BK, Dagenais S (2010) Causal assessment of occupational carrying and low back pain: results of a systematic review. Spine J 10(7):628–638
About this article
Cite this article
Tunås, P., Nilstad, A. & Myklebust, G. Low back pain in female elite football and handball players compared with an active control group. Knee Surg Sports Traumatol Arthrosc 23, 2540–2547 (2015). https://doi.org/10.1007/s00167-014-3069-3
Received:

Accepted:

Published:

Issue Date:
Keywords
Low back pain

Prevalence

Female

Elite athletes

Football

Handball