Abstract
Concussion is common in many sports, and the incidence is increasing. The medical consequences after a sport-related concussion have received increased attention in recent years since it is known that concussions cause axonal and glial damage, which disturbs the cerebral physiology and makes the brain more vulnerable for additional concussions. This study reports on a knocked-out amateur boxer in whom cerebrospinal fluid (CSF) neurofilament light (NFL) protein, reflecting axonal damage, was used to identify and monitor brain damage. CSF NFL was markedly increased during 36 weeks, suggesting that neuronal injury persists longer than expected after a concussion. CSF biomarker analysis may be valuable in the medical counselling of concussed athletes and in return-to-play considerations.
Level of evidence IV
Access options
Buy single article
Instant access to the full article PDF.
US$ 39.95
Tax calculation will be finalised during checkout.
Subscribe to journal
Immediate online access to all issues from 2019. Subscription will auto renew annually.
US$ 119
Tax calculation will be finalised during checkout.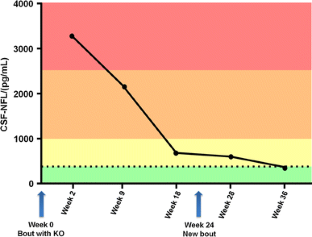 References
1.

Andreasen N, Minthon L, Vanmechelen E, Vanderstichele H, Davidsson P, Winblad B, Blennow K (1999) Cerebrospinal fluid tau and Abeta42 as predictors of development of Alzheimer's disease in patients with mild cognitive impairment. Neurosci Lett 273(1):5–8

2.

Blennow K, Fredman P, Wallin A, Gottfries CG, Karlsson I, Langstrom G, Skoog I, Svennerholm L, Wikkelso C (1993) Protein analysis in cerebrospinal fluid. II. Reference values derived from healthy individuals 18–88 years of age. Eur Neurol 33(2):129–133

3.

Blennow K, Hardy J, Zetterberg H (2012) The neuropathology and neurobiology of traumatic brain injury. Neuron 76(5):886–899

4.

Blennow K, Wallin A, Agren H, Spenger C, Siegfried J, Vanmechelen E (1995) Tau protein in cerebrospinal fluid: a biochemical marker for axonal degeneration in Alzheimer disease? Mol Chem Neuropathol 26(3):231–245

5.

DeKosky ST, Blennow K, Ikonomovic MD, Gandy S (2013) Acute and chronic traumatic encephalopathies: pathogenesis and biomarkers. Nat Rev Neurol 9(4):192–200

6.

Guskiewicz KM, McCrea M, Marshall SW, Cantu RC, Randolph C, Barr W, Onate JA, Kelly JP (2003) Cumulative effects associated with recurrent concussion in collegiate football players: the NCAA Concussion Study. JAMA 290(19):2549–2555

7.

McCrory P, Meeuwisse WH, Aubry M, Cantu B, Dvorak J, Echemendia RJ, Engebretsen L, Johnston K, Kutcher JS, Raftery M, Sills A, Benson BW, Davis GA, Ellenbogen RG, Guskiewicz K, Herring SA, Iverson GL, Jordan BD, Kissick J, McCrea M, McIntosh AS, Maddocks D, Makdissi M, Purcell L, Putukian M, Schneider K, Tator CH, Turner M (2013) Consensus statement on concussion in sport: the 4th International conference on concussion in sport held in Zurich, November 2012. Br J Sports Med 47(5):250–258

8.

Neselius S, Brisby H, Theodorsson A, Blennow K, Zetterberg H, Marcusson J (2012) CSF-biomarkers in Olympic boxing: diagnosis and effects of repetitive head trauma. PLoS ONE 7(4):e33606

9.

Neselius S, Zetterberg H, Blennow K, Marcusson J, Brisby H (2013) Increased CSF levels of phosphorylated neurofilament heavy protein following bout in amateur boxers. PLoS ONE 8(11):e81249

10.

Norgren N, Rosengren L, Stigbrand T (2003) Elevated neurofilament levels in neurological diseases. Brain Res 987(1):25–31

11.

Petzold A, Michel P, Stock M, Schluep M (2008) Glial and axonal body fluid biomarkers are related to infarct volume, severity, and outcome. J Stroke Cerebrovasc Dis 17(4):196–203

12.

Rosengren LE, Ahlsen G, Belfrage M, Gillberg C, Haglid KG, Hamberger A (1992) A sensitive ELISA for glial fibrillary acidic protein: application in CSF of children. J Neurosci Methods 44(2–3):113–119

13.

Rosengren LE, Karlsson JE, Karlsson JO, Persson LI, Wikkelso C (1996) Patients with amyotrophic lateral sclerosis and other neurodegenerative diseases have increased levels of neurofilament protein in CSF. J Neurochem 67(5):2013–2018

14.

Shahani N, Brandt R (2002) Functions and malfunctions of the tau proteins. Cell Mol Life Sci 59(10):1668–1680

15.

Slobounov S, Slobounov E, Sebastianelli W, Cao C, Newell K (2007) Differential rate of recovery in athletes after first and second concussion episodes. Neurosurgery 61(2):338–344

16.

Vanmechelen E, Vanderstichele H, Davidsson P, Van Kerschaver E, Van Der Perre B, Sjogren M, Andreasen N, Blennow K (2000) Quantification of tau phosphorylated at threonine 181 in human cerebrospinal fluid: a sandwich ELISA with a synthetic phosphopeptide for standardization. Neurosci Lett 285(1):49–52

17.

Zetterberg H, Hietala MA, Jonsson M, Andreasen N, Styrud E, Karlsson I, Edman A, Popa C, Rasulzada A, Wahlund LO, Mehta PD, Rosengren L, Blennow K, Wallin A (2006) Neurochemical aftermath of amateur boxing. Arch Neurol 63(9):1277–1280

18.

Zetterberg H, Smith DH, Blennow K (2013) Biomarkers of mild traumatic brain injury in cerebrospinal fluid and blood. Nat Rev Neurol 9(4):201–210
Acknowledgments
This study has been funded by Swedish Research Council, the Knut and Alice Wallenberg Foundation and Swedish State Support for Clinical Research.
Conflict of interest
The authors declare that there is no conflict of interest.
About this article
Cite this article
Neselius, S., Brisby, H., Granholm, F. et al. Monitoring concussion in a knocked-out boxer by CSF biomarker analysis. Knee Surg Sports Traumatol Arthrosc 23, 2536–2539 (2015). https://doi.org/10.1007/s00167-014-3066-6
Received:

Accepted:

Published:

Issue Date:
Keywords
Concussion

Traumatic brain injury (TBI)

Mild traumatic brain injury

Boxing