Abstract
Coracoid impingement syndrome results from subscapularis tendon entrapment between the humerus and the coracoid. This syndrome is an uncommon cause of shoulder pain that has many different aetiologies. Although synovial cysts have been reported as cause of coracoid impingement at this level, solid tumoural lesions are a rare cause of symptoms in this location. Two cases of benign soft tissue solid tumours are presented. Both patients developed symptoms compatible with coracoid impingement syndrome. The lesions were fully resected under arthroscopic visualization. Both patients had complete resolution of the symptoms and are asymptomatic at 2-year follow-up. Arthroscopic removal of benign soft tissue tumours that cause coracoid impingement syndrome has good results.
Level of evidence Case series with no comparison group, Level IV.
This is a preview of subscription content, log in to check access.
Access options
Buy single article
Instant access to the full article PDF.
US$ 39.95
Price includes VAT for USA
Subscribe to journal
Immediate online access to all issues from 2019. Subscription will auto renew annually.
US$ 199
This is the net price. Taxes to be calculated in checkout.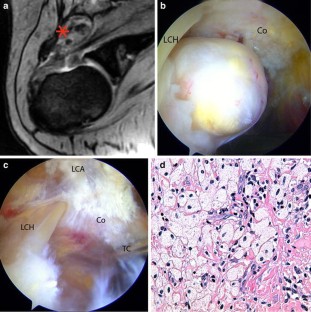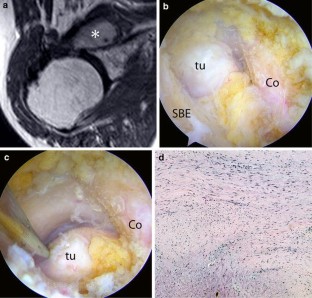 References
1.

Burkhart SS, Tehrany AM (2002) Arthroscopic subscapularis tendon repair: technique and preliminary results. Arthroscopy 18(5):454–463

2.

Ferrick MR (2000) Coracoid impingement. A case report and review of the literature. Am J Sports Med 28(1):117–119

3.

Gerber C, Terrier F, Ganz R (1985) The role of the coracoid process in the chronic impingement syndrome. J Bone Joint Surg Br 67(5):703–708

4.

Goldthwait J (1909) An anatomic and mechanical study of the shoulder-joint, explaining many of the cases of painful shoulder, many of the recurrent dislocations, and many of the cases of brachial neuralgias or neuritis. J Bone Joint Surg Am s2–6(4):579–606

5.

Han KJ, Cho JH, Han SH, Hyun HS, Lee DH (2012) Subacromial impingement syndrome secondary to scapulothoracic dyskinesia. Knee Surg Sports Traumatol Arthrosc 20(10):1958–1960

6.

Karnaugh RD, Sperling JW, Warren RF (2001) Arthroscopic treatment of coracoid impingement. Arthroscopy 17(7):784–787

7.

Ko JY, Shih CH, Chen WJ, Yamamoto R (1994) Coracoid impingement caused by a ganglion from the subscapularis tendon. A case report. J Bone Joint Surg Am 76(11):1709–1711

8.

Lo IK, Burkhart SS (2003) Arthroscopic coracoplasty through the rotator interval. Arthroscopy 19(6):667–671

9.

Martetschlager F, Rios D, Boykin RE, Giphart JE, de Waha A, Millett PJ (2012) Coracoid impingement: current concepts. Knee Surg Sports Traumatol Arthrosc 20(11):2148–2155

10.

Mavrogenis AF, Valencia JD, Romagnoli C, Guerra G, Ruggieri P (2012) Tumors of the coracoid process: clinical evaluation of twenty-one patients. J Should Elb Surg 21(11):1508–1515

11.

Ritchie DA (1999) MR imaging of synovial tumours and tumour-like lesions. Br J Radiol 72(854):212–218

12.

Russo R, Togo F (1991) The subcoracoid impingement syndrome: clinical, semeiologic and therapeutic considerations. Ital J Orthop Traumatol 17(3):351–358

13.

Yel M, Parham M, Burkhead WZ Jr (2001) Old unreduced posterior sternoclavicular dislocation and coracoid impingement. Proc (Bayl Univ Med Cent) 14(3):243–245
Conflict of interest
The authors report that they have no conflict of interest in the authorship and publication of this article.
About this article
Cite this article
Cuéllar, A., Cuéllar, R., Sánchez, A. et al. Soft tissue tumour causing coracoid impingement syndrome. Knee Surg Sports Traumatol Arthrosc 23, 2635–2638 (2015). https://doi.org/10.1007/s00167-014-3048-8
Received:

Accepted:

Published:

Issue Date:
Keywords
Tumour

Coracoid space

Shoulder

Coracoid impingement

Arthroscopy