Abstract
Purpose
To determine the technical feasibility and preliminary clinical efficacy of performing simultaneous arthroscopic management in cases with combined posterior and anterior ankle pathologies utilizing previously described standard arthroscopic procedures within a single surgical sitting.
Methods
Nineteen consecutive patients with combined anterior and posterior ankle pathologies were included in the current study, after at least 6 months of failed conservative managements. Combined standard posterior and anterior ankle arthroscopy was performed in all patients within the same surgical session; first with the patient in the prone position, then with the patient turned onto the supine position to perform the anterior procedure.
Results
All patients were available for the follow-up; the median follow-up period was 33 months (range 22–61 months). No persistent neurological deficits or infections were recorded. The American Orthopedic Foot and Ankle Society Ankle and Hind foot Scale score significantly improved from 70.2 ± 15.2 points preoperatively to reach 93.0 ± 5.4 points at 1 year post-operatively (p < 0.001). Sixteen patients (84.2 %) returned to their previous activity levels.
Conclusions
Combined arthroscopic management of concurrent posterior and anterior ankle pathologies within the same surgical session is initially clinically encouraging; it allows for an earlier return to activities of daily living without a significantly added morbidity.
Level of evidence
Case series, Level IV.
Access options
Buy single article
Instant access to the full article PDF.
US$ 39.95
Tax calculation will be finalised during checkout.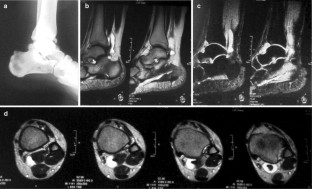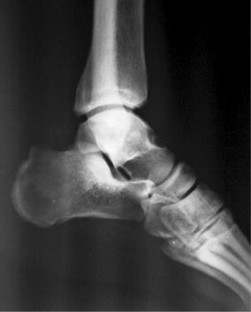 References
1.

Acevedo JI, Busch MT, Ganey TM, Hutton WC, Ogden JA (2000) Coaxial portals for posterior ankle arthroscopy: an anatomic study, with clinical correlation on 29 patients. Arthroscopy 16(8):836–842

2.

Allegra F, Maffulli N, Cerza F, Delianni E (2009) Posteromedial approach procedure in the supine position for one-step anterior and posterior ankle arthroscopy. Sports Med Arthrosc 17(3):185–189

3.

Allegra F, Maffulli N (2010) Double postero-medial portals for posterior ankle arthroscopy in supine position. Clin Orthop Relat Res 468(4):996–1001

4.

Bojanic I, Bergovec M, Smoljanovic T (2009) Combined anterior and posterior arthroscopic portals for loose body removal and synovectomy for synovial chondromatosis. Foot Ankle Int 30(11):1120–1123

5.

Bureau NJ, Cardinal E, Hobden R, Aubin B (2000) Posterior ankle impingement syndrome; MR imaging findings in seven patients. Radiology 215(2):497–503

6.

Corte-Real NM, Moreira RM, Guerra-Pinto F (2012) Arthroscopic treatment of tenosynovitis of the flexor hallucis longus tendon. Foot Ankle Int 33(12):1108–1112

7.

Coughlin MJ, Mann RA (1993) Tarsal tunnel syndrome. In: Mann RA, Coughlin MJ (eds) Surgery of the foot and ankle, 6th edn. Mosby, St. Louis, pp 554–558

8.

Cutsuries AM, Saltrick KR, Wagner J, Catanzariti AR (1994) Arthroscopic arthroplasty of the ankle joint. Clin Podiatr Med Surg 11(3):449–467

9.

de Leeuw PA, Golano P, van Dijk CN (2008) A 3-portal endoscopic groove deepening technique for recurrent peroneal tendon dislocation. Tech Foot Ankle Surg 7(4):250–256

10.

Deng DF, Hamilton GA, Lee M, Rush S, Ford LA, Patel S (2012) Complications associated with foot and ankle arthroscopy. J Foot Ankle Surg 51(3):281–284

11.

Gougoulias NE, Agathangelidis FG, Parsons SW (2007) Arthroscopic ankle arthrodesis. Foot Ankle Int 28(6):695–706

12.

Guo QW, Hu YL, Jiao C, Ao YF, Tian DX (2010) Open versus endoscopic excision of a symptomatic os trigonum: a comparative study of 41 cases. Arthroscopy 26(3):384–390

13.

Hamilton WG (1993) Foot and ankle injuries in dancers. In: Mann RA, Coughlin MJ (eds) Surgery of the foot and ankle, 6th edn. Mosby, St. Louis, pp 1241–1276

14.

Hampton CB, Shawen SB, Keeling JJ (2010) Positioning technique for combined anterior, lateral, and posterior ankle and hind foot procedures: technical tip. Foot Ankle Int 31(4):348–350

15.

Henderson I, La Valette D (2004) Ankle impingement: combined anterior and posterior impingement syndrome of the ankle. Foot Ankle Int 25(9):632–638

16.

Jacobson K, Ng A, Haffner KE (2011) Arthroscopic treatment of anterior ankle impingement. Clin Podiatr Med Surg 28(3):491–510

17.

Kitaoka HB, Alexander IJ, Adelaar RS, Nunley JA, Myerson MS, Sanders M (1994) Clinical rating systems for the ankle-hindfoot, midfoot hallux and lesser toes. Foot Ankle Int 15(7):349–353

18.

Kim HK, Jeon JY, Dong Q, Kim HN, Park YW (2013) Ankle arthroscopy in a hanging position combined with hindfoot endoscopy for the treatment of concurrent anterior and posterior impingement syndrome of the ankle. J Foot Ankle Surg 52(6):704–709

19.

Lawson JP (1985) Symptomatic radiographic variants in the extremities. Radiology 157(3):625–631

20.

Liu SH, Nuccion SL, Finerman G (1997) Diagnosis of anterolateral ankle impingement: comparison between magnetic resonance imaging and clinical examination. Am J Sports Med 25(3):390–394

21.

Lombardi CM, Silhanek AD, Connolly FG (1999) Modified arthroscopic excision of the symptomatic os trigonum and release of the flexor hallucis longus tendon: operative technique and case study. J Foot Ankle Surg 38(5):347–351

22.

Lui TH, Chan WK, Chan KB (2006) The arthroscopic management of frozen ankle. Arthroscopy 22(3):283–286

23.

Lui TH (2008) Ankle arthroscopy with patient in prone position. Arch Orthop Trauma Surg 128(11):1283–1285

24.

McGahan PJ, Pinney SJ (2010) Current concept review: osteochondral lesions of the talus. Foot Ankle Int 31(1):90–101

25.

Mizel MS, Hecht PJ, Marymont JV, Temple HT (2004) Evaluation and treatment of chronic ankle pain. J Bone Joint Surg Am 86:622–632

26.

Nickisch F, Barg A, Saltzman CL, Beals TC, Bonasia DE, Phisitkul P, Femino JE, Amendola A (2012) Postoperative complications of posterior ankle and hindfoot arthroscopy. J Bone Joint Surg Am 94(5):439–446

27.

Ogut T, Ayhan E, Irgit K, Sarikaya AI (2011) Endoscopic treatment of posterior ankle pain. Knee Surg Sports Traumatol Arthrosc 19(8):1355–1361

28.

Robinson DE, Winson IG, Harries WJ, Kelly AJ (2003) Arthroscopic treatment of osteochondral lesions of the talus. J Bone Joint Surg Br 85(7):989–993

29.

Scholten PE, Seirevelt IN, van Dijk CN (2008) Hindfoot endoscopy for posterior ankle impingement. J Bone Joint Surg Am 90(12):2665–2672

30.

Scholten PE, van Dijk CN (2012) Case report: combined posterior and anterior ankle arthroscopy. Case Rep Orthop 2012:693124. doi:10.1155/2012/693124

31.

Schweitzer ME, van Leersum M, Ehrlich SS, Wapner K (1994) Fluid in normal and abnormal ankle joints: amount and distribution as seen on MR images. Am J Roentgenol 162(1):111–114

32.

Tol JL, van Dijk CN (2006) Anterior ankle impingement. Foot Ankle Clin 11(2):297–310

33.

Tol JL, Verheyen CP, van Dijk CN (2001) Arthroscopic treatment of anterior impingement in the ankle. J Bone Joint Surg Br 83(1):9–13

34.

van Dijk CN, Scholten PE, Krips R (2000) A 2-portal endoscopic approach for diagnosis and treatment of posterior ankle pathology. Arthroscopy 16(8):871–876

35.

van Dijk CN, van Bergen CJ (2008) Advancements in ankle arthroscopy. J Am Acad Orthop Surg 16(11):635–646

36.

van Dijk CN (2006) Anterior and posterior ankle impingement. Foot Ankle Clin 11(3):663–683

37.

van Dijk CN (2006) Hindfoot endoscopy. Foot Ankle Clin 11(2):391–414

38.

Willits K, Sonneveld H, Amendola A, Giffin JR, Griffin S, Fowler PJ (2008) Outcome of posterior ankle arthroscopy for hindfoot impingement. Arthroscopy 24(2):196–202

39.

Zengerink M, van Dijk CN (2012) Complications in ankle arthroscopy. Knee Surg Sports Traumatol Arthrosc 20(8):1420–1431
About this article
Cite this article
Abdelatif, N.M.N. Combined arthroscopic management of concurrent posterior and anterior ankle pathologies. Knee Surg Sports Traumatol Arthrosc 22, 2837–2842 (2014). https://doi.org/10.1007/s00167-014-2980-y
Received:

Accepted:

Published:

Issue Date:
Keywords
Ankle arthroscopy

Combined anterior and posterior pathology

Simultaneous management