Abstract
Purpose
Meniscal injury resulting in segmental loss of meniscal tissue is a major risk factor for the development of osteoarthritis. Tissue engineering strategies have provided scaffolds for meniscal regeneration in order to establish a treatment option for patients with limited opportunities for meniscal reconstruction. The purpose of this study was to assess the clinical and magnetic resonance imaging (MRI) results 2 years after implantation of a polyurethane scaffold for chronic segmental medial meniscus deficiency following partial medial meniscectomy.
Methods
Eighteen patients were treated with arthroscopic implantation of an ActiFit® (Orteq Sports Medicine) polyurethane meniscal scaffold for meniscus deficiency of the medial meniscus. Patients were followed up at 6, 12, and 24 months. Clinical outcome was assessed using patient-reported outcome scores (KOOS, KSS, UCLA activity scale, VAS for pain). Radiological outcome was assessed using MRI at 6, 12, and 24 months by evaluating scaffold morphology, scaffold integration, and additional joint injury, as well as joint inflammation.
Results
Eighteen patients with a median age of 32.5 years (range 17–49) were enrolled. Statistically significant improvements were present in all patients, but one at 2 years compared to baseline in all categories. Complete resorption of the scaffold occurred in one patient representing a failure to treatment. MRI showed abnormal signal intensity of the scaffold when compared to residual meniscal tissue but without synovitis or joint inflammation. Extrusion of the scaffold was present in four patients. No correlation between scaffold extrusion and clinical outcome was observed.
Conclusion
Arthroscopic implantation of a polyurethane meniscal scaffold in patients with chronic segmental medial meniscus deficiency is not only a safe procedure but leads to good clinical results at a 2-year follow-up. Scaffold extrusion did not appear to affect clinical outcome.
Level of evidence
IV.
Access options
Buy single article
Instant access to the full article PDF.
US$ 39.95
Tax calculation will be finalised during checkout.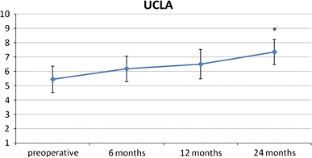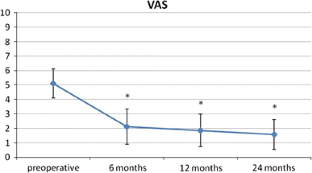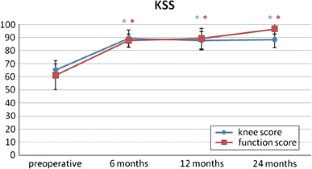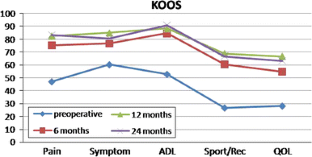 References
1.

Bouyarmane H, Beaufils P, Pujol N, Bellemans J, Roberts S, Spalding T, Zaffagnini S, Marcacci M, Verdonk P, Womack M, Verdonk R (2014) Polyurethane scaffold in lateral meniscus segmental defects: clinical outcomes at 24 months follow-up. Orthop Traumatol Surg Res 100:153–157

2.

Burks RT, Metcalf MH, Metcalf RW (1997) Fifteen-year follow-up of arthroscopic partial meniscectomy. Arthroscopy 13:673–679

3.

Choi CJ, Choi YJ, Lee JJ, Choi CH (2010) Magnetic resonance imaging evidence of meniscal extrusion in medial meniscus posterior root tear. Arthroscopy 26:1602–1606

4.

De Coninck T, Huysse W, Willemot L, Verdonk R, Verstraete K, Verdonk P (2013) Two-year follow-up study on clinical and radiological outcomes of polyurethane meniscal scaffolds. Am J Sports Med 41:64–72

5.

Efe T, Getgood A, Schofer MD, Fuchs-Winkelmann S, Mann D, Paletta JR, Heyse TJ (2012) The safety and short-term efficacy of a novel polyurethane meniscal scaffold for the treatment of segmental medial meniscus deficiency. Knee Surg Sports Traumatol Arthrosc 20:1822–1830

6.

Englund M, Guermazi A, Lohmander LS (2009) The meniscus in knee osteoarthritis. Rheum Dis Clin North Am 35:579–590

7.

Englund M, Roos EM, Lohmander LS (2003) Impact of type of meniscal tear on radiographic and symptomatic knee osteoarthritis: a sixteen-year followup of meniscectomy with matched controls. Arthritis Rheum 48:2178–2187

8.

Esposito AR, Moda M, Cattani SM, de Santana GM, Barbieri JA, Munhoz MM, Cardoso TP, Barbo ML, Russo T, D'Amora U, Gloria A, Ambrosio L, Duek EA (2013) PLDLA/PCL-T Scaffold for meniscus tissue engineering. Biores Open Access 2:138–147

9.

Fetzer GB, Spindler KP, Amendola A, Andrish JT, Bergfeld JA, Dunn WR, Flanigan DC, Jones M, Kaeding CC, Marx RG, Matava MJ, McCarty EC, Parker RD, Wolcott M, Vidal A, Wolf BR, Wright RW (2009) Potential market for new meniscus repair strategies: evaluation of the MOON cohort. J Knee Surg 22:180–186

10.

Flandry F, Hunt JP, Terry GC, Hughston JC (1991) Analysis of subjective knee complaints using visual analog scales. Am J Sports Med 19:112–118

11.

Fox DB, Warnock JJ (2011) Cell-based meniscal tissue engineering: a case for synoviocytes. Clin Orthop Relat Res 469:2806–2816

12.

Gale DR, Chaisson CE, Totterman SM, Schwartz RK, Gale ME, Felson D (1999) Meniscal subluxation: association with osteoarthritis and joint space narrowing. Osteoarthritis Cartilage 7:526–532

13.

Galley NK, Gleghorn JP, Rodeo S, Warren RF, Maher SA, Bonassar LJ (2011) Frictional properties of the meniscus improve after scaffold-augmented repair of partial meniscectomy: a pilot study. Clin Orthop Relat Res 469:2817–2823

14.

Genovese E, Angeretti MG, Ronga M, Leonardi A, Novario R, Callegari L, Fugazzola C (2007) Follow-up of collagen meniscus implants by MRI. Radiol Med 112:1036–1048

15.

Ha JK, Shim JC, Kim DW, Lee YS, Ra HJ, Kim JG (2010) Relationship between meniscal extrusion and various clinical findings after meniscus allograft transplantation. Am J Sports Med 38:2448–2455

16.

Hirschmann MT, Keller L, Hirschmann A, Schenk L, Berbig R, Luthi U, Amsler F, Friederich NF, Arnold MP (2013) One-year clinical and MR imaging outcome after partial meniscal replacement in stabilized knees using a collagen meniscus implant. Knee Surg Sports Traumatol Arthrosc 21:740–747

17.

Insall JN, Dorr LD, Scott RD, Scott WN (1989) Rationale of the Knee Society clinical rating system. Clin Orthop Relat Res 248:13–14

18.

Kon E, Filardo G, Zaffagnini S, Di Martino A, Di Matteo B, Marcheggiani Muccioli GM, Busacca M, Marcacci M (2014) Biodegradable polyurethane meniscal scaffold for isolated partial lesions or as combined procedure for knees with multiple comorbidities: clinical results at 2 years. Knee Surg Sports Traumatol Arthrosc 22:128–134

19.

Lynch TC, Crues JV 3rd, Morgan FW, Sheehan WE, Harter LP, Ryu R (1989) Bone abnormalities of the knee: prevalence and significance at MR imaging. Radiology 171:761–766

20.

McDermott ID, Amis AA (2006) The consequences of meniscectomy. J Bone Joint Surg Br 88:1549–1556

21.

Pereira H, Frias AM, Oliveira JM, Espregueira-Mendes J, Reis RL (2011) Tissue engineering and regenerative medicine strategies in meniscus lesions. Arthroscopy 27:1706–1719

22.

Reicher MA, Hartzman S, Duckwiler GR, Bassett LW, Anderson LJ, Gold RH (1986) Meniscal injuries: detection using MR imaging. Radiology 159:753–757

23.

Rodkey WG (2000) Basic biology of the meniscus and response to injury. Instr Course Lect 49:189–193

24.

Roos EM, Lohmander LS (2003) The knee injury and osteoarthritis outcome score (KOOS): from joint injury to osteoarthritis. Health Qual Life Outcomes 1:64–71

25.

Roos EM, Roos HP, Lohmander LS, Ekdahl C, Beynnon BD (1998) Knee injury and osteoarthritis outcome score (KOOS)–development of a self-administered outcome measure. J Orthop Sports Phys Ther 28:88–96

26.

Spencer SJ, Saithna A, Carmont MR, Dhillon MS, Thompson P, Spalding T (2012) Meniscal scaffolds: early experience and review of the literature. Knee 19:760–765

27.

Terwee CB, Bouwmeester W, van Elsland SL, de Vet HC, Dekker J (2011) Instruments to assess physical activity in patients with osteoarthritis of the hip or knee: a systematic review of measurement properties. Osteoarthritis Cartilage 19:620–633

28.

Verdonk P, Beaufils P, Bellemans J, Djian P, Heinrichs EL, Huysse W, Laprell H, Siebold R, Verdonk R (2012) Successful treatment of painful irreparable partial meniscal defects with a polyurethane scaffold: two-year safety and clinical outcomes. Am J Sports Med 40:844–853

29.

Verdonk P, Depaepe Y, Desmyter S, De Muynck M, Almqvist KF, Verstraete K, Verdonk R (2004) Normal and transplanted lateral knee menisci: evaluation of extrusion using magnetic resonance imaging and ultrasound. Knee Surg Sports Traumatol Arthrosc 12:411–419

30.

Verdonk R (2011) The meniscus: past, present and future. Knee Surg Sports Traumatol Arthrosc 19:145–146

31.

Verdonk R, Verdonk P, Huysse W, Forsyth R, Heinrichs EL (2011) Tissue ingrowth after implantation of a novel, biodegradable polyurethane scaffold for treatment of partial meniscal lesions. Am J Sports Med 39:774–782

32.

Xu C, Zhao J (2013) A meta-analysis comparing meniscal repair with meniscectomy in the treatment of meniscal tears: the more meniscus, the better outcome? Knee Surg Sports Traumatol Arthrosc. doi:10.1007/s00167-013-2528-6

33.

Zaffagnini S, Giordano G, Vascellari A, Bruni D, Neri MP, Iacono F, Kon E, Presti ML, Marcacci M (2007) Arthroscopic collagen meniscus implant results at 6 to 8 years follow up. Knee Surg Sports Traumatol Arthrosc 15:175–183
Conflict of interest
There are no conflicts of interest.
About this article
Cite this article
Schüttler, K.F., Pöttgen, S., Getgood, A. et al. Improvement in outcomes after implantation of a novel polyurethane meniscal scaffold for the treatment of medial meniscus deficiency. Knee Surg Sports Traumatol Arthrosc 23, 1929–1935 (2015). https://doi.org/10.1007/s00167-014-2977-6
Received:

Accepted:

Published:

Issue Date:
Keywords
Actifit

Meniscus

Biodegradable scaffold

MRI

Polyurethane scaffold

Partial meniscectomy

Irreparable meniscal defect