Abstract
The meniscal roots are essential for preserving the native biomechanical and structural properties of the tibiofemoral joint. Meniscus root avulsions, which disrupt the normal meniscus anchoring points, have been reported to result in deleterious biomechanics and clinical outcomes. In this series, two cases of iatrogenic medial meniscus anterior root avulsions after anterior cruciate ligament (ACL) reconstruction are reported. Iatrogenic medial meniscus anterior root avulsions after malpositioning of the tibial tunnels during ACL reconstruction have not been previously reported in the literature and may account for poor long-term outcomes seen in some patients after ACL reconstruction. Therefore, careful attention must be paid to correct tibial tunnel placement during ACL reconstruction.
Level of evidence Case series, Level IV.
This is a preview of subscription content, log in to check access.
Access options
Buy single article
Instant access to the full article PDF.
US$ 39.95
Price includes VAT for USA
Subscribe to journal
Immediate online access to all issues from 2019. Subscription will auto renew annually.
US$ 199
This is the net price. Taxes to be calculated in checkout.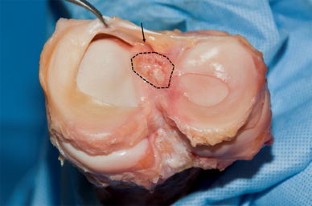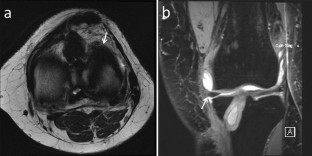 References
1.

Ahn JH, Wang JH, Yoo JC, Noh HK, Park JH (2007) A pull out suture for transection of the posterior horn of the medial meniscus: using a posterior trans-septal portal. Knee Surg Sports Traumatol Arthrosc 15:1510–1513

2.

Allaire R, Muriuki M, Gilbertson L, Harner CD (2008) Biomechanical consequences of a tear of the posterior root of the medial meniscus. Similar to total meniscectomy. J Bone Joint Surg Am 90:1922–1931

3.

Bhatia S, Korth K, Van Thiel GS, Gupta D, Cole BJ, Bach BR Jr, Verma NN (2013) Effect of reamer design on the posteriorization of the tibial tunnel during endoscopic transtibial anterior cruciate ligament reconstruction. Am J Sports Med 41:1282–1289

4.

Costa CR, Morrison WB, Carrino JA (2004) Medial meniscus extrusion on knee MRI: is extent associated with severity of degeneration or type of tear? Am J Roentgenol 183:17–23

5.

Feucht MJ, Minzlaff P, Saier T, Lenich A, Imhoff AB, Hinterwimmer S (2013) Avulsion of the anterior medial meniscus root: case report and surgical technique. Knee Surg Sports Traumatol Arthrosc. doi:10.1007/s00167-013-2462-7

6.

Harner CD, Mauro CS, Lesniak BP, Romanowski JR (2009) Biomechanical consequences of a tear of the posterior root of the medial meniscus. J Bone Joint Surg Am 91(Suppl 2):257–270

7.

Hoser C, Fink C, Brown C, Reichkendler M, Hackl W, Bartlett J (2001) Long-term results of arthroscopic partial lateral meniscectomy in knees without associated damage. J Bone Joint Surg Br 83-B:513–516

8.

Johannsen AM, Civitarese DM, Padalecki JR, Goldsmith MT, Wijdicks CA, LaPrade RF (2012) Qualitative and quantitative anatomic analysis of the posterior root attachments of the medial and lateral menisci. Am J Sports Med 40:2342–2347

9.

Johnson DL, Swenson TM, Livesay GA, Aizawa H, Fu FH, Harner CD (1995) Insertion-site anatomy of the human menisci: gross, arthroscopic and topographical anatomy as a basis for meniscal transplantation. Arthroscopy 11:386–394

10.

Jones AO, Houang MTW, Low RS, Wood DG (2006) Medial meniscus posterior root attachment injury and degeneration: MRI findings. Australas Radiol 50:306–313

11.

Kohn D, Moreno B (1995) Meniscus insertion anatomy as a basis for meniscus replacement: a morphological cadaveric study. Arthroscopy 11:96–103

12.

LaPrade CM, Jansson KS, Dorman G, Smith SD, Wijdicks CA, LaPrade RF (2014) Altered tibiofemoral contact mechanics due to lateral meniscus posterior horn root avulsions and radial tears can be restored with in situ pull out repairs. J Bone Joint Surg Am. doi:10.2106/JBJS.L.01252

13.

Lee DH, Lee BS, Kim JM, Ynag KS, Cha EJ, Park JH, Bin SI (2011) Predictors of degenerative medial meniscus extrusion: radial component and knee osteoarthritis. Knee Surg Sports Traumatol Arthrosc 19:222–229

14.

Lerer DB, Umans HR, Hu MX, Jones MH (2004) The role of meniscal root pathology and radial meniscal tear in medial meniscal extrusion. Skeletal Radiol 33:569–574

15.

Marzo JM, Gurske-DePerio J (2009) Effects of medial meniscus posterior horn avulsion and repair on tibiofemoral contact area and peak contact pressure with clinical implications. Am J Sports Med 37:124–129

16.

Navarro-Holgado P, Cuevas-Perez A, Aguayo-Galeote M, Carpintero-Benitez P (2007) Anterior medial meniscus detachment and anterior cruciate ligament tear. Knee Surg Sports Traumatol Arthrosc 15:587–590

17.

Nelson EW, LaPrade RF (2000) The anterior intermeniscal ligament of the knee. an anatomic study. Ame J Sports Med 28:74–76

18.

Nicholas SJ, Golant A, Schachter AK, Lee SJ (2009) A new surgical technique for arthroscopic repair of the meniscus root tear. Knee Surg Sports Traumatol Arthrosc 17:1433–1436

19.

Ohkoshi Y, Takeuchi T, Inoue C, Hashimoto T, Shigenobu K, Yamane S (1997) Arthroscopic studies of variants of the anterior horn of the medial meniscus. Arthroscopy 13:725–730

20.

Øiestad E, Holm I, Aune AK, Gunderson R, Myklebust G, Engebretsen L, Fosdahl MA, Risberg MA (2010) Knee function and prevalence of knee osteoarthritis after anterior cruciate ligament reconstruction: a prospective study with 10 to 15 years of follow-up. Am J Sports Med 38:2201–2210

21.

Padalecki JR, Jansson KS, Dorman G, Smith SD, Pierce C, Wijdicks CA, LaPrade RF (2014) Biomechanical consequences of a complete radial tear adjacent to the medial meniscus posterior root attachment site: in situ pullout repair restores derangement of joint mechanics. Am J Sports Med. doi:10.1177/0363546513499314

22.

Schillhammer CK, Werner FW, Scuderi MG, Cannizzaro JP (2012) Repair of lateral meniscus posterior horn detachment lesions: a biomechanical evaluation. Am J Sports Med 40:2604–2609

23.

Shepard MF, Hunter DM, Davies MR, Shapiro MS, Seeger LL (2002) The clinical significance of anterior horn meniscal tears diagnosed on magnetic resonance images. Am J Sports Med 30:189–192

24.

Stein T, Mehling AP, Welsch F, von Eisenhart-Rothe R, Jäger A (2010) Long-term outcome after arthroscopic meniscal repair versus arthroscopic partial meniscectomy for traumatic meniscal repairs. Am J Sports Med 38:1542–1548

25.

Von Porat A, Roos EM, Roos H (2004) High prevalence of osteoarthritis 14 years after an anterior cruciate ligament tear in male soccer players: a study of radiographic and patient relevant outcomes. Ann Rheum Dis 63:269–273

26.

Zantop T, Wellmann M, Fu FH, Petersen W (2008) Tunnel positioning of anteromedial and posterolateral bundles in anatomic anterior cruciate ligament reconstruction: anatomic and radiographic findings. Am J Sports Med 36:65–72

27.

Ziegler CG, Pietrini SD, Westerhaus BD, Anderson CJ, Wijdicks CA, Johansen S, Engebretsen L, LaPrade RF (2011) Arthroscopically pertinent landmarks for tunnel positioning in single bundle and double bundle anterior cruciate ligament reconstructions. Am J Sports Med 39:743–752
About this article
Cite this article
LaPrade, C.M., James, E.W., Engebretsen, L. et al. Anterior medial meniscal root avulsions due to malposition of the tibial tunnel during anterior cruciate ligament reconstruction: two case reports. Knee Surg Sports Traumatol Arthrosc 22, 1119–1123 (2014). https://doi.org/10.1007/s00167-014-2868-x
Received:

Accepted:

Published:

Issue Date:
Keywords
Anterior cruciate ligament

Meniscus

Meniscus root

Root avulsion

Anterior cruciate ligament reconstruction

Medial meniscus