Abstract
Purpose
To compare the outcomes of diffuse pigmented villonodular synovitis (PVNS) of the knee treated with routine anteroposterior open surgery or modified multi-directional arthroscopy.
Methods
Medical records of patients with diffuse PVNS who underwent surgery between 2002 and 2010 were reviewed. Patients were followed up at 3, 6, 12, 24, and 36 months. Operative time, blood loss, length of hospital stay, recurrence rate, and International Knee Documentation Committee (IKDC) scores and Lysholm knee scores at 1- and 3-year postoperatively were compared between the open surgery and arthroscopy groups.
Results
A total of 41 patients with diffuse PVNS were included (20 in open surgery group and 21 in multi-directional arthroscopy group). There was no significant difference in the baseline characteristics between the two groups. Operation time, postoperative bleeding, and length of hospital stay were all significantly lower in the arthroscopy group than in the open surgery group (all, P < 0.05). There were four recurrences in the open surgery group and one in arthroscopy group. All five recurrences received a second surgery without any subsequent recurrences. At both 1- and 3-year postoperatively, IKDC and Lysholm scores were significantly greater in the arthroscopy group than the open surgery group (all P < 0.001).
Conclusions
The multi-directional arthroscopic technique was associated with significantly shorter operation time and hospital stay, less blood loss, and better postoperative IKDC and Lysholm scores than open surgery.
Level of evidence
Retrospective study with controls, Level III.
Access options
Buy single article
Instant access to the full article PDF.
USD 39.95
Price excludes VAT (USA)
Tax calculation will be finalised during checkout.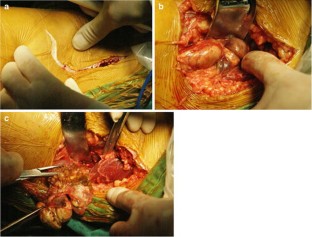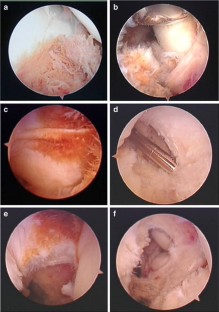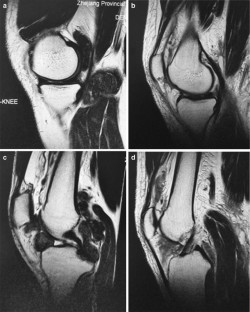 References
Akinci O, Akalin Y, İncesu M, Eren A (2011) Long-term results of surgical treatment of pigmented villonodular synovitis of the knee. Acta Orthop Traumatol Turc 45:149–155

Chen WM, Wu PK, Liu CL (2012) Simultaneous anterior and posterior synovectomies for treating diffuse pigmented villonodular synovitis. Clin Orthop Relat Res 470:1755–1762

Colman MW, Ye J, Weiss KR, Goodman MA, McGough RL 3rd (2013) Does combined open and arthroscopic synovectomy for diffuse PVNS of the knee improve recurrence rates? Clin Orthop Relat Res 471:883–890

de Carvalho LH Jr, Soares LF, Gonçalves MB, Temponi EF, de Melo Silva O Jr (2012) Long-term success in the treatment of diffuse pigmented villonodular synovitis of the knee with subtotal synovectomy and radiotherapy. Arthroscopy 28:1271–1274

Fiocco U, Sfriso P, Lunardi F, Pagnin E, Oliviero F, Scagliori E, Cozzi L, Vezzù M, Molena B, Scanu A, Panziera C, Nardacchione R, Rubaltelli L, Dayer JM, Calabrese F, Punzi L (2010) Molecular pathways involved in synovial cell inflammation and tumoral proliferation in diffuse pigmented villonodular synovitis. Autoimmun Rev 9:780–784

Gillquist J, Hagberg G, Oretorp N (1979) Arthroscopic examination of the posteromedial compartment of the knee joint. Int Orthop 3:13–18

Kramer DE, Frassica FJ, Frassica DA, Cosgarea AJ (2009) Pigmented villonodular synovitis of the knee: diagnosis and treatment. J Knee Surg 22:243–254

Kubat O, Mahnik A, Smoljanović T, Bojanić I (2010) Arthroscopic treatment of localized and diffuse pigmented villonodular synovitis of the knee. Coll Antropol 34:1467–1472

Lee DH, Lee DK, Lee SH, Park JH, Kim CH, Han SB (2012) Tuberculous arthritis of the knee joint mimicking pigmented villonodular synovitis. Knee Surg Sports Traumatol Arthrosc 20:937–940

Loriaut P, Djian P, Boyer T, Bonvarlet JP, Delin C, Makridis KG (2012) Arthroscopic treatment of localized pigmented villonodular synovitis of the knee. Knee Surg Sports Traumatol Arthrosc 20:1550–1553

Maheshwari AV, Muro-Cacho CA, Pitcher JD Jr (2007) Pigmented villonodular bursitis/diffuse giant cell tumor of the pes anserine bursa: a report of two cases and review of literature. Knee 14:402–407

Nakahara H, Matsuda S, Harimaya K, Sakamoto A, Matsumoto Y, Okazaki K, Tashiro Y, Iwamoto Y (2012) Clinical results of open synovectomy for treatment of diffuse pigmented villonodular synovitis of the knee: case series and review of literature. Knee 19:684–687

Ogilvie-Harris DJ, McLean J, Zarnett ME (1992) Pigmented villonodular synovitis of the knee. The results of total arthroscopic synovectomy, partial, arthroscopic synovectomy, and arthroscopic local excision. J Bone Jt Surg Am 74:119–123

Ottaviani S, Ayral X, Dougados M, Gossec L (2011) Pigmented villonodular synovitis: a retrospective single-center study of 122 cases and review of the literature. Semin Arthritis Rheum 40:539–546

Park G, Kim YS, Kim JH, Lee SW, Song SY, Choi EK, Yi SY, Ahn SD (2012) Low-dose external beam radiotherapy as a postoperative treatment for patients with diffuse pigmented villonodular synovitis of the knee: 4 recurrences in 23 patients followed for mean 9 years. Acta Orthop 83:256–260

Rhee PC, Sassoon AA, Sayeed SA, Stuart MS, Dahm DL (2010) Arthroscopic treatment of localized pigmented villonodular synovitis: long-term functional results. Am J Orthop (Belle Mead NJ) 39:E90–E94

Sharma V, Cheng EY (2009) Outcomes after excision of pigmented villonodular synovitis of the knee. Clin Orthop Relat Res 467:2852–2858

Tyler WK, Vidal AF, Williams RJ, Healey JH (2006) Pigmented villonodular synovitis. J Am Acad Orthop Surg 14:376–385

van der Heijden L, Gibbons CL, Dijkstra PD, Kroep JR, van Rijswijk CS, Nout RA, Bradley KM, Athanasou NA, Hogendoorn PC, van de Sande MA (2012) The management of diffuse-type giant cell tumour (pigmented villonodular synovitis) and giant cell tumour of tendon sheath (nodular tenosynovitis). J Bone Jt Surg Br 94:882–888

Zvijac JE, Lau AC, Hechtman KS, Uribe JW, Tjin-A-Tsoi EW (1999) Arthroscopic treatment of pigmented villonodular synovitis of the knee. Arthroscopy 15:613–617
About this article
Cite this article
Gu, Hf., Zhang, Sj., Zhao, C. et al. A comparison of open and arthroscopic surgery for treatment of diffuse pigmented villonodular synovitis of the knee. Knee Surg Sports Traumatol Arthrosc 22, 2830–2836 (2014). https://doi.org/10.1007/s00167-014-2852-5
Received:

Accepted:

Published:

Issue Date:

DOI: https://doi.org/10.1007/s00167-014-2852-5
Keywords
Diffuse villonodular synovitis (PVNS)

Knee

Open surgery

Arthroscopy