Abstract
Purpose
C-reactive protein (CRP) is often used as an infection marker in orthopaedic patients and in particular after anterior cruciate ligament (ACL) reconstruction surgery. The aim of this study is to obtain the reference values of CRP during the first month after an ACL reconstruction and to analyse the epidemiological and surgical parameters that affect these values.
Methods
One hundred and twenty ACL reconstructions were included. A CRP determination was performed preoperatively and 1, 7, 14, 21 and 28 days after surgery. CRP values under 5 mg/l were considered to be normal.
Results
One patient developed a septic arthritis in the second week postoperatively and was excluded. One hundred and seventeen patients [93 males and 24 females; mean age (standard deviation) 31.6 years (7.6)] underwent 119 ACL reconstructions with different techniques and grafts. Preoperative CRP (n = 119) was 1.80 mg/ml (2.6). Mean values at 1, 7, 14, 21 and 28 days were, respectively, 8.5 mg/ml (11.6), 10.5 mg/ml (17.0), 4.5 mg/ml (3.43), 4.4 mg/ml (7.59) and 3.4 mg/ml (3.03). Multivariate analysis showed that males had postoperative CRP levels 1.7 higher than females (p < 0.0001; 95 % CI 1.8–2.5); the patients operated by less experienced surgeons had levels 2.5 times higher than those operated by a highly experienced surgeons (p = 0.007; 95 % CI 1.2–3.4) and that if microfracture of a chondral lesion was associated, the levels increased 1.9 times (p = 0.021; 95 % CI 1.1–3.4).
Conclusions
There are significant variations in CRP levels after ACL reconstruction in half of patients without infectious complications. Males, patients operated by less experienced surgeons and those with chondral lesions treated with microfracture had increased postoperative CRP levels. CRP values up to five times the normal limit are common in the month after an ACL reconstruction and are not necessarily associated with infection, especially in these groups.
Level of evidence
Diagnostic study, Level IV.
This is a preview of subscription content, log in to check access.
Access options
Buy single article
Instant access to the full article PDF.
US$ 39.95
Price includes VAT for USA
Subscribe to journal
Immediate online access to all issues from 2019. Subscription will auto renew annually.
US$ 199
This is the net price. Taxes to be calculated in checkout.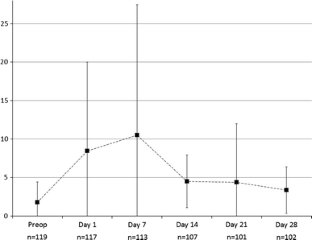 References
1.

Ardern CL, Webster KE, Taylor NF, Feller JA (2011) Return to sport following anterior cruciate ligament reconstruction surgery: a systematic review and meta-analysis of the state of play. Br J Sports Med 45(7):596–606

2.

Barker JU, Drakos MC, Maak TG, Warren RF, Williams RJ 3rd, Allen AA (2010) Effect of graft selection on the incidence of postoperative infection in anterior cruciate ligament reconstruction. Am J Sports Med 38(2):281–286

3.

Berbari E, Mabry T, Tsaras G, Spangehl M, Erwin PJ, Murad MH, Steckelberg J, Osmon D (2010) Inflammatory blood laboratory levels as markers of prosthetic joint infection: a systematic review and meta-analysis. J Bone Joint Surg Am 92(11):2102–2109

4.

Binnet MS, Basarir K (2007) Risk and outcome of infection after different arthroscopic anterior cruciate ligament reconstruction techniques. Arthroscopy 23(8):862–868

5.

Burks RT, Friederichs MG, Fink B, Luker MG, West HS, Greis PE (2003) Treatment of postoperative anterior cruciate ligament infections with graft removal and early reimplantation. Am J Sports Med 31(3):414–418

6.

Calvisi V, Lupparelli S (2008) C-reactive protein changes in the uncomplicated course of arthroscopic anterior cruciate ligament reconstruction. Int J Immunopathol Pharmacol 21(3):603–607

7.

Drago L, Vassena C, Dozio E, Corsi MM, De Vecchi E, Mattina R, Romano C (2011) Procalcitonin, C-reactive protein, interleukin-6, and soluble intercellular adhesion molecule-1 as markers of postoperative orthopaedic joint prosthesis infections. Int J Immunopathol Pharmacol 24(2):433–440

8.

Jameson SS, Dowen D, James P, Serrano-Pedraza I, Reed MR, Deehan D (2012) Complications following anterior cruciate ligament reconstruction in the English NHS. Knee 19(1):14–19

9.

Jennen-Steinmetz C, Wellek S (2005) A new approach to sample size calculation for reference interval studies. Stat Med 24(20):3199–3212

10.

Jenny JY (2008) C-reactive protein levels for early detection of postoperative infection after fracture surgery in 787 patients. Acta Orthop 79(6):874 author reply 874-875

11.

Judd D, Bottoni C, Kim D, Burke M, Hooker S (2006) Infections following arthroscopic anterior cruciate ligament reconstruction. Arthroscopy 22(4):375–384

12.

Margheritini F, Camillieri G, Mancini L, Mariani PP (2001) C-reactive protein and erythrocyte sedimentation rate changes following arthroscopically assisted anterior cruciate ligament reconstruction. Knee Surg Sports Traumatol Arthrosc 9(6):343–345

13.

McAllister DR, Parker RD, Cooper AE, Recht MP, Abate J (1999) Outcomes of postoperative septic arthritis after anterior cruciate ligament reconstruction. Am J Sports Med 27(5):562–570

14.

Miller WG, Chinchilli VM, Gruemer HD, Nance WE (1984) Sampling from a skewed population distribution as exemplified by estimation of the creatine kinase upper reference limit. Clin Chem 30(1):18–23

15.

Monaco E, Maestri B, Vadala A, Iorio R, Ferretti A (2010) Return to sports activity after postoperative septic arthritis in ACL reconstruction. Phys Sportsmed 38(3):69–76

16.

Mouzopoulos G, Fotopoulos VC, Tzurbakis M (2009) Septic knee arthritis following ACL reconstruction: a systematic review. Knee Surg Sports Traumatol Arthrosc 17(9):1033–1042

17.

Paxton EW, Namba RS, Maletis GB, Khatod M, Yue EJ, Davies M, Low RB Jr, Wyatt RW, Inacio MC, Funahashi TT (2010) A prospective study of 80,000 total joint and 5,000 anterior cruciate ligament reconstruction procedures in a community-based registry in the United States. J Bone Joint Surg Am 92(Suppl 2):117–132

18.

Reed AH, Henry RJ, Mason WB (1971) Influence of statistical method used on the resulting estimate of normal range. Clin Chem 17(4):275–284

19.

Riedel S (2012) Procalcitonin and the role of biomarkers in the diagnosis and management of sepsis. Diagn Microbiol Infect Dis 73(3):221–227

20.

Sbarouni E, Georgiadou P, Voudris V (2011) Gender-specific differences in biomarkers responses to acute coronary syndromes and revascularization procedures. Biomarkers 16(6):457–465

21.

Schollin-Borg M, Michaelsson K, Rahme H (2003) Presentation, outcome, and cause of septic arthritis after anterior cruciate ligament reconstruction: a case control study. Arthroscopy 19(9):941–947

22.

Schulz AP, Gotze S, Schmidt HG, Jurgens C, Faschingbauer M (2007) Septic arthritis of the knee after anterior cruciate ligament surgery: a stage-adapted treatment regimen. Am J Sports Med 35(7):1064–1069

23.

Solberg HE (1987) International Federation of Clinical Chemistry (IFCC), Scientific Committee, Clinical Section, Expert Panel on Theory of Reference Values, and International Committee for Standardization in Haematology (ICSH), Standing Committee on Reference Values. Approved Recommendation (1986) on the theory of reference values. Part 1. The concept of reference values. J Clin Chem Clin Biochem 25(5):337–342

24.

Sonnery-Cottet B, Archbold P, Zayni R, Bortolletto J, Thaunat M, Prost T, Padua VB, Chambat P (2011) Prevalence of septic arthritis after anterior cruciate ligament reconstruction among professional athletes. Am J Sports Med 39(11):2371–2376

25.

Tjoumakaris FP, Herz-Brown AL, Bowers AL, Sennett BJ, Bernstein J (2012) Complications in brief: anterior cruciate ligament reconstruction. Clin Orthop Relat Res 470:630–636

26.

Van Tongel A, Stuyck J, Bellemans J, Vandenneucker H (2007) Septic arthritis after arthroscopic anterior cruciate ligament reconstruction: a retrospective analysis of incidence, management and outcome. Am J Sports Med 35(7):1059–1063

27.

Villanova P (1995) How to define and determine reference intervals in the clinical laboratory; approved guideline. Nat Comm Clin Lab Stand (NCCLS) USA 15:18–23

28.

Wang C, Ao Y, Wang J, Hu Y, Cui G, Yu J (2009) Septic arthritis after arthroscopic anterior cruciate ligament reconstruction: a retrospective analysis of incidence, presentation, treatment, and cause. Arthroscopy 25(3):243–249

29.

Williams RJ III, Laurencin CT, Warren RF, Speciale AC, Brause BD, O'Brien S (1997) Septic arthritis after arthroscopic anterior cruciate ligament reconstruction. Diagnosis and management. Am J Sports Med 25(2):261–267

30.

Young B, Gleeson M, Cripps AW (1991) C-reactive protein: a critical review. Pathology 23(2):118–124
About this article
Cite this article
Ruiz-Ibán, M.A., Díaz Heredia, J., Cebreiro Martínez Val, I. et al. Evolution of C-reactive protein values in the first month after anterior cruciate ligament reconstruction: reference values. Knee Surg Sports Traumatol Arthrosc 23, 763–769 (2015). https://doi.org/10.1007/s00167-013-2702-x
Received:

Accepted:

Published:

Issue Date:
Keywords
Anterior cruciate ligament

Anterior cruciate ligament reconstruction

C-reactive protein

Infection