Abstract
Purpose
Despite the documented blood-saving effects of tranexamic acid (TNA) in total knee arthroplasty (TKA), the question whether clinical values of TNA are identical in unilateral and bilateral TKAs remains unclear. This study was undertaken to determine the clinical values of TNA in unilateral and simultaneous bilateral TKAs under a contemporary blood-saving protocol in terms of efficacy (total blood loss and transfusion rate) and safety (the incidences of symptomatic deep vein thrombosis and pulmonary embolism).
Methods
One hundred and eighty unilateral and 146 bilateral TKA patients were randomized into TNA group or control group. In unilateral TKA patients, TNA (10 mg/kg) was administered intravenously 20 min before tourniquet deflation and repeated 3 h after surgery. In bilateral TKA patients, one more dose (10 mg/kg) was given before tourniquet deflation in the second TKA. A contemporary blood-saving protocol was applied to all patients. The TNA and control groups were compared separately in unilateral and bilateral TKA patients for the efficacy and safety variables.
Results
In unilateral TKA patients, the TNA group had less total blood loss (905 vs. 1,018 mL, p = 0.018) than the control group, but there was no difference in the allogenic transfusion rate (1 vs. 7 %, n.s.). In bilateral TKA patients, the TNA group showed no differences in total blood loss (1,282 vs. 1,379 mL, n.s.), but a significant reduction in the allogenic transfusion rate (7 vs. 27 %, p = 0.002). No symptomatic deep vein thrombosis or pulmonary embolism was found in all patients.
Conclusion
This study demonstrates that the use of TNA reduces total blood loss, but the effects on the transfusion rate can differ depending on the type of TKAs (unilateral vs. bilateral) and the blood-saving protocols.
Level of evidence
Therapeutic study, Level I (double blind randomized controlled trial).
This is a preview of subscription content,
to check access.
Access this article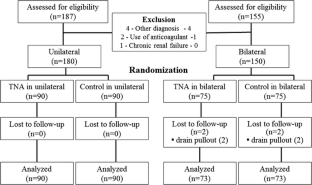 References
Alshryda S, Sarda P, Sukeik M, Nargol A et al (2011) Tranexamic acid in total knee replacement: a systematic review and meta-analysis. J Bone Jt Surg Br 93:1577–1585

Alvarez JC, Santiveri FX, Ramos I, Vela E et al (2008) Tranexamic acid reduces blood transfusion in total knee arthroplasty even when a blood conservation program is applied. Transfusion 48:519–525

Bellamy N, Buchanan WW, Goldsmith CH, Campbell J et al (1988) Validation study of WOMAC: a health status instrument for measuring clinically important patient relevant outcomes to antirheumatic drug therapy in patients with osteoarthritis of the hip or knee. J Rheumatol 15:1833–1840

Benoni G, Fredin H (1996) Fibrinolytic inhibition with tranexamic acid reduces blood loss and blood transfusion after knee arthroplasty: a prospective, randomised, double-blind study of 86 patients. J Bone Jt Surg Br 78:434–440

Bong MR, Patel V, Chang E, Issack PS et al (2004) Risks associated with blood transfusion after total knee arthroplasty. J Arthroplasty 19:281–287

Borghi B, Casati A (2000) Incidence and risk factors for allogenic blood transfusion during major joint replacement using an integrated autotransfusion regimen. The Rizzoli Study Group on Orthopaedic Anaesthesia. Eur J Anaesthesiol 17:411–417

Camarasa MA, Olle G, Serra-Prat M, Martin A et al (2006) Efficacy of aminocaproic, tranexamic acids in the control of bleeding during total knee replacement: a randomized clinical trial. Br J Anaesth 96:576–582

Charoencholvanich K, Siriwattanasakul P (2011) Tranexamic acid reduces blood loss and blood transfusion after TKA: a prospective randomized controlled trial. Clin Orthop Relat Res 469:2874–2880

Cho HJ, Chang CB, Kim KW, Park JH et al (2011) Gender and prevalence of knee osteoarthritis types in elderly Koreans. J Arthroplasty 26:994–999

Coffey A, Pittmam J, Halbrook H, Fehrenbacher J et al (1995) The use of tranexamic acid to reduce postoperative bleeding following cardiac surgery: a double-blind randomized trial. Am Surg 61:566–568

Dhillon MS, Bali K, Prabhakar S (2011) Tranexamic acid for control of blood loss in bilateral total knee replacement in a single stage. Indian J Orthop 45:148–152

Dunn CJ, Goa KL (1999) Tranexamic acid: a review of its use in surgery and other indications. Drugs 57:1005–1032

Ellis MH, Fredman B, Zohar E, Ifrach N et al (2001) The effect of tourniquet application, tranexamic acid, and desmopressin on the procoagulant and fibrinolytic systems during total knee replacement. J Clin Anesth 13:509–513

Engel JM, Hohaus T, Ruwoldt R, Menges T et al (2001) Regional hemostatic status and blood requirements after total knee arthroplasty with and without tranexamic acid or aprotinin. Anesth Analg 92:775–780

Fakhry SM, Fata P (2004) How low is too low? Cardiac risks with anemia. Crit Care 8(Suppl 2):S11–S14

Good L, Peterson E, Lisander B (2003) Tranexamic acid decreases external blood loss but not hidden blood loss in total knee replacement. Br J Anaesth 90:596–599

Hebert PC, Wells G, Blajchman MA, Marshall J et al (1999) A multicenter, randomized, controlled clinical trial of transfusion requirements in critical care. Transfusion requirements in critical care investigators, Canadian Critical Care Trials Group. N Engl J Med 340:409–417

Hiippala S, Strid L, Wennerstrand M, Arvela V et al (1995) Tranexamic acid (Cyklokapron) reduces perioperative blood loss associated with total knee arthroplasty. Br J Anaesth 74:534–537

Hiippala ST, Strid LJ, Wennerstrand MI, Arvela JV et al (1997) Tranexamic acid radically decreases blood loss and transfusions associated with total knee arthroplasty. Anesth Analg 84:839–844

Ido K, Neo M, Asada Y, Kondo K et al (2000) Reduction of blood loss using tranexamic acid in total knee and hip arthroplasties. Arch Orthop Trauma Surg 120:518–520

Insall JN, Dorr LD, Scott RD, Scott WN (1989) Rationale of the knee society clinical rating system. Clin Orthop Relat Res 248:13–14

Ishida K, Tsumura N, Kitagawa A, Hamamura S et al (2011) Intra-articular injection of tranexamic acid reduces not only blood loss but also knee joint swelling after total knee arthroplasty. Int Orthop 35:1639–1645

Jansen AJ, Andreica S, Claeys M, D'Haese J et al (1999) Use of tranexamic acid for an effective blood conservation strategy after total knee arthroplasty. Br J Anaesth 83:596–601

Johanson NA, Lachiewicz PF, Lieberman JR, Lotke PA et al (2009) Prevention of symptomatic pulmonary embolism in patients undergoing total hip or knee arthroplasty. J Am Acad Orthop Surg 17:183–196

Kakar PN, Gupta N, Govil P, Shah V (2009) Efficacy and safety of tranexamic acid in control of bleeding following tkr: a randomized clinical trial. Indian J Anaesth 53:667–671

Kim HA, Kim S, Seo YI, Choi HJ et al (2008) The epidemiology of total knee replacement in South Korea: national registry data. Rheumatology (Oxford) 47:88–91

Lin PC, Hsu CH, Chen WS, Wang JW (2011) Does tranexamic acid save blood in minimally invasive total knee arthroplasty? Clin Orthop Relat Res 469:1995–2002

MacGillivray RG, Tarabichi SB, Hawari MF, Raoof NT (2011) Tranexamic acid to reduce blood loss after bilateral total knee arthroplasty: a prospective, randomized double blind study. J Arthroplasty 26:24–28

Maniar RN, Kumar G, Singhi T, Nayak RM et al (2012) Most effective regimen of tranexamic acid in knee arthroplasty: a prospective randomized controlled study in 240 patients. Clin Orthop Relat Res 470:2605–2612

McConnell JS, Shewale S, Munro NA, Shah K et al (2012) Reducing blood loss in primary knee arthroplasty: a prospective randomised controlled trial of tranexamic acid and fibrin spray. Knee 19:295–298

Molloy DO, Archbold HA, Ogonda L, McConway J et al (2007) Comparison of topical fibrin spray and tranexamic acid on blood loss after total knee replacement: a prospective, randomised controlled trial. J Bone Jt Surg Br 89:306–309

Nadler SB, Hidalgo JH, Bloch T (1962) Prediction of blood volume in normal human adults. Surgery 51:224–232

Onodera T, Majima T, Sawaguchi N, Kasahara Y et al (2012) Risk of deep venous thrombosis in drain clamping with tranexamic acid and carbazochrome sodium sulfonate hydrate in total knee arthroplasty. J Arthroplasty 27:105–108

Orpen NM, Little C, Walker G, Crawfurd EJ (2006) Tranexamic acid reduces early post-operative blood loss after total knee arthroplasty: a prospective randomised controlled trial of 29 patients. Knee 13:106–110

Pierson JL, Hannon TJ, Earles DR (2004) A blood-conservation algorithm to reduce blood transfusions after total hip and knee arthroplasty. J Bone Jt Surg Am 86A:1512–1518

Rousou JA, Engelman RM, Flack JE 3rd, Deaton DW et al (1995) Tranexamic acid significantly reduces blood loss associated with coronary revascularization. Ann Thorac Surg 59:671–675

Roy SP, Tanki UF, Dutta A, Jain SK et al (2012) Efficacy of intra-articular tranexamic acid in blood loss reduction following primary unilateral total knee arthroplasty. Knee Surg Sports Traumatol Arthrosc. doi:10.1007/s00167-012-1942-5

Royston D (1995) Blood-sparing drugs: aprotinin, tranexamic acid, and epsilon-aminocaproic acid. Int Anesthesiol Clin 33:155–179

Sekhavat L, Tabatabaii A, Dalili M, Farajkhoda T et al (2009) Efficacy of tranexamic acid in reducing blood loss after cesarean section. J Matern Fetal Neonatal Med 22:72–75

Seo ES, Yoon SW, Koh IJ, Chang CB et al (2010) Subcutaneous versus intraarticular indwelling closed suction drainage after TKA: a randomized controlled trial. Clin Orthop Relat Res 468:2168–2176

Seo JG, Moon YW, Park SH, Kim SM et al (2012) The comparative efficacies of intra-articular and IV tranexamic acid for reducing blood loss during total knee arthroplasty. Knee Surg Sports Traumatol Arthrosc. doi:10.1007/s00167-012-2079-2

Tanaka N, Sakahashi H, Sato E, Hirose K et al (2001) Timing of the administration of tranexamic acid for maximum reduction in blood loss in arthroplasty of the knee. J Bone Jt Surg Br 83:702–705

Veien M, Sorensen JV, Madsen F, Juelsgaard P (2002) Tranexamic acid given intraoperatively reduces blood loss after total knee replacement: a randomized, controlled study. Acta Anaesthesiol Scand 46:1206–1211

Ware JE Jr, Sherbourne CD (1992) The MOS 36-item short-form health survey (SF-36). I. Conceptual framework and item selection. Med Care 30:473–483

Wong J, Abrishami A, El Beheiry H, Mahomed NN et al (2010) Topical application of tranexamic acid reduces postoperative blood loss in total knee arthroplasty: a randomized, controlled trial. J Bone Jt Surg Am 92:2503–2513

Yang ZG, Chen WP, Wu LD (2012) Effectiveness and safety of tranexamic acid in reducing blood loss in total knee arthroplasty: a meta-analysis. J Bone Jt Surg Am 94:1153–1159

Zhang H, Chen J, Chen F, Que W (2011) The effect of tranexamic acid on blood loss and use of blood products in total knee arthroplasty: a meta-analysis. Knee Surg Sports Traumatol Arthrosc 20:1742–1752

Zohar E, Ellis M, Ifrach N, Stern A et al (2004) The postoperative blood-sparing efficacy of oral versus intravenous tranexamic acid after total knee replacement. Anesth Analg 99:1679–1683

Zohar E, Fredman B, Ellis M, Luban I et al (1999) A comparative study of the postoperative allogeneic blood-sparing effect of tranexamic acid versus acute normovolemic hemodilution after total knee replacement. Anesth Analg 89:1382–1387
About this article
Cite this article
Kim, T.K., Chang, C.B., Kang, Y.G. et al. Clinical value of tranexamic acid in unilateral and simultaneous bilateral TKAs under a contemporary blood-saving protocol: a randomized controlled trial. Knee Surg Sports Traumatol Arthrosc 22, 1870–1878 (2014). https://doi.org/10.1007/s00167-013-2492-1
Received:

Accepted:

Published:

Issue Date:

DOI: https://doi.org/10.1007/s00167-013-2492-1
Keywords