Abstract
Purpose
Peroneal nerve palsy in traumatic knee dislocations associated with multiple ligament injuries is common. Several surgical approaches are described for this lesion with less-than-optimal outcomes. The present case represents the application of plasma rich in growth factors (PRGF) technology for the treatment of peroneal nerve palsy with drop foot. This technology has already been proven its therapeutic potential for various musculoskeletal disorders. Based on these results, we hypothesized that PRGF could stimulate the healing process of traumatic peroneal nerve palsy with drop foot.
Methods
The patient was a healthy 28-year-old man. He suffered peroneal nerve palsy with drop foot after multiple ligament injuries of the knee. PRGF was prepared according to the manufactured instruction. Eleven months after the trauma with severe axonotmesis, serial intraneural infiltrations of PRGF were started using ultrasound guidance. The therapeutic effect was assessed by electromyography (EMG), echogenicity of the peroneal nerve under ultrasound (US) and manual muscle testing.
Results
Twenty-one months after the first injection, not complete but partial useful recovery is obtained. He is satisfied with walking and running without orthosis. Sensitivity demonstrates almost full recovery in the peroneal nerve distribution area. EMG controls show complete reinnervation for the peroneus longus and a better reinnervation for the tibialis anterior muscle, compared with previous examinations.
Conclusion
Plasma rich in growth factors (PRGF) infiltrations could enhance healing process of peroneal nerve palsy with drop foot. This case report demonstrates the therapeutic potential of this technology for traumatic peripheral nerve palsy and the usefulness of US-guided PRGF.
Level of evidence
V.
Access options
Buy single article
Instant access to the full article PDF.
US$ 39.95
Tax calculation will be finalised during checkout.
Subscribe to journal
Immediate online access to all issues from 2019. Subscription will auto renew annually.
US$ 119
Tax calculation will be finalised during checkout.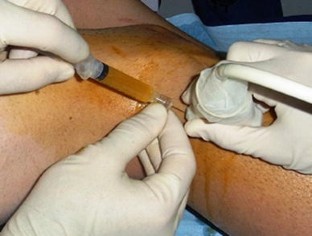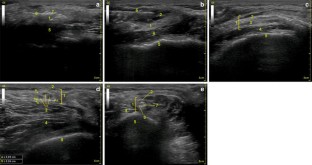 References
1.

Andia I, Sánchez M, Maffulli N (2011) Platelet rich plasma therapies for sports muscle injuries: any evidence behind clinical practice? Expert Opin Biol Ther 11:509–518

2.

Anitua E, Orive G (2012) Endogenous regenerative technology using plasma-and platelet-derived growth factors. J Control Release 57:317–320

3.

Anitua E, Sánchez M, Orive G (2010) Potential of endogenous regenerative technology for in situ regenerative medicine. Adv Drug Deliv Rev 62:741–752

4.

Anitua E, Sánchez M, Zalduendo MM et al (2009) Fibroblastic response to treatment with different preparations rich in growth factors. Cell Prolif 42:162–170

5.

Berry H, Richardson PM (1976) Common peroneal nerve palsy: a clinical electrophysiological review. J Neurol Neurosurg Psychiatry 39:1162–1171

6.

Dubuisson A, Kline DG (1992) Indications for peripheral nerve and brachial plexus surgery. Neurol Clin 10:935–951

7.

Dvali L, Mackinnon S (2003) Nerve repair, grafting, and nerve transfers. Clin Plast Surg 30:203–221

8.

Elgazzar RF, Mutabagani MA, Abdelaal SE et al (2008) Platelet rich plasma may enhance peripheral nerve regeneration after cyanoacrylate reanastomosis: a controlled blind study on rats. Int J Oral Maxillofac Surg 37:748–755

9.

Emel E, Ergün SS, Kotan D et al (2011) Effects of insulin-like growth factor-I and platelet-rich plasma on sciatic nerve crush injury in a rat model. J Neurosurg 114:522–528

10.

Farrag TY, Lehar M, Verhaegen P et al (2007) Effect of platelet rich plasma and fibrin sealant on facial nerve regeneration in a rat model. Laryngoscope 117:157–165

11.

Guadilla J, Fiz N, Andia I et al (2012) Arthroscopic management and platelet-rich plasma therapy for avascular necrosis of the hip. Knee Surg Sports Traumatol Arthrosc 20:393–398

12.

Highet WB, Holmes W (1943) Traction injuries to the lateral popliteal nerve and traction injuries to peripheral nerves after suture. Br J Surg 30:212–233

13.

Hu J, Zou S, Tang Z et al (2003) Response of Schwann cells in the inferior alveolar nerve to distraction osteogenesis: an ultrastructural and immunohistochemical study. Int J Oral Maxillofac Surg 32:318–324

14.

Johnson ME, Foster L, DeLee JC (2008) Neurologic and vascular injuries associated with knee ligament injuries. Am J Sports Med 36:2448–2462

15.

Kanje M, Skottner A, Sjöberg J (1990) Insulin-like growth factor I (IGF-I) and regeneration of the sciatic nerve of the rat. Restor Neurol Neurosci 1:211–215

16.

Mei-Dan O, Lippi G, Sánchez M et al (2010) Autologous platelet-rich plasma: a revolution in soft tissue sports injury management? Phys Sportsmed 38:127–135

17.

Moir MS, Wang MZ, To M et al (2000) Delayed repair of transected nerves: effect of brain-derived neurotrophic factor. Arch Otolaryngol Head Neck Surg 126:501–505

18.

Monahan TJ (2003) Treatment of nerve injuries in the multiple-ligament-injured knee. Oper Tech Sports Med 11:208–217

19.

Padua L, Martinoli C, Pazzaglia C et al (2012) Intra-and internerve cross-sectional area variability: new ultrasound measures. Muscle Nerve 45:730–733

20.

Plancher KD, Siliski J (2008) Long-term functional results and complications in patients with knee dislocations. J Knee Surg 21:261–268

21.

Sánchez M, Anitua E, Orive G et al (2009) Platelet-rich therapies in the treatment of orthopaedic sport injuries. Sports Med 39:345–354

22.

Sánchez M, Fiz N, Azofra J et al (2012) A randomized clinical trial evaluating plasma rich in growth factors (PRGF-Endoret) versus hyaluronic acid in the short-term treatment of symptomatic knee osteoarthritis. Arthroscopy 28:1070–1080

23.

Sánchez M, Guadilla J, Fiz N et al (2012) Ultrasound-guided platelet-rich plasma injections for the treatment of osteoarthritis of the hip. Rheumatology (Oxford) 51:144–150

24.

Sariguney Y, Yavuzer R, Elmas C et al (2008) Effect of platelet-rich plasma on peripheral nerve regeneration. J Reconstr Microsurg 24:159–167

25.

Sedel L, Nizard RS (1993) Nerve grafting for traction injuries of the common peroneal nerve: a report of 17 cases. J Bone Joint Surg Br 75:772–774

26.

Tagliafico A, Bodner G, Rosenberg I et al (2010) Peripheral nerves: ultrasound-guided interventional procedures. Semin Musculoskelet Radiol 14:559–566

27.

Trumble TE, Vanderhooft E, Khan U (1995) Sural nerve grafting for lower extremity nerve injuries. J Orthop Trauma 9:158–163

28.

White J (1986) The results of traction injuries to the common peroneal nerve. J Bone Joint Surg Br 50:346–350

29.

Yu W, Wang J, Yin J (2011) Platelet-rich plasma: a promising product for treatment of peripheral nerve regeneration after nerve injury. Int J Neurosci 121:176–180
Acknowledgments
The authors kindly appreciate the technical assistance and advice of Fernando Yanguela, MD, with the ultrasound-guided injections of PRP and Francisco Requena, MD, with the EMG.
Conflict of interest
Eduardo Anitua is currently scientist at BTI Biotechnology Institute, the company that has developed the PRGF-Endoret Technology. BTI has patents related with PRGF-Endoret Technology.
About this article
Cite this article
Sánchez, M., Yoshioka, T., Ortega, M. et al. Ultrasound-guided platelet-rich plasma injections for the treatment of common peroneal nerve palsy associated with multiple ligament injuries of the knee. Knee Surg Sports Traumatol Arthrosc 22, 1084–1089 (2014). https://doi.org/10.1007/s00167-013-2479-y
Received:

Accepted:

Published:

Issue Date:
Keywords
Plasma rich in growth factors

Platelet-rich plasma

Drop foot

Common peroneal nerve palsy

Knee

Ultrasound-guided injection