Abstract
Purpose
Intraoperative local infiltration analgesia has gained increasing popularity in joint replacement surgery. Because there is considerable variation among drug combinations, analgesic effects of each drug are not well understood. The purpose of this study was to clarify the efficacy of the addition of steroid to local anaesthetics in local infiltration analgesia during total knee arthroplasty.
Methods
Forty patients were randomly allocated to the steroid or control group. Patients in the steroid group received peri-articular injection of ropivacaine, dexamethasone and isepamicin, while dexamethasone was omitted from the analgesic mixture in the control group. Primary outcome was pain severity at rest using 100 mm visual analogue scale.
Results
Pain severity in the steroid group was lower than control group and there were significant differences between groups at post-operative day 1 and 3. Reduction in post-operative pain was associated with a decrease in serum C-reactive protein and interleukin 6 in drainage fluid. The number of patients who were able to perform straight leg raise within post-operative day 2 was 15/20 in the steroid group, which was significantly higher than the control group 5/20.
Conclusion
Adding steroid to local anaesthetics in local infiltration analgesia reduced inflammation both locally and systemically, resulting in significant early pain relief and rapid recovery in total knee arthroplasty.
Level of evidence
Randomized controlled trial, Level I.
Access options
Buy single article
Instant access to the full article PDF.
USD 39.95
Price excludes VAT (USA)
Tax calculation will be finalised during checkout.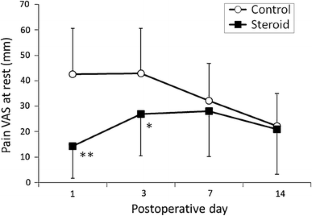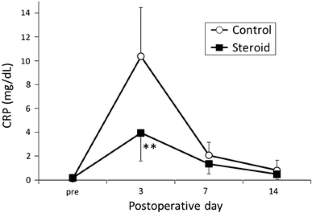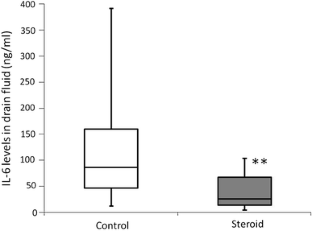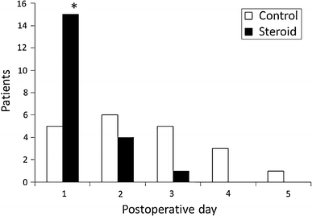 References
Canty SJ, Shepard GJ, Ryan WG, Banks AJ (2003) Do we practice evidence based medicine with regard to drain usage in knee arthroplasty? Results of a questionnaire of BASK members. Knee 10:385–387

Choi PT, Bhandari M, Scott J, Douketis J (2003) Epidural analgesia for pain relief following hip or knee replacement. Cochrane Database Syst Rev: CD003071

Christensen CP, Jacobs CA, Jennings HR (2009) Effect of periarticular corticosteroid injections during total knee arthroplasty. A double-blind randomized trial. J Bone Joint Surg Am 91:2550–2555

Cutolo M, Seriolo B, Pizzorni C, Secchi ME, Soldano S, Paolino S, Montagna P, Sulli A (2008) Use of glucocorticoids and risk of infections. Autoimmun Rev 8:153–155

Essving P, Axelsson K, Aberg E, Spannar H, Gupta A, Lundin A (2011) Local infiltration analgesia versus intrathecal morphine for postoperative pain management after total knee arthroplasty: a randomized controlled trial. Anesth Analg 113:926–933

Essving P, Axelsson K, Kjellberg J, Wallgren O, Gupta A, Lundin A (2010) Reduced morphine consumption and pain intensity with local infiltration analgesia (LIA) following total knee arthroplasty. Acta Orthop 81:354–360

Fowler SJ, Symons J, Sabato S, Myles PS (2008) Epidural analgesia compared with peripheral nerve blockade after major knee surgery: a systematic review and meta-analysis of randomized trials. Br J Anaesth 100:154–164

Fu P, Wu Y, Wu H, Li X, Qian Q, Zhu Y (2009) Efficacy of intra-articular cocktail analgesic injection in total knee arthroplasty—a randomized controlled trial. Knee 16:280–284

Gallagher EJ, Liebman M, Bijur PE (2001) Prospective validation of clinically important changes in pain severity measured on a visual analog scale. Ann Emerg Med 38:633–638

Henzi I, Walder B, Tramer MR (2000) Dexamethasone for the prevention of postoperative nausea and vomiting: a quantitative systematic review. Anesth Analg 90:186–194

Holte K, Kehlet H (2002) Perioperative single-dose glucocorticoid administration: pathophysiologic effects and clinical implications. J Am Coll Surg 195:694–712

Ikeuchi M, Kamimoto Y, Izumi M, Sugimura N, Takemura M, Fukunaga K, Yokoyama M,Tani T (2012) Local infusion analgesia using intra-articular double lumen catheter after total knee arthroplasty: a double blinded randomized control study. Knee Surg Sports Traumatol Arthrosc. doi: 10.1007/s00167-012-2004-8

Joo JH, Park JW, Kim JS, Kim YH (2011) Is intra-articular multimodal drug injection effective in pain management after total knee arthroplasty? A randomized, double-blinded, prospective study. J Arthroplasty 26:1095–1099

Kerr DR, Kohan L (2008) Local infiltration analgesia: a technique for the control of acute postoperative pain following knee and hip surgery: a case study of 325 patients. Acta Orthop 79:174–183

Koh IJ, Kang YG, Chang CB, Kwon SK, Seo ES, Seong SC, Kim TK (2010) Additional pain relieving effect of intraoperative periarticular injections after simultaneous bilateral TKA: a randomized, controlled study. Knee Surg Sports Traumatol Arthrosc 18:916–922

Messer J, Reitman D, Sacks HS, Smith H Jr, Chalmers TC (1983) Association of adrenocorticosteroid therapy and peptic-ulcer disease. N Engl J Med 309:21–24

Ng YC, Lo NN, Yang KY, Chia SL, Chong HC, Yeo SJ (2011) Effects of periarticular steroid injection on knee function and the inflammatory response following unicondylar knee arthroplasty. Knee Surg Sports Traumatol Arthrosc 19:60–65

Pang HN, Lo NN, Yang KY, Chong HC, Yeo SJ (2008) Peri-articular steroid injection improves the outcome after unicondylar knee replacement: a prospective, randomised controlled trial with a two-year follow-up. J Bone Joint Surg Br 90:738–744

Paul JE, Arya A, Hurlburt L, Cheng J, Thabane L, Tidy A, Murthy Y (2010) Femoral nerve block improves analgesia outcomes after total knee arthroplasty: a meta-analysis of randomized controlled trials. Anesthesiology 113:1144–1162

Ranawat AS, Ranawat CS (2007) Pain management and accelerated rehabilitation for total hip and total knee arthroplasty. J Arthroplasty 22:12–15

Sean VW, Chin PL, Chia SL, Yang KY, Lo NN, Yeo SJ (2011) Single-dose periarticular steroid infiltration for pain management in total knee arthroplasty: a prospective, double-blind, randomised controlled trial. Singapore Med J 52:19–23

Spreng UJ, Dahl V, Hjall A, Fagerland MW, Raeder J (2010) High-volume local infiltration analgesia combined with intravenous or local ketorolac + morphine compared with epidural analgesia after total knee arthroplasty. Br J Anaesth 105:675–682

Tanaka N, Sakahashi H, Sato E, Hirose K, Ishii S (2001) The efficacy of intra-articular analgesia after total knee arthroplasty in patients with rheumatoid arthritis and in patients with osteoarthritis. J Arthroplasty 16:306–311

Todd KH, Funk KG, Funk JP, Bonacci R (1996) Clinical significance of reported changes in pain severity. Ann Emerg Med 27:485–489

Toftdahl K, Nikolajsen L, Haraldsted V, Madsen F, Tonnesen EK, Soballe K (2007) Comparison of peri- and intraarticular analgesia with femoral nerve block after total knee arthroplasty: a randomized clinical trial. Acta Orthop 78:172–179

Wicke C, Halliday B, Allen D, Roche NS, Scheuenstuhl H, Spencer MM, Roberts AB, Hunt TK (2000) Effects of steroids and retinoids on wound healing. Arch Surg 135:1265–1270

Wylde V, Rooker J, Halliday L, Blom A (2011) Acute postoperative pain at rest after hip and knee arthroplasty: severity, sensory qualities and impact on sleep. Orthop Traumatol Surg Res 97:139–144
About this article
Cite this article
Ikeuchi, M., Kamimoto, Y., Izumi, M. et al. Effects of dexamethasone on local infiltration analgesia in total knee arthroplasty: a randomized controlled trial. Knee Surg Sports Traumatol Arthrosc 22, 1638–1643 (2014). https://doi.org/10.1007/s00167-013-2367-5
Received:

Accepted:

Published:

Issue Date:

DOI: https://doi.org/10.1007/s00167-013-2367-5
Keywords