Abstract
Purpose
To compare the clinical midterm results in ADVANCE total knee arthroplasty (TKA) with double-high (DH) insert, with same type implant with medial-pivot (MP) insert.
Method
Forty ADVANCE TKAs were randomly divided into two groups, and two different design insert, DH insert, and MP insert were used in each group. At midterm, 4–5 years after surgery, Knee Society Scores (KSS), Knee Society Functional Scores (KSFS), range of motion (ROM), and UCLA activity score were assessed and reported in this study.
Results
Midterm clinical results, including ROM and KSS, were comparable with both groups. KSFS and UCLA activity score were equally good between the two groups.
Conclusion
The results in this study revealed equally good clinical results with these types of implants at midterm follow-up, although the significant better ROM has not achieved by using DH insert. We concluded that the selection of inserts only could not achieve the better clinical results, including ROM and activity level in this study.
Level of evidence
Therapeutic studies—investigating the results of treatment, Level II.
Access options
Buy single article
Instant access to the full article PDF.
USD 39.95
Price excludes VAT (USA)
Tax calculation will be finalised during checkout.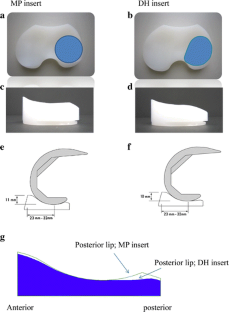 Similar content being viewed by others
References
Anderson MJ, Becker DL, Kieckbusch T (2002) Patellofemoral complications after posterior-stabilized total knee arthroplasty: a comparison of 2 different implant designs. J Arthroplasty 17:422–426

Anderson MJ, Kruse RL, Leslie C, Levy LJ Jr, Pritchett JW, Hodge J (2010) Medium-term results of total knee arthroplasty using a medially pivoting implant: a multicenter study. J Surg Orthop Adv 19:191–195

Andriacchi TP (1993) Functional analysis of pre and post-knee surgery: total knee arthroplasty and ACL reconstruction. J Biomech Eng 115:575–581

Bae DK, Song SJ, Cho SD (2011) Clinical outcome of total knee arthroplasty with medial pivot prosthesis a comparative study between the cruciate retaining and sacrificing. J Arthroplasty 26:693–698

Barnes CL, Sharma A, Blaha JD, Nambu SN, Carroll ME (2011) Kneeling is safe for patients implanted with medial-pivot total knee arthroplasty designs. J Arthroplasty 26:549–554

Blaha JD (2004) The rationale for a total knee implant that confers anteroposterior stability throughout range of motion. J Arthroplasty 19:22–26

Dennis DA, Komistek RD, Mahfouz MR, Haas BD, Stiehl JB (2003) Multicenter determination of in vivo kinematics after total knee arthroplasty. Clin Orthop Relat Res 416:37–57

Fan CY, Hsieh JT, Hsieh MS, Shih YC, Lee CH (2010) Primitive results after medial-pivot knee arthroplasties: a minimum 5-year follow-up study. J Arthroplasty 25:492–496

Insall JN, Dorr LD, Scott RD, Scott WN (1989) Rationale of the knee society clinical rating system. Clin Orthop Relat Res 248:13–14

Johal P, Williams A, Wragg P, Hunt D, Gedroyc W (2005) Tibio-femoral movement in the living knee. A study of weight bearing and non-weight bearing knee kinematics using 'interventional' MRI. J Biomech 38:269–276

Karachalios T, Roidis N, Giotikas D, Bargiotas K, Varitimidis S, Malizos KN (2009) A mid-term clinical outcome study of the ADVANCE Medial pivot knee arthroplasty. Knee 16:484–488

Minoda Y, Kobayashi A, Iwaki H, Miyaguchi M, Kadoya Y, Ohashi H, Yamano Y, Takaoka K (2003) Polyethylene wear particles in synovial fluid after total knee arthroplasty. Clin Orthop Relat Res 410:165–172

Naal FD, Impellizzeri FM, Leunig M (2009) Which is the best activity rating scale for patients undergoing total joint arthroplasty? Clin Orthop Relat Res 467:958–965

Omori G, Onda N, Shimura M, Hayashi T, Sato T, Koga Y (2009) The effect of geometry of the tibial polyethylene insert on the tibiofemoral contact kinematics in ADVANCE Medial pivot total knee arthroplasty. J Orthop Sci 14:754–760

Pritchett JW (2004) Patient preferences in knee prostheses. J Bone Joint Surg Br 86:979–982

Pritchett JW (2011) Patients prefer a bicruciate-retaining or the medial pivot total knee prosthesis. J Arthroplasty 26:224–228

Schmidt R, Komistek RD, Blaha JD, Penenberg BL, Maloney WJ (2003) Fluoroscopic analyses of cruciate-retaining and medial pivot knee implants. Clin Orthop Relat Res 410:139–147

Shakespeare D, Ledger M, Kinzel V (2006) Flexion after total knee replacement. A comparison between the medial pivot knee and a posterior stabilized implant. Knee 13:371–373

Vecchini E, Christodoulidis A, Magnan B, Ricci M, Regis D, Bartolozzi P (2012) Clinical and radiologic outcomes of total knee arthroplasty using the ADVANCE Medial pivot prosthesis. A mean 7 years follow-up. Knee PMID:22571852

Zahiri CA, Schmalzried TP, Szuszczewicz ES, Amstutz HC (1998) Assessing activity in joint replacement patients. J Arthroplasty 13:890–895
About this article
Cite this article
Ishida, K., Matsumoto, T., Tsumura, N. et al. No difference between double-high insert and medial-pivot insert in TKA. Knee Surg Sports Traumatol Arthrosc 22, 576–580 (2014). https://doi.org/10.1007/s00167-012-2314-x
Received:

Accepted:

Published:

Issue Date:

DOI: https://doi.org/10.1007/s00167-012-2314-x
Keywords