Abstract
Purpose
To compare the incidence, extent of sensory loss, its clinical effect and natural course caused by three different skin incisions used for autogenous hamstring graft harvest during anterior cruciate ligament (ACL) reconstruction.
Methods
One hundred and twenty patients who underwent hamstring graft harvest during ACL reconstruction, participated in the study. All patients were randomized into 3 groups as per the 3 incisions used—vertical, transverse and oblique. The area of sensory loss was documented as per anatomical distribution of the infrapatellar branch of saphenous nerve (IPSBN) and sartorial branch of sensory nerve (SBSN) at 6 weeks, 3 months and 6 months follow-ups. The length of incision, area of sensory loss and subjective pain score (out of 10) were also noted.
Results
The incidence, area of hypesthesia and persistence at 6 months were significantly higher with vertical incision at all times, whereas it was the least with oblique incision. Injury to IPSBN was maximum with vertical incision (p = 0.000), and it was similar in the transverse and oblique incision groups. The SBSN injury incidence was not significantly different between the three groups (n.s.). Subjective cutaneous hypesthesia incidence was quite low in all the three groups. The oblique incision group had highest subjective satisfaction closely followed by the horizontal incision group.
Conclusions
Vertical incision has highest incidence of IPBSN injury, persistent hypesthesia, largest area of sensory loss and poorest subjective outcome. Oblique and transverse incision groups had statistically comparable results, though better outcome was noted in the oblique incision group. The SBSN injury was equally common in all the three incisions used. However, the sensory loss does not impair normal daily activities in the patients. We recommend use of oblique incision for hamstring graft harvest.
Level of evidence
Therapeutic randomized controlled prospective study, Level I.
This is a preview of subscription content,
to check access.
Access this article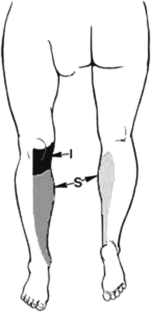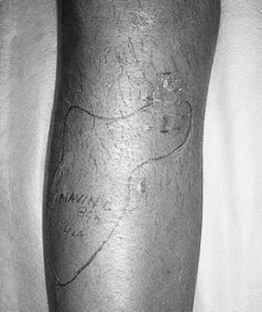 Similar content being viewed by others
References
Arthornthurasook A, Gaew-Im K (1990) The sartorial nerve: its relationship to the medial aspect of the knee. Am J Sports Med 18:41–42

Bertram C, Porsch M, Hackenbroch MH, Terhaag D (2000) Saphenous neuralgia after arthroscopically assisted anterior cruciate ligament reconstruction with a semitendinosus and gracilis tendon graft. Arthroscopy 16:763–766

Boon JM, Van Wyk MJ, Jordaan D (2004) A safe area and angle for harvesting autogenous tendons for anterior cruciate ligament reconstruction. Surg Radiol Anat 26:167–171

Brown CH Jr, Steiner ME, Carson EW (1993) The use of hamstring tendons for anterior cruciate ligament reconstruction. Technique and results. Clin Sports Med 12:723–756

Ebrahem NA, Mekhail AO (1997) The infrapatellar branch of the saphenous nerve: an anatomic study. J Orthop Trauma 11:195–199

Figueroa D, Calvoab R, Vaismanab A, Camperoc M, Moragaa C (2008) Injury to the infrapatellar branch of the saphenous nerve in ACL reconstruction with the hamstrings technique: clinical and electrophysiological study. Knee 15:360–363

Friedmann MJ (1998) Arthroscopic semitendinosus (gracilis) reconstruction for anterior cruciate ligament deficiency. Tech Orthop 2:74–80

Hao L, Jia-Kuo Y, Ying-fang AO, Chang-long YU, Li-bin P, Chun-yang L, Ji-ying Z, Xin F (2007) Relationship between different skin incisions and the injury of the infrapatellar branch of the saphenous nerve during anterior cruciate ligament reconstruction. Chin Med J 120:1127–1130

Hunter LY, Louis DS, Ricciardi JR, O'Connor GA (1979) The saphenous nerve: its course and importance in medial arthrotomy. Am J Sports Med 7:227–230

Kartus J, Movin T, Karlsson J (2001) Donor-site morbidity and anterior knee problems after anterior cruciate ligament reconstruction using autografts. Arthroscopy 17:971–980

Kim JG, Yang SJ, Lee YS, Shim JC, Ra HJ, Choi JY (2011) The effects of hamstring harvesting on outcomes in anterior cruciate ligament-reconstructed patients: a comparative study between hamstring-harvested and -unharvested patients. Arthroscopy 27:1226–1234

Larson RV (2001) Complications and pitfalls in anterior cruciate ligament reconstruction with hamstring tendons. In: Malek MM, Fanelli G, Johnson D et al (eds) Knee surgery. Complications, pitfalls, and salvage. Springer, New York, pp 77–88

Marder RA, Raskind JR, Carroll M (1991) Prospective evaluation of arthroscopically assisted anterior cruciate ligament reconstruction, patellar tendon versus semitendinosus and gracilis tendons. Am J Sports Med 19:478–484

Mochida H, Kikuchi S (1995) Injury to infrapatellar branch of saphenous nerve in arthroscopic knee surgery. Clin Orthop Relat Res 320:88–94

Mochizuki T, Akita K, Muneta T, Sato T (2003) Anatomical bases for minimizing sensory disturbance after arthroscopically-assisted anterior cruciate ligament reconstruction using medial hamstring tendons. Surg Radiol Anat 25:192–199

Mochizuki T, Muneta T, Yagishita K, Shinomiya K, Sekiya I (2004) Skin sensory change after arthroscopically-assisted anterior cruciate ligament reconstruction using medial hamstring tendons with a vertical incision. Knee Surg Sports Traumatol Arthrosc 12:198–202

Noh JH, Yi SR, Song SJ, Kim SW, Kim W (2011) Comparison between hamstring autograft and free tendon achilles allograft: minimum 2-year follow-up after anterior cruciate ligament reconstruction using Endobutton and Intrafix. Knee Surg Sports Traumatol Arthrosc 19:816–822

Pagnani MJ, Warner JJP, O'Brien SJ, Warren RF (1993) Anatomic considerations in harvesting the semitendinosus and gracilis tendons and a technique of harvest. Am J Sports Med 21:565–571

Papastergiou SG, Voulgaropoulos H, Mikalef P, Ziogas E, Pappis G, Giannakopoulos I (2006) Injuries to the infrapatellar branch(es) of the saphenous nerve in anterior cruciate ligament reconstruction with four-strand hamstring tendon autograft: vertical versus horizontal incision for harvest. Knee Surg Sports Traumatol Arthrosc 14:789–793

Sanders B, Rolf R, McCleland W, Xerogeanes J (2007) Prevalence of saphenous nerve injury after autogenous hamstring harvest: an anatomic and clinical study of sartorial branch injury. Arthroscopy 23:956–959

Soon M, Neo CP, Mitra AK, Tay BK (2004) Morbidity following anterior cruciate ligament reconstruction. Ann Acad Med Singap 33:214–219

Spicer DD, Blagg SE, Unwin AJ, Allum RL (2000) Anterior knee symptoms after four-strand hamstring tendon anterior cruciate ligament reconstruction. Knee Surg Sports Traumatol Arthrosc 8:286–289

Sun K, Zhang J, Wang Y, Xia C, Zhang C, Yu T, Tian S (2011) Arthroscopic reconstruction of the anterior cruciate ligament with hamstring tendon autograft and fresh frozen allograft. Am J Sports Med 39:1430–1438

Tifford CD, Spero L, Luke T, Plancher KD (2000) The relationship of the infrapatellar branches of the saphenous nerve to arthroscopy portals and incisions for anterior cruciate ligament surgery. An anatomic study. Am J Sports Med 28:562–567

Tilett E, Madsen R, Rogers R, Nyland J (2004) Localization of the semitendinosus–gracilis tendon bifurcation point relative to the tibial tuberosity: an aid to hamstring tendon harvest. Arthroscopy 20:51–54

Warren LF, Marshall JL (1979) The supporting structures and layers on the medial side of the knee: an anatomical analysis. J Bone Jt Surg Am 61:56–62

Yasuda K, Tsujino J, Ohkoshi Y, Tanabe Y, Kaneda K (1995) Graft site morbidity with autogenous semitendinosus and gracilis tendons. Am J Sports Med 23:706–714

Yosmaoglu HB, Baltaci G, Ozer H, Atay A (2011) Effects of additional gracilis tendon harvest on muscle torque, motor coordination, and knee laxity in ACL reconstruction. Knee Surg Sports Traumatol Arthrosc 19:1287–1292
About this article
Cite this article
Sabat, D., Kumar, V. Nerve injury during hamstring graft harvest: a prospective comparative study of three different incisions. Knee Surg Sports Traumatol Arthrosc 21, 2089–2095 (2013). https://doi.org/10.1007/s00167-012-2243-8
Received:

Accepted:

Published:

Issue Date:

DOI: https://doi.org/10.1007/s00167-012-2243-8
Keywords