Abstract
Purpose
Utilizing valgus unloader braces to reduce medial compartment loading in patients undergoing cartilage restoration procedures may be an alternative to non-weightbearing post-operative protocols in these patients. It was hypothesized that valgus unloader braces will reduce knee adduction moment during the stance phase in healthy subjects with normal knee alignment.
Methods
Gait analysis was performed on twelve adult subjects with normal knee alignment and no history of knee pathology. Subjects were fitted with an off-the-shelf adjustable valgus unloader brace and tested under five conditions: one with no brace and four with increasing valgus force applied by the brace. Frontal and sagittal plane knee angles and external moments were calculated during stance via inverse dynamics. Analyses of variance were used to assess the effect of the brace conditions on frontal and sagittal plane joint angles and moments.
Results
With increasing tension in the brace, peak frontal plane knee angle during stance shifted from 1.6° ± 4.2° varus without the brace to 4.1° ± 3.6° valgus with maximum brace tension (P = 0.02 compared with the no brace condition). Peak knee adduction moment and knee adduction impulse decreased with increasing brace tension (main effect of brace, P < 0.001). Gait velocity and sagittal plane knee biomechanics were minimally affected.
Conclusion
The use of these braces following a cartilage restoration procedure may provide adequate protection of the repair site without limiting the patient's mobility.
Level of evidence
Therapeutic prospective comparative study, Level II.
Access options
Buy single article
Instant access to the full article PDF.
USD 39.95
Price includes VAT (USA)
Tax calculation will be finalised during checkout.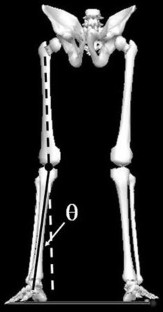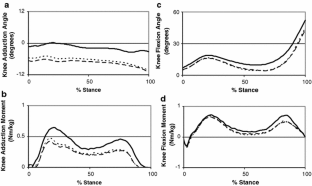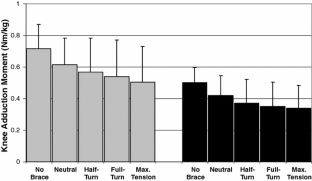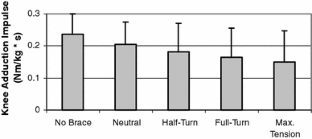 References
1.

Alford JW, Cole BJ (2005) Cartilage restoration, part 1: basic science, historical perspective, patient evaluation and treatment options. Am J Sports Med 33:295–306

2.

Andriacchi TP, Stanwyck TS, Galante JO (1986) Knee biomechanics and total knee replacement. J Arthroplasty 1:211–219

3.

Andriacchi TP (1994) Dynamics of knee malalignment. Orthop Clin North Am 25:395–403

4.

Biswal S, Hastie T, Andriacchi TP, Bergman GA, Dillingham MF, Lang P (2002) Risk factors for progressive cartilage loss in the knee: a longitudinal magnetic resonance imaging study in forty-three patients. Arthr Rheum 46:2884–2892

5.

Draganich L, Reider B, Rimington T, Piotrowski G, Mallik K, Nasson S (2006) The effectiveness of self-adjustable custom and off-the-shelf bracing in the treatment of varus gonarthrosis. J Bone Joint Surg Am 88-A:2645–2652

6.

Hambly K, Bobic V, Wondrasch B, Van Assche D, Marlovits S (2006) Autologous chondrocyte implantation postoperative care and rehabilitation: science and practice. Am J Sports Med 34:1020–1038

7.

Hambly K, Griva K (2008) IKDC or KOOS? Which measures symptoms and disabilities most important to postoperative articular cartilage repair patients? Am J Sports Med 36:1695–1704

8.

Hsu RW, Himeno S, Coventry MB, Chao EY (1990) Normal axial alignment of the lower extremity and load-bearing distribution at the knee. Clin Orthop Relat Res 255:215–227

9.

Hurley ST, Hatfield Murdock GL, Stanish WD, Hubley-Kozey CL (2012) Is there a dose response for valgus unloader brace usage on knee pain, function and muscle strength? Arch Phys Med Rehabil 93:496–502

10.

Johnson F, Leitl S, Waugh W (1980) The distribution of load across the knee: a comparison of static and dynamic measurements. J Bone Joint Surg Am 62-B:346–349

11.

Komistek RD, Dennis DA, Northcut EJ, Wood A, Parker AW, Traina SM (1999) An in vivo analysis of the effectiveness of the osteoarthritic knee brace during heel strike of gait. J Arthroplasty 14:738–742

12.

Lewis PB, McCarthy LP, Kang RW, Cole BJ (2006) Basic science and treatment options for articular cartilage injuries. J Orthop Sports Phys Ther 36:717–727

13.

Lindenfeld TN, Hewett TE, Andriacchi TP (1997) Joint loading with valgus bracing in patients with varus gonarthrosis. Clin Orthop Relat Res 344:290–297

14.

Messner K, Maletius W (1996) The long-term prognosis for severe damage to weight-bearing cartilage in the knee: a 14-year clinical and radiographic follow-up in 28 young athletes. Acta Orthop Scand 67:165–168

15.

Moreland JR, Bassett LW, Hanker GJ (1987) Radiographic analysis of the axial alignment of the lower extremity. J Bone Joint Surg Am 69:745–749

16.

Noyes FR, Schipplein OD, Andriacchi TP, Saddemi SR, Weise M (1992) The anterior cruciate ligament-deficient knee with varus alignment: an analysis of gait adaptations and dynamic joint loadings. Am J Sports Med 20:707–716

17.

Nguyen AD, Shultz SJ (2007) Sex differences in clinical measures of lower extremity alignment. J Orhtop Sports Phys Ther 37:389–398

18.

Orishimo KF, Kremenic IJ, Deshmukh AJ, Nicholas SJ, Rodriguez JA (2012) Does total knee arthroplasty change frontal plane knee biomechanics during gait? Clin Orthop Relat Res 470:1171–1176

19.

Pollo FE, Otis JC, Backus SI, Warren RF, Wickiewicz TL (2002) Reduction of medial compartment loads with valgus bracing of the osteoarthritic knee. Am J Sports Med 30:414–421

20.

Prodromos CC, Andriacchi TP, Galante JO (1985) A relationship between gait and clinical changes following high tibial osteotomy. J Bone Joint Surg Am 67:1188–1194

21.

Schipplein OD, Andriacchi TP (1991) Interaction between active and passive knee stabilizers during level walking. J Orthop Res 9:113–119

22.

Shelbourne KD, Jari S, Gray T (2003) Outcome of untreated traumatic articular cartilage defects of the knee: a natural history study. J Bone Joint Surg Am 85(suppl 2):8–16

23.

Shultz SJ, Nguyen AD, Schmitz RJ (2008) Differences in lower extremity anatomical and postural characteristics in males and females between maturation groups. J Orthop Sports Phys Ther 38:137–149

24.

Waller C, Hayes D, Block JE, London NJ (2011) Unload it: the key to treatment of knee osteoarthritis. Knee Surg Sports Traumatol Arthrosc 19:1823–1829

25.

Walter JP, D'Lima DD, Colwell CW, Fregly BJ (2010) Decreased knee adduction moment does not guarantee decreased medial contact force during gait. J Orthop Res 28:1348–1354

26.

Wang Y, Ding C, Wluka AE, Davis S, Ebeling PR, Jones G, Cicuttini FM (2006) Factors affecting progression of knee cartilage defects in normal subjects over 2 years. Rheumatology 45:79–84

27.

Zhao D, Banks SA, Mitchell KH, D'Lima DD, Colwell CW, Fregly BJ (2007) Correlation between the knee adduction torque and medial contact force for a variety of gait patterns. J Orthop Res 25:789–797
About this article
Cite this article
Orishimo, K.F., Kremenic, I.J., Lee, S.J. et al. Is valgus unloader bracing effective in normally aligned individuals: implications for post-surgical protocols following cartilage restoration procedures. Knee Surg Sports Traumatol Arthrosc 21, 2661–2666 (2013). https://doi.org/10.1007/s00167-012-2174-4
Received:

Accepted:

Published:

Issue Date:
Keywords
Knee adduction moment

Valgus unloader brace

Gait analysis