Abstract
Purpose
The aim of this prospective, randomized, controlled, double-blind clinical trial was to compare the outcomes, including knee strength, balance, coordination, proprioception and response time, of Nintendo Wii Fit with those of conventional rehabilitation on the subjects with anterior cruciate ligament reconstruction.
Methods
Thirty volunteer subjects were enrolled in either Wii Fit (n = 15; mean age, 29 ± 7 years) or conventional rehabilitation (n = 15; mean age, 29 ± 6 years) programmes from the first week up to 12th weeks of the operation. Endoscopic reconstruction of a completely ruptured ACL was performed by using graft harvested from hamstrings. Each subject underwent an individual therapeutic programme. Functional examinations included the measurements of the balance using modified star excursion balance test, coordination, proprioception and response time using functional squat system and strength of flexor and extensor muscles of the involved and uninvolved leg using an isokinetic machine.
Results
There was no significant difference between Wii Fit and conventional group in terms of isokinetic knee strength at 12th week, and dynamic balance, and functional squat tests including coordination, proprioception and response time at first, 8th and 12th weeks of the rehabilitation.
Conclusion
Two different 12-week-physiotherapy programmes following ACL reconstruction have the same affect on muscle strength, dynamic balance and functional performance values in both groups. We considered that the practice of Wii Fit activities like conventional rehabilitation could also address physical therapy goals, which included improving visual–perceptual processing, coordination, proprioception and functional mobility.
Level of evidence
Randomized, controlled trials with adequate statistical power, Level I.
Access options
Buy single article
Instant access to the full article PDF.
US$ 39.95
Tax calculation will be finalised during checkout.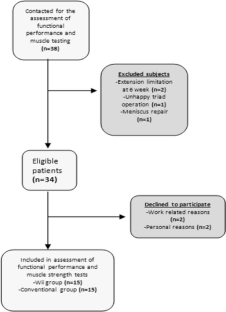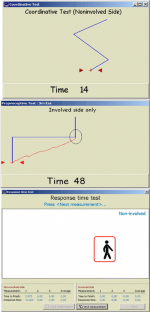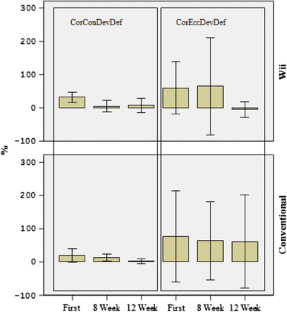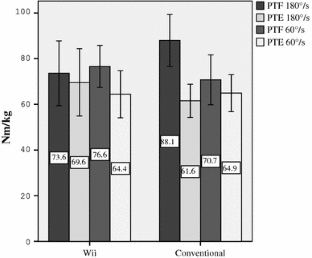 References
1.

Aune A, Holm I, Risberg MA, Jensen HK, Steen H (2001) Four-strand hamstring tendon autograft compared with patellar tendon-bone autograft for anterior cruciate ligament reconstruction: a randomized study with two-year follow-up. Am J Sports Med 29(6):722–728

2.

Betker AL, Szturm T, Moussavi ZK, Nett C (2007) Video game- based exercises for balance rehabilitation: a single-subject design. Arch Phys Med Rehabil 87:1141–1149

3.

Bjorklund K, Skold C, Andersson L, Dalen N (2006) Reliability of a criterion-based test of athletes with knee injuries; where the physiotherapist and the patient independently and simultaneously assess the patient's performance. Knee Surg Sports Traumatol Arthrosc 14:165–175

4.

Clark RA, Bryant AL, Pua Y, McCrory P, Bennell K, Hunt M (2010) Validity and reliability of the Nintendo Wii Balance Board for assessment of standing balance. Gait Posture 31:307–310

5.

Clark RA, McGough R, Paterson K (2011) Reliability of an inexpensive and portable dynamic weight bearing asymmetry assessment system incorporating dual Nintendo Wii Balance Boards. Gait Posture 34(2):288–291

6.

Cooper RL, Taylor NF, Feller JA (2005) A systematic review of the effect of proprioceptive and balance exercises on people with an injured or reconstructed anterior cruciate ligament. Res Sports Med 13(2):163–178

7.

de Jong S, Van Caspel D, van Haeff M, Saris DBF (2007) Functional assessment and muscle strength before and after reconstruction of chronic anterior cruciate ligament lesions. Arthroscopy 23(1):21–28

8.

Decoster L, Labore, LL, Boquiren, ML, Russell, PJ (2008) Monitored rehab functional squat coordination test: reliability, learning curve and eccentric-concentric performance comparisons. http://www.nhmi.net/monitored_rehab_functional_squat_coordination_test.php

9.

Deutsch JE, Borbely M, Filler J, Huhn K, Guarrera-Bowlby P (2008) Use of a low-cost, commercially available gaming console (Wii) for rehabilitation of an adolescent with cerebral palsy. Phys Ther 88(10):1196–1207

10.

Gil-Gomez JA, Llons R, Alcaiz M, Colomer C (2011) Effectiveness of a Wii balance board-based system (eBaViR) for balance rehabilitation: a pilot randomized clinical trial in subjects with acquired brain injury. J Neuroeng Rehabil 23(8):30. doi:10.1186/1743-0003-8-30

11.

Graves LE, Ridgers ND, Stratton G (2008) The contribution of upper limb and total body movement to adolescents' energy expenditure whilst playing Nintendo Wii. Eur J Appl Physiol 104:617–623

12.

Herrington L, Hatcher J, Hatcher A, McNicholas M (2009) A comparison of Star Excursion Balance Test reach distances between ACL deficient subjects and asymptomatic controls. Knee 16(2):149–152

13.

Hertel J, Miller S, Denegar C (2000) Intratester and intertester reliability during the star excursion balance test. J Sport Rehabil 9:104–116

14.

Jamshidi AA, Olyaei GR, Heydarian K, Talebian S (2005) Isokinetic and functional parameters in patients following reconstruction of the anterior cruciate ligament. Isokinet Exerc Sci 13:267–272

15.

Järvelä T, Kannus P, Latvala K, Järvinen M (2002) Simple measurements in assessing muscle performance after an ACL reconstruction. Int J Sports Med 23:196–201

16.

Kinzey SJ, Armstrong CW (1998) The reliability of the star excursion balance test in assessing dynamic balance. J Orthop Sports Phys The 27:356–360

17.

Lange B, Flynn S, Proffitt R, Chang CY, Rizzo A (2010) Development of an interactive game-based rehabilitation tool for dynamic balance training. Top Stroke Rehabil 17(5):345–352

18.

Lautamies R, Harilainen A, Kettunen J, Sandelin J, Kujala UM (2008) Isokinetic quadriceps and hamstring muscle strength and knee function 5 years after anterior cruciate ligament reconstruction: comparison between bone-patellar tendon-bone and hamstring tendon autografts. Knee Surg Sports Traumatol Arthrosc 16:1009–1016

19.

Laver K, Ratcliffe J, George S, Burgess L, Crotty M (2011) Is the Nintendo Wii Fit really acceptable to older people? A discrete choice experiment. BMC Geriatr 20(11):64

20.

Laver KE, George S, Thomas S, Deutsch JE, Crotty M (2011) Virtual reality for stroke rehabilitation. Cochrane Database Syst Rev 9:CD008349

21.

Maffiuletti NA, Bizzini M, Schatt S, Munzinger U (2005) A multi-joint lower-limb tracking-trajectory test for the assessment of motor coordination. Neurosci Lett 384:106–111

22.

Meldrum D, Glennon A, Herdman S, Murray D, McConn-Walsh R (2012) Virtual reality rehabilitation of balance: assessment of the usability of the Nintendo Wii(®) Fit Plus. Disabil Rehabil: Assist Technol 7(3):205–210

23.

Monitored Rehab Systems Software-MRS-E0701 Guidelines (2006) pp 74–97

24.

Narducci E, Waltz A, Gorski K, Leppla L, Donaldson M (2011) The clinical utility of functional performance tests within one-year post-ACL reconstruction: a systematic review. Int J Sports Phys Ther 6(4):333–342

25.

Plisky PJ, Gorman PP, Butler RJ, Underwood FB, Elkins B et al (2009) The reliability of an instrumented device for measuring components of the star excursion balance test. Am J Sports Phys Ther 4(2):92–99

26.

van Grinsven S, van Cingel REH, Holla CJM, vanLoon CJM (2010) Evidence-based rehabilitation following anterior cruciate ligament reconstruction. Knee Surg Sports Traumatol Arthrosc 18:1128–1244

27.

Weiss PL, Rand D, Katz N, Kizony R (2004) Video capture virtual reality as a flexible and effective rehabilitation tool. J Neuroeng Rehabil 1(1):12. doi:10.1186/1743-0003-1-12

28.

Yosmaoglu HB, Baltaci G, Kaya D, Ozer H (2011) Tracking ability, motor coordination, and functional determinants after anterior cruciate ligament reconstruction. J Sport Rehabil 20(2):207–218

29.

Yosmaoglu HB, Baltaci G, Kaya D, Ozer H, Atay A (2011) Comparison of functional outcomes of two anterior cruciate ligament reconstruction methods with hamstring tendon graft. Acta Orthop Traumatol Turc 45(4):240–247

30.

Yosmaoglu HB, Baltaci G, Ozer H, Atay A (2011) Effects of additional gracilis tendon harvest on muscle torque, motor coordination, and knee laxity in ACL reconstruction. Knee Surg Sports Traumatol Arthrosc 19(8):1287–1292

31.

Young W, Ferguson S, Brault S, Craig C (2011) Assessing and training standing balance in older adults: a novel approach using the 'Nintendo Wii' Balance Board. Gait Posture 33:303–305
About this article
Cite this article
Baltaci, G., Harput, G., Haksever, B. et al. Comparison between Nintendo Wii Fit and conventional rehabilitation on functional performance outcomes after hamstring anterior cruciate ligament reconstruction: prospective, randomized, controlled, double-blind clinical trial. Knee Surg Sports Traumatol Arthrosc 21, 880–887 (2013). https://doi.org/10.1007/s00167-012-2034-2
Received:

Accepted:

Published:

Issue Date:
Keywords
Strength

Balance

Proprioception

Coordination

ACL

Rehabilitation