Abstract
Purpose
The aim of the study was to investigate the landing strategies used by non-injured athletes while wearing functional knee braces (FKB, BR condition) during a drop jump task compared with non-injured, non-braced (NBR condition) subjects and also to ascertain whether accommodation to a FKB was possible by non-injured BR subjects.
Methods
Twenty-three healthy male provincial and national basketball and field hockey athletes (age, 19.4 ± 3.0 years) were tested. Each subject was provided with a custom-fitted FKB. Five NBR testing sessions were performed over 3 days followed by five BR testing sessions also over 3 days, for a total of 17.5 h of testing per condition. Each subject performed eight trials of the drop jump task during each testing session per condition. Single-leg peak vertical ground reaction forces (PVGRF) and the time to PVGRF were recorded for each NBR and BR trail.
Results
The BR group mean PVGRF at landing was significantly lower (1,628 ± 405 N, 2.1 ± 0.5 BW versus 1,715 ± 403 N, 2.2 ± 0.5 BW, F 1,22 = 6.83, P = 0.01) compared with NBR subjects, respectively. The group mean time to PVGRF was not statistically longer during the BR condition (F 1,22 = 0.967, P = 0.3). Further, an accommodation trend was noted as percent performance difference decreased with continued FKB use.
Conclusions
The significantly lower group mean PVGRF while using a FKB could keep traumatic forces from reaching the ACL until the active neuromuscular restraints are activated to provide protection to the knee joint ligaments. Also, accommodation to FKB is possible after approximately 14.0 h of brace use. The results of this paper will assist clinicians in providing information to their patients regarding a FKB ability to offer protection to an ACL-deficient knee or to address concerns about early muscle fatigue, energy expenditure, heart rate, and decrease in performance level.
Level of evidence
Prospective study, Level I.
Access options
Buy single article
Instant access to the full article PDF.
USD 39.95
Price excludes VAT (USA)
Tax calculation will be finalised during checkout.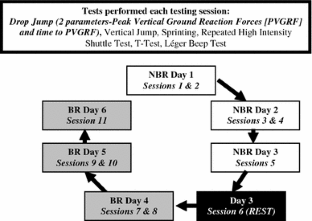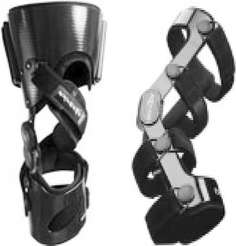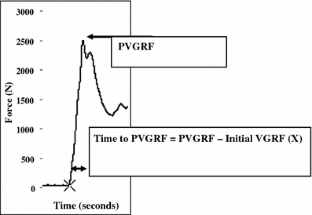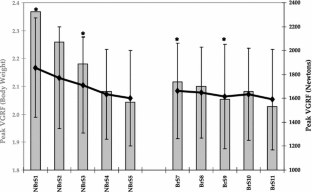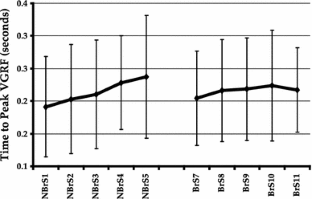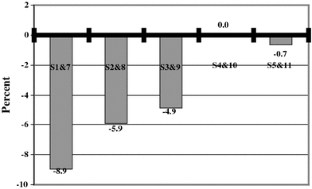 Notes
Four subjects arrived late for the scheduled testing session and were not included in this test. The four subjects completed the remaining tests listed in Fig. 1.

The group mean performance level is an average of all test sessions within each group (NBR and BR) of the respective outcome measure.
References
AAOS (2004) Position paper: the use of knee braces. Rosemont, IL

Barrack RL, Skinner HR, Buckley SL (1989) Proprioception in the anterior cruciate deficient knee. Am J Sports Med 17:1–16

Besier TF, Lloyd DG, Ackland TR (2003) Muscle activation strategies at the knee during running and cutting maneuvers. Med Sci Sports Exerc 35:119–127

Beynnon BD, Fleming BC, Churchill DL, Brown D (2003) The effect of anterior cruciate ligament deficiency and functional knee bracing on translation of the tibia relative to the femur during nonweightbearing and weight bearing. Am J Sports Med 31:99–105

Boden BP, Dean GS, Feagin JA, Garrett WE (2000) Mechanisms of anterior cruciate ligament injury. Orthopedics 23:573–578

Decoster LC, Vailas JC (2003) Functional anterior cruciate ligament bracing: a survey of current brace prescriptions patterns. Orthopedics 26:701–706

DeMorat G, Wieinhold P, Blackburn T, Chudik S, Garrett WE (2004) Aggressive quadriceps loading can induce noncontact anterior cruciate ligament injury. Am J Sports Med 32:477–483

DeVita P, Hunter PB, Skelly WA (1992) Effects of a functional knee brace on the biomechanics of running. Med Sci Sports Exerc 24:797–804

DeVita P, Lassiter TJ, Hortobagyi T, Torry M (1998) Functional knee bracing effects during walking in patients with anterior cruciate ligament reconstruction. Am J Sports Med 26:778–784

Dufek JS, Bates BT (1991) Biomechanical factors associated with injury during landing in jump sports. Sports Med 12:326–337

Fleming BC, Renstrom PA, Beynnon BD, Engstrom B, Perra G (2000) The influence of functional knee bracing on anterior cruciate ligament strain biomechanics in weight bearing and nonweightbearing knees. Am J Sports Med 28:815–824

Gilchrist J, Mandelbaum BR, Melancon H, Ryan GW, Silvers HJ, Griffin LY et al (2008) A randomized controlled trial to prevent noncontact anterior cruciate ligament injury in female collegiate soccer players. Am J Sports Med 36:1476–1483

Goldfuss AJ, Morehouse CA, LeVeau BF (1973) Effect of muscular tension on knee stability. Med Sci Sports Exerc 5:267–271

Granberry WM, Noble PC, Woods GW (1990) Evaluation of an electrogoniometric instrument for measurement of laxity of the knee. J Bone Joint Surg Am 72:1316–1322

Griffin LY, Albohm MJ, Arendt EA, Bahr RB, Beynnon BD, DeMaio M et al (2006) Understanding and preventing noncontact anterior cruciate ligament injuries. Am J Sports Med 34:1512–1532

Hashemi J, Breighner R, Chandrashekar N, Hardy DM, Chaudhari AM, Shultz SJ et al. (2010) Hip extension, knee flexion paradox: a new mechanism for non-contact ACL injury. J Biomech 44(4):577–585

Herrington L, Simmonds C, Hatcher J (2005) The effect of a neoprene sleeve on knee joint position sense. Res Sports Med 13:37–46

Ireland ML (1999) Anterior cruciate ligament injury in female athletes: epidemiology. J Athl Train 34:150–154

Kanamori A, Zeminski J, Rudy TW, Li G, Fu FH, Woo SL (2002) The effect of axial tibial torque on the function of the anterior cruciate ligament: a biomechanical study of a simulated pivot shift test. Arthroscopy 18:394–398

Kramer JF, Dubowitz T, Fowler P, Schachter C, Birmingham T (1997) Functional knee braces and dynamic performance: a review. Clin J Sport Med 7:32–39

Krosshaug T, Nakamae A, Boden BP, Engebretsen L, Smith G, Slauterbeck JR et al (2007) Mechanisms of anterior cruciate ligament injury in basketball: video analysis of 39 cases. Am J Sports Med 35:359–367

Lephart SM, Abt JP, Ferris CM (2002) Neuromuscular contributions of anterior cruciate ligament injuries in females. Curr Opin Rheumatol 14:168–173

Markolf KL, Graff-Redford A, Amstutz HC (1978) In vivo knee stability: a quantitative assessment using an instrumented clinical testing apparatus. J Bone Joint Surg Am 60A:664–674

Markolf KL, Burchfild DM, Shapiro MM, Shepard MF, Finerman GA, Slauterbeck J (1995) Combined knee-loading states that generate high anterior cruciate ligament forces. J Orthop Res 13:930–935

Markolf KL, O'Neill G, Jackson SR, McAllister DR (2004) Effects of applied quadriceps and hamstrings muscle loads on forces in the anterior and posterior cruciate ligaments. Am J Sports Med 32:1114–1149

Matava MJ, Freehill AK, Grutzner S, Shannon W (2002) Limb dominance as a potential etiologic factor in noncontact anterior cruciate ligament tears. J Knee Surg 15:11–16

McLean SG, Beaulieu ML (2010) Complex integrative morphological and mechanical contributions to ACL injury risk. Exerc Sport Sci Rev 38:192–200

McNair PJ, Stanley SN, Strauss GR (1996) Knee bracing: effects of proprioception. Arch Phys Med Rehabil 77:287–289

Olsen OE, Myklebust G, Engebresten L, Holme I, Bahr R (2005) Exercises to prevent lower limb injuries in youth sports: cluster randomised controlled trials. Br J Sports Med 330:449–455

Pope MH, Johnson RJ, Brown DW, Tighe C (1979) The role of the musculature in injuries to the medial collateral ligament. J Bone Joint Surg Am 61:398–402

Quatman CE, Hewett TE (2009) The anterior cruciate ligament injury controversy: is "valgus collapse" a sex-specific mechanism? Br J Sports Med 43:328–335

Reed-Jones RJ, Vallis LA (2007) Proprioceptive deficits of the lower limb following anterior cruciate ligament deficiency affect whole body steering control. Exp Brain Res 182:249–260

Rishiraj N, Taunton JE, Clement DB, Lloyd-Smith R, Regan W, Woollard R (2000) Role of functional knee bracing in a dynamic setting. NZ J Sports Med 28:54–61

Rishiraj N, Taunton JE, Lloyd-Smith R, Regan W, Woollard R, Clement D (2009) The potential role of prophylactic/functional knee bracing in preventing knee ligament injury. A review. Sports Med 39:937–960

Shimokochi Y, Shultz SJ (2008) Mechanisms of noncontact anterior cruciate ligament injury. J Athl Train 43:396–408

Shultz SJ, Schmitz RJ, Nguyen A-D, Ajit M, Chaudhari AM, Padua DP, McLean SG et al (2010) ACL research retreat V: an update on ACL injury risk and prevention, March 25–27, 2010, Greensboro, NC. J Athl Train 45:499–508

Smith J, Malanga GA, Yu B, An KN (2003) Effects of functional knee bracing on muscle firing patterns about the chronic anterior cruciate ligament-deficient knee. Arch Phys Med Rehabil 84:1680–1686

Solomonow M, Baratta R, Zhou BH, Shoji H, Bose W, Beck C et al (1987) The synergistic action of the anterior cruciate ligament and thigh muscles in maintaining joint stability. Am J Sports Med 15:207–213

Stålbom M, Holm DJ, Cronin JB, Keogh JWL (2007) Reliability of kinematics and kinetics associated with horizontal single leg drop jump assessment. A brief report. J Sports Sci Med 6:261–264

Vandertuin JF, Grant JA (2004) The role of functional knee braces in managing ACL injuries. Athl Ther Today 9:58–62

Winter EM, Brookes FB (1991) Electromechanical response times and muscle elasticity in men and women. Eur J Appl Physiol Occup Physiol 63:124–128

Wojtys EM, Huston LJ, Taylor PD, Bastian SD (1996) Neuromuscular adaptations in isokinetic, isotonic, and agility training programs. Am J Sports Med 24:187–192

Yu B, Garrett WE (2007) Mechanisms of non-contact ACL injuries. Br J Sports Med 41:i47–i51
Acknowledgments
Many thanks to all the subjects for volunteering for this research project. Also, my deepest appreciation to Dr. Sanderson for allowing access to his Biomechanics Laboratory, to H. Lin, R. Cohee, and C. Munro for allowing access to gymnasiums, and to M. Gibson for organizing room bookings on the UBC Campus, as well as to A. Black (SunnyHill Hospital) for agreeing to accommodate our research testing if the primary testing site was not available. To I. Arthur (ORFU), and J. LaBreche and Dr. G. Sleivert (Pacific Sport Centre) my gratitude for providing the required testing apparatus. To T. Prior (Össur, Canada) many thanks for coordinating the payment plan for the FKBs. Without your assistance, completion of this project could not have been possible.
Conflict of interest
None of the authors have a financial conflict of interest with regards to this study and do not endorse one manufacturer over another.
About this article
Cite this article
Rishiraj, N., Taunton, J.E., Lloyd-Smith, R. et al. Functional knee brace use effect on peak vertical ground reaction forces during drop jump landing. Knee Surg Sports Traumatol Arthrosc 20, 2405–2412 (2012). https://doi.org/10.1007/s00167-012-1911-z
Received:

Accepted:

Published:

Issue Date:

DOI: https://doi.org/10.1007/s00167-012-1911-z
Keywords
ACL

Deceleration task

Knee brace

PVGRFs