Abstract
Purpose
Achilles tendon ruptures are devastating and recover slowly and incompletely. There is a great demand for biomolecular therapies to improve recovery, yet little is understood about growth factors in a healing tendon. Here, the role of growth factors during tendon healing in a rat model and their reaction to single and multiple growth factor treatment are explored.
Methods
Rat tendons were transected surgically and resutured. The expression of bFGF, BMP-12, VEGF and TGF-β1 was assessed by immunohistochemical analysis one to 8 weeks after surgery. Paracrine effects of TGF-β1 or BMP-12 added by adenoviral transfer, as well as the effect of autologous conditioned serum (ACS) on growth factor expression, were evaluated.
Results
bFGF, BMP-12 and VEGF expression was highest 1 week after transection. bFGF and BMP-12 declined during the remaining period whereas VEGF expression persisted. TGF-β1 expression dramatically increased after 8 weeks. ACS treatment increased bFGF (P = 0.007) and BMP-12 (P = 0.004) expression significantly after 8 weeks. Also overall expression of bFGF, BMP-12 and TGF-β1 regardless of time point was significantly greater than controls with ACS treatment (P < 0.05). Both BMP-12 and TGF-β1 treatments had no significant effect. No effect was observed in VEGF with any treatment.
Conclusion
bFGF, BMP-12, VEGF and TGF-β1 are differentially expressed during tendon healing. Additional BMP-12 or TGF-β1 has no significant influence, whereas ACS generally increases expression of all factors except VEGF. Staged application of multiple growth factors may be the most promising biomolecular treatment.
Access options
Buy single article
Instant access to the full article PDF.
USD 39.95
Price excludes VAT (USA)
Tax calculation will be finalised during checkout.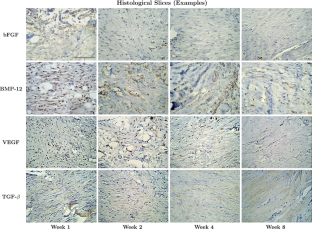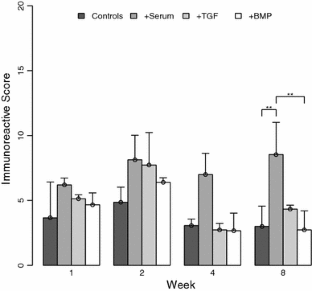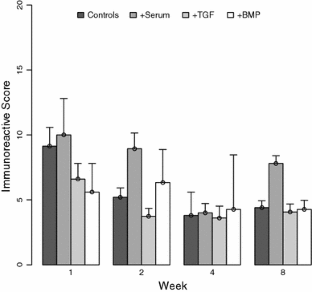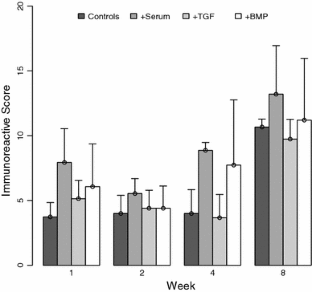 Abbreviations
ACS:

Autologous conditioned serum

bFGF:

Basic fibroblast growth factor, a.k.a. FGF-2

BMP:

Bone morphogenic protein

CDMP:

Cartilage-derived morphogenic protein

GDF:

Growth and differentiation factor

IGF-1:

Insulin-like growth factor 1

PDGF:

Platelet-derived growth factor

TGF-β1:

Transforming growth factor beta 1

VEGF:

Vascular endothelial growth factor
References
Chan BP, Fu S, Qin L, Lee K, Rolf CG, Chan K (2000) Effects of basic fibroblast growth factor (bFGF) on early stages of tendon healing: a rat patellar tendon model. Acta Orthop Scand 71(5):513–518

Chan KM, Fu SC, Wong YP, Hui WC, Cheuk YC, Wong MW (2008) Expression of transforming growth factor beta isoforms and their roles in tendon healing. Wound Repair Regen 16(3):399–407

Eliasson P, Andersson T, Aspenberg P (2009) Rat Achilles tendon healing: mechanical loading and gene expression. J Appl Physiol 107(2):399–407

Fabricius E, Kruse-Boitschenko U, Khoury R, Wildner G, Raguse J, Klein M (2009) Immunohistochemical determination of the appropriate anti-hTERT antibodies for in situ detection of telomerase activity in frozen sections of head and neck squamous cell carcinomas and tumor margin tissues. Int J Oncol 34(5):1257–1279

Forslund C, Rueger D, Aspenberg P (2003) A comparative dose-response study of cartilage-derived morphogenetic protein (CDMP)-1, -2 and -3 for tendon healing in rats. J Orthop Res 21(4):617–621

Fu SC, Cheuk YC, Chan KM, Hung LK, Wong MW (2008) Is cultured tendon fibroblast a good model to study tendon healing? J Orthop Res 26(3):374–383

Gwynne-Jones DP, Sims M, Handcock D (2011) Epidemiology and outcomes of acute Achilles tendon rupture with operative or nonoperative treatment using an identical functional bracing protocol. Foot Ankle Int 32(4):337–343

Hou Y, Mao Z, Wei X, Lin L, Chen L, Wang H, Fu X, Zhang J, Yu C (2009) Effects of transforming growth factor-beta1 and vascular endothelial growth factor 165 gene transfer on Achilles tendon healing. Matrix Biol 28(6):324–335

Hou Y, Mao Z, Wei X, Lin L, Chen L, Wang H, Fu X, Zhang J, Yu C (2009) The roles of TGF-beta1 gene transfer on collagen formation during Achilles tendon healing. Biochem Biophys Res Commun 383(2):235–239

Ide J, Kikukawa K, Hirose J, Iyama K, Sakamoto H, Fujimoto T, Mizuta H (2009) The effect of a local application of fibroblast growth factor-2 on tendon-to-bone remodeling in rats with acute injury and repair of the supraspinatus tendon. J Shoulder Elbow Surg 18(3):391–398

Jung HJ, Fisher MB, Woo SL (2009) Role of biomechanics in the understanding of normal, injured, and healing ligaments and tendons. Sports Med Arthrosc Rehabil Ther Technol 1(1):9

Kajikawa Y, Morihara T, Sakamoto H, Matsuda K, Oshima Y, Yoshida A, Nagae M, Arai Y, Kawata M, Kubo T (2008) Platelet-rich plasma enhances the initial mobilization of circulation-derived cells for tendon healing. J Cell Physiol 215(3):837–845

Kashiwagi K, Mochizuki Y, Yasunaga Y, Ishida O, Deie M, Ochi M (2004) Effects of transforming growth factor-beta 1 on the early stages of healing of the Achilles tendon in a rat model. Scand J Plast Reconstr Surg Hand Surg 38(4):193–197

Liu F, Wang JG, Wang SY, Li Y, Wu YP, Xi SM (2008) Antitumor effect and mechanism of Gecko on human esophageal carcinoma cell lines in vitro and xenografted sarcoma 180 in Kunming mice. World J Gastroenterol 14(25):3990–3996

Longo UGLA, Maffulli N, Denaro V (2010) Tissue engineered biological augmentation for tendon healing: a systematic review. Br Med Bull 98(1):31–59

Lorda-Diez CI, Montero JA, Martinez-Cue C, Garcia-Porrero JA, Hurle JM (2009) Transforming growth factors beta coordinate cartilage and tendon differentiation in the developing limb mesenchyme. J Biol Chem 284(43):29988–29996

Lui PPY, Maffulli N, Rolf C, Smith RKW (2011) What are the validated animal models for tendinopathy? Scand J Med Sci Sports 21(1):3–17

Lyras DN, Kazakos K, Verettas D, Polychronidis A, Tryfonidis M, Botaitis S, Agrogiannis G, Simopoulos C, Kokka A, Patsouris E (2009) The influence of platelet-rich plasma on angiogenesis during the early phase of tendon healing. Foot Ankle Int 30(11):1101–1106

Majewski M, Betz O, Ochsner PE, Liu F, Porter RM, Evans CH (2008) Ex vivo adenoviral transfer of bone morphogenetic protein 12 (BMP-12) cDNA improves Achilles tendon healing in a rat model. Gene Ther 15(16):1139–1146

Majewski M, Ochsner PE, Liu F, Flückiger R, Evans CH (2009) Accelerated healing of the rat Achilles tendon in response to autologous conditioned serum. Am J Sports Med 37(11):2117–2125

Majewski M, Widmer KH, Steinbrück K (2002) Achilles tendon ruptures: 25 year's experience in sport-orthopedic treatment. Sportverletz Sportschaden 16(4):167–173

Molloy T, Wang Y, Murrell G (2003) The roles of growth factors in tendon and ligament healing. Sports Med 33(5):381–394

Murray DH, Kubiak EN, Jazrawi LM, Araghi A, Kummer F, Loebenberg MI, Zuckerman JD (2007) The effect of cartilage-derived morphogenetic protein 2 on initial healing of a rotator cuff defect in a rat model. J Should Elb Surg 16(2):251–254

Oliva F, Via AG, Maffulli N (2011) Role of growth factors in rotator cuff healing. Sports Med Arthrosc 19(3):218–226

Otoshi K, Kikuchi S, Ohi G, Numazaki H, Sekiguchi M, Konno S (2011) The process of tendon regeneration in an Achilles tendon resection rat model as a model for hamstring regeneration after harvesting for anterior cruciate ligament reconstruction. Arthroscopy 27(2):218–227

Petersen W, Pufe T, Unterhauser F, Zantop T, Mentlein R, Weiler A (2003) The splice variants 120 and 164 of the angiogenic peptide vascular endothelial cell growth factor (VEGF) are expressed during Achilles tendon healing. Arch Orthop Trauma Surg 123(9):475–480

Pryce BA, Watson SS, Murchison ND, Staverosky JA, Dünker N, Schweitzer R (2009) Recruitment and maintenance of tendon progenitors by TGFbeta signaling are essential for tendon formation. Development 136(8):1351–1361

Remmele W, Stegner HE (1987) Vorschlag zur einheitlichen Definition eines immunreaktiven Scores (IRS) für den imunhistochemischen Östrogenrezeptornachweis (ER-ICA) in Mammagewebe. [Recommendation for uniform definition of an immunoreactive score (IRS) for immunohistochemical estrogen receptor detection (ER-ICA) in breast cancer tissue]. Pathologe 8(3):138–140

Rickert M (2008) BMP-14 gene therapy increases tendon tensile strength in a rat model of Achilles tendon injury. J Bone Jt Surg Am 90(2):445–446

Rodeo SA, Seneviratne A, Suzuki K, Felker K, Wickiewicz TL, Warren RF (2000) Histological analysis of human meniscal allografts. A preliminary report. J Bone Jt Surg Am 82-A (8):1071–1082

Schippinger G, Oettl K, Fankhauser F (2011) Influence of intramuscular application of autologous conditioned plasma on systemic circulating IGF-1. J Sports Sci Med 2011(10):439–444

Seeherman HJ, Archambault JM, Rodeo SA, Turner AS, Zekas L, D'Augusta D, Li XJ, Smith E, Wozney JM (2008) rhBMP-12 accelerates healing of rotator cuff repairs in a sheep model. J Bone Jt Surg Am 90(10):2206–2219

Sharma P, Maffulli N (2005) The future: rehabilitation, gene therapy, optimization of healing. Foot Ankle Clin 10(2):383–397

Sharma P, Maffulli N (2006) Biology of tendon injury: healing, modeling and remodeling. J Musculoskelet Neuronal Interact 6(2):181–190

Soslow RA, Ying L, Altorki NK (1997) Expression of acidic fibroblast growth factor in Barrett's esophagus and associated esophageal adenocarcinoma. J Thorac Cardiovasc Surg 114(5):838–843

Thomopoulos S, Das R, Sakiyama-Elbert S, Silva MJ, Charlton N, Gelberman RH (2010) bFGF and PDGF-BB for tendon repair: controlled release and biologic activity by tendon fibroblasts in vitro. Ann Biomed Eng 38(2):225–234

Wright-Carpenter T, Klein P, Schäferhoff P, Appell HJ, Mir LM, Wehling P (2004) Treatment of muscle injuries by local administration of autologous conditioned serum: a pilot study on sportsmen with muscle strains. Int J Sports Med 25(8):588–593

Würgler-Hauri CC, Dourte LM, Baradet TC, Williams GR, Soslowsky LJ (2007) Temporal expression of 8 growth factors in tendon-to-bone healing in a rat supraspinatus model. J Should Elb Surg 16(5 Suppl):198–203

Yao JL, Ryan CK, Francis CW, Kohli M, Taubman MB, Khorana AA (2009) Tissue factor and VEGF expression in prostate carcinoma: a tissue microarray study. Cancer Invest 27(4):430–434

Zhang F, Liu H, Stile F, Lei MP, Pang Y, Oswald TM, Beck J, Dorsett-Martin W, Lineaweaver WC (2003) Effect of vascular endothelial growth factor on rat Achilles tendon healing. Plast Reconstr Surg 112(6):1613–1619
Additional information
Patricia E. Heisterbach and Atanas Todorov are equally contributing first authors.
About this article
Cite this article
Heisterbach, P.E., Todorov, A., Flückiger, R. et al. Effect of BMP-12, TGF-β1 and autologous conditioned serum on growth factor expression in Achilles tendon healing. Knee Surg Sports Traumatol Arthrosc 20, 1907–1914 (2012). https://doi.org/10.1007/s00167-011-1772-x
Received:

Accepted:

Published:

Issue Date:

DOI: https://doi.org/10.1007/s00167-011-1772-x
Keywords
Growth factors

Tendon healing

Biological repair

Animal model