Abstract
The traditional open transosseous rotator cuff repair gives excellent results for the fixation of tendon to bone and has represented the gold standard for rotator cuff surgery with excellent long-term results. In the last few years, different arthroscopic techniques using suture anchors have been developed to increase the tendon–bone contact area in an attempt to reconstitute a more anatomic configuration of the rotator cuff footprint while providing a better environment for tendon healing. However, the anchor-based techniques have still not replicated the traditional open transosseous repair. A surgical technique that allows surgeons to perform a standardized arthroscopic transosseous (anchor free) repair of rotator cuff tears using a new disposable device is described. With this system, it is possible to perform a transosseous technique in a reproducible fashion. This novel technique combines the clinical advantages of minimally invasive arthroscopic surgery and the biomechanical advantages of open transosseous procedures. Level of evidence V.
Access options
Buy single article
Instant access to the full article PDF.
US$ 39.95
Tax calculation will be finalised during checkout.
Subscribe to journal
Immediate online access to all issues from 2019. Subscription will auto renew annually.
US$ 119
Tax calculation will be finalised during checkout.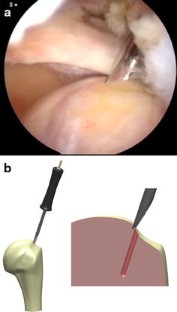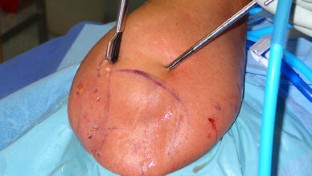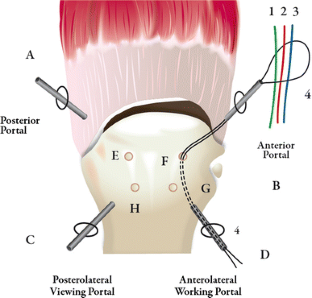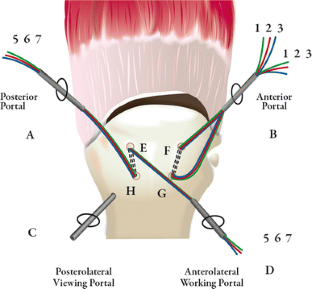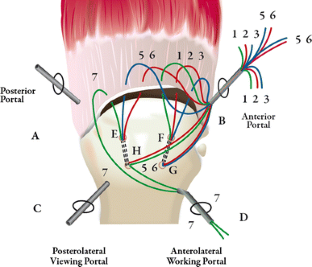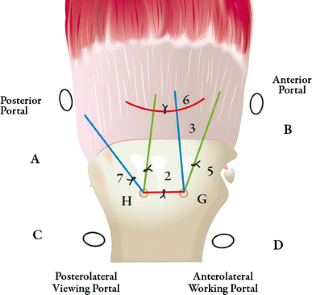 References
1.

Apreleva M, Ozbaydar M, Fitzgibbons PG, Warner JJ (2002) Rotator cuff tears: the effect of the reconstruction method on three-dimensional repair site area. Arthroscopy 18(5):519–526

2.

Benson EC, MacDermid JC, Drosdowech DS, Athwal GS (2010) The incidence of early metallic suture anchor pull-out after arthroscopic rotator cuff repair. Arthroscopy 26(3):310–315

3.

Boileau P, Brassart N, Watkinson DJ, Charles M, Hatzidakis AM, Krishnan SG (2005) Arthroscopic repair of full-thikness tears of the supraspinatus: does the tendon really heal? J Bone Joint Surg Am 87(6):1229–1240

4.

Caldwell GL, Warner JP, Miller MD, Boardman D, Towers J, Debski R (1997) Strength of fixation with transosseous sutures in rotator cuff repair. J Bone Joint Surg Am 79(7):1064–1068

5.

Charousset C, Grimberg J, Duranthon LD, Bellaiche L, Petrover D (2007) Can a double-row anchorage technique improve tendon healing in arthroscopic rotator cuff repair? A prospective, nonrandomized, comparative study of double row anchorage techniques with computed tomographic arthrography tendon healing assessment. Am J Sports Med 35(8):1247–1253

6.

Cho NS, Yi JW, Lee BG, Rhee YG (2010) Retear patterns after arthroscopic rotator cuff repair: single row versus suture bridge technique. Am J Sports Med 38(4):664–671

7.

Fleega BA (2002) Arthroscopic transhumeral rotator cuff repair: giant needle technique. Arthroscopy 18(2):218–223

8.

Fox MP, Auffarth A, Tauber M, Hartmann A, Resch H (2008) A novel transosseous button technique for rotator cuff repair. Arthroscopy 24(9):1074–1077

9.

Franceschi F, Ruzzini L, Longo UG et al (2007) Equivalent clinical results of arthroscopic single row and double row suture anchor repair for rotator cuff tears: a randomized controlled trial. Am J Sports Med 35(8):1254–1260

10.

Frank JB, ElAttrache NS, Dines JS, Blackburn A, Crues J, Tibone JE (2008) Repair site integrity after arthroscopic transosseous-equivalent suture-bridge rotator cuff repair. Am J Sports Med 36(8):1496–1503

11.

Frick H, Haag M, Volz M, Stehle J (2010) Arthroscopic bone needle: a new, safe, and cost-effective technique for rotator cuff repair. Tech Should Surg 11:107–112

12.

Galatz LM, Griggs S, Cameron BD, Iannotti JP (2001) Prospective longitudinal analysis of postoperative shoulder function: a ten year follow-up study of full-thickness rotator cuff tears. J Bone Joint Surg Am 83-A(7):1052–1056

13.

Galatz LM, Ball CM, Teefey SA, Middleton WD, Yamaguchi K (2004) The outcome and repair integrity of completely arthroscopically repaired large and massive rotator cuff tears. J Bone Joint Surg Am 86A(2):219–224

14.

Jost B, Pfirmann CW, Gerber C, Switzerland Z (2000) Clinical outcome after structural failure of the rotator cuff repairs. J Bone Joint Surg Am 82(3):304–314

15.

Kim KC, Rhee KJ, Shin HD, Kim YM (2008) Arthroscopic transosseous rotator cuff repair. Orthopedics 31(4):327–330

16.

Lo IK, Burkhart SS (2003) Double row arthroscopic rotator cuff repair: re-establishing the footprint of the rotator cuff. Arthroscopy 19(9):1035–1042

17.

Park MC, Cadet ER, Levine WN, Bigliani LU, Ahmad CS (2005) Tendon-to-bone pressure distributions at a repaired rotator cuff footprint using transosseous suture and suture anchor fixation techniques. Am J Sports Med Aug 33(8):1154–1159

18.

Park MC, ElAttrache NS, Tibone JE, Ahmad CS, Jun BJ, Lee TQ (2007) Part I: footprint contact characteristics for a transosseous-equivalent rotator cuff repair technique compared with a double-row repair technique. J Shoulder Elbow Surg 16(4):461–468

19.

Pennington WT, Gibbons DJ, Bartz BA et al (2010) Comparative analysis of single row versus double row repair of rotator tears. Arthroscopy 26(11):1419–1426

20.

Post M, Silver R, Singh M (1983) Rotator cuff tear. Diagnosis and treatment. Clin Orthop Relat Res 173:78–91

21.

Ramsey ML, Getz CL, Parsons BO (2009) What's new in shoulder and elbow surgery. J Bone Joint Surg Am 92(4):1047–1061

22.

Rossouw DJ, McElroy BJ, Amis AA, Emery RJ (1997) A Biomechanical evaluation of suture anchors in repair of the rotator cuff. J Bone Joint Surg Br 79(3):458–461

23.

Shea KP, Jennings JE (1998) Arthroscopic rotator cuff repair using a transhumeral approach to fixation. Arthroscopy 14(1):118–122

24.

Sugaya H, Maeda K, Matsuki K, Mooriishi J (2005) Functional and structural outcome after arhroscopic full thickness rotator cuff repair: single row versus dual row fixation. Arthroscopy 21(11):1307–1316

25.

Tashjian RZ, Hollins AM, Kim HM et al (2010) Factors affecting healing rates after arthroscopic double row rotator cuff repair. Am J Sports Med 38(12):2435–2442

26.

Tauber M, Koller H, Resch H (2008) Transosseous arthroscopic repair of partial articular-surface supraspinatus tendon tears. Knee Surg Sports Traumatol Arthrosc 16(6):608–613

27.

Zumstein MA, Jost B, Hempel J, Hodler J, Gerber C (2008) The clinical and structural long-term results of open repair of massive tears of the rotator cuff. J Bone Joint Surg A 90(11):2423–2431
About this article
Cite this article
Garofalo, R., Castagna, A., Borroni, M. et al. Arthroscopic transosseous (anchorless) rotator cuff repair. Knee Surg Sports Traumatol Arthrosc 20, 1031–1035 (2012). https://doi.org/10.1007/s00167-011-1725-4
Received:

Accepted:

Published:

Issue Date:
Keywords
Anchorless

Arthroscopic rotator cuff repair

Rotator cuff tear

Transosseous

Shoulder