Abstract
Purpose
Bone-patellar tendon–bone technique (BPTB) for anterior cruciate ligament injuries is associated with a higher risk of donor-site morbidity. To evaluate whether platelet-rich plasma (PRP), due to its anti-inflammatory properties and capacity to stimulate tissue regeneration, was able to reduce the anterior knee pain, the kneeling pain, and donor-site morbidity, as evidenced by evaluation of VISA and VAS scoring scales and MRI analysis of the tendon and bone defect, we performed a clinical randomized controlled study where PRP gel was applied to donor site after ACL reconstruction with BPTB.
Methods
Forty young athletes with the indication of ACL reconstruction with patellar tendon grafts were randomly assigned to group A (n = 20 patients, control group) or group B (n = 20 patients, PRP group). The autologous PRP gel was applied to both the patellar and tendon bone plug harvest site and stabilized by the peritenon suture. At 12-month follow-up, all patients underwent clinical examination and VAS and VISA questionnaires, respectively, evaluating the average daily pain of the knee and the pain during particular activities involving the knee, were filled. MRI at the same time point was also performed.
Results
VISA scores were significantly higher in the patients treated with PRP (84.5 ± 11.8 and 97.8 ± 2.5 for group A and for group B; P = 0.041), whereas no significant difference in postoperative VAS scores between the two groups was observed (1 ± 1.4 and 0.6 ± 0.9 for group A and group B, n.s.). In 85% of PRP group patients, the tibial and patellar bone defect was satisfactorily filled by new bony tissue (>70% of bone gap filled), whereas this percentage was just of 60% in control group patients, but this difference was not statistically significant.
Conclusions
The study shows the usefulness of PRP in reducing subjective pain at the donor-site level after ACL reconstruction with BPTB. However, this approach deserves further investigations to confirm PRP efficacy and to elucidate its mechanism of action.
Level of evidence
Prospective randomized controlled study, Level I.
Access options
Buy single article
Instant access to the full article PDF.
USD 39.95
Price excludes VAT (USA)
Tax calculation will be finalised during checkout.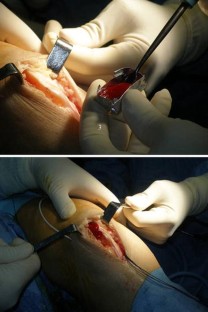 References
Ahmed TA, Dare EV, Hincke M (2008) Fibrin: a versatile scaffold for tissue engineering applications. Tissue Eng Part B Rev 14:199–215

Anitua E, Andia I, Ardanza B, Nurden P, Nurden AT (2004) Autologous platelets as a source of proteins for healing and tissue regeneration. Thromb Haemost 91:4–15

Anitua E, Andía I, Sanchez M, Azofra J, del Mar Zalduendo M, de la Fuente M, Nurden P, Nurden AT (2005) Autologous preparations rich in growth factors promote proliferation and induce VEGF and HGF production by human tendon cells in culture. J Ortho Res 23:281–286

Ardern CL, Webster KE, Taylor NF, Feller JA (2011) Return to sport following anterior cruciate ligament reconstruction surgery: a systematic review and meta-analysis of the state of play. Br J Sports Med 45:596–606

Arnoczky SP, Anderson L, Fanelli G, Ho S, Mishra A, Sgaglione N (2009) The role of platelet-rich plasma in connective tissue repair. Orthopedics Today 26:29. www.orthosupersite.com/view.asp?rid_37598

Bibbo C, Hatfield PS (2010) Platelet-rich plasma concentrate to augment bone fusion. Foot Ankle Clin 15:641–649

Carey JL, Dunn WR, Dahn DL, Zeger SL, Spindler KP (2009) A systematic review of anterior cruciate ligament reconstruction with autograft compared with allograft. J Bone Joint Surg Am 91:2242–2250

Foster TE, Puskas BL, Mandelbaum BR, Gerhardt MB, Rodeo SA (2009) Platelet-rich plasma: from basic science to clinical applications. Am J Sports Med 37:2259–2272

Kanakaris NK, Lasanianos N, Calori GM, Verdonk R, Blokhuis TJ, Cherubino P, De Biase P, Giannoudis PV (2009) Application of bone morphogenetic proteins to femoral non-unions: a 4-year multicentre experience. Injury 40(Suppl 3):S54–S61

Kartus J, Magnusson L, Stener S, Brandsson S, Eriksson BI, Karlsson J (1999) Complications following arthroscopic anterior cruciate ligament reconstruction. A 2–5-year follow-up of 604 patients with special emphasis on anterior knee pain. Knee Surg Sports Traumatol Arthrosc 7:2–8

Kartus J, Stener S, Lindahl S, Engstrom B, Eriksson BI, Karlsson J (1997) Factors affecting donor-site morbidity after anterior cruciate ligament reconstruction using bone-patellar tendon-bone autografts. Knee Surg Sports Traumatol Arthrosc 5:222–228

Kohn D, Sander-Beuermann A (1994) Donor-site morbidity after harvest of a bone-tendon-bone patellar tendon autograft. Knee Surg Sports Traumatol Arthrosc 2:219–223

Lopez-Vidriero E, Goulding KA, Simon DA, Sanchez M, Johnson DH (2010) The use of platelet-rich plasma in arthroscopy and sports medicine: optimizing the healing environment. Arthroscopy 26:269–278

Mishra A, Pavelko T (2006) Treatment of chronic elbow tendinosis with buffered platelet-rich plasma. A J Sports Med 34:1774–1778

Mishra A, Woodall J Jr, Vieira A (2009) Treatment of tendon and muscle using platelet-rich plasma. Clin Sports Med 28:113–125

Nin JR, Gasque GM, Azcárate AV, Beola JD, Gonzalez MH (2009) Has platelet-rich plasma any role in anterior cruciate ligament allograft healing? Arthroscopy 25:1206–1213

Pneumaticos SG, Triantafyllopoulos GK, Chatziioannou S, Basdra EK, Papavassiliou AG (2010) Biomolecular strategies of bone augmentation in spinal surgery. Trends Mol Med 17:215–222

Radice F, Gutierrez V, Ibarra A, Verdugo A (1998) Arthroscopic, histologic and MRI correlation in the maturation process of the graft in ACL reconstruction in humans. Arthroscopy 14:S20 (Suppl 1)

Radice F, Yánez R, Gutiérrez V, Rosales J, Pinedo M, Coda S (2010) Comparison of magnetic resonance imaging findings in anterior cruciate ligament grafts with and without autologous platelet-derived growth factors. Arthroscopy 26:50–57

Sachs RA, Daniel DM, Stone ML, Garfein RF (1989) Patellofemoral problems after anterior cruciate ligament reconstruction. Am J Sports Med 17:760–765

Sanchez M, Anitua E, Azofra J, Andia I, Padilla S, Mujika I (2007) Comparison of surgically repaired achilles tendon tears using platelet-rich fibrin matrices. Am J Sports Med 35:245–251

Sánchez M, Anitua E, Azofra J, Prado R, Muruzabal F, Andia I (2010) Ligamentization of tendon grafts treated with an endogenous preparation rich in growth factors: gross morphology and histology. Arthroscopy 26:470–480

Sanchez M, Azofra J, Aizpurua B, Elorriaga R, Anitua E, Andia I (2003) Use of autologous plasma rich in growth factors in arthroscopic surgery. Cuad Artrosc 10:12–19

Shelbourne KD, Trumper RV (1997) Preventing anterior knee pain after anterior cruciate ligament reconstruction. Am J Sports Med 25:41–47

Silva A, Sampaio R (2009) Anatomic ACL reconstruction: does the platelet-rich plasma accelerate tendon healing? Knee Surg Sports Traumatol Arthrosc 17:676–682

Visentini PJ, Khan KM, Cook JL, Kiss ZS, Harcourt PR, Wark JD (1998) The VISA score: an index of severity of symptoms in patients with jumper's knee (patellar tendinosis). Victorian Institute of Sport Tendon Study Group. J Sci Med Sport 1:22–28

Zhang J, Wang JH (2010) Platelet-rich plasma releasate promotes differentiation of tendon stem cells into active tenocytes. Am J Sports Med 38:2477–2486
Acknowledgments
The authors thank Alessandro Quaglia for his precious help in collecting data. This study has been partially supported by the Italian Ministry of Health, Ricerca Finalizzata 2006, conv. 81.
Electronic supplementary material
Below is the link to the electronic supplementary material.
About this article
Cite this article
Cervellin, M., de Girolamo, L., Bait, C. et al. Autologous platelet-rich plasma gel to reduce donor-site morbidity after patellar tendon graft harvesting for anterior cruciate ligament reconstruction: a randomized, controlled clinical study. Knee Surg Sports Traumatol Arthrosc 20, 114–120 (2012). https://doi.org/10.1007/s00167-011-1570-5
Received:

Accepted:

Published:

Issue Date:

DOI: https://doi.org/10.1007/s00167-011-1570-5
Keywords