Abstract
Purpose
It has been hypothesized that femoral notching in total knee arthroplasties weakens the cortex of the femur, which can predispose to femoral fractures in the postoperative period. Some authors suggest that patients who sustain inadvertent notching should have additional protection in the postoperative period, and consideration should be given to the use of prophylactic femoral stems. In this case, a question can be raised: Is the use of femoral stem in an anterior femoral notching an effective way to reduce the fracture risk? We hypothesized that for a larger notch, the use of a femoral stem does not decrease considerably the stress-riser at the notch edge, and the use of stem is not enough to reduce the risk of fracture.
Methods
In the present in vitro study, twelve synthetic femurs were selected and used for the experiments under two load scenarios. Femoral components with and without femoral stems were implanted in femurs with different notch sizes to predict experimentally the strain levels at the notch edge with the use of fiber Bragg gratings and at notch region with strain gauges.
Results
Despite the global strain reduction in stemmed condition, at the notch edge, the strain behavior was dissimilar for the different notch depths. For notch depths lower than 5 mm, the use of stem reduces the strain level at the notch edge to values below the intact femur condition, while for depths greater or equal to 5 mm, the strain levels at the notch edge were higher than the intact femur condition with values ranging from +10 to +189%.
Conclusions
The present study suggests the use of a prophylactic stem for notch depths greater than 5 mm. For notch depths below 5 mm, the fracture risk due to strain increase at the notch edge seems to be low in the stemless condition.
Access options
Buy single article
Instant access to the full article PDF.
US$ 39.95
Tax calculation will be finalised during checkout.
Subscribe to journal
Immediate online access to all issues from 2019. Subscription will auto renew annually.
US$ 119
Tax calculation will be finalised during checkout.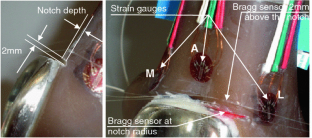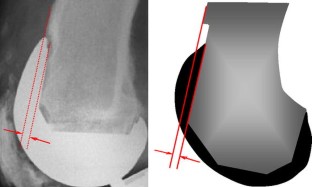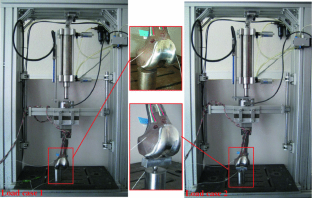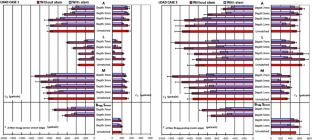 References
1.

Gujarathi N, Putti AB, Abboud RJ, MacLean JG, Espley AJ, Kellett CF (2009) Risk of periprosthetic fracture after anterior femoral notching. Acta Orthop 80(5):553–556

2.

Aaron RK, Scott R (1987) Supracondylar fracture of the femur after total knee arthroplasty. Clin Orthop Relat Res 219:136–139

3.

Figgie MP, Goldberg VM, Figgie HE, Sobel M (1990) The results of treatment of supracondylar fracture above total knee arthroplasty. J Arthroplasty 5:267–276

4.

Ritter M, Faris P, Keating E (1988) Anterior femoral notching and ipsilateral supracondylar femur fracture in total knee arthroplasty. J Arthroplasty 3:185–187

5.

Dennis DA (2001) Periprosthetic fractures following total knee arthroplasty. Instr Course Lect 50:379

6.

Hirsh D, Bhalla S, Roffman M (1981) Supracondylar fracture of the femur following total knee replacement. Report of four cases. J Bone Joint Surg Am 63:162–163

7.

Diehl P, Burgkart R, Klier T, Glowalla C, Gollwitzer H (2006) Periprosthetic fractures after total knee arthroplasty. Orthopade 35:961–974

8.

Althausen P, Lee M, Finkemeier C, Meehan J, Rodrigo J (2003) Operative stabilisation of supracondylar femur fractures above total knee arthroplasty. A comparison of four treatment methods. J Arthroplasty 18:834–839

9.

Su E, Dewal H, Cesare DIP (2004) Periprosthetic femoral fractures above total knee replacements. J Am Acad Orthop Surg 12:12–20

10.

O'Toole R, Gobezie R, Hwang R, Chandler A, Smith R, Estok D 2nd, Vrahas M (2006) Low complication rate of LISS for femur fractures adjacent to stable hip or knee arthroplasty. Clin Orthop Relat Res 450:203–210

11.

Bogoch E, Hastings D, Gross A, Gschwend N (1988) Supracondylar fractures of the femur adjacent to resurfacing and MacIntosh arthroplasties of the knee in patients with rheumatoid arthritis. Clin Orthop relat Res 229:213–220

12.

Ritter M, Thong A, Keating M, Faris P, Meding J, Berend M, Pierson J, Davis K (2005) The effect of femoral notching during total knee arthroplasty on the prevalence of postoperative femoral fractures and on clinical outcome. J Bone Joint Surg Am 87:2411–2414

13.

Cusick R, Lucas G, McQueen D, Graber C (2000) Construct stiffness of different fixation methods for supracondylar femoral fractures above total knee prosthesis. Am J Orthop 29:695–699

14.

Parry B, Ganley T, Bortel D, Englund R, Cooney T (2000) In vitro analysis of periprosthetic strains following total knee arthroplasty. Orthopedics 23:1051–1056

15.

Culp R, Schmidt R, Hanks G, Mak A, Esterhai J Jr, Heppenstal R (1987) Supracondylar fracture of the femur following periprosthetic knee arthroplasty. Clin Orthop Relat Res 222:212–222

16.

Moran M, Brick G, Sledge C, Dysarth S, Chien E (1996) Supracondylar femoral fracture following total knee arthroplasty. Clin Orthop Relat Res 324:196–204

17.

Lesh M, Schneider D, Deol G, Davis B, Jacobs CR, Pellegrini V Jr (2000) The consequences of anterior femoral notching in total knee arthroplasty: a biomechanical study. J Bone Joint Surg 82A:b1096–b1101

18.

Shawen S, Belmont P Jr, Klemme W et al (2003) Osteoporosis and anterior femoral notching in periprosthetic supracondylar femoral fractures: a biomechanical analysis. J Bone Joint Surg Am 85-A:115–121

19.

Minoda Y, Kobayashi A, Iwaki H, Mitsuhiko I, Kadoya Y, Ohashi H, Takaoka K, Nakamura H (2010) The risk of notching the anterior femoral cortex with the use of navigation systems in total knee arthroplasty. Knee Surg Sports Traumatol Arthrosc 18(6):718–722

20.

Heiner A (2008) Structural properties of fourth-generation composite femurs and tibias. J Biomech 41:3282–3284

21.

Gardner MP, Chong AC, Pollock AG, Wooley PH (2010) Mechanical evaluation of large-size fourth-generation composite femur and tibia models. Ann Biomed Eng 38(3):613–620

22.

Heinlein B, Kutzner I, Graichen F, Bender A, Rohlmann A, Halder AM, Beier A, Bergmann G (2009) Complete data of total knee replacement loading for level walking and stair climbing measured in vivo with a follow-up of 6–10 months. Clin Biomech 24(4):315–326

23.

Matthews L, Sonstegard D, Henke J (1977) Load bearing characteristics of the patello-femoral joint. Acta Orthop Scand 48(5): 511–516

24.

Completo A, Fonseca F, Simões J (2007) Experimental validation of intact and implanted distal femur finite element models. J Biomech 40:2467–2476

25.

Nalla R, Kinney J, Ritchie R (2003) Mechanistic fracture criteria for the failure of human cortical bone. Nature Mater 2:164–168

26.

Schileo E, Taddei F, Cristofolini L, Viceconti M (2008) Subject-specific finite element models implementing a maximum principal strain criterion are able to estimate failure risk and fracture location on human femurs tested in vitro. J Biomech 41(2): 356–367

27.

Tharani R, Nakasone C, Vince K (2005) Periprosthetic fractures after total knee arthroplasty. J Arthroplasty 20:27–32

28.

Zalzal P, Backstein D, Gross A, Papini M (2006) Notching of the anterior femoral cortex during total knee arthroplasty characteristics—that increase local stresses. J Arthroplasty 21(5):737–743

29.

Martin R (2003) Fatigue damage, remodeling, and the minimization of skeletal weight. J Theor Biol 220(2):271–276

30.

Merkel KD, Johnson EW Jr (1986) Supracondylar fracture of the femur after total knee arthroplasty. J Bone Joint Surg Am 68:29–43
About this article
Cite this article
Completo, A., Fonseca, F., Relvas, C. et al. Improved stability with intramedullary stem after anterior femoral notching in total knee arthroplasty. Knee Surg Sports Traumatol Arthrosc 20, 487–494 (2012). https://doi.org/10.1007/s00167-011-1557-2
Received:

Accepted:

Published:

Issue Date:
Keywords
Femoral notching

Periprosthetic femur fracture

Experimental study

Intramedullary stem

Total knee arthroplasty