Abstract
Purpose
A postoperative defect of the surrounding soft tissue is one main risk factor for implant exposure and infection following total knee arthroplasty (TKR). The main factors that promote infection, tissue ischemia, and hypoxia are strongly associated with arterial insufficiency and the prevalence of impaired peripheral perfusion. We hypothesized that vascular malperfusion is the predisposing reason for soft tissue complications following TKR necessitating plastic reconstructive surgery.
Methods
A retrospective chart review was made among patients (n = 12) with soft tissue defects due to wound infection following a total knee arthroplasty referred to plastic reconstructive surgery. All patients presented with an exposed implant, and angiographic imaging was performed prior to reconstructive procedures.
Results
Eight out of twelve patients (67%) had a pathological vascular status. In three of these patients, interventional procedures were performed to ameliorate perfusion. In ten patients (83%), the defect was covered with a plastic reconstructive regional or free tissue transfer. Four patients received a free latissimus dorsi flap and six patients a pedicled a gastrocnemius muscle flap. In one patient, a secondary wound closure was needed after knee arthrodesis and an amputation was performed in another patient due to a multiresistant staphylococcus aureus infection and massive tissue destruction at the time of admission.
Conclusions
We suggest to rule out peripheral occlusive disease among patients undergoing TKR at best prior to orthopedic surgery using pulses and, if in doubt ankle-brachial index and doppler sonography Consequently, if vascular occlusions are then confirmed by angiography, dilatation and stenting or revascularization should be performed, to ameliorate perfusion.
Level of evidence
Retrospective case series with no comparison groups, Level IV.
Access options
Buy single article
Instant access to the full article PDF.
US$ 39.95
Tax calculation will be finalised during checkout.
Subscribe to journal
Immediate online access to all issues from 2019. Subscription will auto renew annually.
US$ 119
Tax calculation will be finalised during checkout.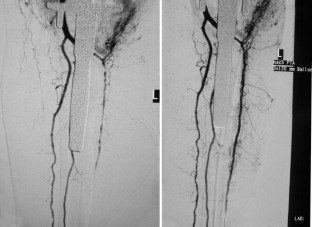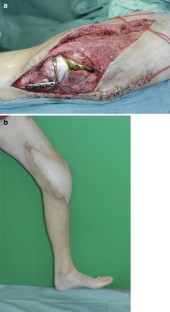 References
1.

Agneskirchner JD, Lobenhoffer P (2004) Endoprostheses of the knee joint. Der Unfallchirurg 107:219–229

2.

Aust MC, Spies M, Guggenheim M et al (2008) Lower limb revascularisation preceding surgical wound coverage: an interdisciplinary algorithm for chronic wound closure. J Plast Reconstr Aesthet Surg 61:925–933

3.

Bitsch M, Saunte DM, Lohmann M et al (2005) Standardised method of surgical treatment of chronic leg ulcers. Scand J Plast Reconstr Surg Hand Surg 39:162–169

4.

Bowman NK, Appleyard M, Williams F et al (2011) The effect of total knee arthroplasty on lower limb blood flow. J Arthroplasty 26:250–254

5.

Chandrasekhar B, Brien W (1993) Coverage strategies in total joint replacement. Ortho Clin North Am 24:523–529

6.

Ciresi KF, Anthony JP, Hoffman WY et al (1993) Limb salvage and wound coverage in patients with large ischemic ulcers: a multidisciplinary approach with revascularization and free tissue transfer. J Vasc Surg 18:648–653

7.

Colen L, Musson A (1987) Preoperative assessment of the peripheral vascular disease patient for free tissue transfers. J Reconstr Microsurg 4:1–14

8.

Criqui MH, Fronek A, Barrett-Connor E et al (1985) The prevalence of peripheral arterial disease in a defined population. Circulation 71:510–515

9.

Hansgen K, Podhaisky H, Heinemann S et al (1994) Doppler ultrasound evaluation of blood flow direction in distal occlusion of arteries of the lower leg. Ultraschall Med 15:317–320

10.

Hierner R, Reynders-Frederix P, Bellemans J, Stuyck J, Peeters W (2009) Free myocutaneous latissimus dorsi flap transfer in total knee arthroplasty. J Plast Reconstr Aesthet Surg 62:1692–1700

11.

Knobloch K, Vogt PM (2010) The reconstructive sequence in the twenty-first century. A reconstructive clockwork. Chirurg 5:441–446

12.

Kumins NH, Weinzweig N, Schuler JJ (2000) Free tissue transfer provides durable treatment for large nonhealing venous ulcers. J Vasc Surg 32:848–854

13.

Leng GC, Lee AJ, Fowkes FG (1996) Incidence, natural history and cardiovascular events in symptomatic and asymptomatic peripheral arterial disease in the general population. Int J Epidemiol 25:1172–1181

14.

Lepantalo M, Tukiainen E (1996) Combined vascular reconstruction and microvascular muscle flap transfer for salvage of ischaemic legs with major tissue loss and wound complications. Eur J Vasc Endovasc Surg 12:65–69

15.

Mast BA (2001) Comparison of magnetic resonance angiography and digital subtraction angiography for visualization of lower extremity arteries. Ann Plast Surg 46:261–264

16.

Pang J, Shen S, Pan WR et al (2009) The arterial supply of the patellar tendon: anatomical study with clinical implications for knee surgery. Clin Anat 22:371–376

17.

Stevenson TR, Thornton JW (1987) Doppler blood flow measurement in atherosclerotic posterior tibial artery. J Reconstr Microsurg 3:285–289

18.

Van der Bracht H, Van Maele G, Verdonk P, Almqvist KF, Verdonk R, Freeman M (2010) Is there any superiority in the clinical outcome of mobile-bearing knee prosthesis designs compared to fixed-bearing total knee prosthesis designs in the treatment of osteoarthritis of the knee joint? A review of the literature. Knee Surg Sports Traumatol Arthrosc 18:367–374

19.

Vessely MB, Whaley AL, Harmsen WS, Schleck CD, Berry DJ (2006) The Chitranjan Ranawat award: long-term survivorship and failure modes of 1000 cemented condylar total knee arthroplasties. Clin Orthop Relat Res 452:28–34
Conflict of interest
None of the authors has any commercial associations that might pose or create a conflict of interest with information on products presented in this article.
Additional information
C. Herold and A. Steiert contributed equally to the work.
About this article
Cite this article
Herold, C., Steiert, A., Knobloch, K. et al. Angiographic findings in patients with postoperative soft tissue defects following total knee arthroplasty. Knee Surg Sports Traumatol Arthrosc 19, 2045–2049 (2011). https://doi.org/10.1007/s00167-011-1532-y
Received:

Accepted:

Published:

Issue Date:
Keywords
Total knee arthroplasty

Soft tissue defect

Reconstruction angiography