Abstract
Purpose
Determining the etiology of persistent groin pain after hip resurfacing arthroplasty (HRA) can be very challenging, even for the experienced surgeon. The purpose of the present study was to evaluate the use of hip arthroscopy as a diagnostic and therapeutic tool for the painful hip following resurfacing arthroplasty.
Methods
In the present paper, the indications for arthroscopy and the arthroscopic findings in 15 patients with persistent and incapacitating groin pain following HRA are described. In all patients, nonsurgical diagnostic investigations such as ultrasound and radiography, blood sample analysis, and technetium and leukocyte-labeled scanning were inconclusive so that a definite diagnosis could not be established.
Results
In seven patients, synovial biopsies were taken arthroscopically to rule out metal sensitivity, low-grade infection, or excessive metal wear. A definite diagnosis from histological evaluation could be made in 5 out of the 7 patients. Five patients were clinical suspicious of iliopsoas tendinitis. Diagnostic arthroscopy and histological analysis of the synovial samples provided an alternative diagnosis in 2 out of the 5 patients. Three patients underwent femoral osteoplasty for impingement due to reduced anterior femoral offset with subsequent symptom relief.
Conclusion
Hip arthroscopy after HRA is a valuable diagnostic alternative to open procedures in case of persistent groin pain, when noninvasive investigations fail to explain the symptoms. Multiple tissue samples should always be taken for histological examination and culture, as they are crucial in the final identification of the origin of the complaints.
Level of evidence
IV.
Access options
Buy single article
Instant access to the full article PDF.
US$ 39.95
Tax calculation will be finalised during checkout.
Subscribe to journal
Immediate online access to all issues from 2019. Subscription will auto renew annually.
US$ 119
Tax calculation will be finalised during checkout.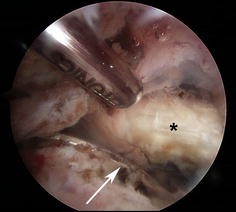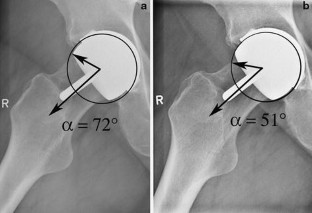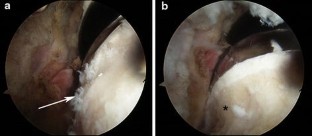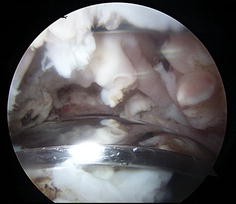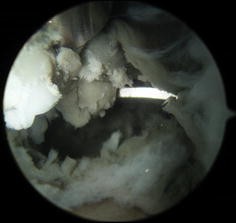 References
1.

Amstutz HC, Le Duff MJ (2008) Eleven years of experience with metal-on-metal hybrid hip resurfacing: a review of 1000 conserve plus. J Arthroplasty 23:36–43

2.

Beaule PE, Harvey N, Zaragoza E, Le Duff MJ, Dorey FJ (2007) The femoral head/neck offset and hip resurfacing. J Bone Joint Surg Br 89:9–15

3.

Bin Nasser A, Beaule PE, O'Neill M, Kim PR, Fazekas A (2010) Incidence of groin pain after metal-on-metal hip resurfacing. Clin Orthop Relat Res 468:392–399

4.

Campbell P, Shimmin A, Walter L, Solomon M (2008) Metal sensitivity as a cause of groin pain in metal-on-metal hip resurfacing. J Arthroplasty 23:1080–1085

5.

De Haan R, Pattyn C, Gill HS, Murray DW, Campbell PA, De Smet K (2008) Correlation between inclination of the acetabular component and metal ion levels in metal-on-metal hip resurfacing replacement. J Bone Joint Surg Br 90:1291–1297

6.

De Smet K, De Haan R, Calistri A, Campbell PA, Ebramzadeh E, Pattyn C, Gill HS (2008) Metal ion measurement as a diagnostic tool to identify problems with metal-on-metal hip resurfacing. J Bone Joint Surg Am 90:202–208

7.

De Smet K, Pattyn C, Verdonk R (2002) Early results of primary Birmingham hip resurfacing using a hybrid metal-on-metal couple. Hip Int 12:158–162

8.

Dienst M, Kohn D (2009) Arthroscopic treatment of femoroacetabular impingement. Technique and results. Orthopade 38:429–443

9.

Hallab NJ, Caicedo M, Finnegan A, Jacobs JJ (2008) Th1 type lymphocyte reactivity to metals in patients with total hip arthroplasty. J Orthop Surg Res 13:3–6

10.

Janssens X, Van Meirhaeghe J, Verdonk R, Verjans P, Cuvelier C, Veys EM (1987) Diagnostic arthroscopy of the hip joint in pigmented villonodular synovitis. Arthroscopy 3:283–287

11.

Khanduja V, Villar RN (2008) The role of arthroscopy in resurfacing arthroplasty of the hip. Arthroscopy 24:122.e1–3

12.

Kluess D, Zietz C, Lindner T, Mittelmeier W, Schmitz KP, Bader R (2008) Limited range of motion of hip resurfacing arthroplasty due to unfavorable ratio of prosthetic head size and femoral neck diameter. Acta Orthop 79:748–754

13.

Korovessis P, Petsinis G, Repanti M, Repantis T (2006) Metallosis after contemporary metal-on-metal total hip arthroplasty. Five to nine-year follow-up. J Bone Joint Surg Am 88:1183–1191

14.

Lachiewicz PF (2007) Metal-on-metal hip resurfacing: a skeptic's view. Clin Orthop Relat Res 465:86–91

15.

Lachiewicz PF, Kauk JR (2009) Anterior iliopsoas impingement and tendinitis after total hip arthroplasty. J Am Acad Orthop Surg 17:337–344

16.

Lavigne M, Rama KR, Roy A, Vendittoli PA (2008) Painful impingement of the hip joint after total hip resurfacing: a report of two cases. J Arthroplasty 23:1074–1079

17.

Mahendra G, Pandit H, Kliskey K, Murray D, Gill HS, Athanasou N (2009) Necrotic and inflammatory changes in metal-on-metal resurfacing hip arthroplasties. Acta Orthop 80:653–659

18.

McCarthy JC, Jibodh SR, Lee JA (2009) The role of arthroscopy in evaluation of painful hip arthroplasty. Clin Orthop Relat Res 467:174–180

19.

Nikolaou V, Bergeron SG, Huk OL, Zukor DJ, Antoniou J (2009) Evaluation of persistent pain after hip resurfacing. Bull NYU Hosp Jt Dis 67:168–172

20.

Pandit H, Glyn-Jones S, McLardy-Smith P, Gundle R, Whitwell D, Gibbons CL, Ostlere S, Athanasou N, Gill HS, Murray DW (2008) Pseudotumours associated with metal-on-metal hip resurfacings. J Bone Joint Surg Br 90:847–851

21.

Pattyn C, De Smet KA (2008) Primary ceramic-on-ceramic total hip replacement versus metal-on-metal hip resurfacing in young active patients. Orthopedics 31:1078–1083

22.

Robertson WJ, Kelly BT (2008) The safe zone for hip arthroscopy: a cadaveric assessment of central, peripheral, and lateral compartment portal placement. Arthroscopy 24:1019–1026

23.

Shimmin AJ, Bare J, Back DL (2005) Complications associated with hip resurfacing arthroplasty. Orthop Clin North Am 36:187–193

24.

Thomas P, Braathen LR, Dorig M, Aubock J, Nestle F, Werfel T, Willert HG (2009) Increased metal allergy in patients with failed metal-on-metal hip arthroplasty and peri-implant T-lymphocytic inflammation. Allergy 64:1157–1165

25.

Vendittoli PA, Ganapathi M, Nuno N, Plamondon D, Lavigne M (2007) Factors affecting hip range of motion in surface replacement arthroplasty. Clin Biomech 22:1004–1012

26.

Wettstein M, Jung J, Dienst M (2006) Arthroscopic psoas tenotomy. Arthroscopy 22:907 e1–4

27.

Willert HG, Buchhorn GH, Fayyazi A, Flury R, Windler M, Koster G, Lohmann CH (2005) Metal-on-metal bearings and hypersensitivity in patients with artificial hip joints. A clinical and histomorphological study. J Bone Joint Surg Am 87:28–36

28.

Zustin J, Amling M, Krause M, Breer S, Hahn M, Morlock MM, Ruther W, Sauter G (2009) Intraosseous lymphocytic infiltrates after hip resurfacing arthroplasty: a histopathological study on 181 retrieved femoral remnants. Virchows Arch 454:581–588
Conflict of interest
No benefits or funds were received in support of the study.
Additional information
C. Pattyn and E. Audenaert contributed equally to the paper.
About this article
Cite this article
Pattyn, C., Verdonk, R. & Audenaert, E. Hip arthroscopy in patients with painful hip following resurfacing arthroplasty. Knee Surg Sports Traumatol Arthrosc 19, 1514–1520 (2011). https://doi.org/10.1007/s00167-011-1463-7
Received:

Accepted:

Published:

Issue Date:
Keywords
Hip arthroscopy

Hip resurfacing

Metal sensitivity

Impingement