Abstract
Purpose
Resistant nonunion of distal femoral fractures in the elderly is a great challenge to treat because it is often associated with multiple problems like poor bone quality, arthritis, disuse osteopenia, joint contractures, and implant failure. We treated ten patients with megaprosthesis and report the outcome.
Methods
Ten elderly patients of resistant nonunion of distal femoral fractures with arthritis knee were treated with megaprosthesis. The median patient age was 74 years (68–85 years). All these patients had undergone at least two prior operative procedures and were operated by us, 24–33 months following the first index surgery. Modular Resection System was used in all the patients.
Results
Eight patients were available for follow-up. Median follow-up period was 4 years. Two patients required extended local wound care for wound skin necrosis. One patient sustained traumatic periprosthetic subtrochanteric fracture following a subsequent trauma. No thromboembolic complications were seen. All knees showed satisfactory alignment and range of motion. Postoperative, median knee society pain score, and knee society function score were 84 (80–88) and 88 (84–92) at last follow-up.
Conclusion
Megaprosthesis can be offered as a one-stage salvage procedure for difficult nonunion in distal femoral fractures associated with bone loss, osteoporosis, and secondary knee arthritis.
Level of evidence
IV.
Access options
Buy single article
Instant access to the full article PDF.
US$ 39.95
Tax calculation will be finalised during checkout.
Subscribe to journal
Immediate online access to all issues from 2019. Subscription will auto renew annually.
US$ 119
Tax calculation will be finalised during checkout.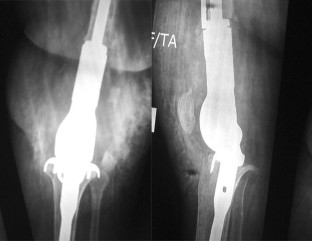 References
1.

Bellabarba C, Ricci WM, Bolhofner BR (2002) Indirect reduction and plating of distal femoral nonunions. J Orthop Trauma 16:287–296

2.

Davila J, Malkani A, Paiso JM (2001) Supracondylar distal femoral nonunions treated with a megaprosthesis in elderly patients: a report of two cases. J Orthop Trauma 15:574–578

3.

Fujii R, Ueda T, Tamai N, Myoui A, Yoshikawa H (2006) Salvage surgery for persistent femoral nonunion after total knee arthroplasty using a megaprosthesis. J Orthop Sci 11:401–404

4.

Haidukewych GJ, Springer BD, Jacofsky DJ, Berry DJ (2005) Total knee arthroplasty for salvage of failed internal fixation or nonunion of the distal femur. J Arthroplast 20:344–349

5.

Koval KJ, Seligson D, Rosen H, Fee K (1995) Distal femoral nonunion: treatment with a retrograde inserted locked intramedullary nail. J Orthop Trauma 9:285–291

6.

Nelson CL, Gioe TJ, Cheng EY, Thompson RC Jr (2003) Implant selection in revision total knee arthroplasty. J Bone Joint Surg Am 85(Suppl):S43–S51

7.

Rosen AL, Strauss E (2004) Primary total knee arthroplasty for complex distal femur fractures in elderly patients. Clin Orthop Relat Res 425:101–105

8.

Nabeyama R, Matsuda S, Tanaka K, Iwamoto Y (2000) Disassembly of a Howmedica modular resection system. J Arthroplast 15:934–937

9.

Springer BD, Sim FH, Hanssen AD, Lewallen DG (2004) The modular segmental kinematic rotating hinge for nonneoplastic limb salvage. Clin Orthop Relat Res 421:181–187

10.

Tan PK, Tan MH (2009) Functional outcome study of mega-endoprosthetic reconstruction in limbs with bone tumour surgery. Ann Acad Med Singap 38:192–196

11.

Wang JW, Weng LH (2003) Treatment of distal femoral nonunion with internal fixation, cortical allograft struts, and autogenous bone-grafting. J Bone Joint Surg Am 85:436–440

12.

Zimel MN, Cizik AM, Rapp TB, Weisstein JS, Conrad EU III (2009) Megaprosthesis versus Condyle-sparing intercalary allograft: distal femoral sarcoma. Clin Orthop Relat Res 467:2813–2824
Additional information
This study was done in Indraprastha Apollo Hospitals, Department of Orthopaedics, Delhi.
About this article
Cite this article
Vaishya, R., Singh, A.P., Hasija, R. et al. Treatment of resistant nonunion of supracondylar fractures femur by megaprosthesis. Knee Surg Sports Traumatol Arthrosc 19, 1137–1140 (2011). https://doi.org/10.1007/s00167-011-1416-1
Received:

Accepted:

Published:

Issue Date:
Keywords
Supracondylar fracture

Resistant nonunion

Megaprosthesis

Osteoarthritis

Arthroplasty