Abstract
Purpose
Whether to resurface the patella during a primary total knee arthroplasty remains a controversial issue. The aim of this study was to determine the advantages and disadvantages of patellar resurfacing during total knee arthroplasty for osteoarthritis through an evaluation of the current literature.
Methods
A meta-analysis of randomized controlled trials comparing patellar resurfacing with nonresurfacing during total knee arthroplasties was performed. The focus of this analysis was on outcomes of reoperation, anterior knee pain and knee scores.
Results
Ten trials assessing 1,003 knees were eligible. The absolute risk of reoperation was reduced by 4% (95% confidence interval, 1–7%) in the patellar resurfacing arm (between-study heterogeneity, P = 0.06, I 2 = 45%), implying that one would have to resurface 25 patellae (95% confidence interval, 14–100 patellae) in order to prevent one reoperation. Only seven trials provided adequate data of anterior knee pain for a quantitative synthesis. On the basis of those seven trials, there was no difference between the two groups in terms of anterior knee pain. Anterior knee pain after total knee arthroplasty could have multiple etiologies such as surgical factors and nonresurfaced patella is not the sole cause of this problem.
Conclusion
The available evidence indicates that patellar resurfacing reduce the risk of reoperation after total knee arthroplasty for osteoarthritis. Not resurfacing the patella might be considered a reasonable option, but patients must accept the increased risk of reoperation for which the quantitative evidence-based synthesis is mild. Based on the evidence provided by this study and those previously published ones, the authors do not now resurface the patella as a matter of routine for patients having a primary total knee arthroplasty for osteoarthritis.
Level of evidence
Therapeutic study (Systematic review of Level-I studies with inconsistent results), Level II.
Access options
Buy single article
Instant access to the full article PDF.
USD 39.95
Price excludes VAT (USA)
Tax calculation will be finalised during checkout.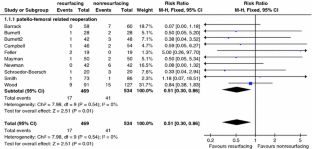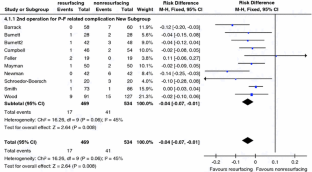 References
Anderson KC, Buehler KC, Markel DC (2005) Computer assisted navigation in total knee arthroplasty: comparison with conventional methods. J Arthroplast 20:132–138

Bach CM, Nogler M, Steingruber IE, Ogon M, Wimmer C, Gobel G, Krismer M (2002) Scoring systems in total knee arthroplasty. Clin Orthop Relat Res 399:184–196

Barrack RL, Bertot AJ, Wolfe MW, Waldman DA, Milicic M, Myers L (2001) Patellar resurfacing in total knee arthroplasty: a prospective, randomized, double-blind study with five to seven years of follow-up. J Bone Joint Surg Am 83:1376–1381

Berend ME, Ritter MA, Meding JB, Faris PM (2004) Tibial component failure mechanisms in total knee arthroplasty. Clin Orthop Relat Res 428:26–34

Burnett RS, Boone JL, McCarthy KP, Rosenzweig S, Barrack RL (2007) A prospective randomized clinical trial of patellar resurfacing and nonresurfacing in bilateral TKA. Clin Orthop Relat Res 464:65–72

Burnett RS, Haydon CM, Rorabeck CH, Bourne RB (2004) Patella resurfacing versus nonresurfacing in total knee arthroplasty: results of a randomized controlled trial at a minimum of 10 years' followup. Clin Orthop Relat Res 428:12–25

Campbell DG, Duncan WW, Ashworth M, Mintz A, Stirling J, WakeWeld L, Stevenson TM (2006) Patellar resurfacing in total knee replacement: a ten-year randomised prospective trial. J Bone Joint Surg Br 88:734–739

Chan AW, Hrobjartsson A, Haahr MT, Gotzsche PC, Altman DG (2004) Empirical evidence for selective reporting of outcomes in randomized trials: comparison of protocols to published articles. JAMA 291:2457–2465

Clements WJ, Miller L, Whitehouse SL, Graves SE, Ryan P, Crawford RW (2010) Early outcomes of patella resurfacing in total knee arthroplasty. Acta Orthop 81:108–113

Dunbar MJ, Robertsson O, Ryd L, Lidgren L (2001) Appropriate questionnaires for knee arthroplasty. Results of a survey of 3600 patients from the swedish knee arthroplasty registry. J Bone Joint Surg Br 83:339–344

Feller JA, Bartlett RJ, Lang DM (1996) Patellar resurfacing versus retention in total knee arthroplasty. J Bone Joint Surg Br 78:226–228

Garcia RM, Kraay MJ, Goldberg VM (2010) Isolated resurfacing of the previously unresurfaced patella total knee arthroplasty. J Arthroplast 25:754–758

Haaker RG, Stockheim M, Kamp M, Proff G, Breitenfelder J, Ottersbach A (2005) Computer-assisted navigation increases precision of component placement in total knee arthroplasty. Clin Orthop Relat Res 433:152–159

Helmy N, Anglin C, Greidanus NV, Masri BA (2008) To resurface or not to resurface the patella in total knee arthroplasty. Clin Orthop Relat Res 466:2775–2783

Insall JN, Dorr LD, Scott RD, Scott WN (1989) Rationale of the knee society clinical rating system. Clin Orthop Relat Res 248:13–14

Mayman D, Bourne RB, Rorabeck CH, Vaz M, Kramer J (2003) Resurfacing versus not resurfacing the patella in total knee arthroplasty:8- to 10-year results. J Arthroplast 18:541–545

Newman JH, Ackroyd CE, Shah NA (1998) Unicompartmental or total knee replacement? Five-year results of a prospective, randomised trial of 102 osteoarthritic knees with unicompartmental arthritis. J Bone Joint Surg Br 80:862–865

Newman JH, Ackroyd CE, Shah NA et al (2000) Should the patella be resurfaced during total knee replacement? Knee 7:17–23

Nizard RS, Biau D, Porcher R, Ravaud P, Bizot P, Hannouche D, Sedel L (2005) A meta-analysis of patellar replacement in total knee arthroplasty. Clin Orthop Relat Res 432:196–203

Ogon M, Hartig F, Bach C, Nogler M, Steingruber I, Biedermann R (2002) Patella resurfacing: no benefit for the long-term outcome of total knee arthroplasty. A 10- to 16.3-year follow-up. Arch Orthop Trauma Surg 122:229–234

Pakos EE, Ntzani EE, Trikalinos TA (2005) Patellar resurfacing in total knee arthroplasty. A meta-analysis. J Bone Joint Surg Am 87:1438–1445

Parvizi J, Rapuri VR, Saleh KJ, Kuskowski MA, Sharkey PF, Mont MA (2005) Failure to resurface the patella during total knee arthroplasty may result in more knee pain and secondary surgery. Clin Orthop Relat Res 438:191–196

Schroeder-Boersch H, Scheller G, Fischer J, Jani L (1998) Advantages of patellar resurfacing in total knee arthroplasty: two-year results of a prospective randomized study. Arch Orthop Trauma Surg 117:73–78

Smith AJ, Wood DJ, Li MG (2008) Total knee replacement with and without patellar resurfacing: a prospective, randomised trial using the Profix total knee system. J Bone Joint Surg Br 90:43–49

Werner FW, Ayers DC, Maletsky LP, Rullkoetter PJ (2005) The effect of valgus/varus malalignment on load distribution in total knee replacements. J Biomech 38:349–355

Whiteside LA, Nakamura T (2003) Effect of femoral component design on unresurfaced patellas in knee arthroplasty. Clin Orthop Relat Res 410:189–198

Wood DJ, Smith AJ, Collopy D et al (2002) Patellar resurfacing in total knee arthroplasty: a prospective, randomized trial. J Bone Joint Surg Am 84:187–193
About this article
Cite this article
Fu, Y., Wang, G. & Fu, Q. Patellar resurfacing in total knee arthroplasty for osteoarthritis: a meta-analysis. Knee Surg Sports Traumatol Arthrosc 19, 1460–1466 (2011). https://doi.org/10.1007/s00167-010-1365-0
Received:

Accepted:

Published:

Issue Date:

DOI: https://doi.org/10.1007/s00167-010-1365-0
Keywords