Abstract
Purpose
Platelet-rich plasma (PRP) therapy is a simple, low-cost and minimally invasive method that provides a natural concentrate of autologous blood growth factors (GFs) that can be used to enhance tissue regeneration. In a previous analysis of a 12-month follow-up study, promising results were obtained when treating patients affected by knee degeneration with PRP intra-articular injections. The main purpose of this study was to investigate the persistence of the beneficial effects observed.
Methods
Of the 91 patients evaluated in the previous 12-month follow-up study, 90 were available for the 2-year follow-up (24 patients presented a bilateral lesion, in a total of 114 knees treated). All of the patients presented a chronic knee degenerative condition and were treated with three intra-articular PRP injections. IKDC and EQ-VAS scores were used for clinical evaluation. Complications, adverse events and patient satisfaction were also recorded.
Results
All of the evaluated parameters worsened at the 24-month follow-up: these parameters were at significantly lower levels with respect to the 12-month evaluation (the IKDC objective evaluation fell from 67 to 59% of normal and nearly normal knees; the IKDC subjective score fell from 60 to 51), even if they remained higher than the basal level. Further analysis showed better results in younger patients (P = 0.0001) and lower degrees of cartilage degeneration (P < 0.0005). The median duration of the clinical improvement was 9 months.
Conclusions
These findings indicate that treatment with PRP injections can reduce pain and improve knee function and quality of life with short-term efficacy. Further studies are needed to confirm these results and understand the mechanism of action, and to find other application modalities, with different platelet and GF concentrations and injection timing, which provide better and more durable results.
Access options
Buy single article
Instant access to the full article PDF.
US$ 39.95
Tax calculation will be finalised during checkout.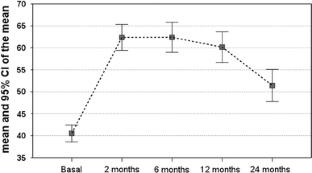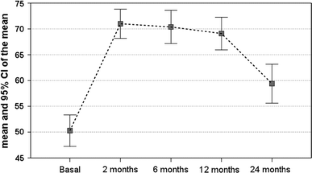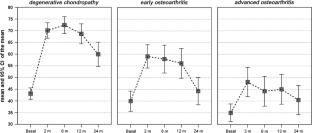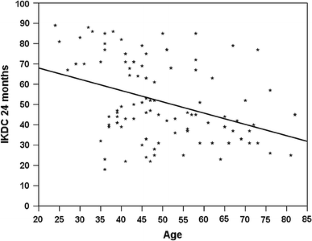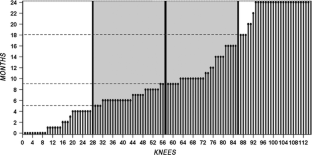 References
1.

Ab-Rahim S, Selvaratnam L, Kamarul T (2008) The effect of TGF-beta1 and beta-estradiol on glycosaminoglycan and type II collagen distribution in articular chondrocyte cultures. Cell Biol Int 32:841–847

2.

Bai X, Xiao Z, Pan Y, Hu J, Pohl J, Wen J, Li L (2004) Cartilage-derived morphogenetic protein-1 promotes the differentiation of mesenchymal stem cells into chondrocytes. Biochem Biophys Res Commun 325:453–460

3.

Baltzer AW, Moser C, Jansen SA, Krauspe R (2009) Autologous conditioned serum (Orthokine) is an effective treatment for knee osteoarthritis. Osteoarthr Cartil 17:152–160

4.

Bellamy N, Campbell J, Robinson V et al (2006) Intra-articular corticosteroid for treatment of osteoarthritis of the knee. Cochrane Database Syst Rev 19:CD005328

5.

Bosnakovski D, Mizuno M, Kim G, Takagi S, Okumura M, Fujinaga T (2006) Chondrogenic differentiation of bovine bone marrow mesenchymal stem cells (MSCs) in different hydrogels: influence of collagen type II extracellular matrix on MSC chondrogenesis. Biotechnol Bioeng 93:1152–1163

6.

Buckwalter JA, Mankin HJ (1997) Articular cartilage. J Bone Joint Surg 79:600–611

7.

Buckwalter JA, Mankin HJ (1997) Articular cartilage. Part II: degeneration and osteoarthrosis, repair, regeneration, and tranplantation. J Bone Joint Surg 79:612–632

8.

Clegg DO, Reda DJ, Harris CL et al (2006) Glucosamine, chondroitin sulfate, and the two in combination for painful knee osteoarthritis. N Engl J Med 354:795–808

9.

Foster TE, Puskas BL, Mandelbaum BR, Gerhardt MB, Rodeo SA (2009) Platelet-rich plasma: from basic science to clinical applications. Am J Sports Med 37:2259–2272

10.

Frisbie DD, Kawcak CE, Werpy NM, Park RD, McIlwraith CW (2007) Clinical, biochemical, and histologic effects of intra-articular administration of autologous conditioned serum in horses with experimentally induced osteoarthritis. Am J Vet Res 68:290–296

11.

Gaissmaier C, Fritz J, Krackhardt T, Flesch I, Aicher WK, Ashammakhi N (2005) Effect of human platelet supernatant on proliferation and matrix synthesis of human articular chondrocytes in monolayer and three-dimensional alginate cultures. Biomaterials 26:1953–1960

12.

Harvey WF, Hunter DJ (2008) The role of analgesics and intra-articular injections in disease management. Rheum Dis Clin North Am 34:777–788

13.

Hayami T (2008) Osteoarthritis of the knee joint as a cause of musculoskeletal ambulation disability symptom complex (MADS). Clin Calcium 18:1574–1580

14.

Hickey DG, Frenkel SR, Di Cesare PE (2003) Clinical applications of growth factors for articular cartilage repair. Am J Orthop 32:70–76

15.

Kon E, Buda R, Filardo G, Di Martino A, Timoncini A, Cenacchi A, Fornasari PM, Giannini S, Marcacci M (2010) Platelet-rich plasma: intra-articular knee injections produced favorable results on degenerative cartilage lesions. Knee Surg Sports Traumatol Arthrosc 18:472–479

16.

Loeser RF, Pacione CA, Chubinskaya S (2003) The combination of insulin-like growth factor 1 and osteogenic protein 1 promotes increased survival of and matrix synthesis by normal and osteoarthritic human articular chondrocytes. Arthritis Rheum 48:2188–2196

17.

Martin JA, Buckwalter JA (2000) The role of chondrocyte-matrix interactions in maintaining and repairing articular cartilage. Biorheology 37:129–140

18.

Nakazawa F, Matsuno H, Yudoh K, Watanabe Y, Katayama R, Kimura T (2002) Corticosteroid treatment induces chondrocyte apoptosis in an experimental arthritis model and in chondrocyte cultures. Clin Exp Rheumatol 20:773–781

19.

O'Keefe RJ, Crabb ID, Puzas JE, Rosier RN (1994) Effects of transforming growth factor-beta 1 and fibroblast growth factor on DNA synthesis in growth plate chondrocytes are enhanced by insulin-like growth factor-I. J Orthop Res 12(3):299–310

20.

Pujol JP, Chadjichristos C, Legendre F, Bauge C, Beauchef G, Andriamanalijaona R, Galera P, Boumediene K (2008) Interleukin-1 and transforming growth factor-beta 1 as crucial factors in osteoarthritic cartilage metabolism. Connect Tissue Res 49:293–297

21.

Reichenbach S, Trelle S et al (2007) Efficacy and safety of intra-articular hylan or hyaluronic acids for osteoarthritis of the knee: a randomized controlled trial. Arthritis Rheum 56:3610–3619

22.

Safran MR, Seiber K (2010) The evidence for surgical repair of articular cartilage in the knee. J Am Acad Orthop Surg 18:259–266

23.

Saito M, Takahashi KA, Arai Y, Inoue A, Sakao K, Tonomura H, Honjo K, Nakagawa S, Inoue H, Tabata Y, Kubo T (2009) Intraarticular administration of platelet-rich plasma with biodegradable gelatin hydrogel microspheres prevents osteoarthritis progression in the rabbit knee. Clin Exp Rheumatol 27:201–207

24.

Sánchez M, Anitua E, Azofra J, Aguirre JJ, Andia I (2008) Intra-articular injection of an autologous preparation rich in growth factors for the treatment of knee OA: a retrospective cohort study. Clin Exp Rheumatol 26:910–913

25.

Sánchez M, Anitua E, Orive G, Mujika I, Andia I (2009) Platelet-rich therapies in the treatment of orthopaedic sport injuries. Sports Med 39:345–354

26.

Sánchez M, Azofra J, Anitua E, Andía I, Padilla S, Santisteban J, Mujika I (2003) Plasma rich in growth factors to treat an articular cartilage avulsion: a case report. Med Sci Sports Exerc 35:1648–1652

27.

Schmidt MB, Chen EH, Lynch SE (2006) A review of the effects of insulin-like growth factor and platelet derived growth factor on in vivo cartilage healing and repair. Osteoarthr Cartil 14:403–412

28.

Simon LS, Grierson LM, Naseer Z, Bookman AA, Zev Shainhouse J (2009) Efficacy and safety of topical diclofenac containing dimethyl sulfoxide (DMSO) compared with those of topical placebo, DMSO vehicle and oral diclofenac for knee osteoarthritis. Pain 143:238–245

29.

Tchetina EV, Antoniou J, Tanzer M, Zukor DJ, Poole AR (2006) Transforming growth factor-beta2 suppresses collagen cleavage in cultured human osteoarthritic cartilage, reduces expression of genes associated with chondrocyte hypertrophy and degradation, and increases prostaglandin E(2) production. Am J Pathol 168:131–140

30.

Ulrich-Vinther M, Maloney MD, Schwarz EM, Rosier R, O'Keefe RJ (2003) Articular cartilage biology. J Am Acad Orthop Surg 11:421–430

31.

Widuchowski W, Widuchowski J, Trzaska T (2007) Articular cartilage defects: study of 25, 124 knee arthroscopies. Knee 14:177–182

32.

Wu W, Chen F, Liu Y, Ma Q, Mao T (2007) Autologous injectable tissue-engineered cartilage by using platelet-rich plasma: experimental study in a rabbit model. J Oral Maxillofac Surg 65:1951–1957

33.

Zhang W, Moskovitz R, Nuki G et al (2008) OARSI recommendations for the management of hip and knee osteoarthritis. Part II: OARSI evidence-based, expert consensus guidelines. Osteoarthr Cartil 16:137–162
Acknowledgments
G. Altadonna, F. Balboni, M. Lo Presti, A. Bondi, M. Delcogliano, S. Bassini, A. Montaperto: III Clinic—Biomechanics Lab, Rizzoli Orthopaedic Institute, Bologna, Italy. A. Gabriele, F. Pieretti, M. Vaccari, A.M. Del Vento, M. Zagarella, V. Roverini, I. Brognara, L. D'Amato, S. Ardone: Immunohematology and Transfusion Medicine Service, Rizzoli Orthopaedic Institute, Bologna, Italy. E. Pignotti, K. Smith: Task Force, Rizzoli Orthopaedic Institute, Bologna, Italy.
About this article
Cite this article
Filardo, G., Kon, E., Buda, R. et al. Platelet-rich plasma intra-articular knee injections for the treatment of degenerative cartilage lesions and osteoarthritis. Knee Surg Sports Traumatol Arthrosc 19, 528–535 (2011). https://doi.org/10.1007/s00167-010-1238-6
Received:

Accepted:

Published:

Issue Date:
Keywords
PRP

Cartilage

Knee

Intra-articular injection