Abstract
Purpose
The present study was conduced in order to analyse the molecular changes during the apoptotic cascade in knee articular cartilage of patients with OA.
Method
Articular cartilage specimens were assessed by histology (Haematoxylin and Eosin), histochemistry (Masson's Trichromic and Alcian Blue), immunohistochemistry through TRAIL, DR5 and Caspase-3, TUNEL and Hoechst staining in fresh isolated chondrocytes.
Results
Histology results demonstrated the structural alterations in the articular knee cartilage with OA, and histochemistry results demonstrated the presence of matrix calcification and a proteoglycans reduction. Immunohistochemistry staining showed that structural alterations, matrix calcification and a proteoglycans reduction coincided with an increase in apoptotic cells when compared to normal cartilage; however, this cellular mechanism of death was demonstrated by TUNEL and Hoechst 33258 staining in fresh isolated chondrocytes.
Conclusion
In this study, we demonstrated an apoptosis activation by the extrinsic pathway in OA cartilage. The apoptosis-positive cells might be due to a protection mechanism after sublethal injury, in particular, represented by an increased survival of chondrocytes that are able to participate in the repair process.
Access options
Buy single article
Instant access to the full article PDF.
US$ 39.95
Tax calculation will be finalised during checkout.
Subscribe to journal
Immediate online access to all issues from 2019. Subscription will auto renew annually.
US$ 119
Tax calculation will be finalised during checkout.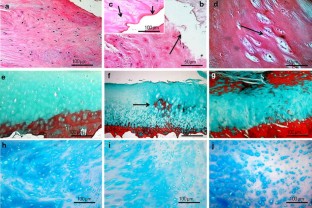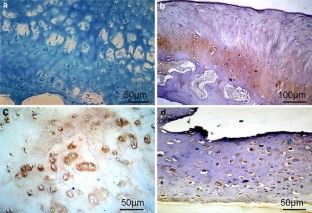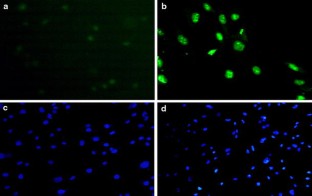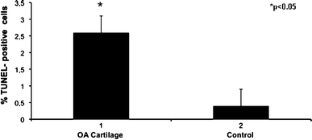 References
1.

Aigner T, Fundel K, Saas J, Gebhard PM, Haag J, Weiss T, Zien A, Obermayr F, Zimmer R, Bartnik E (2006) Large scale gene expression profiling reveals major pathogenetic pathways of cartilage degeneration in osteoarthritis. Arthritis Rheum 54:3533–3544

2.

Alenzi FQ (2005) Apoptosis and diseases: regulation and clinical relevance. Saudi Med J 26:1679–1690

3.

Blanco FJ, López-Armada MJ, Maneiro E (2004) Mitochondrial dysfunction in osteoarthritis. Mitochondrion 4:715–728

4.

Boogerd W, de Gast GC, Dalesio O (2007) Temozolomide in advanced malignant melanoma with small brain metastases: can we withhold cranial irradiation? Cancer 109:306–312

5.

Cicuttini FM, Wluka AE, Wang Y, Stuckey SL, Davis SR (2003) Effect of estrogen replacement therapy on patella in healthy women. Clin Exp Rheumatol 21:79–82

6.

Chen B, Ma B, Yang S, Xing X, Gu R, Hu Y (2009) DR5 and DcR2 are expressed in human lumbar intervertebral discs. Spine 34:677–681

7.

Ding C, Cicuttini F, Blizzard L, Jones G (2007) Smoking interacts with family history with regard to change in knee cartilage volume and cartilage defect development. Arthritis Rheum 56:1521–1528

8.

D'Lima DD, Hashimoto S, Chen PC, Lotz MK, Colwell CW Jr (2001) Prevention of chondrocyte apoptosis. J Bone Joint Surg Am 83:25–26

9.

Ferri KF, Kroemer G (2001) Organelle-specific initiation of cell death pathway. Nat Cell Biol 3:255–263

10.

Gruber HE, Hanley EN (1998) Analysis of aging and degeneration of the human intervertebral disc: comparison of surgical specimens with normal control. Spine 23:751–757

11.

Hashimoto S, Takahashi K, Ochs RL, Coutts RD, Amiel D, Lotz M (1999) Nitric oxide production and apoptosis in cells of the meniscus during experimental osteoarthritis. Arthritis Rheum 42:2123–2131

12.

Le Hellio, Graverand MP, Vignon E, Otterness IG, Hart DA (2001) Early changes in lapine menisci during osteoarthritis development: part II: molecular alterations. Osteoarthr Cartil 9:65–72

13.

Kim HA, Lee YJ, Seong SC, Choe KW, Song YW (2000) Apoptotic chondrocyte death in human osteoarthritis. J Rheumatol 27:455–462

14.

Kobayashi K, Mishima H, Hashimoto S, Goomer RS, Harwood FL, Lotz M, Moriya H, Amiel D (2001) Chondrocyte apoptosis and regional differential expression of nitric oxide in the medial meniscus following partial meniscectomy. J Orthop Res 19:802–808

15.

Lavrik IN, Golks A, Krammer PH (2005) Caspases: pharmacological manipulation of cell death. J Clin Invest 115:2665–2672

16.

Leonardi R, Almeida LE, Trevilatto PC, Loreto C (2010) Occurrence and regional distribution of TRAIL and DR5 on temporomandibular joint discs: comparison of disc derangement with and without reduction. Oral Surg Oral Med Oral Pathol Oral Radiol Endod 109:244–251

17.

López-Armada MJ, Carames B, Lires-Dean M, Cillero-Pastor B, Ruiz-Romero C, Galdo F, Blanco FJ (2006) Cytokines, tumor necrosis factor- and interleukin-1, differentially regulate apoptosis in osteoarthritis cultured human chondrocytes. Osteoarthr Cartil 14:660–669

18.

Tschoeke SK, Hellmuth M, Hostmann A, Robinson Y, Ertel W, Oberholzer A, Heyde CE (2008) Apoptosis of human intervertebral discs after trauma compares to degenerated discs involving both receptor-mediated and mitochondrial-dependent pathways. J Orthop Res 26:999–1006

19.

Wluka AE, Davis SR, Bailey M, Stuckey SL, Cicuttini FM (2001) Users of oestrogen replacement therapy have more knee cartilage than non-users. Ann Rheum Dis 60:332–336
Acknowledgments
This study was supported by grants provided by the Medicine and Surgery Faculty of Catania, Department of Anatomy, Diagnostic Pathology, Forensic Medicine, Hygiene and Public Health, University of Catania. The authors would like to thank Professor Jennifer H. Eliseeff and Dr. Iossif Strehin from the Department of Biomedical Engineering, Johns Hopkins University, Baltimore, MD, USA for commenting and making corrections to the paper. We would also like to thank Professor Giuseppe Sessa Dead of Department of Orthopedics and Surgery Vittorio Emanuele at Catania University for providing surgical material.
Conflict of interest
None.
About this article
Cite this article
Musumeci, G., Loreto, C., Carnazza, M.L. et al. Characterization of apoptosis in articular cartilage derived from the knee joints of patients with osteoarthritis. Knee Surg Sports Traumatol Arthrosc 19, 307–313 (2011). https://doi.org/10.1007/s00167-010-1215-0
Received:

Accepted:

Published:

Issue Date:
Keywords
Histochemistry

Immunohistochemistry

TUNEL

Apoptosis

Osteoarthritis