Abstract
Synovial lipoma arborescens (SLA) is a rare, benign, fat-containing synovial proliferative lesion that is typically known to affect the knee joint in adults, although it has also been described in other joints. SLA usually presents as a painless swelling and recurrent joint effusion, and the laboratory test results, including aspirated synovial fluid, are usually normal. We present here two cases of SLA of the knee, which presented as spontaneous recurrent hemarthroses in elderly patients with osteoarthritis (OA) with bloody aspirated synovial fluid. Magnetic resonance imaging (MRI) and arthroscopic synovectomy suggested the diagnosis of SLA; the histopathologic examination confirmed the diagnosis. One year later, both patients remain symptom-free and report no new episodes of hemarthrosis. We postulate that SLA should be included in the differential diagnosis of patients with recurrent joint effusions with hemarthrosis in elderly patients with OA. The clinical presentation, MRI findings, and treatment of SLA are described, and the entity is briefly reviewed.
Access options
Buy single article
Instant access to the full article PDF.
US$ 39.95
Tax calculation will be finalised during checkout.
Subscribe to journal
Immediate online access to all issues from 2019. Subscription will auto renew annually.
US$ 119
Tax calculation will be finalised during checkout.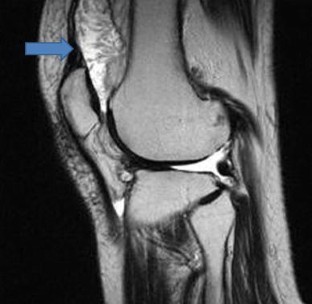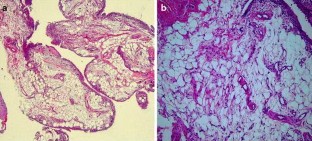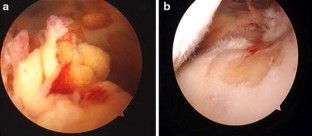 References
1.

Hallel T, Lew S, Bansal M (1988) Villous lipomatous proliferation of the synovial membrane (lipoma arborescens). J Bone Jt Surg 70-A:264–270

2.

Noel ER, Tebib JG, Dumontet C, Colson F, Carret JP, Vauzelle JL, Bouvier M (1987) Synovial lipoma arborescens of the hip. Clin Rheumatol 6:92–96

3.

Huang GS, Lee HS, Hsu YC, Kao HW, Lee HH, Chen CY (2006) Tenosynovial lipoma arborescens of the ankle in a child. Skelet Radiol 35:244–247

4.

In Y, Chun KA, Chang ED, Lee SM (2008) Lipoma arborescens of the glenohumeral joint: a possible cause of osteoarthritis. Knee Surg Sports Traumatol Arthrosc 16:794–796

5.

Doyle AJ, Miller MV, French JG (2002) Lipoma arborescens in the bicipital bursa of the elbow: MRI findings in two cases. Skelet Radiol 31:656–660

6.

Arzimanoglu A (1957) Bilateral arborescent lipoma of the knee. J Bone Jt Surg 39-A:976–979

7.

Davies AP, Blewitt N (2005) Lipoma arborescens of the knee. Knee 12:394–396

8.

Franco M, Puch JM, Carayon MJ, Bortolotti D, Albano L, Lallemand A (2004) Lipoma arborescens of the knee: report of a case managed by arthroscopic synovectomy. Jt Bone Spine 71:73–75

9.

Ikushima K, Ueda T, Kudawara I, Yoshikawa H (2001) Lipoma arborescens of the knee as a possible cause of osteoarthrosis. Orthopedics 24:603–605

10.

Kloen P, Keel SB, Chandler HP, Geiger RH, Zarins B, Rosenberg AE (1998) Lipoma arborescens of the knee. J Bone Jt Surg Br 80:298–301

11.

Sola JB, Wright RW (1998) Arthroscopic treatment for lipoma arborescens of the knee: a case report. J Bone Jt Surg Am 80:99–103

12.

Feller JF, Rishi M, Hughes EC (1994) Lipoma arborescens of the knee: MR demonstration. AJR Am J Roentgenol 163:162–164

13.

Sasho T, Ogino S, Tsuruoka H, Nakagawa K, Ochiai N, Nagashima R (2008) Spontaneous recurrent hemarthrosis of the knee in the elderly: arthroscopic treatment and etiology. Arthroscopy 24:1027–1033
About this article
Cite this article
Ji, JH., Lee, YS. & Shafi, M. Spontaneous recurrent hemarthrosis of the knee joint in elderly patients with osteoarthritis: an infrequent presentation of synovial lipoma arborescens. Knee Surg Sports Traumatol Arthrosc 18, 1352–1355 (2010). https://doi.org/10.1007/s00167-010-1168-3
Received:

Accepted:

Published:

Issue Date:
Keywords
Lipoma arborescens

Knee

Hemarthrosis

MR imaging

Arthroscopy