Abstract
A case of a patient with glenohumeral joint arthritis is presented which demonstrated the three-dimensional shoulder motion before and after total shoulder arthroplasty. Pre-operative shoulder motion differed compared to normal controls, while post-operatively her glenohumeral-to-scapulothoracic motion ratios were restored to near normal ratios.
Access options
Buy single article
Instant access to the full article PDF.
US$ 39.95
Tax calculation will be finalised during checkout.
Subscribe to journal
Immediate online access to all issues from 2019. Subscription will auto renew annually.
US$ 119
Tax calculation will be finalised during checkout.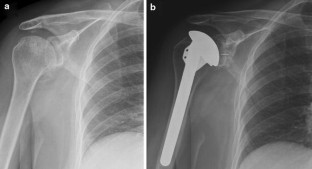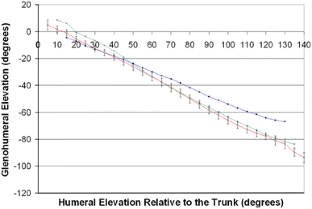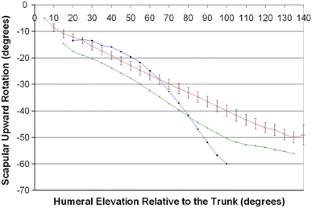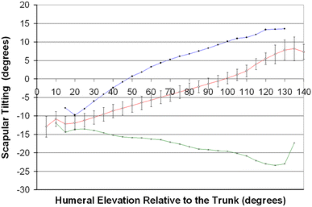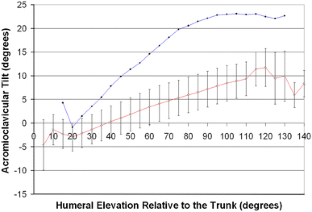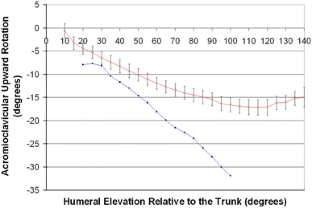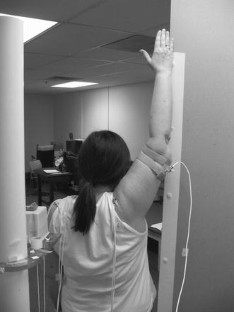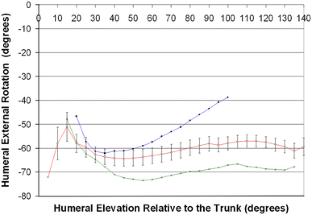 References
1.

Braman JP, Engel SC, LaPrade RF, Ludewig PM (2010) In vivo assessment of scapulohumeral rhythm during unconstrained over head reaching in asymptomatic subjects. J Shoulder Elbow Surg 19:216–223

2.

Bryant D, Litchfield R, Sandow M, Gartsman GM, Guyatt G, Kirkley A (2005) A comparison of pain, strength, range of motion, and functional outcomes after hemiarthroplasty and total shoulder arthroplasty in patients with osteoarthritis of the shoulder. A systematic review and meta-analysis. J Bone Joint Surg Am 87:1947–1956

3.

Doody SG, Freedman L, Waterland JC (1970) Shoulder movements during abduction in the scapular plane. Arch Phys Med Rehabil 51:595–604

4.

Fayad F, Roby-Brami A, Yazbeck C, Hanneton S, Lefevre-Colau MM, Gautheron V, Poiraudeau S (2008) Three-dimensional scapular kinematics and scapulohumeral rhythm in patients with glenohumeral osteoarthritis or frozen shoulder. J Biomech 41:326–332

5.

Friedman RJ (1997) Prospective analysis of total shoulder arthroplasty biomechanics. Am J Orthop 26:265–270

6.

Inman VT, Saunders JB, Abbott LC (1944) Observations on the function of the shoulder joint. J Bone Joint Surg 26A:1–30

7.

Karduna AR, McClure PW, Michener LA, Sennett B (2001) Dynamic measurements of three-dimensional scapular kinematics: a validation study. J Biomech Eng 123:184–190

8.

Ludewig PM, Cook TM (2000) Alterations in shoulder kinematics and associated muscle activity in people with symptoms of shoulder impingement. Phys Ther 80:276–291

9.

Ludewig PM, Cook TM, Shields RK (2002) Comparison of surface sensor and Bone-fixed measurement of humeral motion. J Applied Biomech 18:163–170

10.

Ludewig PM, Phadke V, Braman JP, Hassett DR, Cieminski CJ, LaPrade RF (2009) Motion of the shoulder complex during multiplanar humeral elevation. J Bone Joint Surg Am 91:378–389

11.

McQuade KJ, Hwa Wei S, Smidt GL (1995) Effects of local muscle fatigue on three-dimensional scapulohumeral rhythm. Clin Biomech 10:144–148

12.

Radnay CS, Setter KJ, Chambers L, Levine WN, Bigliani LU, Ahmad CS (2007) Total shoulder replacement compared with humeral head replacement for the treatment of primary glenohumeral osteoarthritis: a systematic review. J Shoulder Elbow Surg 16:396–402

13.

Wu G, van der Helm FC, Veeger HE, Makhsous M, Van Roy P, Anglin C et al (2005) International society of biomechanics ISB recommendation on definitions of joint coordinate systems of various joints for the reporting of human joint motion–Part II: shoulder, elbow, wrist and hand. J Biomech 38:981–992
Acknowledgments
This study was supported by NIH grants K01HD042491 and R03HD053399 from the National Institute of Child Health and Human Development. The content is solely the responsibility of the authors and does not necessarily represent the views of the National Institute of Child Health and Human Development or the National Institutes of Health. The authors would also like to thank Nicky Kangas RT, Cort J Cieminski PhD, PT, Mike McGinnity RN, and Kelley Kyle, CST/CFA for their assistance with various aspects of data collection and analysis for this work.
About this article
Cite this article
Braman, J.P., Thomas, B.M., LaPrade, R.F. et al. Three-dimensional in vivo kinematics of an osteoarthritic shoulder before and after total shoulder arthroplasty. Knee Surg Sports Traumatol Arthrosc 18, 1774–1778 (2010). https://doi.org/10.1007/s00167-010-1167-4
Received:

Accepted:

Published:

Issue Date:
Keywords
Glenohumeral joint

Scapula

Biomechanics