Abstract
The Achilles tendon is the strongest and thickest tendon in the human body. It is also the commonest tendon to rupture. It begins near the middle of the calf and is the conjoint tendon of the gastrocnemius and soleus muscles. The relative contribution of the two muscles to the tendon varies. Spiralisation of the fibres of the tendon produces an area of concentrated stress and confers a mechanical advantage. The calcaneal insertion is specialised and designed to aid the dissipation of stress from the tendon to the calcaneum. The insertion is crescent shaped and has significant medial and lateral projections. The blood supply of the tendon is from the musculotendinous junction, vessels in surrounding connective tissue and the osteotendinous junction. The vascular territories can be classified simply in three, with the midsection supplied by the peroneal artery, and the proximal and distal sections supplied by the posterior tibial artery. This leaves a relatively hypovascular area in the mid-portion of the tendon where most problems occur. The Achilles tendon derives its innervation from the sural nerve with a smaller supply from the tibial nerve. Tenocytes produce type I collagen and form 90% of the cellular component of the normal tendon. Evidence suggests ruptured or pathological tendon produce more type III collagen, which may affect the tensile strength of the tendon. Direct measurements of forces reveal loading in the Achilles tendon as high as 9 KN during running, which is up to 12.5 times body weight.
Access options
Buy single article
Instant access to the full article PDF.
USD 39.95
Price excludes VAT (USA)
Tax calculation will be finalised during checkout.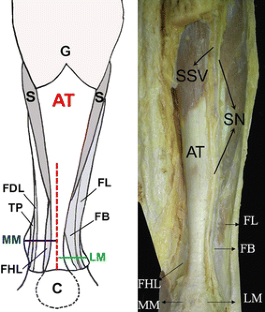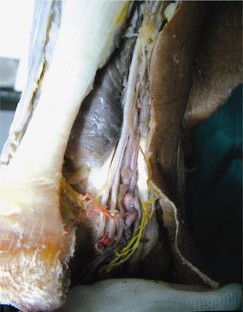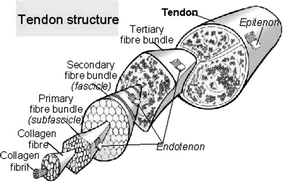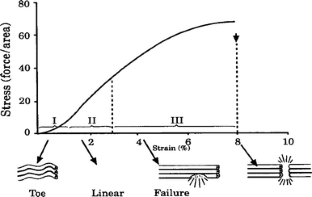 References
Ahmed IM, Lagopoulos M, McConnell P, Soames RW, Sefton GK (1998) Blood supply of the Achilles tendon. J Orthop Res 16:591–596

Apaydin N, Bozkurt M, Loukas M, Vefali H, Tubbs RS, Esmer AF (2009) Relationships of the sural nerve with the calcaneal tendon: an anatomical study with surgical and clinical implications. Surg Radiol Anat (Epub ahead of print)

Benjamin M, McGonagle D (2001) The anatomical basis for disease localisation in seronegative spondyloarthropathy at enthesis and related sites. J Anat 199:503–526

Benjamin M, Toumi H, Ralphs JR, Bydder G, Best TM, Milz S (2006) Where tendons and ligaments meet bone: attachment sites ('entheses') in relation to exercise and/or mechanical load. J Anat 208:471–490

Carden DG, Noble J, Chalmers J, Lunn P, Ellis J (1987) Rupture of the calcaneal tendon. The early and late management. J Bone Joint Surg Br 69:416–420

Carlstedt CA (1987) Mechanical and chemical factors in tendon healing. Effects of indomethacin and surgery in the rabbit. Acta Orthop Scandinavica (Suppl):1–75

Chen TM, Rozen WM, Pan WR, Ashton MW, Richardson MD, Taylor GI (2009) The arterial anatomy of the Achilles tendon: anatomical study and clinical implications. Clin Anat 22:377–385

Citak M, Knobloch K, Albrecht K, Krettek C, Hufner T (2007) Anatomy of the sural nerve in a computer-assisted model: implications for surgical minimal-invasive Achilles tendon repair. Br J Sports Med 41:456–458

Cumins EJ, Anson BJ, Carr BW, Wright RR, Hauser ED (1946) The structure of the calcaneal (Achilles) tendon in relation to orthopaedic surgery. Surg Gynaecol Obst 83:107

Doolin W (1924) The evolution of surgery. Irish J Med Science 3:101–116

Ellis H (2001) A history of surgery. Greenwich Media Medical, UK, pp 63–69

Fukashiro S, Komi PV, Jarvinen M, Miyashita M (1995) In vivo Achilles tendon loading during jumping in humans. Eur J Appl Physiol Occup Physiol 71:453–458

Hastad K, Larsson LG, Lindholm A (1959) Clearance of radiosodium after local deposit in the Achilles tendon. Acta Chir Scand 28(116):251–255

Ippolito E, Natali PG, Postacchini F, Accinni L, De Martino C (1980) Morphological, immunochemical, and biochemical study of rabbit Achilles tendon at various ages. J Bone Joint Surg Am 62:583–598

Jorza LG, Kannus P (1997) Human tendons: anatomy, physiology and pathology. Human kinetics, Champaigne

Komi PV (1990) Relevance of in vivo force measurements to human biomechanics. J Biomech 23(Suppl 1):23–34

Lohrer H, Arentz S, Nauck T, Dorn-Lange NV, Konerding MA (2008) The Achilles tendon insertion is crescent-shaped: an in vitro anatomic investigation. Clin Orthop Relat Res 466:2230–2237

Maffulli N (1999) Rupture of the Achilles tendon. J Bone Joint Surg Am 81:1019–1036

Maffulli N, Barrass V, Ewen SW (2000) Light microscopic histology of Achilles tendon ruptures. A comparison with unruptures tendons. Am J Sports Med 28:857–863

Maffulli N, Ewen SW, Waterston SW, Reaper J, Barrass V (2000) Tenocytes from ruptured and tendinopathic Achilles tendons produce greater quantities of type III collagen than tenocytes from normal Achilles tendons. An in vitro model of human tendon healing. Am J Sports Med 28:499–505

Maffulli N, Longo UG, Ronga M, Khanna A, Denaro V (2009) Favorable outcome of percutaneous repair of Achilles tendon ruptures in the elderly. Clin Orthop Relat Res (Epub ahead of print)

Maganaris CN, Narici MN, Maffulli N (2008) Biomechanics of the Achilles tendon. Disabil Rehabil 30:1542–1547

Mayer L (1916) The physiological method of tendon transplantation. Surg Gynaecol Obstetr 22:183–197

Moore KL, Dalley AF (1999) Clinically orientated anatomy, 4th edn. Lippincott, Williams & Wilkins, USA, pp 586–587

O'Brien M (1992) Functional anatomy and physiology of tendons. Clin Sports Med 11:505–520

O'Brien M (2005) The anatomy of the Achilles tendon. Foot Ankle Clin N Am 10:225–238

Rothwell JC (1994) Control of human voluntary movement, 2nd edn. Croom Helm, Beckenham, pp 86–123

Rufai A, Ralphs JR, Benjamin M (1995) Structure and histology of the insertional region of the human Achilles tendon. J Orthop Res 13:585–593

Seebacher JR, Inglis AE, Marshall JL, Warren RF (1982) The structure of the posterolateral aspect of the knee. J Bone Joint Surg Am 64:536–541

Shaw HM, Vázquez OT, McGonagle D, Bydder G, Santer RM, Benjamin M (2008) Development of the human Achilles tendon enthesis organ. J Anat 213:718–724

Standring S (2009) Gray's anatomy, 40th edn. Churhill Livingstone, Edinburgh

Stein V, Laprell H, Tinnemeyer S, Peterson W (2000) Quantitative assessment of intravascular volume of the human Achilles tendon. Acta Orthop Scand 71:60–63

Stillwell DL Jr (1957) The innervation of tendons and aponeuroses. Am J Anat 100:289–317

Strocchi R, De Pasquale V, Guizzardi S, Govoni P, Facchini A, Raspanti M, Girolami M, Giannini S (1991) Human Achilles tendon: morphological and morphometric variations as a function of age. Foot Ankle 12:100–104

Tai CC, Williams A (2007) Ligaments and tendons. In: Ramachandran M (ed) Basic orthopaedic sciences: the stanmore guide. Edward Arnold, London, pp 71–79

Theobald P, Bydder G, Dent C, Nokes L, Pugh N, Benjamin M (2006) The functional anatomy of Kager's fat pad in relation to retrocalcaneal problems and other hindfoot disorders. J Anat 208:91–97

Thermann H, Frerichs O, Biewener A, Krettek C, Schandelmaier P (1995) Biomechanical studies of human Achilles tendon rupture. Unfallchirurg 98:570–575

Watanabe Y, Moriya H, Takahashi K, Yamagata M, Sonoda M, Shimada Y, Tamaki T (1993) Functional anatomy of the posterolateral structures of the knee. Arthroscopy 9:57–62
Acknowledgments
We thank Dr. Nihal Apaydın from Ankara University Dept. of Anatomy for her rigorous anatomic dissections of Achilles tendon on cadavers and Dr. Uğur Diliçıkık, Dr. Defne Kaya PT, Dr. Ali Öçgüder for their scientific support.
Conflict of interest statement
The authors declare that they have no conflict of interest. No benefits in any form have been received or will be received from any party, commercial or otherwise, related directly or indirectly to the subject of this article.
About this article
Cite this article
Doral, M.N., Alam, M., Bozkurt, M. et al. Functional anatomy of the Achilles tendon. Knee Surg Sports Traumatol Arthrosc 18, 638–643 (2010). https://doi.org/10.1007/s00167-010-1083-7
Received:

Accepted:

Published:

Issue Date:

DOI: https://doi.org/10.1007/s00167-010-1083-7
Keywords
Achilles tendon

Anatomy

Vascular supply

Sensory innervation

Biomechanics