Abstract
SPECT/CT is a promising diagnostic modality in patients with painful total knee arthroplasty (TKA). The purpose of this study is to introduce a novel standardized SPECT/CT algorithm and evaluate its clinical application and reliability. A novel SPECT/CT localization scheme consisting of 9 tibial, 9 femoral and 4 patellar regions on standardized axial, coronal and sagittal slices is proposed. It was piloted in 18 consecutive patients with post TKA pain. The tracer activity on SPECT/CT was recorded using a color-coded scale (0–10). The inter- and intra-observer reliability was assessed for localization and tracer activity. The prosthetic component position was assessed in the CT images after 3D reconstruction using standardized frames of reference. The median inter- and intra-observer differences and ranges of the measured angles were calculated along with the ICC values for inter- and intra-observer reliability. The localization scheme showed very high inter- and intra-observer reliabilities for all regions. The measurement of component position was highly reliable in all cases with sufficient visibility of anatomical landmarks. The median inter-observer difference between alignment measurements for tibial and femoral components was less than 3° (range 0°–6°). The median intra-observer variability for these was less than 2° (range 0°–5°). The SPECT/CT algorithm presented is both reliable and useful in the management of patients with painful TKA. It combines biomechanical and metabolic data (tracer localization) providing an extra dimension to the understanding of this difficult condition. The clinical value of SPECT/CT in patients with unexplained pain following TKA should be further investigated.
Access options
Buy single article
Instant access to the full article PDF.
US$ 39.95
Tax calculation will be finalised during checkout.
Subscribe to journal
Immediate online access to all issues from 2019. Subscription will auto renew annually.
US$ 119
Tax calculation will be finalised during checkout.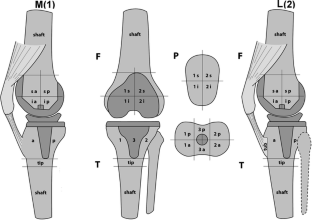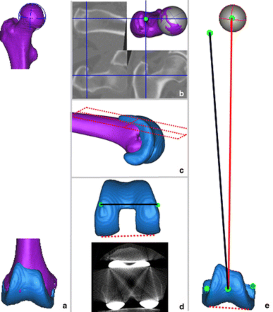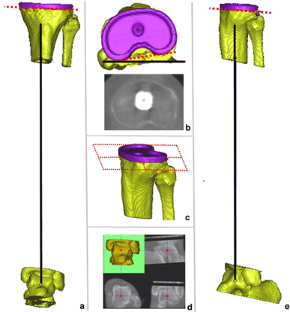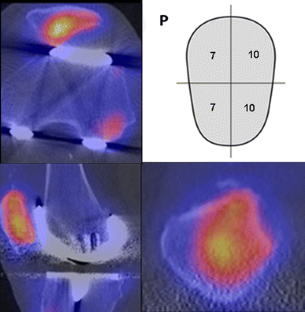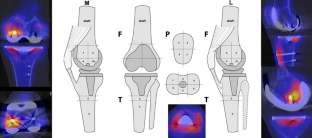 References
1.

Agriantonis DJ, Hall L, Wilson MA (2009) Utility of SPECT/CT as an adjunct to planar whole body I-131 imaging: liver metastasis from papillary thyroid cancer. Clin Nucl Med 34:247–248

2.

Bailey E, HoShon I, Roach P (2007) Additional benefit of SPECT/CT in bone scanning of metastatic renal cell carcinoma. Clin Nucl Med 32:411–414

3.

Barrack RL, Schrader T, Bertot AJ, Wolfe MW, Myers L (2001) Component rotation and anterior knee pain after total knee arthroplasty. Clin Orthop Relat Res 392:46–55

4.

Berger RA, Crossett LS, Jacobs JJ, Rubash HE (1998) Malrotation causing patellofemoral complications after total knee arthroplasty. Clin Orthop Relat Res 356:144–153

5.

Bockisch A, Freudenberg LS, Schmidt D, Kuwert T (2009) Hybrid imaging by SPECT/CT and PET/CT: proven outcomes in cancer imaging. Semin Nucl Med 39:276–289

6.

Breunung N, Barwick T, Fernando R, Gnanasegaran G, Vijayanathan S, Hosahalli M et al (2008) Additional benefit of SPECT-CT in investigating heel pain. Clin Nucl Med 33:705–706

7.

Bruni C, Padovano F, Travascio L, Schillaci O, Simonetti G (2008) Usefulness of hybrid SPECT/CT for the 99mTc-HMPAO-labeled leukocyte scintigraphy in a case of cranial osteomyelitis. Braz J Infect Dis 12:558–560

8.

Bybel B, Brunken RC, DiFilippo FP, Neumann DR, Wu G, Cerqueira MD (2008) SPECT/CT imaging: clinical utility of an emerging technology. Radiographics 28:1097–1113

9.

Chauhan SK, Clark GW, Lloyd S, Scott RG, Breidahl W, Sikorski JM (2004) Computer-assisted total knee replacement. A controlled cadaver study using a multi-parameter quantitative CT assessment of alignment (the Perth CT Protocol). J Bone Joint Surg Br 86:818–823

10.

Chowdhury FU, Scarsbrook AF (2008) The role of hybrid SPECT-CT in oncology: current and emerging clinical applications. Clin Radiol 63:241–251

11.

d' Amico A, Szczucka K, Borys D, Gorczewski K, Steinhof K (2006) SPECT-CT fusion a new diagnostic tool for endocrinology. Endokrynol Pol 57(Suppl A):71–74

12.

Filippi L, Uccioli L, Giurato L, Schillaci O (2009) Diabetic foot infection: usefulness of SPECT/CT for 99mTc-HMPAO-labeled leukocyte imaging. J Nucl Med 50:1042–1046

13.

Henckel J, Richards R, Lozhkin K, Harris S, Baena FM, Barrett AR et al (2006) Very low-dose computed tomography for planning and outcome measurement in knee replacement. The imperial knee protocol. Bone Joint Surg Br 88:1513–1518

14.

Hirschmann MT, Iranpour F, Davda K, Rasch H, Hugli R, Friederich NF (2009) Combined single-photon emission computerized tomography and conventional computerized tomography (SPECT/CT): clinical value for the knee surgeons? Knee Surg Sports Traumatol Arthrosc. doi: 10.1007/s00167-009-0879-9

15.

Horger M, Eschmann SM, Pfannenberg C, Storek D, Vonthein R, Claussen CD et al (2007) Added value of SPECT/CT in patients suspected of having bone infection: preliminary results. Arch Orthop Trauma Surg 127:211–221

16.

Kanekasu K, Kondo M, Kadoya Y (2005) Axial radiography of the distal femur to assess rotational alignment in total knee arthroplasty. Clin Orthop Relat Res 434:193–197

17.

Knupp M, Pagenstert GI, Barg A, Bolliger L, Easley ME, Hintermann B (2009) SPECT-CT compared with conventional imaging modalities for the assessment of the varus and valgus malaligned hindfoot. J Orthop Res 7:1461–1466

18.

Lee A, Emmett L, Van der Wall H, Kannangara S, Mansberg R, Fogelman I (2008) SPECT/CT of femeroacetabular impingement. Clin Nucl Med 33:757–762

19.

Longstaff LM, Sloan K, Stamp N, Scaddan M, Beaver R (2009) Good alignment after total knee arthroplasty leads to faster rehabilitation and better function. J Arthroplasty 24:570–578

20.

Madsen JL (2008) Bone SPECT/CT detection of a sequestrum in chronic-infected nonunion of the tibia. Clin Nucl Med 33:700–701

21.

Mahmarian JJ (2007) Hybrid SPECT-CT: integration of CT coronary artery calcium scoring and angiography with myocardial perfusion. Curr Cardiol Rep 9:129–135

22.

Nomayr A, Romer W, Strobel D, Bautz W, Kuwert T (2006) Anatomical accuracy of hybrid SPECT/spiral CT in the lower spine. Nucl Med Commun 27:521–528

23.

Roarke MC, Nguyen BD, Pockaj BA (2008) Applications of SPECT/CT in nuclear radiology. AJR Am J Roentgenol 191:W135–W150

24.

Romero J, Stahelin T, Wyss T, Hofmann S (2003) Significance of axial rotation alignment of components of knee prostheses. Orthopade 32:461–468

25.

Sacchetti GM, Ghisellini F, Brambilla M, De Consoli A, Fornara P, Rizzo E et al (1996) Quantitative scintigraphic evaluation of total knee arthroplasties: a feasibility study. Clin Orthop Relat Res 325:181–189

26.

Scharf S (2009) SPECT/CT imaging in general orthopedic practice. Semin Nucl Med 39:293–307

27.

Schillaci O, Danieli R, Manni C, Simonetti G (2004) Is SPECT/CT with a hybrid camera useful to improve scintigraphic imaging interpretation? Nucl Med Commun 25:705–710

28.

Shcherbinin S, Celler A, Belhocine T, Vanderwerf R, Driedger A (2008) Accuracy of quantitative reconstructions in SPECT/CT imaging. Phys Med Biol 53:4595–4604

29.

Sikorski JM (2004) Computer-assisted revision total knee replacement. J Bone Joint Surg Br 86:510–514

30.

van der Ploeg IM, Valdes Olmos RA, Kroon BB, Nieweg OE (2008) The Hybrid SPECT/CT as an additional lymphatic mapping tool in patients with breast cancer. World J Surg 32:1930–1934

31.

Victor J (2009) Rotational alignment of the distal femur: a literature review. Orthop Traumatol Surg Res 95:365–372

32.

Victor J, Van Doninck D, Labey L, Innocenti B, Parizel PM, Bellemans J (2009) How precise can bony landmarks be determined on a CT scan of the knee? Knee 16:358–365

33.

Walter SD, Eliasziw M, Donner A (1998) Sample size and optimal designs for reliability studies. Stat Med 17:101–110

34.

Zihlmann MS, Stacoff A, Romero J, Quervain IK, Stussi E (2005) Biomechanical background and clinical observations of rotational malalignment in TKA: literature review and consequences. Clin Biomech (Bristol, Avon) 20:661–668
Acknowledgments
We greatly thank the Deutsche Arthrose-Hilfe e.V., Germany for the support by a research grant.
Additional information
M. T. Hirschmann, F. Iranpour contributed equally.
About this article
Cite this article
Hirschmann, M.T., Iranpour, F., Konala, P. et al. A novel standardized algorithm for evaluating patients with painful total knee arthroplasty using combined single photon emission tomography and conventional computerized tomography. Knee Surg Sports Traumatol Arthrosc 18, 939–944 (2010). https://doi.org/10.1007/s00167-010-1070-z
Received:

Accepted:

Published:

Issue Date:
Keywords
Knee

SPECT/CT

Replacement

Painful total knee arthroplasty

Localization scheme