Abstract
Platelet-rich plasma (PRP) is a natural concentrate of autologous blood growth factors experimented in different fields of medicine in order to test its potential to enhance tissue regeneration. The aim of our study is to explore this novel approach to treat degenerative lesions of articular cartilage of the knee. One hundred consecutive patients, affected by chronic degenerative condition of the knee, were treated with PRP intra-articular injections (115 knees treated). The procedure consisted of 150-ml of venous blood collected and twice centrifugated: 3 PRP units of 5 ml each were used for the injections. Patients were clinically prospectively evaluated before and at the end of the treatment, and at 6 and 12 months follow-up. IKDC, objective and subjective, and EQ VAS were used for clinical evaluation. Statistical analysis was performed to evaluate the significance of sex, age, grade of OA and BMI. A statistically significant improvement of all clinical scores was obtained from the basal evaluation to the end of the therapy and at 6–12 months follow-up (P < 0.0005). The results remained stable from the end of the therapy to 6 months follow up, whereas they became significantly worse at 12 months follow up (P = 0.02), even if still significantly higher respect to the basal level (P < 0.0005). The preliminary results indicate that the treatment with PRP injections is safe and has the potential to reduce pain and improve knee function and quality of live in younger patients with low degree of articular degeneration.
Access options
Buy single article
Instant access to the full article PDF.
US$ 39.95
Tax calculation will be finalised during checkout.
Subscribe to journal
Immediate online access to all issues from 2019. Subscription will auto renew annually.
US$ 119
Tax calculation will be finalised during checkout.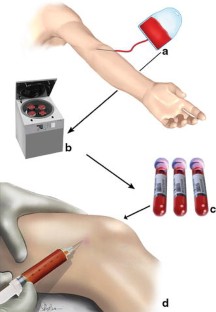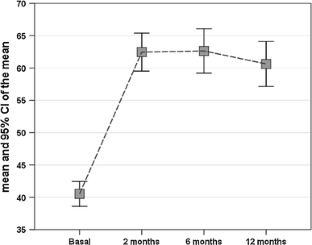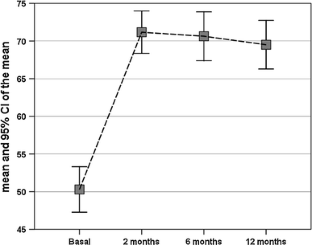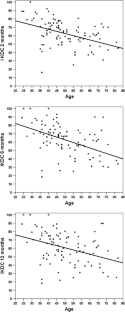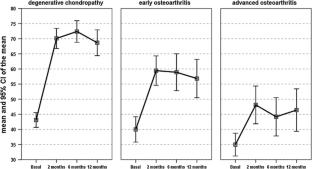 References
1.

Alford JW, Cole BJ (2005) Cartilage restoration, part 1: basic science, historical perspective, patient evaluation, and treatment options. Am J Sports Med 33:295–306

2.

Anitua E, Andia I, Ardanza B et al (2004) Autologous platelets as a source of proteins for healing and tissue regeneration. Thromb Haemost 91:4–15

3.

Buckwalter JA, Brown TD (2004) Joint injury, repair, and remodeling: roles in post-traumatic osteoarthritis. Clin Orthop Relat Res 423:7–16

4.

Clegg DO, Reda DJ, Harris CL et al (2006) Glucosamine, chondroitin sulfate, and the two in combination for painful knee osteoarthritis. N Engl J Med 354:795–808

5.

Curl WW, Krome J, Gordon ES, Rushing J, Smith BP, Poehling GG (1997) Cartilage injuries: a review of 31,516 knee arthroscopies. Arthroscopy 13:456–460

6.

Frazer A, Bunning RA, Thavarajah M, Seid JM, Russell RG (1994) Studies on type II collagen and aggrecan production in human articular chondrocytes in vitro and effects of transforming growth factor-beta and interleukin-1beta. Osteoarthr Cartil 2:235–245

7.

Frisbie DD, Kawcak CE, Werpy NM, Park RD, McIlwraith CW (2007) Clinical, biochemical, and histologic effects of intra-articular administration of autologous conditioned serum in horses with experimentally induced osteoarthritis. Am J Vet Res 68:290–296

8.

Gaissmaier C, Fritz J, Krackhardt T, Flesch I, Aicher WK, Ashammakhi N (2005) Effect of human platelet supernatant on proliferation and matrix synthesis of human articular chondrocytes in monolayer and three-dimensional alginate cultures. Biomaterials 26:1953–1960

9.

Grimaud E, Heymann D, Rédini F (2002) Recent advances in TGF-beta effects on chondrocyte metabolism. Potential therapeutic roles of TGF-beta in cartilage disorders. Cytokine Growth Factor Rev 13:241–257

10.

Hayami T (2008) Osteoarthritis of the knee joint as a cause of musculoskeletal ambulation disability symptom complex (MADS). Clin Calcium 18:1574–1580

11.

Hickey DG, Frenkel SR, Di Cesare PE (2003) Clinical applications of growth factors for articular cartilage repair. Am J Orthop 32:70–76

12.

Hochberg MC, Altman RD, Brandt KD, Clark BM, Dieppe PA, Griffin MR, Moskowitz RW, Schnitzer TJ (1995) Guidelines for the medical management of osteoarthritis. Part II. Osteoarthritis of the knee: American College of Rheumatology. Arthritis Rheum 38:1541–1546

13.

Martin JA, Buckwalter JA (2000) The role of chondrocyte-matrix interactions in maintaining and repairing articular cartilage. Biorheology 37:129–140

14.

Niethard FU, Gold MS, Solomon GS, Liu JM, Unkauf M, Albrecht HH, Elkik F (2005) Efficacy of topical diclofenac diethylamine gel in osteoarthritis of the knee. J Rheumatol 32:2384–2392

15.

Nöth U, Rackwitz L, Heymer A, Weber M, Baumann B, Steinert A, Schütze N, Jakob F, Eulert J (2007) Chondrogenic differentiation of human mesenchymal stem cells in collagen type I hydrogels. J Biomed Mater Res A 83:626–635

16.

Ochi M, Uchio Y, Kawasaki K, Wakitani S, Iwasa J (2002) Transplantation of cartilage-like tissue made by tissue engineering in the treatment of cartilage defects of the knee. J Bone Joint Surg Br 84:571–578

17.

O'Keefe RJ, Crabb ID, Puzas JE, Rosier RN (1994) Effects of transforming growth factor-beta 1 and fibroblast growth factor on DNA synthesis in growth plate chondrocytes are enhanced by insulin-like growth factor-I. J Orthop Res 12:299–310

18.

Papacrhistou G, Anagnostou S, Katsorhis T (1997) The effect of intra-articular hydrocortisone injections on the articular cartilage of rabbits. Acta Orthop Scand Suppl 275:132–134

19.

Pujol JP, Chadjichristos C, Legendre F, Bauge C, Beauchef G, Andriamanalijaona R, Galera P, Boumediene K (2008) Interleukin-1 and transforming growth factor-beta 1 as crucial factors in osteoarthritic cartilage metabolism. Connect Tissue Res 49:293–297

20.

Reichenbach S, Trelle S et al (2007) Efficacy and safety of intra-articular hylan or hyaluronic acids for osteoarthritis of the knee: a randomized controlled trial. Arthritis Rheum 56:3610–3619

21.

Saito M, Takahashi KA, Arai Y, Inoue A, Sakao K, Tonomura H, Honjo K, Nakagawa S, Inoue H, Tabata Y, Kubo T (2009) Intraarticular administration of platelet-rich plasma with biodegradable gelatin hydrogel microspheres prevents osteoarthritis progression in the rabbit knee. Clin Exp Rheumatol 27:201–207

22.

Sanchez A, Sheridan P, Kupp L (2003) Is platelet-rich plasma the perfect enhancement factor? A current review. Int J Oral Maxillofac Implants 18:93–103

23.

Sánchez M, Anitua E, Azofra J, Aguirre JJ, Andia I (2008) Intra-articular injection of an autologous preparation rich in growth factors for the treatment of knee OA: a retrospective cohort study. Clin Exp Rheumatol 26:910–913

24.

Sánchez M, Azofra J, Anitua E, Andía I, Padilla S, Santisteban J, Mujika I (2003) Plasma rich in growth factors to treat an articular cartilage avulsion: a case report. Med Sci Sports Exerc 35:1648–1652

25.

Schmidt MB, Chen EH, Lynch SE (2006) A review of the effects of insulin-like growth factor and platelet derived growth factor on in vivo cartilage healing and repair. Osteoarthr Cartil 14:403–412

26.

Sgaglione NA, Miniaci A, Gillogly SD, Carter TR (2002) Update on advanced surgical techniques in the treatment of traumatic focal articular cartilage lesions in the knee. Arthroscopy 18:9–32

27.

Song SU, Cha YD, Han JU, Oh IS, Choi KB, Yi Y, Hyun JP, Lee HY, Chi GF, Lim CL, Ganjei JK, Noh MJ, Kim SJ, Lee DK, Lee KH (2005) Hyaline cartilage regeneration using mixed human chondrocytes and transforming growth factor-beta1- producing chondrocytes. Tissue Eng 11:1516–1526

28.

Song SU, Hong YJ, Oh IS, Yi Y, Choi KB, Lee JW, Park KW, Han JU, Suh JK, Lee KH (2004) Regeneration of hyaline articular cartilage with irradiated transforming growth factor beta-1 producing fibroblasts. Tissue Eng 10:665–672

29.

Ulrich-Vinther M, Maloney MD, Schwarz EM, Rosier R, O'Keefe RJ (2003) Articular cartilage biology. J Am Acad Orthop Surg 11:421–430

30.

Wu W, Chen F, Liu Y, Ma Q, Mao T (2007) Autologous injectable tissue-engineered cartilage by using platelet-rich plasma: experimental study in a rabbit model. J Oral Maxillofac Surg 65:1951–1957

31.

Zhang W, Moskowitz RW, Nuki G, Abramson S, Altman RD, Arden N, Bierma-Zeinstra S, Brandt KD, Croft P, Doherty M, Dougados M, Hochberg M, Hunter DJ, Kwoh K, Lohmander LS, Tugwell P (2008) OARSI recommendations for the management of hip and knee osteoarthritis. Part II: OARSI evidence-based, expert consensus guidelines. Osteoarthr Cartil 16:137–162
Acknowledgments
M. Lo Presti, A. Bondi, M. Delcogliano, S. Bassini: IX Division, Biomechanics Lab, Rizzoli Orthopaedic Institute, Bologna, Italy. A. Gabriele, F. Pieretti, M. Vaccari, A.M. Del Vento, M. Zagarella, V. Roverini, I. Brognara, L. D'Amato, S. Ardone: Immunohematology and Transfusion Medicine Service, Rizzoli Orthopaedic Institute, Bologna, Italy. E. Pignotti, K. Smith: Task Force, Rizzoli Orthopaedic Institute, Bologna, Italy.
About this article
Cite this article
Kon, E., Buda, R., Filardo, G. et al. Platelet-rich plasma: intra-articular knee injections produced favorable results on degenerative cartilage lesions. Knee Surg Sports Traumatol Arthrosc 18, 472–479 (2010). https://doi.org/10.1007/s00167-009-0940-8
Received:

Accepted:

Published:

Issue Date:
Keywords
PRP

Cartilage

Knee

Intra-articular injection