Abstract
The 'heel hook' is a type of knee lock used in some forms of martial arts to stress the knee and cause opponent to concede defeat. While the knee is in a flexed and valgus disposition, an internal rotation force is applied to the tibia. Reports are lacking on serious knee trauma as a result of this technique. We report the case of a 32-year-old Mixed Martial Arts exponent who sustained complete anterior cruciate ligament rupture and an medial collateral ligament injury from the use of a 'heel hook'.
Access options
Buy single article
Instant access to the full article PDF.
USD 39.95
Price excludes VAT (USA)
Tax calculation will be finalised during checkout.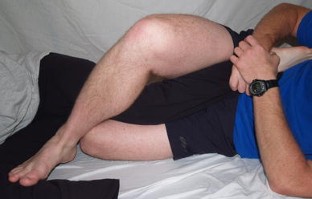 References
Arriaza R, Leyes M (2005) Injury profile in competitive karate: prospective analysis of three consecutive World Karate Championships. Knee Surg Sports Traumatol Arthrosc 13:603–607

Bergfeld JA, Safran MR (1998) Knee-ligaments. In: Safran MR, McKeag DB, Van Camp SP (eds) Manual of sports medicine. Lippincott-Raven, Philadelphia

Buse GJ (2006) No holds barred sport fighting: a 10 year review of mixed martial arts competition. Br J Sports Med 40:169–172

Daniel DM, Stone ML, Dobson BE et al (1994) Fte of the ACL-injured patient. A prospective outcome study. Am J Sports Med 22:632–644

Gentry C (2001) No holds barred: evolution. Archon, Richardson

Hsu WH, Fisk JA, Yamamoto Y et al (2006) Differences in torsional joint stiffness of the knee between genders: a human cadaveric study. Am J Sports Med 34:765–770

Huang KC, Hsu WH, Wang TC (2007) Acute injury of anterior cruciate ligament during karate training. Knee 14:245–248

Koshida S, Deguchi T, Miyashita K et al (2008) The common mechanism of anterior cruciate ligament injuries in judo: a retrospective analysis. Br J Sports Med. doi:10.1136/bjsm.2008.051425

Lundberg GD (1996) Blunt force violence in America—shades of gray or red. Ultimate/extreme fighting. JAMA 275:1684–1685

Majewski M, Susanne H, Klaus S (2006) Epidemiology of athletic knee injuries: a 10-year study. Knee 13:184–188

Zetaruk MN, Violan MA, Zurakowski D et al (2005) Injuries in martial arts: a comparison of five styles. Br J Sports Med 39:29–33
About this article
Cite this article
Baker, J.F., Devitt, B.M. & Moran, R. Anterior cruciate ligament rupture secondary to a 'heel hook': a dangerous martial arts technique. Knee Surg Sports Traumatol Arthrosc 18, 115–116 (2010). https://doi.org/10.1007/s00167-009-0877-y
Received:

Accepted:

Published:

Issue Date:

DOI: https://doi.org/10.1007/s00167-009-0877-y
Keywords