Abstract
During a short period of time, surgical robots had been propagated for automated tunnel placement in anterior cruciate ligament (ACL) reconstruction. Clinical outcome data are currently unavailable. Between 2000 and 2003, 152 patients underwent ACL replacement with the assistance of the Computer Assisted Surgical Planning and Robotics system (CASPAR, OrtoMaquet, Germany) at our hospital. After minimal invasive pin placement in both the tibia and femur, computed tomography was used to register anatomical landmarks and to plan graft tunnel alignment. The robot was used to drill tibial and femoral tunnels in an outside-in fashion according to pre-operative planning. There was one procedure-specific Serious Adverse Event (i.e., an intraoperative transection of the posterior cruciate ligament). After IRB approval, all patients were invited for a follow-up examination. Data from 100 patients (35 women, 65 men, mean age 35 [SD 11] years, median follow-up 61 [range 42–77] months) form the basis of this report. Side-to-side differences in anterior laxity were measured with the KT-1000 arthrometer. Patient-centered outcomes included the Lysholm-Score, the lower extremity functional scale (LEFS), and the Short Form 36 (SF36). The mean KT-1000 side-to-side difference was 0.89 [95% confidence interval (CI) 0.52–1.26] mm. Eight and five patients had a positive Lachman and pivot shift test, respectively. The Lysholm-Score averaged 86 (95% CI 83–89) points. Excellent, good, fair, and poor outcomes were reported by 38, 32, 20, and 10 patients. The LEFS averaged 85 (95% CI 82–88) points. The mean SF36 Physical Component Score was 48.4 (95% CI 46.5–50.3), indicating residual deficits compared to the population norm. All tibial graft tunnels did not cross the Blumensaat line, but were placed slightly anterior to the optimal center of 42% reported in previous studies. Compared to literature data, robot-assisted ACL reconstruction with BTB grafts may lead to higher knee stability, but poorer functional outcomes. The immense additional efforts with the procedure did not pay off in a benefit to patients.
Access options
Buy single article
Instant access to the full article PDF.
USD 39.95
Price excludes VAT (USA)
Tax calculation will be finalised during checkout.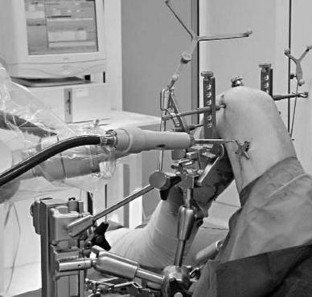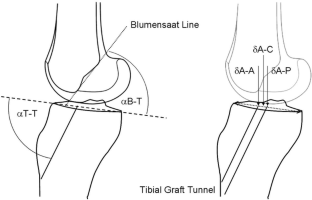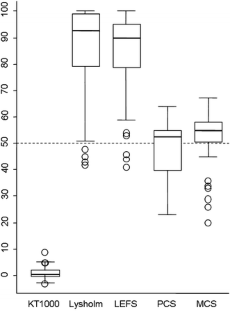 References
Aglietti P, Buzzi R, Giron F et al (1997) Arthroscopic-assisted anterior cruciate ligament reconstruction with the central third patellar tendon. A 5–8-year follow-up. Knee Surg Sports Traumatol Arthrosc 5:138–144

Alonso J, Ferrer M, Gandek B et al (2004) Health-related quality of life associated with chronic conditions in eight countries: results from the International Quality of Life Assessment (IQOLA) Project. Qual Life Res 13:283–298

Aune AK, Holm I, Risberg MA et al (2001) Four-strand hamstring tendon autograft compared with patellar tendon-bone autograft for anterior cruciate ligament reconstruction. A randomized study with two-year follow-up. Am J Sports Med 29:722–728

Bach BR Jr, Tradonsky S, Bojchuk J et al (1998) Arthroscopically assisted anterior cruciate ligament reconstruction using patellar tendon autograft. Five- to nine-year follow-up evaluation. Am J Sports Med 26:20–29

Barrett GR, Noojin FK, Hartzog CW et al (2002) Reconstruction of the anterior cruciate ligament in females: a comparison of hamstring versus patellar tendon autograft. Arthroscopy 18:46–54

Beard DJ, Anderson JL, Davies S et al (2001) Hamstrings vs. patella tendon for anterior cruciate ligament reconstruction: a randomised controlled trial. Knee 8:45–50

Bellemans J, Vandenneucker H, Vanlauwe J (2007) Robot-assisted total knee arthroplasty. Clin Orthop Relat Res 464:111–116

Bernard M, Hertel P, Hornung H et al (1997) Femoral insertion of the ACL. Radiographic quadrant method. Am J Knee Surg 10:14–21

Beynnon BD, Johnson RJ, Abate JA et al (2005) Treatment of anterior cruciate ligament injuries, part 2. Am J Sports Med 33:1751–1767

Beynnon BD, Johnson RJ, Abate JA et al (2005) Treatment of anterior cruciate ligament injuries, part I. Am J Sports Med 33:1579–1602

Beynnon BD, Johnson RJ, Fleming BC et al (2002) Anterior cruciate ligament replacement: comparison of bone-patellar tendon-bone grafts with two-strand hamstring grafts. A prospective, randomized study. J Bone Joint Surg Am 84-A:1503–1513

Biau DJ, Tournoux C, Katsahian S et al (2006) Bone-patellar tendon-bone autografts versus hamstring autografts for reconstruction of anterior cruciate ligament: meta-analysis. BMJ 332:995–1001

Binkley JM, Stratford PW, Lott SA et al (1999) The Lower Extremity Functional Scale (LEFS): scale development, measurement properties, and clinical application. North American Orthopaedic Rehabilitation Research Network. Phys Ther 79:371–383

Bizzini M, Gorelick M, Munzinger U et al (2006) Joint laxity and isokinetic thigh muscle strength characteristics after anterior cruciate ligament reconstruction: bone patellar tendon bone versus quadrupled hamstring autografts. Clin J Sport Med 16:4–9

Boden B, Migaud H, Gougeon F et al (1996) Effect of graft position on laxity after anterior cruciate ligament reconstruction. Stress radiography in 90 knees 2 to 5 years after autograft. Acta Orthop Belg 62:2–7

Bullinger M (1995) German translation and psychometric testing of the SF-36 Health Survey: preliminary results from the IQOLA Project. International Quality of Life Assessment. Soc Sci Med 41:1359–1366

Burkart A, Debski RE, McMahon PJ et al (2001) Precision of ACL tunnel placement using traditional and robotic techniques. Comput Aided Surg 6:270–278

Buss DD, Warren RF, Wickiewicz TL et al (1993) Arthroscopically assisted reconstruction of the anterior cruciate ligament with use of autogenous patellar-ligament grafts. Results after twenty-four to forty-two months. J Bone Joint Surg Am 75:1346–1355

Cobb J, Henckel J, Gomes P et al (2006) Hands-on robotic unicompartmental knee replacement: a prospective, randomised controlled study of the acrobot system. J Bone Joint Surg Br 88:188–197

Colombet P, Robinson J, Christel P et al (2007) Using navigation to measure rotation kinematics during ACL reconstruction. Clin Orthop Relat Res 454:59–65

Corry IS, Webb JM, Clingeleffer AJ et al (1999) Arthroscopic reconstruction of the anterior cruciate ligament. A comparison of patellar tendon autograft and four-strand hamstring tendon autograft. Am J Sports Med 27:444–454

Deehan DJ, Salmon LJ, Webb VJ et al (2000) Endoscopic reconstruction of the anterior cruciate ligament with an ipsilateral patellar tendon autograft. A prospective longitudinal five-year study. J Bone Joint Surg Br 82:984–991

Drogset JO, Grontvedt T, Robak OR et al (2006) A sixteen-year follow-up of three operative techniques for the treatment of acute ruptures of the anterior cruciate ligament. J Bone Joint Surg Am 88:944–952

Eriksson K, Anderberg P, Hamberg P et al (2001) A comparison of quadruple semitendinosus and patellar tendon grafts in reconstruction of the anterior cruciate ligament. J Bone Joint Surg Br 83:348–354

Feller JA, Webster KE (2003) A randomized comparison of patellar tendon and hamstring tendon anterior cruciate ligament reconstruction. Am J Sports Med 31:564–573

Ferrari JD, Bach BR Jr, Bush-Joseph CA et al (2001) Anterior cruciate ligament reconstruction in men and women: An outcome analysis comparing gender. Arthroscopy 17:588–596

Gobbi A, Mahajan S, Zanazzo M et al (2003) Patellar tendon versus quadrupled bone-semitendinosus anterior cruciate ligament reconstruction: a prospective clinical investigation in athletes. Arthroscopy 19:592–601

Grontvedt T, Engebretsen L, Benum P et al (1996) A prospective, randomized study of three operations for acute rupture of the anterior cruciate ligament. Five-year follow-up of one hundred and thirty-one patients. J Bone Joint Surg Am 78:159–168

Harilainen A, Linko E, Sandelin J (2006) Randomized prospective study of ACL reconstruction with interference screw fixation in patellar tendon autografts versus femoral metal plate suspension and tibial post fixation in hamstring tendon autografts: 5-year clinical and radiological follow-up results. Knee Surg Sports Traumatol Arthrosc 14:517–528

Hertel P, Behrend H, Cierpinski T et al (2005) ACL reconstruction using bone-patellar tendon-bone press-fit fixation: 10-year clinical results. Knee Surg Sports Traumatol Arthrosc 13:248–255

Honl M, Dierk O, Gauck C et al (2003) Comparison of robotic-assisted and manual implantation of a primary total hip replacement. A prospective study. J Bone Joint Surg Am 85-A:1470–1478

Howell SM (1998) Principles for placing the tibial tunnel and avoiding roof impingement during reconstruction of a torn anterior cruciate ligament. Knee Surg Sports Traumatol Arthrosc 6(Suppl 1):S49–S55

Howell SM, Taylor MA (1993) Failure of reconstruction of the anterior cruciate ligament due to impingement by the intercondylar roof. J Bone Joint Surg Am 75:1044–1055

Ibrahim SA, Al Kussary IM, Al Misfer AR et al (2005) Clinical evaluation of arthroscopically assisted anterior cruciate ligament reconstruction: patellar tendon versus gracilis and semitendinosus autograft. Arthroscopy 21:412–417

Jansson KA, Linko E, Sandelin J et al (2003) A prospective randomized study of patellar versus hamstring tendon autografts for anterior cruciate ligament reconstruction. Am J Sports Med 31:12–18

Jarvela T, Nyyssonen M, Kannus P et al (1999) Bone-patellar tendon-bone reconstruction of the anterior cruciate ligament. A long-term comparison of early and late repair. Int Orthop 23:227–231

Jomha NM, Borton DC, Clingeleffer AJ et al (1999) Long-term osteoarthritic changes in anterior cruciate ligament reconstructed knees. Clin Orthop Relat Res 188–193

Jomha NM, Pinczewski LA, Clingeleffer A et al (1999) Arthroscopic reconstruction of the anterior cruciate ligament with patellar-tendon autograft and interference screw fixation. The results at seven years. J Bone Joint Surg Br 81:775–779

Kartus J, Stener S, Kohler K et al (1997) Is bracing after anterior cruciate ligament reconstruction necessary? A 2-year follow-up of 78 consecutive patients rehabilitated with or without a brace. Knee Surg Sports Traumatol Arthrosc 5:157–161

Kleipool AE, Zijl JA, Willems WJ (1998) Arthroscopic anterior cruciate ligament reconstruction with bone-patellar tendon-bone allograft or autograft. A prospective study with an average follow up of 4 years. Knee Surg Sports Traumatol Arthrosc 6:224–230

Klos TV, Habets RJ, Banks AZ et al (1998) Computer assistance in arthroscopic anterior cruciate ligament reconstruction. Clin Orthop Relat Res 65–69

Klos TV, Harman MK, Devilee RJ et al (1999) Patellar tendon graft position after anterior cruciate ligament reconstruction. Interobserver variability on lateral radiographs. Acta Orthop Scand 70:180–184

Klos TV, Harman MK, Habets RJ et al (2000) Locating femoral graft placement from lateral radiographs in anterior cruciate ligament reconstruction: a comparison of 3 methods of measuring radiographic images. Arthroscopy 16:499–504

Kohn D (1990) Arthroscopic evaluation of anterior cruciate ligament reconstruction using a free patellar tendon autograft. A prospective, randomized study. Clin Orthop Relat Res 220–224

Kohn D, Busche T, Carls J (1998) Drill hole position in endoscopic anterior cruciate ligament reconstruction. Results of an advanced arthroscopy course. Knee Surg Sports Traumatol Arthrosc 6(Suppl 1):S13–S15

Laxdal G, Kartus J, Hansson L et al (2005) A prospective randomized comparison of bone-patellar tendon-bone and hamstring grafts for anterior cruciate ligament reconstruction. Arthroscopy 21:34–42

Liden M, Ejerhed L, Sernert N et al (2007) Patellar tendon or semitendinosus tendon autografts for anterior cruciate ligament reconstruction: a prospective, randomized study with a 7-year follow-up. Am J Sports Med 35:740–748

Lysholm J, Gillquist J (1982) Evaluation of knee ligament surgery results with special emphasis on use of a scoring scale. Am J Sports Med 10:150–154

Mahirogullari M, Oguz Y, Ozkan H (2006) Reconstruction of the anterior cruciate ligament using bone-patellar tendon-bone graft with double biodegradable femoral pin fixation. Knee Surg Sports Traumatol Arthrosc 14:646–653

Marder RA, Raskind JR, Carroll M (1991) Prospective evaluation of arthroscopically assisted anterior cruciate ligament reconstruction. Patellar tendon versus semitendinosus and gracilis tendons. Am J Sports Med 19:478–484

Mastrokalos DS, Springer J, Siebold R et al (2005) Donor site morbidity and return to the preinjury activity level after anterior cruciate ligament reconstruction using ipsilateral and contralateral patellar tendon autograft: a retrospective, nonrandomized study. Am J Sports Med 33:85–93

Matsumoto A, Yoshiya S, Muratsu H et al (2006) A comparison of bone-patellar tendon-bone and bone-hamstring tendon-bone autografts for anterior cruciate ligament reconstruction. Am J Sports Med 34:213–219

McAllister DR, Tsai AM, Dragoo JL et al (2003) Knee function after anterior cruciate ligament injury in elite collegiate athletes. Am J Sports Med 31:560–563

Muneta T, Sekiya I, Ogiuchi T et al (1998) Objective factors affecting overall subjective evaluation of recovery after anterior cruciate ligament reconstruction. Scand J Med Sci Sports 8:283–289

Muren O, Dahlstedt L, Dalen N (2003) Reconstruction of acute anterior cruciate ligament injuries: a prospective, randomised study of 40 patients with 7-year follow-up. No advantage of synthetic augmentation compared to a traditional patellar tendon graft. Arch Orthop Trauma Surg 123:144–147

Musahl V, Burkart A, Debski RE et al (2002) Accuracy of anterior cruciate ligament tunnel placement with an active robotic system: a cadaveric study. Arthroscopy 18:968–973

Odensten M, Gillquist J (1985) Functional anatomy of the anterior cruciate ligament and a rationale for reconstruction. J Bone Joint Surg Am 67:257–262

Owings MF, Kozak LJ (1998) Ambulatory and inpatient procedures in the United States, 1996. National Center for Health Statistics. Vital Health Stat 13:1–127

Park SE, Lee CT (2007) Comparison of robotic-assisted and conventional manual implantation of a primary total knee arthroplasty. J Arthroplasty 22:1054–1059

Petermann J, Schierl M, Niess C et al (2000) Computerassistierte Planung und roboterassistierte Ersatzplastik des vorderen Kreuzbandes mit dem CASPAR-System. Arthroskopie 13:270–279

Peterson RK, Shelton WR, Bomboy AL (2001) Allograft versus autograft patellar tendon anterior cruciate ligament reconstruction: a 5-year follow-up. Arthroscopy 17:9–13

Picard F, DiGioia AM, Moody J et al (2001) Accuracy in tunnel placement for ACL reconstruction. Comparison of traditional arthroscopic and computer-assisted navigation techniques. Comput Aided Surg 6:279–289

Pinczewski LA, Lyman J, Salmon LJ et al (2007) A 10-year comparison of anterior cruciate ligament reconstructions with hamstring tendon and patellar tendon autograft: a controlled, prospective trial. Am J Sports Med 35:564–574

Plaweski S, Cazal J, Rosell P et al (2006) Anterior cruciate ligament reconstruction using navigation: a comparative study on 60 patients. Am J Sports Med 34:542–552

Pokar S, Wissmeyer T, Krischak G et al (2001) Arthroscopically-assisted reconstruction of the anterior cruciate ligament with autologous patellar tendon replacement-plasty. 5 years results. Unfallchirurg 104:317–324

Poulsen M, Fabrin J, Carstensen JP et al (2003) Rekonstruktion af forreste korsbånd med bone-patellar tendon-bone graft eller fascia lata-graft. Ugeskr Laeger 165:682–685

Roe J, Pinczewski LA, Russell VJ et al (2005) A 7-year follow-up of patellar tendon and hamstring tendon grafts for arthroscopic anterior cruciate ligament reconstruction: differences and similarities. Am J Sports Med 33:1337–1345

Röpke M, Becker R, Urbach D et al (2001) Semitendinosussehne vs. Ligamentum patellae. Klinische Ergebnisse einer prospektiven randomisierten Studie nach vorderer Kreuzbandplastik. Unfallchirurg 104:312–316

Rose T, Engel T, Bernhard J et al (2004) Differences in the rehabilitation period following two methods of anterior cruciate ligament replacement: semitendinosus/gracilis tendon vs. ligamentum patellae. Knee Surg Sports Traumatol Arthrosc 12:189–197

Rupp S, Muller B, Seil R (2001) Knee laxity after ACL reconstruction with a BPTB graft. Knee Surg Sports Traumatol Arthrosc 9:72–76

Sajovic M, Vengust V, Komadina R et al (2006) A prospective, randomized comparison of semitendinosus and gracilis tendon versus patellar tendon autografts for anterior cruciate ligament reconstruction: five-year follow-up. Am J Sports Med 34:1933–1940

Salmon LJ, Russell VJ, Refshauge K et al (2006) Long-term outcome of endoscopic anterior cruciate ligament reconstruction with patellar tendon autograft: minimum 13-year review. Am J Sports Med 34:721–732

Sernert N, Kartus J, Kohler K et al (1999) Analysis of subjective, objective and functional examination tests after anterior cruciate ligament reconstruction. A follow-up of 527 patients. Knee Surg Sports Traumatol Arthrosc 7:160–165

Shelbourne KD, Stube KC (1997) Anterior cruciate ligament (ACL)-deficient knee with degenerative arthrosis: treatment with an isolated autogenous patellar tendon ACL reconstruction. Knee Surg Sports Traumatol Arthrosc 5:150–156

Siebold R, Webster KE, Feller JA et al (2006) Anterior cruciate ligament reconstruction in females: a comparison of hamstring tendon and patellar tendon autografts. Knee Surg Sports Traumatol Arthrosc 14:1070–1076

Steiner ME, Murray MM, Rodeo SA (2008) Strategies to improve anterior cruciate ligament healing and graft placement. Am J Sports Med 36:176–189

Tan MY, Yeo SJ, Tay BK (1997) Anterior cruciate ligament reconstruction using patellar tendon autografts—a review of results. Singapore Med J 38:529–534

von Porat A, Roos EM, Roos H (2004) High prevalence of osteoarthritis 14 years after an anterior cruciate ligament tear in male soccer players: a study of radiographic and patient relevant outcomes. Ann Rheum Dis 63:269–273

Wagner M, Kaab MJ, Schallock J et al (2005) Hamstring tendon versus patellar tendon anterior cruciate ligament reconstruction using biodegradable interference fit fixation: a prospective matched-group analysis. Am J Sports Med 33:1327–1336

Webb JM, Corry IS, Clingeleffer AJ et al (1998) Endoscopic reconstruction for isolated anterior cruciate ligament rupture. J Bone Joint Surg Br 80:288–294

Wexler G, Bach BR Jr, Bush-Joseph CA et al (2000) Outcomes of anterior cruciate ligament reconstruction in patients with Workers' Compensation claims. Arthroscopy 16:49–58

Woo SL, Wu C, Dede O et al (2006) Biomechanics and anterior cruciate ligament reconstruction. J Orthop Surg 1:2

Zaffagnini S, Marcacci M, Lo PM et al (2006) Prospective and randomized evaluation of ACL reconstruction with three techniques: a clinical and radiographic evaluation at 5 years follow-up. Knee Surg Sports Traumatol Arthrosc 14:1060–1069

Zantop T, Petersen W, Sekiya JK et al (2006) Anterior cruciate ligament anatomy and function relating to anatomical reconstruction. Knee Surg Sports Traumatol Arthrosc 14:982–992
About this article
Cite this article
Stengel, D., Klufmöller, F., Rademacher, G. et al. Functional outcomes and health-related quality of life after robot-assisted anterior cruciate ligament reconstruction with patellar tendon grafts. Knee Surg Sports Traumatol Arthrosc 17, 446–455 (2009). https://doi.org/10.1007/s00167-008-0700-1
Received:

Accepted:

Published:

Issue Date:

DOI: https://doi.org/10.1007/s00167-008-0700-1
Keywords
Anterior cruciate ligament (ACL)

Reconstruction

Robot assistance

Tunnel placement

Functional outcomes