Abstract
Iliotibial band syndrome (ITBS) is an overuse injury mainly affecting runners. The initial treatment is conservative. Only, in recalcitrant cases surgery is indicated. Several open techniques have been described. The purpose of this study is to evaluate the results of a standardized arthroscopic technique for treatment of a resistant ITBS. Thirty-six athletes with a resistant ITBS were treated with a standardized arthroscopic technique, limited to the resection of lateral synovial recess. Thirty-three patients were available for follow-up (mean 2 years 4 months). Thirty-two patients (34 knees) had good or excellent results. All patients went back to sports after 3 months. In two patients a meniscal lesion was found, which required treatment. One patient with only a fair result had associated cartilage lesions of the femoral condyle. Our results show that arthroscopic treatment of resistant ITBS is a valid option with a consistently good outcome. In addition, this arthroscopic approach allows excluding or treating other intra-articular pathology.
Access options
Buy single article
Instant access to the full article PDF.
US$ 39.95
Tax calculation will be finalised during checkout.
Subscribe to journal
Immediate online access to all issues from 2019. Subscription will auto renew annually.
US$ 119
Tax calculation will be finalised during checkout.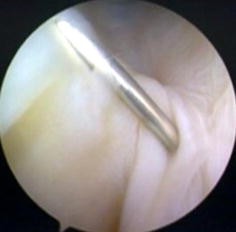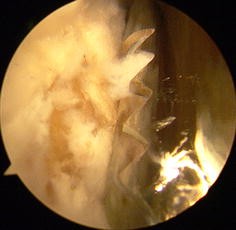 References
1.

Drogset JO, Rossvoll I, Grontvedt T (1999) Surgical treatment of iliotibial band friction syndrome. A retrospective study of 45 patients. Scand J Med Sci Sports 9:296–298

2.

Fairclough J, Hayashi K, Toumi H, Lyons K, Bydder G, Phillips N, Best T, Benjamin M (2006) The functional anatomy of the iliotibial band during flexion and extension of the knee: implications for understanding iliotibial band syndrome. J Anat 208:309–316

3.

Holmes JC, Pruitt AL, Whalen NJ (1994) Iliotibial band syndrome in cyclists. Am J Sports Med 21:419–424

4.

Martens M, Libbrecht P, Bursens A (1989) Surgical treatment of the iliotibial band syndrome. Am J Sports Med 17:651–654

5.

Messier SP, Edwards DG, Martin DF, Lowery RB, Cannon DW, James MK, Curl WW, Read HM, Hunter DM (1995) Etiology of iliotibial band friction syndrome in distance runners. Med Sci Sports Exerc 27:951–960

6.

Muhle C, Mo Ahn JM, Yeg L, Bergman GA, Boutin RD, Schweitzer M, Jacobson JA, Haghighi P, Trudell DJ, Resnick D (1999) Iliotibial band friction syndrome: MRI imaging findings in 16 patients and MR arthrographic study of six cadaveric knees. Radiology 212:103–110

7.

Nemeth WC, Sanders BL (1996) The lateral synovial recess of the knee: anatomy and role in chronic iliotibial band friction syndrome. Arthroscopy 12:574–580

8.

Noble C (1979) The treatment of iliotibial band friction syndrome. Br J Sports Med 13:51–54

9.

Richards D, Barber F, Troop R (2003) Iliotibial band Z-lengthening. Arthroscopy 19:326–329

10.

Sangkaew C (2007) Surgical treatment of iliotibial band friction syndrome with the mesh technique. Arch Orthop Trauma Surg 127:303–306

11.

Tomlinson D, Carrigan R, Sennett B (2005) Calcified loose bodies trapped in the lateral synovial recess of the knee. Arthroscopy 21:1144
About this article
Cite this article
Michels, F., Jambou, S., Allard, M. et al. An arthroscopic technique to treat the iliotibial band syndrome. Knee Surg Sports Traumatol Arthrosc 17, 233–236 (2009). https://doi.org/10.1007/s00167-008-0660-5
Received:

Accepted:

Published:

Issue Date:
Keywords
Iliotibial tract

Knee arthroscopy

Arthroscopic treatment

Lateral synvial recess

Iliotibial band syndrome