Abstract
A retrospective study conducted to evaluate the possible occurrence of stress shielding with the use of long-stem tibial prosthesis in total knee arthroplasty. Forty-one patients were reviewed (twenty-three standard prosthesis, eighteen long-stem prosthesis) and forty-one unoperated knee of the contralateral limb). Patients underwent bone mineral density assessment with a dual-energy X-ray absorptiometry (DEXA) bone densitometer for the hip and bilateral knees. The mean time interval between surgery and the DEXA assessment was 87.7 months. There was no significant statistical difference (P > 0.05) in the bone mineral density patterns of the tibia with the use of either standard or long-stem prosthesis. The utilization of the long-stem prosthesis to off-load the tibia is not associated with any significant bone mineral density changes or stress shielding.
Access options
Buy single article
Instant access to the full article PDF.
US$ 39.95
Tax calculation will be finalised during checkout.
Subscribe to journal
Immediate online access to all issues from 2019. Subscription will auto renew annually.
US$ 119
Tax calculation will be finalised during checkout.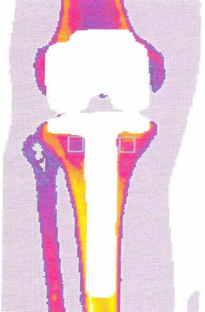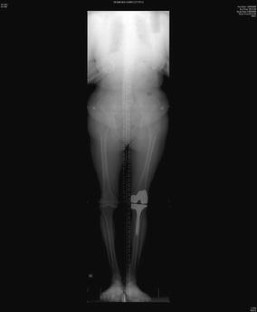 References
1.

Abu-Rajab RB, Watson WS, Walker B, Roberts J, Gallacher SJ, Meek RM (2006) Peri-prosthetic bone mineral density after total knee arthroplasty. Cemented versus cementless fixation. J Bone Joint Surg Br 88(5):606–613

2.

Ang KC, Das De S, Goh JCH, Low SL, Bose K (1997) Periprosthetic bone remodeling after cementless total hip replacement. J Bone Joint Surg Am 79(4):675–679

3.

Bach CM, Nogler M, Steingruber IE, Ogon M, Wimmer C, Gobel G, Krismer M (2002) Scoring systems in total knee arthroplasty. Clin Orthop 399:184–196

4.

Bobyn JD, Mortimer ES, Glassman AH, Engh CA, Miller JE, Brooks CE (1992) Producing and avoiding stress shielding. Laboratory and clinical observations of non-cemented total hip arthroplasty. Clin Orthop 274:79–96

5.

Bourne RB, Finlay JB (1986) The influence of tibial component intra-medullary stems and implant cortex contact on the strain distribution of the proximal tibia following total knee arthroplasty. An invitro study. Clin Orthop 208:95–99

6.

Engh CA, McGovern TF, Bobyn JD, Harris WH (1992) A quantitative evaluation of periprosthetic bone-remodeling after cementless total hip arthroplasty. J Bone Joint Surg Am 74(7):1009–1120

7.

Engh CA Jr, McAuley JP, Sychterz CJ, Sacco ME, James PM, Cristi JS, Engh CA Sr (2000) The accuracy and reproducibility of radiographic assessment of stress-shielding. J Bone Joint Surg Am 82(10):1414–1419

8.

Engh GA, Herzwurm PJ, Parks NL (1997) Treatment of major defects of bone with bulk allografts and stemmed components during total knee arthroplasty. J Bone Joint Surg Am 79(7):1030–1039

9.

Ewald FC (1989) The Knee Society total knee arthroplasty roentgenographic evaluation and scoring system. Clin Orthop 248:9–12

10.

Gofton WT, Tsigaras H, Butler RA, Patterson JJ, Barrack RL, Rorabeck CH (2002) Revision total knee arthroplasty. Fixation with modular stems. Clin Orthop 404:158–168

11.

Hammerman D (1989) The biology of osteoarthritis. N Engl J Med 320:1322–1330

12.

Hendel D, Velan GJ, Weisbort M (1997) Intra-articular tibial plateau stress fracture associated with osteoarthrosis and valgus knee deformity. J Arthroplasty 12(6):713–715

13.

Insall JN, Dorr LD, Scott RD, Scott WN (1989) Rationale of the knee society clinical rating system. Clin Orthop 248:13–14

14.

Insall JN, Hood RW, Flawn LB, Sullivan DJ (1983) The total condylar knee prosthesis in gonarthrosis. A five to nine-year follow-up of the first one hundred consecutive replacements. J Bone Joint Surg Am 65(5):619–628

15.

Insall JN, Lachiewicz PF, Burstein AH (1982) The posterior stabilized condylar prosthesis: a modification of the total condylar design: two to four-year clinical experience. J Bone Joint Surg Am 64(9):1317–1323

16.

Insall JN, Ranawat CS, Aglietti P, Shine J (1976) A comparison of four models of total knee-replacement prosthesis. J Bone Joint Surg Am 58(6):754–765

17.

Insall J, Scott WN, Ranawat CS (1979) The total condylar knee prosthesis: a report of two hundred and twenty cases. J Bone Joint Surg Am 61(2):173–180

18.

Ishii Y, Yagisawa K, Ikezawa Y (2000) Changes in bone mineral density of the proximal femur after total knee arthroplasty. J Arthroplasty 15(4):519–522

19.

Jazrawi LM, Bai B, Kummer FJ, Hiebert R, Stuchin SA (2001) The effect of stem modularity and mode of fixation on tibial component stability in revision total knee arthroplasty. J Arthroplasty 16(6):759–767

20.

Li MG, Nilsson KG (2000) The effect of pre-operative bone quality on the fixation of the tibial component in total knee arthroplasty. J Arthroplasty 15(6):744–753

21.

Lonner JH, Klotz M, Levitz C, Lotke PA (2001) Changes in bone density after cemented total knee arthroplasty. Influence of stem design. J Arthroplasty 16(1):107–111

22.

McCarthy CK, Steinberg GG, Agren M, Leahey D, Wyman E, Baran DT (1991) Quantifying bone loss from the proximal femur after total hip arthroplasty. J Bone Joint Surg Br 73(5):774–778

23.

Mont MA, Rifai A, Baumgarten KM, Sheldon M, Hungerford DS (2002) Total knee arthroplasty for osteonecrosis. J Bone Joint Surg Am 84(4):599–603

24.

Mow VC, Hayes WC (1997) Basic orthopaedic biomechanics, 2nd edn. Lippincott Williams & Wilkins, Philadelphia, pp 429–430

25.

Murray PB, Rand JA, Hanssen AD (1994) Cemented long-stem revision total knee arthroplasty. Clin Orthop 309:116–123

26.

Ortego-Centeno N, Munoz-Torres M, Jodar E, Hernandez-Quero J, Jurado-Duce A, de la Higuera Torres-Puchol J (1997) Effect of tobacco consumption on bone mineral density in healthy young males. Calcif Tissue Int 60(6):496–500

27.

Peyron JG (1986) Osteoarthritis. Clin Orthop 213:13–19

28.

Reilly D, Walker PS, Ben-Dov M, Ewald FC (1982) Effects of tibial components on load transfer in the upper tibia. Clin Orthop 165:273–282

29.

Roesler H (1987) The history of some fundamental concepts in bone biomechanics. J Biomech 20(11/12):1025–1034

30.

Roffi RP, Merritt PO (1990) Total knee replacement after fractures about the knee. Orthop Rev 19:614–620

31.

Sambrook P, Raj A, Hunter D, Naganathan V, Mason R, Robinson B (2001) Osteoporosis with low dose corticosteroids. Contribution of underlying disease effects and discriminatory ability of ultrasound versus bone densitometry. J Rheumatol 28(5):1063–1067

32.

Sawant MR, Bendall SP, Kavanagh TG, Citron ND (1999) Non-union of tibial stress fractures in patients with deformed arthritic knees. J Bone Joint Surg Br 81(4):663–666

33.

Soininvaara T, Kröger H, Jurvelin JS, Miettinen H, Suomalainen O, Alhava E (2000) Measurement of bone density around total knee arthroplasty using fan-beam dual energy X-ray absorptiometry. Calcif Tissue Int 67(3):267–272

34.

Soininvaara TA, Miettinen HJ, Jurvelin JS, Suomalainen OT, Alhava EM, Kröger HP (2004) Periprosthetic femoral bone loss after total knee arthroplasty: 1-year follow-up study of 69 patients. Knee 11(4):297–302

35.

Soininvaara TA, Miettinen HJ, Jurvelin JS, Suomalainen OT, Alhava EM, Kröger HP (2004) Periprosthetic tibial bone mineral density changes after total knee arthroplasty: one-year follow-up study of 69 patients. Acta Orthop Scand 75(5):600–605
About this article
Cite this article
Sathappan, S.S., Pang, HN., Manoj, A. et al. Does stress shielding occur with the use of long-stem prosthesis in total knee arthroplasty?. Knee Surg Sports Traumatol Arthrosc 17, 179–183 (2009). https://doi.org/10.1007/s00167-008-0649-0
Received:

Accepted:

Published:

Issue Date:
Keywords
Knee

Arthroplasty

Long-stem

Stress shielding

Bone mineral density