Abstract
The Quadriceps or Q-angle is an index of the vector for the combined pull of the extensor mechanisms and the patellar tendon. It is used as an indicator for patellofemoral joint dysfunction. The purpose of this article is to systematically review and appraise the literature to determine the reliability and validity of this test. An electronic database search was performed accessing AMED, British Nursing Index, CINAHL, the Cochrane database, EMBASE, ovid Medline, Physiotherapy Evidence Database (PEDro), PsycINFO, Pubmed and Zetoc to April 2008. All English language, human subject, clinical trials, assessing the inter- or intra-tester reliability, or the criterion validity, were included. The Critical Appraisal Skills Programme appraisal tool was used to establish the methodological quality of each study. Ten articles including 569 control and 179 patellofemoral disorder knees were reviewed. The findings suggest that there is considerable disagreement on the reliability and validity of the clinical Q-angle measurement. This may be due to a lack of standardisation in the measurement procedure. Further study is advocated to re-evaluate this topic using well-designed, and sufficiently large observational studies of specific patellofemoral dysfunction populations.
Access options
Buy single article
Instant access to the full article PDF.
US$ 39.95
Tax calculation will be finalised during checkout.
Subscribe to journal
Immediate online access to all issues from 2019. Subscription will auto renew annually.
US$ 119
Tax calculation will be finalised during checkout.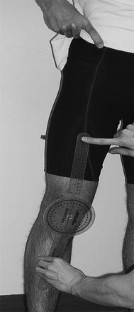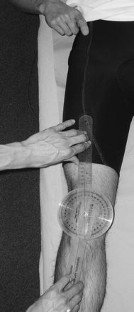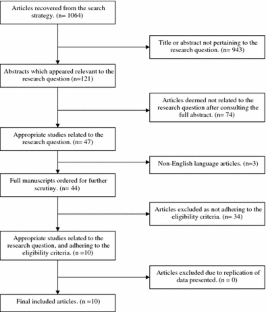 References
1.

Ando T, Hirose H, Inoue M, Shino K, Doi T (1993) A new method using computed tomographic scan to measure the rectus femoris-patellar tendon Q-angle comparison with conventional method. Clin Orthop Relat Res 289:213–219

2.

Arno SA (1990) The A-angle: a quantitative measurement of patella alignment and realignment. J Orthop Sports Phys Therp 12:237–242

3.

Biedert RM, Warnke K (2001) Correlation between the Q angle and the patella position: a clinical and axial computed tomography evaluation. Arch Orthop Trauma Surg 121:346–349

4.

Boden BP, Pearsall AW, Garrett WE Jr, Feagin JA Jr (1997) Patellofemoral instability: evaluation and management. J Am Acad Orthop Surg 5:47–57

5.

Brindle TJ, Mattacola C, McCrory J (2003) Electromyographic changes in the gluteus medius during stair ascent and descent in subjects with anterior knee pain. Knee Surg Sports Traumatol Arthrosc 11:244–251

6.

Brattström H (1964) Shape of the intercondylar groove normally and in recurrent dislocation of the patella. Acta Orthop Scand 68(Suppl):S1–S44

7.

Brunet ME, Brinker MR, Cook SD, Christakis P, Fong B, Patron L, O'Connor DP (2003) Patellar tracking during simulated quadriceps contraction. Clin Orthop Relat Res 414:266–275

8.

Brushøj C, Hölmich P, Nielsen MB, Albrecht-Beste E (2008) Acute patellofemoral pain: aggravating activities, clinical examination, MRI and ultrasound findings. Br J Sport Med 42:64–67

9.

CASP (2007) Critical Skills Appraisal Programme. Learning & Development Public Health Resource Unit. Available from: http://www.phru.nhs.uk/casp/critical_appraisal_tools.htm

10.

Caylor D, Fites R, Worrell TW (1993) The relationship between quadriceps angle and anterior knee pain syndrome. J Orthop Sport Phys Ther 17:11–16

11.

Chester R, Smith TO, Sweeting D, Dixon J, Wood S, Song F (2008) The relative timing of VMO and VL in anterior knee pain: a systematic review and meta-analysis. BMC Musculoskelet Disord 9:64

12.

Crossley KM, Bennell KL, Cowan SM, Green S (2004) Analysis of outcome measures for persons with patellofemoral pain: which are reliable and valid? Arch Phys Med Rehabil 85:815–822

13.

Donell S (2006) Patellofemoral dysfunction—extensor mechanisms malalignment. Curr Orthop 20:103–111

14.

Egger M, Davey Smith G, Schneider M (2001) Systematic reviews of observational studies. In: Egger M, Davey Smith G, Altman DG (eds) Systematic reviews in health care. BMJ Books, London, pp 211–228

15.

Emami MJ, Ghahramani MH, Abdinejad F, Namazi H (2007) Q-angle: an invaluable parameter for evaluation of anterior knee pain. Arch Iran Med 10:24–26

16.

Evans R, Elwyn G, Edwards A (2004) Review of instruments for peer assessment of physicians BMJ 328:1240

17.

Fairbank JC, Pynsent PB, van Poortvliet JA, Phillips H (1984) Mechanical factors in the incidence of knee pain in adolescents and young adults. J Bone Joint Surg 66-B:685–693

18.

France L, Nester C (2001) Effect of errors in the identification of anatomical landmarks on the accuracy of Q angle values. Clin Biomech 16:710–713

19.

Fredericson M, Yoon K (2006) Physical examination and patellofemoral pain syndrome. Am J Phys Med Rehabil 85:234–243

20.

Fulkerson JP (1994) Patellofemoral pain disorders: evaluation and management. J Am Acad Ortho Surg 2:124–132

21.

Fulkerson JP, Kalenak A, Rosenberg TD, Cox JS (1992) Patellofemoral pain. Instr Course Lect 41:57–71

22.

Greene CC, Edwards TB, Wade MR, Carson EW (2001) Reliability of the Quadriceps angle measurement. Am J Knee Surg 14:97–103

23.

Grelsamer RP (2000) Current Concept Review. Patellar Malalignment. J Bone Joint Surg 82-A:1639–1650

24.

Grelsamer RP, Dubey A, Weinstein CH (2005) Men and women have similar Q angles: a clinical and trigonometric evaluation. J Bone Joint Surg 87:1498–1501

25.

Grelsamer RP, Klein JR (1998) The biomechanics of the patellofemoral joint. J Orthop Sport Phys Ther 28:286–298

26.

Grelsamer RP, Newton PM, Staron RB (1998) The medial-lateral position of the patella on routine magnetic resonance imaging: when is normal not normal? Arthroscopy 14:23–28

27.

Guerra JP, Arnold MJ, Gajdosik RL (1994) Q-angle: effects of isometric quadriceps contraction and body position. J Orthop Sport Phys Ther 19:200–204

28.

Herrington L (2006) The effect of corrective taping of the patella on patella position as defined by MRI. Res Sport Med 14:215–223

29.

Herrington L, Nester C (2004) Q-angle undervalued? The relationship between Q-angle and medio-lateral position of the patella. Clin Biomech 19:1070–1073

30.

Horton MG, Hall TL (1998) Quadriceps femoris muscle angle: normal values and relationships with gender and selected skeletal measures. Phys Ther 69:897–901

31.

Hughston JC, Walsh WM, Puddu G (1984) Patellar subluxation and dislocation. Saunders Co, Philadelphia, pp 21–40

32.

Insall J, Falvo KA, Wise DW (1976) Chondromalacia Patellae. A prospective study. J Bone Joint Surg 58-A:1–8

33.

Landis JR, Kock GG (1977) The measurement of observer agreement for categorical data. Biometrics 33:159–174

34.

Lee TQ, Morris G, Csintalan RP (2003) The influence of tibial and femoral rotation on patellofemoral contact area and pressure. J Orthop Sport Phys Ther 33:686–693

35.

Livingston LA (1998) The Quadriceps angle: a review of the literature. J Orthop Sport Phys Ther 28:105–109

36.

Livingston LA, Mandigo JL (1999) Bilateral Q angle asymmetry and anterior knee pain syndrome. Clin Biomech 14:7–13

37.

Kannus P, Niittymaki S (1994) Which factors predict outcome in the nonoperative treatment of patellofemoral pain syndrome? A prospective follow-up study. Med Sci Sports Exerc 26:289–296

38.

Karlsson J, Thomeé R, Swärd L (1996) Eleven year follow-up of patello-femoral pain syndrome. Clin J Sport Med 6:22–26

39.

Kolowich PA, Paulos LE, Rosenberg TD, Farnsworth S (1990) Lateral release of the patella: indications and contraindications. Am J Sports Med 18:359–365

40.

McConnell J (1986) The management of chondromlacia patellae: a long term solution. Aust J Physiother 32:215–223

41.

Messier SP, Davis SE, Curl WW, Lowery RB, Pack RJ (1991) Etiologic factors associated with patellofemoral pain in runners. Med Sci Sports Exerc 23:1008–1015

42.

Mizuno Y, Kumagai M, Mattessich SM, Eilas JJ, Ramrattan N, Cosgarea AJ, Chao EYS (2001) Q-angle influences tibiofemoral and patellofemoral kinematics. J Orthop Res 19:834–840

43.

Nagamine R, Otani T, White SE, McCarthy D, Whiteside LA (1995) Patellar tracking measurement in the normal knee. J Orthop Res 13:115–122

44.

Nissen CW, Cullen MC, Hewett TE, Noyes FR (1998) Physical and arthroscopic examination techniques of the patellofemoral joint. J Orthop Sport Phys Ther 28:277–285

45.

Piva SR, Fitzgerald K, Irrgang JJ, Jones S, Hando BR, Browder DA, Childs JD (2006) Reliability of measures of impairments associated with patellofemoral pain syndrome. BMC Musculoskelet Disord 31:33

46.

Polgar S, Thomas SA (2000) Introduction to research in the health sciences, 4th edn. Churchill Livingstone, London, pp 136–140

47.

Powers CM (2003) The influence of altered lower-extremity kinematics on patellofemoral joint dysfunction: a theoretical perspective. J Orthop Sport Phys Ther 33:639–646

48.

Powers CM, Maffucci R, Hampton S (1995) Rearfoot posture in subjects with patellofemoral pain. J Orthop Sports Phys Ther 22:155–160

49.

Reider B, Marshall JL, Warren RF (1981) Clinical characteristics of patellar disorders in young athletes. Am J Sports Med 9:270–274

50.

Rothstein HR, Sutton AJ, Borenstein M (2005) Publication bias in meta-analysis. In: Rothstein HR, Sutton AJ, Borenstein M (eds) Publication bias in meta-analysis. Prevention assessment and adjustment. Wiley, Chichester, pp 1–7

51.

Sanfridsson J, Arnbjörnsson A, Fridén T, Ryd L, Svahn G, Jonsson K (2001) Femorotibial rotation and the Q-angle related to the dislocating patella. Acta Radiol 42:218–224

52.

Schulthies SS, Francis RS, Fisher AG, Van de Graaff KM (1995) Does the Q angle reflect the force on the patella in the frontal plane? Phys Ther 75:24–30

53.

Sendur OF, Gurer G, Yildirim T, Ozturk E, Aydeniz A (2006) Relationship of Q angle and joint hypermobility and Q angle values in different positions. Clin Rheumatol 25:304–308

54.

Shultz SJ, Nguyen AD, Windley TC, Kulas AS, Botic TL, Beynnon BD (2006) Intratester and intertester reliability of clinical measures of lower extremity anatomic characteristics: implications for multicenter studies. Clin J Sport Med 16:155–161

55.

Söjbjerg TO, Lauritzen J, Hvid I, Boe S et al (1987) Arthroscopic determination of patellofemoral malalignment. Clin Orthop 215:243–247

56.

Song F, Eastwood AJ, Gilbody S, Duley L, Sutton AJ (2000) Publication and related biases. Health Technol Assess 4:1–115

57.

Thomeé R, Renström P, Karlsson J, Grimby G (1995) Patellofemoral pain syndrome in young women. I. A clinical analysis of alignment, pain parameters, common symptoms and functional activity level. Scand J Med Sci Sports 5:237–244

58.

Tomsich DA, Nitz AJ, Thelkeld AJ, Shapiro R (1996) Patellofemoral alignment: reliability. J Orthop Sport Phys Ther 23:200–208

59.

Tsujimoto K, Kurosaka M, Yoshiya S, Mizuno K (2000) Radiographic and computed tomographic analysis of the position of the tibial tubercle in recurrent dislocation and subluxation of the patella. Am J Knee Surg 13:83–88
Acknowledgments
We thank Miss Kate Hulse for her assistance with the photographs used in this study.
About this article
Cite this article
Smith, T.O., Hunt, N.J. & Donell, S.T. The reliability and validity of the Q-angle: a systematic review. Knee Surg Sports Traumatol Arthr 16, 1068–1079 (2008). https://doi.org/10.1007/s00167-008-0643-6
Received:

Accepted:

Published:

Issue Date:
Keywords
Patellofemoral joint

Assessment

Reliability

Validity

Systematic review