Abstract
Sclerosing therapy has in recent studies showed promising results in patients with clinically and ultrasonographically diagnosed tendinosis in Achilles and patellar tendons. The aim of this investigation was to study the presence of intratendinous colour Doppler (CD) flow in horses with clinically diagnosed chronic tendinopathy and to test if experience from human studies could be extrapolated to horses. Special interest was focused on the treatment with sclerosing therapy and whether we could obtain the same successful peroperative findings as in humans. Four horses with clinically diagnosed unilateral chronic tendinosis in the forelimbs were examinated with both grey-scale ultrasonography (US) and CD. The horses were to be euthanised according to standard procedure is such cases. The US findings were used for guidance of sclerosing therapy. All horses showed abnormal findings on US, especially intratendinous neovascularisation in the affected limb but not in the contralateral limb. The CD findings had the same appearance as seen in human Achilles tendons with chronic tendinopathy. In all cases the intratendinous neovascularisation was successfully "shut down" peroperatively. The horses showed no signs of discomfort or worsening of symptoms during the short follow-up period after the procedure. The results indicate that the promising results from human medicine might be transferred to treatment of horses with chronic tendinopathy. In the future it will hopefully be possible to use the model from overused tendons in the horse to determine the best treatment of overuse injuries in humans as well. The animal model will allow experimental studies including substantial tissue sampling for mechanical and molecular biological analysis.
This is a preview of subscription content, log in to check access.
Access options
Buy single article
Instant access to the full article PDF.
US$ 39.95
Price includes VAT for USA
Subscribe to journal
Immediate online access to all issues from 2019. Subscription will auto renew annually.
US$ 199
This is the net price. Taxes to be calculated in checkout.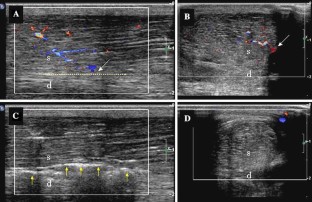 References
1.

Alfredson H, Ohberg L (2005) Sclerosing injections to areas of neo-vascularisation reduce pain in chronic Achilles tendinopathy: a double-blind randomised controlled trial. Knee Surg Sports Traumatol Arthrosc 13:338–344

2.

Alfredson H, Ohberg L (2005) Neovascularisation in chronic painful patellar tendinosis-promising results after sclerosing neovessels outside the tendon challenge the need for surgery. Knee Surg Sports Traumatol Arthrosc 13:74–80

3.

Alfredson H, Harstad H, Haugen S, Ohberg L (2006) Sclerosing polidocanol injections to treat chronic painful shoulder impingement syndrome-results of a two-centre collaborative pilot study. Knee Surg Sports Traumatol Arthrosc 14:1321–1326

4.

Boesen MI, Koenig MJ, Torp-Pedersen S, Bliddal H, Langberg H (2006) Tendinopathy and Doppler activity: the vascular response of the Achilles tendon to exercise. Scand J Med Sci Sports 16:463–469

5.

Cook JL, Khan KM, Purdam C (2002) Achilles tendinopathy. Man Ther 7:121–130

6.

Dowling BA, Dart AJ, Hodgson DR, Smith RKW (2000) Superficial digital flexor tendonitis in the horse. Equine Vet J 32:369–378

7.

Goodwin DW (2000) Imaging of the Achilles' tendon. Foot Ankle Clin. 5:135–148, vii

8.

Koenig MJ, Torp-Pedersen S, Qvistgaard E, Terslev L, Bliddal H (2004) Preliminary results of colour Doppler-guided intratendinous glucocorticoid injection for Achilles tendonitis in five patients. Scand J Med Sci Sports 14:100–106

9.

Kristoffersen M, Ohberg L, Johnston C, Alfredson H (2005) Neovascularisation in chronic tendon injuries detected with colour Doppler ultrasound in horse and man: implications for research and treatment. Knee Surg Sports Traumatol Arthrosc 13:505–508

10.

Kvist M (1994) Achilles tendon injuries in athletes. Sports Med 18:173–201

11.

Lind B, Ohberg L, Alfredson H (2006) Sclerosing polidocanol injections in mid-portion Achilles tendinosis: remaining good clinical results and decreased tendon thickness at 2-year follow-up. Knee Surg Sports Traumatol Arthrosc 14:1327–1332

12.

Marr CM, Murray M, Boyd JS, McMillan I, Wright NG (1993) Ultrasonographic and histopathological findings in equine superficial digital flexor tendon injury. Equine Vet J 25:23–29

13.

Newman JS, Adler RS, Bude RO, Rubin JM (1994) Detection of soft-tissue hyperemia: value of power Doppler sonography. Am J Roentgenol 163:385–389

14.

Ohberg L, Lorentzon R, Alfredson H (2001) Neovascularisation in Achilles tendons with painful tendinosis but not in normal tendons: an ultrasonographic investigation. Knee Surg Sports Traumatol Arthrosc 9:233–238

15.

Reef VB, Sertich PL, Turner RM (1998) Musculoskeletal ultrasonography. In: Reef VB, Sertich PL, Turner RM (eds) Equine diagnostic ultrasound. WB Saunders Co., Philadelphia, pp 39–186

16.

Reef VB (2001) Superficial digital flexor tendon healing: ultrasonographic evaluation of therapies. Vet Clin North Am Equine Pract 17:159–178

17.

Reiter M, Ulreich N, Dirisamer A, Tscholakoff D, Bucek RA (2004) Colour and power Doppler sonography in symptomatic Achilles tendon disease. Int J Sports Med 25:301–305

18.

Rowley S (2001) Theory to practice. Aseptic non-touch technique. Nurs Times 97:VI–VIII

19.

Terslev L, Qvistgaard E, Torp-Pedersen S, Laetgaard J, Danneskiold-Samsoe B, Bliddal H (2001) Ultrasound and power Doppler findings in jumper's knee—preliminary observations. Eur J Ultrasound 13:183–189

20.

Torp-Pedersen T, Torp-Pedersen S, Bliddal H (2002) Diagnostic value of ultrasonography in epicondylitis. Ann Intern Med 136:781–782

21.

Williams RB, Harkins LS, Hammond CJ, Wood JLN (2001) Racehorse injuries, clinical problems and fatalities recorded on British racecourses from flat racing and National Hunt racing during 1996, 1997 and 1998. Equine Vet J 33:478–486

22.

Zeisig E, Ohberg L, Alfredson H (2006) Sclerosing polidocanol injections in chronic painful tennis elbow-promising results in a pilot study. Knee Surg Sports Traumatol Arthrosc 14:1218–1224
Acknowledgment
The authors are thankful for the economic support for this study by the OAK Foundation.
About this article
Cite this article
Boesen, M.I., Nanni, S., Langberg, H. et al. Colour Doppler ultrasonography and sclerosing therapy in diagnosis and treatment of tendinopathy in horses—a research model for human medicine. Knee Surg Sports Traumatol Arthr 15, 935–939 (2007). https://doi.org/10.1007/s00167-006-0245-0
Received:

Accepted:

Published:

Issue Date:
Keywords
Horse

Tendinosis

Hyperaemia

Ultrasonography

Doppler

Sclerosing therapy