Abstract
In this prospective randomised study two treatments after non-traumatic medial meniscal tear diagnosed with radiological examination and magnetic resonance imaging were compared; arthroscopic partial meniscectomy followed by supervised exercise or supervised exercise alone. The aim was to evaluate knee function and physical activity. Ninety patients (mean age 56 years) were evaluated using the Knee Injury and Osteoarthritis Outcome Score, the Lysholm Knee Scoring Scale, the Tegner Activity Scale and a Visual Analogue Scale for knee pain prior to the intervention, after 8 weeks of exercise and after 6 months. According to the outcome scores arthroscopic partial medial meniscectomy combined with exercise did not lead to greater improvement than exercise alone. After the intervention both groups reported decreased knee pain, improved knee function and a high satisfaction (P < 0.0001). Forty-one per cent of the patients returned to their pre-injury activity level after 6 months. In conclusion, when evaluated with outcome scores, arthroscopic partial medial meniscectomy followed by supervised exercise was not superior to supervised exercise alone in terms of reduced knee pain, improved knee function and improved quality of life.
Access options
Buy single article
Instant access to the full article PDF.
USD 39.95
Price excludes VAT (USA)
Tax calculation will be finalised during checkout.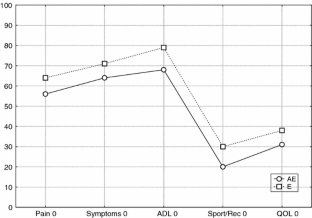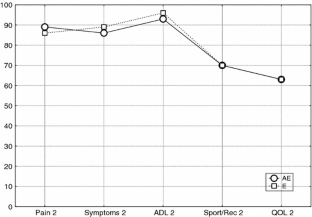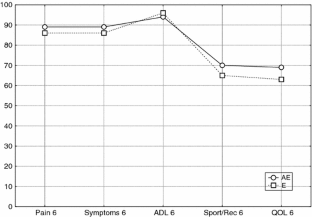 References
Aagaard H, Verdonk R (1999) Function of the normal meniscus and consequences of meniscal resection. Scand J Med Sci Sports 9:134–140

Ahlbäck S (1968) Osteoarthrosis of the knee. A radiographic investigation. Acta Radiologica 277(Suppl 277):7–72

Aichroth P (1996) Degenerative meniscal tears. Knee 3:70–72

American College of Sports Medicine (ACSM) (2002) Progression models in resistance training for healthy adults. Med Sci Sports Exerc 34:364–380

Augustsson J (2001) Styrketräning vid rehabilitering. Sv Idr Forskn 3:65–71

Bengtsson J, Möllborg J, Werner S (1996) A study for testing the sensitivity and reliability of the Lysholm knee scoring scale. Knee Surg, Sports Traumatol, Arthrosc 4:27–31

Bhattacharyya T et al (2003) The clinical importance of meniscal tears demonstrated by magnetic resonance imaging in osteoarthritis of the knee. J Bone Joint Surg Am 85:4–9

Burks RT, Metcalf MH, Metcalf RW (1997) Fifteen-year follow-up of arthroscopic partial meniscectomy. J Arthroscopic Rel Surg 13:673–679

Börjesson M, Robertson E, Weidenhielm L, Mattsson E, Olsson E (1996) Physiotherapy in knee osteoarthrosis: effect on pain and walking. Physiother Res Int 1:89–97

Börjesson M, Karlsson J, Mannheimer C (2001) Mindre ont med motion. Läkartidningen 5:1786–1791

Cameron ML, Briggs KK, Steadman JR (2003) Reproducibility and reliability of the Outerbridge classification for grading chondral lesions of the knee arthroscopically. Am J Sports Med 31:83–86

Chatain F, Robinson AH, Adeleine P, Chambat P, Neyret P (2001) The natural history of the knee following arthroscopic medial meniscectomy. Knee Surg Sports Traumatol Arthrosc 9(1):15–18

Desai VV, Ackroyd CE (2000) Resection of degenerate menisci—is it useful? Knee 7(3):179–182

Englund M, Roos EM, Roos HP, Lohmander LS (2001) Patient-relevant outcomes fourteen years after menisectomy: influence of type of meniscal tear and size of resection. Rheumatology 40:631–639

Feigenbaum M, Pollock M (1999) Prescription of resistance training for health and disease. Med Sci Sports Exerc 31:38–45

Fisher NM, Pendergast DR (1997) Reduced muscle function in patients with osteoarthritis. Scan J Rehab Med 29:213–221

Goodwin PC, Morrissey MC (2003) Physical therapy after arthroscopic partial menisectomy: is it effective? Exerc Sport Sci Rev 31(2):85–90

Goodwin PC, Morrissey MC, Omar RZ, Brown M, Southall K, McAuliffe TB (2003) Effectiveness of supervised physical therapy in the early period after arthroscopic partial meniscectomy. Phys Ther 6:521–535

Goodyear-Smith F, Arroll B (2001) Rehabilitation after arthroscopic meniscectomy: a critical review of the clinical trials. Int Orthop 24:350–353

Hamberg P, Gillquist J (1984) Knee function after arthroscopic meniscectomy. A prospective study. Acta Orthop Scand 55:172–175

Huskisson EL (1974) Measurement of pain. Lancet 9:1127–1131

Lysholm J, Gillquist J (1982) Evaluation of knee ligament surgery results with special emphasis on use of a scoring scale. Am J Sports Med 10:150–154

Mangione KK, McCully K, Gloviak A, Lefebvre I, Hofman M, Craik R (1999) The effects of high-intensity and low-intensity cycle ergometry in older adults with knee osteoarthritis. J Gerontol A Biol Sci Med Sci 54:184–190

Marx RG et al (2001) Reliability, validity and responsiveness of four knee outcome scales for athletic patients. J Bone Surg (Am) 83:1459–1469

Marx RG et al (2005) Multirater agreement of arthroscopic grading of knee articular cartilage. Am J Sports Med 33:1654–1657

Matsusue Y, Thomson NL (1996) Arthroscopic partial medial meniscectomy in patients over 40 years old: a 5- to 11-year followed-up study. Arthroscopy 12:39–44

Matthews P, St-Pierre DM (1996) Recovery of muscle strength following arthroscopic meniscectomy. J Orthop Sports Phys Ther 23(1):18–26

Menetrey J, Siegrist O, Fritschy D (2002) Medial meniscectomy in patients over the age of fifty: a six year follow-up study. Swiss Surg 8:113–119

Moffet H, Richards CL, Maloin F, Bravo G, Paradis G (1994) Early and intensive physiotherapy accelerates recovery postarthroscopic meniscectomy: results of a randomized controlled study. Arch Phys Med Rehabil 75:415–426

Muellner T, Nikolie A, Vécsei V (1999) Recommendations for the diagnosis of traumatic meniscal injuries in athletes. Sports Med 27(5):337–345

Outerbridge RE (1961) The etiology of chondromalacia patellae. J Bone Joint Surg 43B:752–757

Pedersen BK, Saltin B (2006) Evidence for prescribing exercise as therapy in chronic disease. Scan J Med Sci Sports 16(Suppl1):3–63

Petersson IF, Boegard T, Saxne T, Silman AJ, Svensson B (1997) Radiographic osteoarthritis of the knee classified by the Ahlback and Kellgren & Lawrence systems for the tibiofemoral joint in people aged 35–54 years with chronic knee pain. Ann Rheum Dis 56(8):493–496

Rangger C, Klestil T, Gloetzer W, Kemmler G, Benedetto KP (1995) Osteoarthritis after arthroscopic partial meniscectomy. Am J Sports Med 23(2):240–244

Rangger C, Kathrein A, Klestil T, Gloetzer W (1997) Partial meniscectomy and osteoarthritis. Implications for treatment of athletes. Sports Med 23(1):61–68

Renström PAF (1995) Knee pain in tennis players. Clin Sports Med 14(1):163–175

Risberg MA, Holm I, Steen H, Beynnon BD (1999) Sensitivity to changes over time for the IKDC form, the Lysholm score and the Cincinnati knee score: a prospective study of 120 ACL reconstructed patients with a 2-year follow-up. Knee Surg Sports Traumatol Arthrosc 7(3):152–159

Rockborn P (2000) Clinical and radiographic outcome of meniscectomy and meniscus repair in the stable knee. Thesis. University of Linköping, Sweden

Roos EM, Roos HP, Ekdahl C, Lohmander LS (1998) Knee injury and osteoarthritis outcome score (KOOS)—validation of Swedish version. Scand J Med Sci Sports 8:439–448

Roos EM, Roos HP, Ryd L, Lohmander LS (2000) Substantial disability 3 months after arthroscopic partial meniscectomy: a prospective study of patient relevant outcomes. J Arthrosc Rel Surg 16(6):619–626

Roos E (2002) Fysisk aktivitet kan påverka tidig artros. Läkartidningen 45(99):4484–4489

Roos E, Lohmander S (2003) The knee injury and osteoarthritis outcome score (KOOS): from joint injury to osteoarthritis. Health Qual Life Outcomes 1:1–8

Roos PH, Laurén M, Adalberth T, Roos EM, Jonsson K, Lohmander LS (1998) Knee osteoarthritis after meniscectomy. Arthritis Rheum 41:687–693

St-Pierre DM, Laforest S, Paradis S, Leroux M, Charron J, Racette Dalzell MA (1992) Isokinetic rehabilitation after arthroscopic meniscectomy. Eur J Appl Physiol 64(5):437–443

St-Pierre D (1995) Rehabilitation following arthroscopic meniscectomy. Sports Med 20(5):338–347

Tegner Y, Lysholm J (1985) Rating systems in the evaluation of knee ligament injuries. Clin Orthop 198:43–49

Vervest AM, Maurer CA, Schambergen TG, de Bie RA, Bulstra SK (1999) Effectiveness of physiotherapy after meniscectomy. Knee Surg Sports Traumatol Arthrosc 7(6):360–364

Weitzel PP, Richmond JC (2002) Critical evaluation of different scoring systems. Sports Med Arthrosc Review 10:183–190

Who/Nut/Ncd (1998) Preventing and managing the global epidemic. Report of world health organization's consultation on obesity, 3–5 June 1997, Geneva, World Health Organization
About this article
Cite this article
Herrlin, S., Hållander, M., Wange, P. et al. Arthroscopic or conservative treatment of degenerative medial meniscal tears: a prospective randomised trial. Knee Surg Sports Traumatol Arthrosc 15, 393–401 (2007). https://doi.org/10.1007/s00167-006-0243-2
Received:

Accepted:

Published:

Issue Date:

DOI: https://doi.org/10.1007/s00167-006-0243-2
Keywords