Abstract
The anterior cruciate ligament (ACL) is a band of dense connective tissue which courses from the femur to the tibia. The ACL is a key structure in the knee joint, as it resists anterior tibial translation and rotational loads. When the knee is extended, the ACL has a mean length of 32 mm and a width of 7–12 mm. There are two components of the ACL, the anteromedial bundle (AMB) and the posterolateral bundle (PLB). They are not isometric with the main change being lengthening of the AMB and shortening of the PLB during flexion. The ACL has a microstructure of collagen bundles of multiple types (mostly type I) and a matrix made of a network of proteins, glycoproteins, elastic systems, and glycosaminoglycans with multiple functional interactions. The complex ultrastructural organization and abundant elastic system of the ACL allow it to withstand multiaxial stresses and varying tensile strains. The ACL is innervated by posterior articular branches of the tibial nerve and is vascularized by branches of the middle genicular artery.
Access options
Buy single article
Instant access to the full article PDF.
USD 39.95
Price includes VAT (USA)
Tax calculation will be finalised during checkout.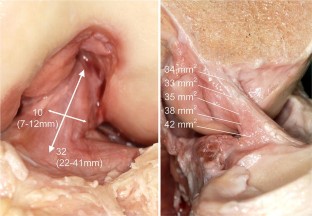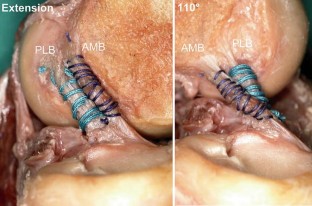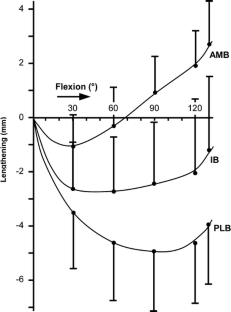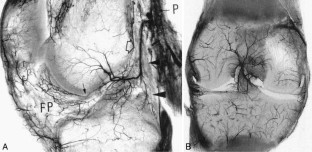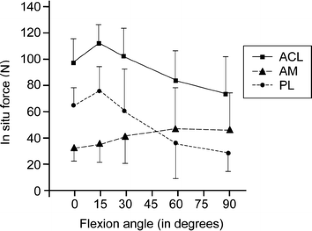 References
1.

Adachi N, Ochi M, Uchio Y, Iwasa J, Ryoke K, Kuriwaka M (2002) Mechanoreceptors in the anterior cruciate ligament contribute to the joint position sense. Acta Orthop Scand 73(3):330–334

2.

Amiel D, Frank CB, Harwood FL, Fronek J, Akeson WH (1984) Tendons and ligaments: a morphological and biochemical comparison. J Orthop Res 1(3):257

3.

Amiel D, Kleiner JB, Roux RD, Harwood FL, Akeson WH (1986) The phenomenon of "ligamentization": anterior cruciate ligament reconstruction with autogenous patellar tendon. J Orthop Res 4:162–172

4.

Amiel D, Billings E, Akeson WH (1989) Ligament structure, chemistry and physiology. In: Daniel D, et al (eds) Knee ligaments: structure, function, injury and repair. Raven Press, New York, NY, p 34

5.

Amis AA (1985) Biomechanics of ligaments. In: Jenkins DHR (ed) Ligament injuries and their treatment. Chapman and Hall, London, pp 3–28

6.

Amis AA, Dawkins GPC (1991) Functional anatomy of the anterior cruciate ligament. Fibre bundle actions related to ligament replacements and injuries. J Bone Joint Surg 73(B):260–267

7.

Arnoczky SP (1983) Anatomy of the anterior cruciate ligament. Clin Orthop 172:19–25

8.

Arnoczky SP (1985) Blood supply to the anterior cruciate ligament and supporting structures. Orthop Clin North Am 16:15–28

9.

Bach BR Jr, Levy ME, Bojchuk J, Tradonsky S, Bush-Joseph CA, Khan NH (1998) Single-incision endoscopic anterior cruciate ligament reconstruction using patellar tendon autograft. Minimum two-year follow-up evaluation. Am J Sports Med 26:30–40

10.

Benjamin M, Evans EJ (1990) Fibrocartilage. J Anat 171:1–15

11.

Benjamin M, Quin S, Ralphs JR (1995) Fibrocartilage associated with human tendons and their pulleys. J Anat 187:625–633

12.

Bernard M, Hertel P, Hornung H, et al (1997) Femoral insertion of the anterior cruciate ligament. Radiographic quadrant method. Am J Knee Surg 10:14–22

13.

Beynnon BD, Pope MH, Wertheimer CM, et al (1992) The effect of functional knee-braces on strain on the anterior cruciate ligament in vivo. J Bone Joint Surg 74A:1298–1312

14.

Beynnon BD, Johnson RJ (1994) Relevant biomechanics. In: DeLee JC, Drez D (eds) Orthopaedic sports medicine, pp 1113–1133

15.

Beynnon BD, Johnson RJ, Fleming BC, et al (1997) The effect of functional knee bracing on the anterior cruciate ligament in the weightbearing and non-weightbearing knee. Am J Sports Med 25:353–359

16.

Beynnon BD, Fleming BC, Labovitch R, Parsons B (2002) Chronic anterior cruciate ligament deficiency is associated with increased anterior translation of the tibia during the transition from non-weightbearing to weightbearing. J Orthop Res 20:332–337

17.

Butler DL, Noyes FR, Grood ES (1980) Ligamentous restraints to anterior–posterior drawer in the human knee. J Bone Joint Surg 62A:259

18.

Ellison AE, Berg EE (1985) Embryology, anatomy, and function of the anterior cruciate ligament. Orthop Clin North Am 16:3–14

19.

Gabriel MT, Wong EK, Woo SL-Y, Yagi M, Debski RE (2004) Distribution of in situ forces in the anterior cruciate ligament in response to rotatory loads. J Orthop Res 22:85–89

20.

Giori NJ, Carter DR (1992) Tendon tissue differentiation may be mechanically mediated by hydrostatic pressure and cell shape. Trans Orthop Res Soc 17:148

21.

Girgis FG, Marshall JL, Monajem ARSA (1975) The cruciate ligaments of the knee joint. Anatomical, functional and experimental analysis. Clin Orthop 106:216–231

22.

Gray H (1975) Anatomy of the human body, 29th edn. In: Goss CM (eds) Lea & Febiger, Philadelphia, PA

23.

Harner CD, Livesay GA, Kashiwaguchi S, Fujie H, Choi NY, Woo SL-Y (1995) Comparative study of the size and shape of human anterior and posterior cruciate ligaments. J Orthop Res 13:429–434

24.

Haus J, Halata Z (1990) Innervation of the anterior cruciate ligament. Int Orthop 14(3):293–296

25.

Hogervorst T, Brand R (1998) Mechanoreceptors in joint function. J Bone Joint Surg 80(A):1365–1377

26.

Hollis JM, Takai S, Adams DJ, Horibe S, Woo SL-Y (1991) The effects of knee motion and external loading on the length of the anterior cruciate ligament (ACL): a kinematic study. J Biomech Eng 113:208–214

27.

Jacobson K (1977) Osteoarthritis following insufficiency of the cruciate ligament in man: a clinical study. Acta Orthop Scand 48:520–526

28.

Kennedy JC, Alexander IJ, Hayes KC (1982) Nerve supply of the human knee and its functional importance. Am J Sports Med 10:329–335

29.

Kim SG, Akaike T, Sasagawa T, Atomi Y, Kurosawa H (2002) Gene expression of Type I and III collagen by mechanical stretch in anterior cruciate ligament cells. Cell Struct Funct 27:139–144

30.

Koch S, Tillman B (1995) The distal tendon of biceps brachis. Ann Anat 177:467–474

31.

Konishi Y, Fukubayashi T, Takeshita D (2002) Possible mechanism of quadriceps femoris weakness in patients with ruptured anterior cruciate ligament. Med Sci Sports Exerc 34:1414–1418

32.

Konishi Y, Suzuki Y, Hirose N, Fukubayashi T (2003) Effects of lidocaine into knee on QF strength and EMG in patients with ACL lesion. Med Sci Sports Exerc 35:1805–1808

33.

Krogsgaard MR, Dyhre-Poulsen P, Fischer-Rasmussen T (2002) Cruciate ligament reflexes. J Electromyogr Kinesiol 12:177–182

34.

Lee CY, Smith CL, Zhang X, Hsu HC, Wang DY, Luo ZP (2004) Tensile forces attenuate estrogen-stimulated collagen synthesis in the ACL. Biochem Biophys Res Commun 14:317

35.

Losee RE (1994) Pivot shift. In: Feagin JJA (ed) The crucial ligaments. Churchill Livingstone, New York, NY, pp 407–422

36.

Marshall JL, Arnoczky SP, Rubin RM, Wickiewicz TL (1979) Microvasculature of the cruciate ligaments. Phys Sports Med 7:87–91

37.

Matsumoto H, Suda Y, Otani T, et al (2001) Roles of the anterior cruciate ligament and the medial collateral ligament in preventing valgus instability. J Orthop Sci 6:28–32

38.

Murray MH, Spector M (1999) Fibroblast distribution in the anteromedial bundle of the human anterior cruciate ligament: the presence of alpha-smooth muscle actin-positive cells. J Orthop Res 17:18–27

39.

Neurath MF, Stofft E (1992) Structure and function of matrix components in the cruciate ligaments: an immunohistochemical, electron-microscopic, and immunoelectron-microstudy. Acta Anat 145:387–394

40.

Ogston AG (1970) The biological functions of the glycosaminoglycans. In: Balasz EA (ed) Chemistry and molecular biology of the intercellular matrix, vol 3. Academic, London, p 1231

41.

Pauwels F (1960) Eine neue Theorie über den Einfluss mechanischer Reize auf die Differenzierung der Strützgewebe. Zehnter Beitrag zur funktionellen Anatomie und kausalen Morphologie des Strützapparates. Z Anat Entwicklungsgesch 121:478–515

42.

Petersen W, Tillmann B (1999) Structure and vascularisation of the cruciate ligaments of the human knee joint. Anat Embryol 200:325–334

43.

Pitaru S, Aubin JE, Bhargaua U, Melcher AH (1987) Immunoelectron microscopic studies on the distributions of fibronectin and actin in a cellular dense connective tissue: the periodontal ligament of the rat. J Periodontal Res 82:64–74

44.

Reiman PR, Jackson DW (1987) Anatomy of the anterior cruciate ligament. In: Jackson DW, Drez D (eds) The anterior cruciate deficient knee. Mosby, St. Louis, MO, pp 17–26

45.

Ryder SH, Johnson RJ, Beynnon BD, Ettlinger CF (1997) Prevention of ACL injuries. J Sports Rehabil 6:80–96

46.

Sakane M, Fox RJ, Woo SL-Y, Livesay GA, Li G, Fu F (1997) In situ forces in the anterior cruciate ligament and its bundles in response to anterior tibial loads. J Orthop Res 15:285–293

47.

Scapinelli R (1997) Vascular anatomy of the human cruciate ligaments and surrounding structures. Clin Anat 10:151–162

48.

Schultz RA, Miller DC, Kerr CS, Micheli L (1984) Mechanoreceptors in human cruciate ligaments. A histological study. J Bone Joint Surg 66A:1072–1076

49.

Smith BA, Livesay GA, Woo SL-Y (1993) Biology and biomechanics of the anterior cruciate ligament. Clin Sports Med 12:637–670

50.

Souryal TO, Moore HA, Evans JP (1988) Bilaterality in anterior cruciate ligament injuries: associated intercondylar notch stenosis. Am J Sports Med 16:449–454

51.

Strocchi R, De Pasquale V, Gubellini P, et al (1992) The human anterior cruciate ligament: histological and ultrastructural observations. J Anat 180:515–519

52.

Tillmann B, Schünke M, Röddecker K (1991) Struktur der Supraspinatussehne. Anat Anz 172:82–83

53.

Viidik A (1972) Simultaneous mechanical and light microscopic studies of collagen fibres. Z Anat Entwicklungsgesch 136:204

54.

von der Mark K (1981) Localisation of collagen types in tissues. Int Connect Tissue Res 9:265–313

55.

Woo SL-Y, Hollis M, Adams DJ, et al (1991) Tensile properties of the human femur-anterior cruciate ligament–tibia complex. The effects of specimen age and orientation. Am J Sports Med 19:217–225

56.

Woo SL-Y, Hildebrand K, Watanabe N, Fenwick JA, Papageorgiou CD, Wang JH (1999) Tissue engineering of ligament and tendon healing. Clin Orthop 367:321–323

57.

Zimny ML, Schutte M, Dabezies E (1986) Mechanoreceptors in the human anterior cruciate ligament. Anat Rec 214(2):204–209
Acknowledgements
The authors would like to thank Dominique Semedo for his technical assistance and Richard Stern MD for his review of the manuscript.
About this article
Cite this article
Duthon, V.B., Barea, C., Abrassart, S. et al. Anatomy of the anterior cruciate ligament. Knee Surg Sports Traumatol Arthrosc 14, 204–213 (2006). https://doi.org/10.1007/s00167-005-0679-9
Received:

Accepted:

Published:

Issue Date:
Keywords
Anterior cruciate ligament

Anteromedial bundle

Posterolateral bundle