Abstract
A popliteal cyst, originally called Baker's cyst, is a synovial fluid-filled mass located in the popliteal fossa. The most common synovial popliteal cyst is considered to be a distension of the bursa located beneath the medial head of the gastrocnemius muscle. Usually, in an adult patient, an underlying intra-articular disorder is present. In children, the cyst can be isolated and the knee joint normal. The anatomy, etiopathogenesis, clinical presentation, differential diagnosis, imaging and treatment modalities of the popliteal cyst are presented. The authors try to answer some questions dealing with this condition. Is the cyst isolated, can it be treated as such, is its origin always well-defined and does surgical excision provide a permanent cure?
Access options
Buy single article
Instant access to the full article PDF.
US$ 39.95
Tax calculation will be finalised during checkout.
Subscribe to journal
Immediate online access to all issues from 2019. Subscription will auto renew annually.
US$ 119
Tax calculation will be finalised during checkout.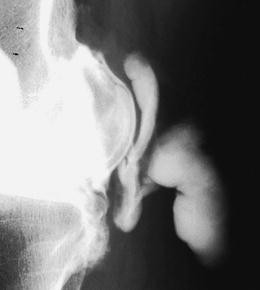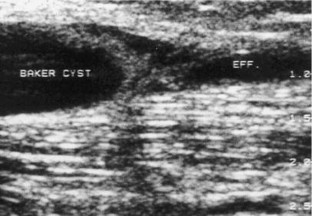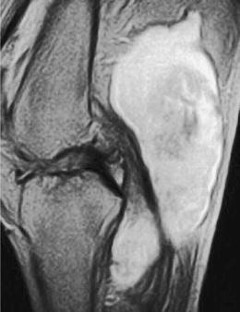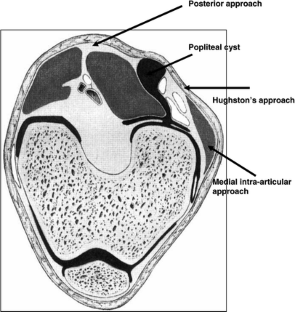 References
1.

Adams R (1840) Chronic rheumatic arthritis of the knee joint. Dublin J Med Sci 17:520–522

2.

Baker WM (1877) On the formation of the synovial cysts in the leg in connection with disease of the knee joint. St Barth Hosp Rep 13:245–261

3.

Bui-Mansfield LT, Younberg RA (1997) Intra-articular ganglion of the knee: prevalence, presentation, etiology and management. Am J Roentgenol 168:123–127

4.

De Maeseneer M, Debaere C, Desprechins B, Osteaux M (1999) Popliteal cysts in children: prevalence, appearance and associated findings at MR imaging. Pediatr Radiol 29(8):605–609

5.

Malghem J, Vandenberg BC, Lebon C, Lecouvet F, Maldague BE (1998) Ganglion cysts of the knee: articular communication revealed by delayed radiography and CT after arthrography. Am J Roentgenol 170:1579–1583

6.

Miller TT, Staron RB, Koenigsberg T, Levin TL, Feldman F (1996) MR imaging of Baker cysts: association with internal derangement, effusion and degenerative arthropathy. Radiology 201(1):247–250

7.

Rauschning W, Lindgren PG (1979) Popliteal cysts (Baker's cysts) in adults. Clinical and roentgenological results of operative excision. Acta Orthop Scand 50:583–591

8.

Rauschning W (1980) Anatomy and function of the communication between knee joint and popliteal bursa. Ann Rheum Dis 39:354–358

9.

Sansone V, De Ponti A (1999) Arthroscopic treatment of popliteal cyst and associated intra-articular knee disorders in adults. Arthroscopy 15(4):368–372

10.

Stone KR, Stoller D, De Carli A, Day R, Richnak J (1996) The frequency of Baker's cysts associated with meniscal tears. Am J Sports Med 24(5):670–671

11.

Wirth CJ, Rose C (1996) Der intraartikuläre Verschluss der Poplitealzyste. Operat Orthop Traumatol 8(3):232–238
About this article
Cite this article
Fritschy, D., Fasel, J., Imbert, JC. et al. The popliteal cyst. Knee Surg Sports Traumatol Arthr 14, 623–628 (2006). https://doi.org/10.1007/s00167-005-0028-z
Received:

Accepted:

Published:

Issue Date:
Keywords
Popliteal cyst

Baker's cyst

Synovial cyst

Knee pathology

Swelling of the knee