Abstract
Treatment with painful eccentric muscle training has been demonstrated to give good clinical results in patients with chronic Achilles tendinosis. The pain mechanisms in chronic painful shoulder impingement syndrome have not been scientifically clarified, but the histological changes found in the supraspinatus tendon have similarities with the findings in Achilles tendinosis. In this pilot study, nine patients (five females and four males, mean age 54 years) with a long duration of shoulder pain (mean 41 months), diagnosed as having shoulder impingement syndrome and on the waiting list for surgical treatment (mean 13 months), were included. Patients with arthrosis in the acromio-clavicular joint or with large calcifications causing mechanical impingement during horizontal shoulder abduction were not included. We prospectively studied the effects of a specially designed painful eccentric training programme for the supraspintus and deltoideus muscles (3×15 reps, 2 times/day, 7 days/week, for 12 weeks). The patients evaluated the amount of shoulder pain during horizontal shoulder activity on a visual analogue scale (VAS), and satisfaction with treatment. Constant score was assessed. After 12 weeks of treatment, five patients were satisfied with treatment, their mean VAS had decreased (62–18, P<0.05), and their mean Constant score had increased (65–80, P<0.05). At 52-week follow-up, the same five patients were still satisfied (had withdrawn from the waiting list for surgery), and their mean VAS and Constant score were 31 and 81, respectively. Among the satisfied patients, two had a partial suprasinatus tendon rupture, and three had a Type 3 shaped acromion. In conclusion, the material in this study is small and the follow-up is short, but it seems that although there is a long duration of pain, together with bone and tendon abnormalities, painful eccentric supraspinatus and deltoideus training might be effective. The findings motivate further studies.
This is a preview of subscription content, log in to check access.
Access options
Buy single article
Instant access to the full article PDF.
US$ 39.95
Price includes VAT for USA
Subscribe to journal
Immediate online access to all issues from 2019. Subscription will auto renew annually.
US$ 199
This is the net price. Taxes to be calculated in checkout.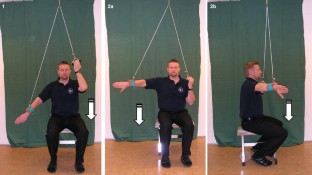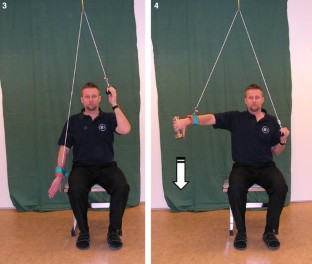 References
1.

Alfredson H, Pietilä T, Jonsson P, Lorentzon R (1998) Heavy-Load eccentric calf-muscle training for treatment of chronic Achilles tendinosis. Am J Sports Med 26:360–366

2.

Alfredson H, Öhberg L, Forsgren S (2003) Is vasculo-neural ingrowth the cause of pain in chronic Achilles tendinosis? An investigation using ultrasonography and colour Doppler, immunohistochemistry, and diagnostic injections. Knee Surg Sports Traumatol Arthrosc 11:334–338

3.

Bang M, Deyle G (2000) Comparison of supervised exercise with and without physical therapy for patients with shoulder impingement syndrome. J Orthop Sports Phys Ther 30:126–137

4.

Bigliani L, Morrison DS, April EW (1986) The morphology of the acromion and its relationship to the rotator cuff tears. Orthop Trans 10:228

5.

Brewster C, Moynes Schwab D (1993) Rehabilitation of the shoulder following rotator cuff injury or surgery. J Orthop Sports Phys Ther 18:422–427

6.

Burke W, Vangsness T, Powers C (2002) Strengthening the supraspinatus: a clinical and biomechanical review. Clin Orthop 402:292–298

7.

Chansky HA, Iannotti JP (1991) The vascularity of rotator cuff. Clin Sports Med 10:807–822

8.

Cohen R, William G (1998) Impingement syndrome and rotator cuff disease as repetitive motion disorder. Clin Orthop 351:95–100

9.

Constant CR, Murley AH (1987) A clinical method of functional assessment of the shoulder. Clin Orthop 214:160–164

10.

Desmeules F, Cote CH, Fremont P (2003) Therapeutic exercise and orthopedic manual therapy for impingement syndrome: a systematic review. Clin J Sport Med 13:176–182

11.

Fahlström M, Jonsson P, Lorentzon R, Alfredson H (2003) Chronic tendon pain treated with eccentric calf-muscle training. Knee Surg Sports Traumatol Arthrosc 11:327–333

12.

Fukuda H, Hamada K, Nakajima T, Yamada N, Tomonaga A, Gotoh M (1996) Partial-thicness tears of the rotator cuff. A clinicopathological review based on 66 surgically verified cases. Int Orthop 20:257–265

13.

Fukuda H (2003) The managment of partial-thickness tears of the rotator cuff. J Bone Joint Surg Br 85:3–11

14.

Gerber C, Arneberg O (1992) Measurement of abductor strength with an electronical device (Isobex). J Shoulder Elbow Surg 2:S6

15.

Gotoh M, Hamada K, Yamakawa H, Inoue A, Fukuda H (1998) Increased substance P in subacromial bursa and shoulder pain in rotator cuff disease. J Orthop Res 16:618–621

16.

Hawkins RJ, Kennedy JC (1980) Impingement syndrome in athletes. Am J Sports Med 31:724–727

17.

Hyvonen P, Lohi S, Jalovaara P (1998) Open acromioplasty does not prevent the progression of an impingement syndrome to a tear. J Bone Joint Surg Br 8:813–816

18.

Itoi E, Kido T, Sano A, Urayama M, Sato K (1999) Which is more useful, the "full can test" or the "empty can test," in detecting the torn supraspinatus tendon? Am J Sports Med 27:65–68

19.

Kahn KM, Cook JL, Bonar F, Hardcourt P, Åström M (1999) Histopathology of common Tendinophaties. Sports Med 27:188–201

20.

Kelly B, Kadrmas W, Speer K (1996) The manual examination for rotator cuff strength. Am J Sports Med 24:581–588

21.

Litchfield R, Hawkins R, Dillman C, Atkins J, Hagerman G (1993) Rehabilitation for the overhead athlete. J Orthop Sports Phys Ther 18:433–441

22.

Ljung BO, Alfredson H, Forsgren S (2004) Neurokinin 1-receptors and sensory neuropeptides in tendon insertions at the medial and lateral epicondyles of the humerus. Studies on tennis elbow and medial epicondylalgia. J Orthop Res 22:321–327

23.

Morrison D, Frogameni A, Woodworth P (1997) Non-operativ treatment of subacromial impingement syndrome. J Bone Joint Surg 79:732–737

24.

Morrison DS, Greenbaum BS, Einborn A (2000) Shoulder impingement. Orthop Clin North Am 31:285–293

25.

Neer CS (1972) Anterior acromioplasty for the chronic impingement syndrome in the shoulder: a preliminary report. J Bone Joint Surg 54:41–50

26.

Neer CS (1983) Impingement lesions. Clin Orthop 173:70–77

27.

Purdam C, Jonsson P, Alfredson H, Lorentzon R, Cook J, Khan K (2003 A pilot study of the eccentric decline squat in the management of painful chronic patellar tendinopathy. BJSM (in press)

28.

Svernlöv B, Adolfsson L (2001) Non-operative treatment regime including eccentric training for lateral humeral epicondyalgia. Scan J Med Sci Sports 11:328, 2013;206

29.

Takeda Y, Kashiwaguchi S, Endo K, Matsuura T, Sasa T (2002) The most effective exercise for strengthening the supraspinatus muscle: evaluation by magnetic resonance imaging. Am J Sports Med 30:374–381

30.

Townsend H, Jobe F, Pink M, Perry J (1991) Electromyographic analysis of the glenohumeral muscles during a baseball rehabilitation program. Am J Sports Med 19:264–272

31.

Yanagisawa K, Hamada K, Gotoh M, Tokunaga T, Oshika Y,Tomisawa M, Hwan Lee Y, Handa A, Kijima H, Yamazaki H, Nakamura M, Ueyama Y, Tamaoki N, Fukuda H (2001) Vascular endothelial growth factor (VEGF) expression in the subacromial bursa is increased in patients with impingement syndrome. J Orthop Res 19:448–455

32.

Öhberg L, Alfredson H (2003) Effect on neovascularisation behind the good results with eccentric training in chronic mid-portion Achilles tendinosis. Knee Surg Sports Traumatol Arthrosc (in press)
About this article
Cite this article
Jonsson, P., Wahlström, P., Öhberg, L. et al. Eccentric training in chronic painful impingement syndrome of the shoulder: results of a pilot study. Knee Surg Sports Traumatol Arthrosc 14, 76–81 (2006). https://doi.org/10.1007/s00167-004-0611-8
Received:

Accepted:

Published:

Issue Date:
Keywords
Shoulder

Impingement syndrome

Pain

Eccentric training