Abstract
A tangible understanding of the latent design knowledge base of a technology domain, i.e., the set of technologies and related design knowledge used to solve the specific problems of a domain, and how it evolves, can guide engineering design efforts in that domain. However, methods for extracting, analyzing and understanding the structure and evolutionary trajectories of a domain's accumulated design knowledge base are still underdeveloped. This study introduces a network-based methodology for visualizing and analyzing the structure and expansion trajectories of the design knowledge base of a given technology domain. The methodology is centered on overlaying the total technology space, represented as a network of all known technologies based on patent data, with the specific knowledge positions and estimated expansion paths of a specific domain as a subgraph of the total network. We demonstrate the methodology via a case study of hybrid electric vehicles. The methodology may help designers understand the technology evolution trajectories of their domain and suggest next design opportunities or directions.
This is a preview of subscription content, log in to check access.
Access options
Buy single article
Instant access to the full article PDF.
US$ 39.95
Price includes VAT for USA
Subscribe to journal
Immediate online access to all issues from 2019. Subscription will auto renew annually.
US$ 99
This is the net price. Taxes to be calculated in checkout.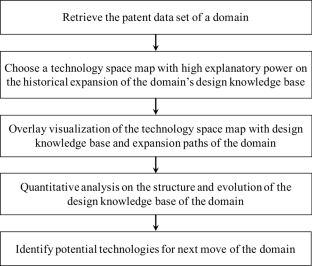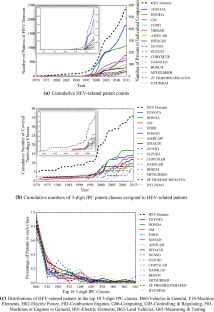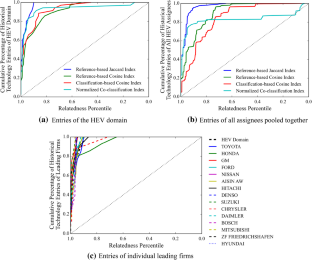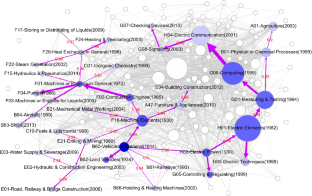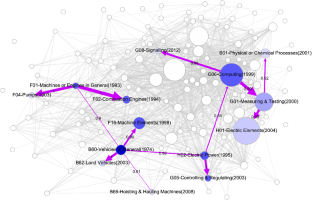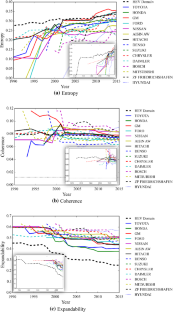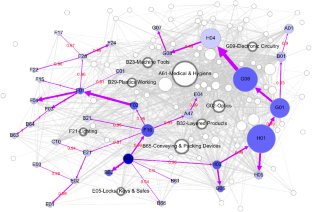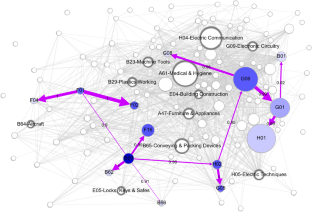 Notes
1.

2.

In Fig. 3c, Honda and Chrysler stand out showing several relatively "long" jumps in their expansion histories, i.e., about 10% of Honda's and about 5% of Chrysler's technology entries have a relatedness percentile lower than 0.8. Such long jumps may suggest the intents or abilities of these firms to integrate relatively distant technologies for more novel product or system designs. However, without grounded firm-level data, we are unable to conclude on these interpretations. Interested readers and researchers may utilize more in-depth data from or within these firms to explain the observed behaviors of theirs.

3.

Meanwhile, the coherence of the HEV design knowledge base of the entire domain and individual firms is significantly greater than the average coherence among all 122 technologies in the total technology space (the dotted line at the bottom of Fig. 6b). This finding implies that the design knowledge base of the HEV domain and individual firms comprise a set of highly related technologies.

4.

There are alternative approaches to identify the unexplored technologies in the total technology space that are highly related to an established design space (i.e., a subspace of the total space). For instance, instead of the top 10% unexplored technologies according to their weighted average relatedness to the prior design knowledge base (approach #1), one can also identify the unexplored technologies, each of which is the most related to each of the covered technologies in the current design knowledge base (approach #2). We found approach #1 better predicted the historical technology entries at the times of their respective entries based on our HEV patent data. The hit rates of approach #1 are 49% for the HEV domain's historical entries, 88% for all assignees' entries together, and 71–100% for entries of individual assignees. The hit rates of approach #2 are 37% for the HEV domain, 24% for all assignees pooled together, and 0–50% for individual assignees.
References
Alberts D, Yang CB, Fobare-DePonio D, Koubek K, Robins S, Rodgers M, DeMarco D (2011) Introduction to patent searching. In: Current challenges in patent information retrieval. Springer, Berlin Heidelberg, pp 3–43

Allaire D, He Q, Deyst J, Willcox K (2012) An information-theoretic metric of system complexity with application to engineering system design. J Mech Des 134:100906

Alstott J, Triulzi G, Yan B, Luo J (2017a) Inventors' explorations across technology domains. Des Sci 3:e20

Alstott J, Triulzi G, Yan B, Luo J (2017b) Mapping technology space by normalizing technology relatedness networks. Scientometrics 110(1):443–479

Arthur WB (2009) The nature of technology: what it is and how it evolves. Simon and Schuster, New York

Baxter D, Gao J, Case K et al (2007) An engineering design knowledge reuse methodology using process modelling. Res Eng Des 18(1):37–48

Berthold M (2011) Bisociative knowledge discovery. Lecture notes in computer science, vol 7250. Springer, Berlin, Heidelberg, pp 1–7

Boschma R, Balland PA, Kogler DF (2014) Relatedness and technological change in cities: the rise and fall of technological knowledge in US metropolitan areas from 1981 to 2010. Ind Corp Change 24(1):223–250

Breschi S, Malerba F, Lissoni F (2003) Knowledge-relatedness in firm technological diversification. Res Policy 32(1):69–87

Chan J, Schunn C (2015) The impact of analogies on creative concept generation: lessons from an in vivo study in engineering design. Cogn Sci 39(1):126–155

D'hondt E (2009) Lexical issues of a syntactic approach to interactive patent retrieval. In: The proceedings of the 3rd BCSIRSG symposium on future directions in information access, pp 102–109

Dibiaggio L, Nasiriyar M, Nesta L (2014) Substitutability and complementarity of technological knowledge and the inventive performance of semiconductor companies. Res Policy 43(9):1582–1593

Dosi G (1982) Technological paradigms and technological trajectories: a suggested interpretation of the determinants and directions of technical change. Res Policy 11(3):147–162

Ejermo O (2005) Technological diversity and Jacobs' externality hypothesis revisited. Growth Change 36:167–195

Fleming L (2001) Recombinant uncertainty in technological search. Manag Sci 47(1):117–132

Fleming L, Sorenson O (2001) Technology as a complex adaptive system: evidence from patent data. Res Policy 30(7):1019–1039

Fleming L, Sorenson O (2004) Science as a map in technological search. Strateg Manag J 25(8–9):909–928

Fu K, Cagan J, Kotovsky K, Wood K (2013a) Discovering structure in design databases through function and surface based mapping. J Mech Design 135(3):031006

Fu K, Chan J, Cagan J, Kotovsky K, Schunn C, Wood K (2013b) The meaning of "near" and "far": the impact of structuring design databases and the effect of distance of analogy on design output. J Mech Design 135(2):021007

Fu K, Moreno D, Yang M, Wood K (2014) Bio-inspired design: an overview investigating open questions from the broader field of design-by-analogy. J Mech Design 136(11):111102

Fu K, Murphy J, Yang M, Otto K, Jensen D, Wood K (2015) Design-by-analogy: experimental evaluation of a functional analogy search methodology for concept generation improvement. Res Eng Design 26(1):77–95

Hatchuel A, Weil B (2003) A new approach of innovative design: an introduction to CK theory. In: DS 31: proceedings of ICED 03, the 14th international conference on engineering design, Stockholm

Hatchuel A, Weil B (2009) C–K design theory: an advanced formulation. Res Eng Design 19(4):181–192

Hatchuel A, Le Masson P, Weil B (2004) CK theory in practice: lessons from industrial applications. In: DS 32: proceedings of DESIGN 2004, the 8th international design conference, Dubrovnik, Croatia

He Y, Luo J (2017) Novelty, conventionality, and value of innovation. In: Proceeding of the conference on design computing and cognition'17, Evanston, IL, Untied States

Hinze S, Reiss T, Schmoch U (1997) Statistical analysis on the distance between fields of technology. In: Innovation Systems and European Integration (ISE), Targeted Socio-Economic Research Program, 4th Framework Program of the European Commission (DGXII). Frauenhofer-Institute Systems and Innovation Research (ISI), Karlsruhe, Germany

Indukuri KV, Ambekar AA, Sureka A (2007) Similarity analysis of patent claims using natural language processing techniques. In: Conference on computational intelligence and multimedia applications. International conference on. Vol. 4, pp 169–175

Jaccard P (1901) Distribution de la flore alpine dans le bassin des Dranses et dans quelques régions voisines. Bulletin de la Société Vaudoise des Sciences Naturelles 37:241–272

Jaffe AB (1986) Technological opportunity and spillovers of R&D. Am Econ Rev 76:984–1001

Kasravi K, Risov M (2007) Patent mining-discovery of business value from patent repositories. In: System sciences. HICSS 2007, the 40th annual Hawaii international conference on, pp 54–54

Kauffman SA (1993) The origins of order: Self-organization and selection in evolution. Oxford university Press, Oxford

Kay L, Newman N, Youtie J, Porter AL, Rafols I (2014) Patent overlay mapping: visualizing technological distance. J Am Soc Inf Sci Technol 65(12):2432–2443

Koch S, Bosch H, Giereth M, Ertl T (2009) Iterative integration of visual insights during patent search and analysis. In: IEEE symposium on visual analytics, pp 203–210

Kogler D, Rigby DL, Tucker I (2013) Mapping knowledge space and technological relatedness in US cities. Eur Plan Stud 21:1374–1391

Layton ET Jr (1974) Technology as knowledge. Technol Cult 31–41

Leten B, Belderbos R, Van Looy B (2007) Technological diversification, coherence, and performance of firms. J Prod Innovat Manag 24(6):567–579

Leydesdorff L, Kushnir D, Rafols I (2014) Interactive overlay maps for US patent (USPTO) data based on International Patent Classification (IPC). Scientometrics 98(3):1583–1599

Linsey JS (2007) Design-by-analogy and representation in innovative engineering concept generation. ProQuest

Linsey JS, Markman AB, Wood KL (2012) Design by analogy: a study of the WordTree Method for problem re-representation. J Mech Des 134(4):041009

Luo J (2015) The united innovation process: integrating science, design and entrepreneurship as sub-process. Design Sci (1):e2

Luo J, Yan B, Wood K (2017) InnoGPS for data-driven exploration of design opportunities and directions: the case of Google driverless car project. J Mech Design 139(11):111416

McNamee RC (2013) Can't see the forest for the leaves: similarity and distance measures for hierarchical taxonomies with a patent classification example. Res Policy 42(4):855–873

Mukherjea S, Bhuvan B, Kankar P (2005) Information retrieval and knowledge discovery utilizing a biomedical patent semantic web. IEEE Trans Knowl Data Eng 17(8):1099–1110

Nakamura H, Suzuki S, Sakata I, Kajikawa Y (2015) Knowledge combination modeling: the measurement of knowledge similarity between different technological domains. Technol Forecast Soc 94:187–201

Pistorius CW, Utterback JM (1997) Multi-mode interaction among technologies. Res Policy 26(1):67–84

Reich Y, Shai O (2012) The interdisciplinary engineering knowledge genome. Res Eng Des 23(3):251–264

Rigby DL (2015) Technological relatedness and knowledge space: entry and exit of US cities from patent classes. Reg Stud 49(11):1922–1937

Shai O, Reich Y (2004) Infused design. I. Theory. Res Eng Des 15(2):93–107

Small H (1973) Co-citation in the scientific literature: a new measure of the relationship between two documents. J Assoc Inf Sci Tech 24(4):265–269

Smojver V, Štorga M, Potočki E (2016) An extended methodology for the assessment of technical invention evolution. In: Proceedings of the 14th international design conference, Dubrovnik, Croatia

Song B, Luo J (2017) Mining patent precedents for data-driven design: the case of spherical rolling robots. J Mech Design Forthcoming

Srinivasan V, Song B, Luo J, Subburaj K, Elara MR, Blessing L, Wood K (2017) Understanding effects of analogical distance on performance of ideation: Key observations and Findings. In: International design engineering technical conferences (IDETC17), Cleveland, USA. (accepted)

Szykman S, Sriram RD, Bochenek C, Racz JW, Senfaute J (2000) Design repositories: engineering design's new knowledge base. IEEE Intell Syst 15:48–55

Tang V, Luo J (2013) Idea matrix and creativity operators. In: Proceedings DS 75–7: proceedings of the 19th international conference on engineering design (ICED13), design for harmonies, Vol. 7: human behaviour in design, Seoul, Korea, 19-22.08. 2013

Taura T, Nagai Y (2012) Concept generation for design creativity: a systematized theory and methodology. Springer, New York

Teece DJ, Rumelt R, Dosi G, Winter SG (1994) Understanding corporate coherence: theory and evidence. J Econ Behav Organ 23(1):1–30

Thiel K, Berthold MR (2010, December) Node similarities from spreading activation. In: Data mining (ICDM). 2010 IEEE 10th international conference, pp 1085–1090

Uzzi B, Mukherjee S, Stringer M, Jones B (2013) Atypical combinations and scientific impact. Science 342(6157):468–472

Weisberg RW (2006) Creativity: understanding innovation in problem solving, science, invention, and the arts. Wiley, Hoboken

Wuyts S, Colombo MG, Dutta S, Nooteboom B (2005) Empirical tests of optimal cognitive distance. J Econ Behav Organ 58(2):277–302

Yan B, Luo J (2017a) Measuring technological distance for patent mapping. J Assoc Inf Sci Technol 68(2):423–437

Yan B, Luo J (2017b) Filtering patent maps for visualization of diversification paths. J Assoc Inf Sci Technol 68(6):1551–1563

Yayavaram S, Ahuja G (2008) Decomposability in knowledge structures and its impact on the usefulness of inventions and knowledge-base malleability. Admin Sci Quart 53(2):333–362

Younge K, Kuhn JM (2015) Patent-to-Patent similarity: a vector space model. available at SSRN

Zdrahal Z, Mulholland P, Valasek M et al (2007) Worlds and transformations: supporting the sharing and reuse of engineering design knowledge. Int J Hum-Comput Stud 65(12):959–982
Acknowledgements
We are grateful for the support from the Singapore Ministry of Education Tier 2 academic research Grant (#MOE2013-T2-2-167) "Theoretical Foundations of Technology Network Modeling for Innovation" and the SUTD-MIT International Design Centre. An early version of this paper was presented at the International Design Conference 2016. The feedback we received during the conference session greatly helped us refine the research and the paper.
Additional information
Publisher's Note
Springer Nature remains neutral with regard to jurisdictional claims in published maps and institutional affiliations.
About this article
Cite this article
Song, B., Yan, B., Triulzi, G. et al. Overlay technology space map for analyzing design knowledge base of a technology domain: the case of hybrid electric vehicles. Res Eng Design 30, 405–423 (2019). https://doi.org/10.1007/s00163-019-00312-w
Received:

Revised:

Accepted:

Published:

Issue Date:
Keywords
Design theory

Data-driven design

Knowledge management

Technology evolution

Network analysis and visualization

Hybrid electric vehicles