Abstract
The Kano model of customer satisfaction provides product developers valuable information about if, and then how much a given functional requirement (FR) will impact customer satisfaction if implemented within a product, system or a service. A limitation of the Kano model is that it does not allow developers to visualize which combined sets of FRs would provide the highest satisfaction between different customer segments. In this paper, a stepwise method to address this shortcoming is presented. First, a traditional Kano analysis is conducted for the different segments of interest. Second, for each FR, relationship functions are integrated between x = 0 and x = 1. Third, integrals are inserted into a matrix crossing segments and FRs, where FRs with the highest sum across the chosen segments are identified. Finally, the functions of the chosen segments with the smallest interval, define the FRs appealing to the biggest target group. The proposed extension should assist product developers within to more effectively evaluate which FRs should be implemented when considering more than one combined customer segment. It shows which segments provide the highest possibility for high satisfaction of combined FRs. We demonstrate the approach in a case study involving customers' preference for outdoor sports equipment.
This is a preview of subscription content, log in to check access.
Access options
Buy single article
Instant access to the full article PDF.
US$ 39.95
Price includes VAT for USA
Subscribe to journal
Immediate online access to all issues from 2019. Subscription will auto renew annually.
US$ 99
This is the net price. Taxes to be calculated in checkout.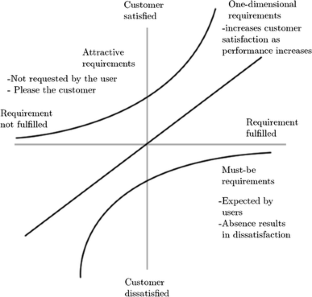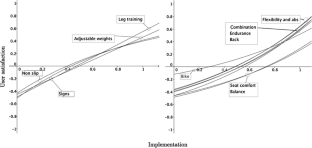 References
Atlason RS, Oddsson GV, Unnthorsson R (2014) Geothermal power plant maintenance: evaluating maintenance system needs using quantitative Kano analysis. Energies 7:4169–4184

Chaudha A, Jain R, Singh AR, Mishra PK (2011) Integration of Kano's Model into quality function deployment (QFD). Int J Adv Manuf Technol 53:689–698

Chen YH, Su CT (2006) A Kano-CKM model for customer knowledge discovery. Total Qual Manag Bus Excell 17(5):589–608

Cristiano JJ, Liker JK, White CC (2000) Customer-driven product development through quality function deployment in the US and Japan. J Prod Innov Manag 17(4):286–308

Füller J, Matzler K (2008) Customer delight and market segmentation: an application of the three-factor theory of customer satisfaction on life style groups. Tour Manag 29(1):116–126

Ji P, Jin J, Wang T, Chen Y (2014) Quantification and integration of Kano's model into QFD for optimising product design. Int J Prod Res 52:6335–6348

Kano N, Seraku N, Takahashi F, Tsuji S (1984) Attractive quality and must-be quality. J Jpn Soc Qual Control 14:39–48

Kwong CK, Chen Y, Chan KY (2011) A methodology of integrating marketing with engineering for defining design specifications of new products. J Eng Des 22:201–213

Lee S, Lee JH, Garrett TC (2013) A study of the attitude toward convergent products: a focus on the consumer perception of functionalities. J Prod Innov Manag 30(1):123–135

Min S, Kim H, Kwon Y, Sohn S (2011) Conjoint analysis for improving the e-book reader in the Korean market. Expert Syst Appl 38:12923–12929

R Development Core Team (2015) R: a language and environment for statistical computing. R Foundation for Statistical Computing, Vienna. http://www.R-project.org/. Accessed 14 Feb 2016

Reich Y, Ziv Av A (2005). Robust product concept generation. In: ICED 05: 15th international conference on engineering design: engineering design and the global economy. Engineers Australia, pp 2726

Sauerwein E, Bailom F, Matzler K, Hinterhuber HH (1996). The Kano model: how to delight your customers. In: International working seminar on production economics. Innsbruck, vol 1, No 4, pp 313–327

Schmidt DM, Guerrero JU, Michailidou I, Lindermann U (2014). Differentiated customer needs' analysis for user experience. In: IEEE international conference on industrial engineering and engineering management, pp 1305–1309

Trevisan B, Steinmeier B, Jakobs EM (2012) Evaluation of user-centred methods in product design: a holistic approach. Int J Des Eng 5(2):107–121

Van De Poel I (2007) Methodological problems in QFD and directions for future development. Res Eng Des 18(1):21–36

Wang T, Ji P (2010) Understanding customer needs through quantitative analysis of Kano's model. Int J Quality Reliab Manag 27:173–184

Wang CH, Wu CW (2014) Combining conjoint analysis with Kano model to optimize product varieties of smart phones: a VIKOR perspective. J Ind Prod Eng 31:177–186

Xu Q, Jiao RJ, Yang X, Helander M, Khalid HM, Opperud A (2009) An analytical Kano model for customer need analysis. Des Stud 30:87–110

Zikmund W, Babin B, Carr J, Griffin M (2012) Business research methods. Cengage Learning, Australia

Ziv-Av A, Reich Y (2005) SOS–Subjective objective system for generating optimal product concepts. Des Stud 26(5):509–533
About this article
Cite this article
Atlason, R.S., Stefansson, A.S., Wietz, M. et al. A rapid Kano-based approach to identify optimal user segments. Res Eng Design 29, 459–467 (2018). https://doi.org/10.1007/s00163-018-0282-y
Received:

Revised:

Accepted:

Published:

Issue Date:
Keywords
Kano model

Customer satisfaction

Innovation

Segmentation