Abstract
Research in emotional design and Kansei Engineering has shown that aesthetics play a significant role in the appeal of a product. This paper contributes to establishing a methodology to identify the relationships between perceptions, aesthetic features, desire to own and background of consumers. Surveys were conducted with 71 participants to gather their perceptions of 11 vase concepts. Advanced statistical analyses, including mixed models, were applied to allow generalisation of the results beyond the data sample. Significant relations between the desire to own a product and how the product is perceived were found (the desire to own was found to be related to beautiful, expensive, elegant, exciting, feminine, common and dynamic vases), as well as between the perceptions and the parameters describing the form of the vases (a vase was perceived as beautiful if it had many curved lines and was simple and tall). An automated mixed model analysis was conducted and revealed that general rules can be found between aesthetic features, perceptions and ownership, which can apply across gender and culture. The findings include design rules that link aesthetic features with perceptions. These contribute to research as guidelines for design synthesis and can either be implemented via shape grammars or parametric modelling approaches. These rules are also interesting for 3D printing applications, especially important when the consumer is the designer. Some of these design rules are linked to the desire to own a product, they have implications for industry, and they offer guidelines to creating attractive products that people want to own.
Access options
Buy single article
Instant access to the full article PDF.
USD 39.95
Price excludes VAT (USA)
Tax calculation will be finalised during checkout.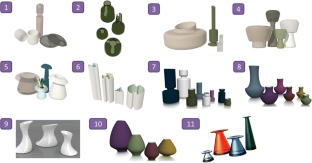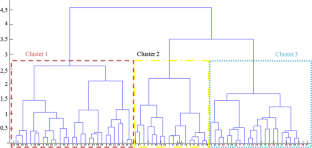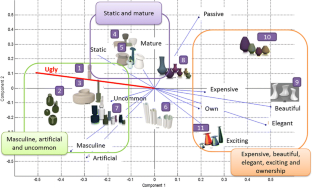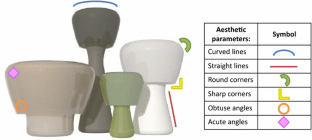 References
Achiche S, Ahmed S (2008) Mapping shape geometry and emotions using fuzzy logic. In: ASME international design engineering technical conferences and computers and information in engineering conference

Achiche S, Ahmed-Kristensen S (2011) Genetic fuzzy modeling of user perception of three-dimensional shapes. Artif Intell Eng Des Anal Manuf 25:93–107. doi:10.1017/S0890060410000466

Ahmed S, Boelskifte P (2006) Investigation of designers intentions and a users perception of product character. In: Proceedings of the NORD conference

Bates D, Maechler M, Bolker B, Walker S (2014) lme4: linear mixed-effects models using Eigen and S4_. R package version 1.1-7

Berkowitz EN, Kerin RA, Hartley SW, Rudelius W (1994) Marketing. In: Irwin RD (Ed), 4th edn. Burr Ridge

Blijlevens J, Creusen MEH, Schoormans JPL (2009) How consumers perceive product appearance: the identification of three product appearance attributes. Int J Des 3:27–35

Bloch PH (1995) Seeking the ideal form: product design and consumer response. J Mark 59:16–29

Brunel FF, Kumar R (2007) Design and the big five: linking visual product aesthetics to product personality. Adv Consum Res N Am Conf Proc 34:238–239

Cherry K (2012) Theories of emotion. Major theories of emotion. http://psychology.about.com/od/psychologytopics/a/theories-of-emotion.htm

Colwill J, Childs THC, de Pennington A, Rait J, Robins TM, Jones K, Workman C et al (2003) Affective design (Kansei Engineering) in Japan: a report from a DTI International Technology Service Mission. Faraday Packaging Partnership, Leeds

Choungourian A (1968) Color preferences and cultural variation. Percept Mot Skills 26:1203–1206

Choungourian A (1969) Color preferences: a cross-cultural and cross-sectional study. Percept Mot Skills 28:801–802

Cochran WG (1977) Sampling techniques. In: Wiley (ed), 3rd edn. New York

Desmet PMA (2010) Three levels of product emotion. In: Proceedings of the international conference on Kansei engineering and emotion research, pp 238–248

Dwayne Ball A, Tasaki LH (1992) The role and measurement of attachment in consumer behavior. J Consum Psychol 1:155–172. doi:10.1016/S1057-7408(08)80055-1

Goldman A (1995) Aesthetic value. Westview Press, Boulder

Govers PCM, Schoormans JPL (2005) Product personality and its influence on consumer preference. J Consum Mark 22:189–197. doi:10.1108/07363760510605308

Grieve KW (1991) Traditional beliefs and colour perception. Percept Mot Skills 72:1319–1323. doi:10.1017/CBO9781107415324.004

Hatcher L (1994) A step-by-step approach to using the SAS system for factor analysis and structural equation modeling. 1st edn. SAS Publishing

Hekkert P (2006) Design aesthetics: principles of pleasure in design. Psychol Sci 48:157–172

Hekkert P (2014) Aesthetic responses to design: a battle of impulses. In: Smith T, Tinio P (eds) Cambridge handbook of the psychology of aesthetics and the arts. Cambridge University Press, Cambridge, pp 277–299

Hsiao K-A, Chen L-L (2006) Fundamental dimensions of affective responses to product shapes. Int J Ind Ergon 36:553–564. doi:10.1016/j.ergon.2005.11.009

Hsu S, Chuang M, Chang C (2000) A semantic differential study of designers' and users' product form perception. Int J Ind Ergon 25:375–391

Johnson G (2009) Theories of emotions. In: Internet encyclopedia of philosophy. http://www.iep.utm.edu/emotion/#H2. Accessed 14 Feb 2012

Jolliffe IT (2002) Principal component analysis. Springer, New York

Jordan P (2000) The four pleasures designing pleasurable products. CRC Press, Boca Raton, pp 11–57

Kotler P, Rath GA (1984) Design: a powerful but neglected strategic tool. J Bus Strateg 5(2):16–21

Kuznetsova A, Brockhoff PB, Christensen RHB (2015a) LmerTest: tests in linear mixed effect models. R package version 2.0-25. http://cran.r-project.org/package=lmerTest

Kuznetsova A, Christensen RHB, Bavay C, Brockhoff PB (2015b) Automated mixed ANOVA modeling of sensory and consumer data. Food Qual Prefer 40:31–38

Lai H-HH, Chang Y-MM, Chang H-CC (2005) A robust design approach for enhancing the feeling quality of a product: a car profile case study. Int J Ind Ergon 35:445–460. doi:10.1016/j.ergon.2004.10.008

Lawson B (1983) How designers think: the design process demystified. Architectural Press, Oxford

Mathworks (2012) MATLAB: documentation. http://www.mathworks.co.jp/help/techdoc. Accessed 27 April 2012

McManus IC, Jones AL, Cottrell J, McManus IC, Amanda LJ, Jill C (1981) The aesthetics of colour. Perception 10:651–666. doi:10.1068/p100651

Myers D (2004) Theories of emotion, 7th edn. Worth Publishers, New York

Norman DA (2004) Emotional design: why we love (or hate) everyday things. Basic Books, New York

Ortony A, Turner TJ (1990) What's basic about basic emotions? Psycol Rev 97:315–331

Osborn S, Cagan J, Boatwright P (2009) Quantifying aesthetic form preference in a utility function. J Mech Eng 131:61001–61010. doi:10.1115/1.3116260

Osgood CE, Suci GJ, Tannenbaum PH (1957) The measurement of meaning. University of Illinois Press, Urbana

Ou LC, Luo MR, Woodcock A, Wright A (2004) A study of colour emotion and colour preference. Part I: colour emotions for single colours. Color Res Appl 29:232–240. doi:10.1002/col.20010

Perez Mata M, Ahmed-Kristensen S (2015) Principles for designing for perceptions. In: Proceedings of the 20th international conference on engineering design (ICED 15), vol 9. User-Centred Design Socio-Technical Systems, Milan, 27–30 July 2015, pp 239–248

Perez Mata M, Ahmed-Kristensen S, Yanagisawa H (2013) Perception of aesthetics in consumer Products. In Proceedings of the 19th international conference on engineering design (ICED13). Design for Harmonies, Design Society, vol 7, pp 527–536

Pham B (1999) Design for aesthetics: interactions of design variables and aesthetic properties. In: SPIE IS&T/SPIE 11th annual symposium on electronic imaging' 99, pp 364–371

Roussos L, Dentsoras A (2013) Formulation and use of criteria for the evaluation of aesthetic attributes of products in engineering design. In: International conference on engineering design ICED13, pp 1–10

Schifferstein HNJ, Zwartkruis-Pelgrim E (2008) Consumer-product attachment: measurement and design implications. Int J Des 2:1–13

Schütte S, Eklund J (2005) Design of rocker switches for work-vehicles: an application of Kansei Engineering. Appl Ergon 36:557–567. doi:10.1016/j.apergo.2005.02.002

StatSoft I (2013) Electronic statistics textbook. StatSoft, Tulsa

Ulrich KT (2006) Aesthetics in design. In: Design: Creation of artifacts in society, Pontifica Press

Van Bremen EJJ, Knoop WG, Horvath I et al (1998) Developing a methodology for design for aesthetics based on analogy of communication. In: Proceedings of the 1998 ASME design engineering technical conferences

Weinberg P, Gottwald W (1982) Impulsive consumer buying as a result of emotions. J Bus Res 10:43–57

Wertheimer M (1938) Laws of organization in perceptual forms: a source book gestalt psychology. Harcourt, Brace and Co., New York, pp 71–88

Yanagisawa H, Fukuda S (2005) Interactive reduct evolutional computation for aesthetic design. J Comput Inf Sci Eng 5:1. doi:10.1115/1.1846055
Acknowledgements
The authors acknowledge Stelton and the industrial designers for provision of the vase concepts and thank the participants who kindly undertook the study and the reviewers for their valuable feedback. The authors also thank Sofiane Achiche for his contribution in the design of the survey.
About this article
Cite this article
Perez Mata, M., Ahmed-Kristensen, S., Brockhoff, P.B. et al. Investigating the influence of product perception and geometric features. Res Eng Design 28, 357–379 (2017). https://doi.org/10.1007/s00163-016-0244-1
Received:

Revised:

Accepted:

Published:

Issue Date:

DOI: https://doi.org/10.1007/s00163-016-0244-1
Keywords
Emotional design

Kansei Engineering

Aesthetics

Perception

Product form and geometry