Abstract
The present paper proposes a fast and easy to implement level set topology optimization method that is able to adjust the complexity of resulting configurations. While the existing methods solve a large system of linear equations, the proposed method applies a density filter to the level set function in order to smoothen the optimized configurations. Considering the proposed method, the minimum total potential energy problem and optimum design problem of compliant mechanism will be studied in the present study. In topology optimization methods, the topological derivative determines the criteria of removing/adding material from/to the domain of definition of the problem. We utilize the definition of topological derivative to measure the sensitivity of a given objective function when an infinite small hole is inserted at an arbitrary location of the domain. It is shown that a first-order stress field appears in the topological derivative. Moreover, a comprehensive Airy stress function is proposed in order to solve the boundary value problem that governs the appeared first-order stress field. Finally, a simple MATLAB implementation is provided to confirm the effectiveness and utility of the proposed method.
Access options
Buy single article
Instant access to the full article PDF.
USD 39.95
Price includes VAT (USA)
Tax calculation will be finalised during checkout.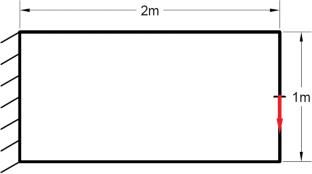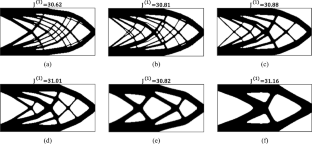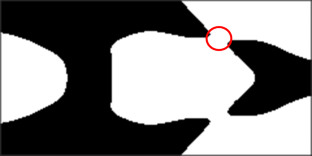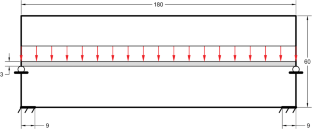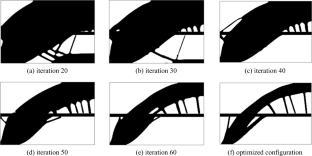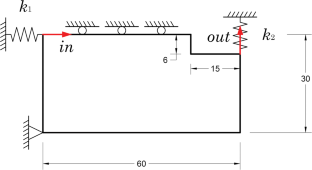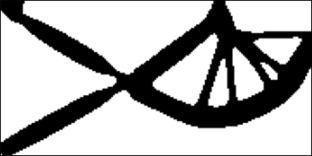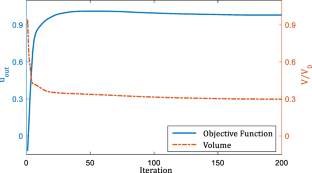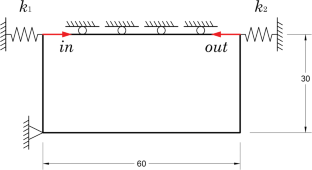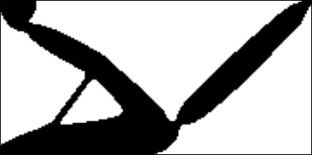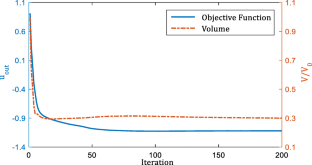 References
Allaire G (2012) A 2-d Scilab Code for shape and topology optimization by the level set method. http://www.cmap.polytechnique.fr/~allaire/levelset_en.html

Allaire G, Jouve F, Toader AM (2002) A level-set method for shape optimization. C R Acad Sci Paris Ser I Math 334:1–6

Allaire G, Jouve F, Toader AM (2004) Structural optimization using sensitivity analysis and a level-set method. J Comput Phys 194:363–393

Allaire G, de Gournay F, Jouve F, Toader AM (2005) Structural optimization using topological and shape sensitivity via a level set method. Control Cybern 34:59–80

Amstutz S, Andrä H (2006) A new algorithm for topology optimization using a level-set method. J Comput Phys 216(2):573–588

Andreassen E, Clausen A, Schevenels M, Lazarov BS, Sigmund O (2011) Efficient topology optimization in MATLAB using 88 lines of code. Struct Multidiscip Optim 43:1–16

Bendsøe MP (1989) Optimal shape design as a material distribution problem. Struct Optim 1:193–202

Bendsøe MP, Kikuchi N (1988) Generating optimal topologies in structural design using a homogenization method. Comput Methods Appl Mech Eng 71:197–224

Cea J, Garreau S, Guillaume P, Masmoudi M (2000) The shape and topological optimizations connection. Comput Methods Appl Mech Eng 188:713–726

Challis VJ (2010) A discrete level-set topology optimization code written in MATLAB. Struct Multidiscip Optim 41(3):453–464

Chen Q, Zhang X, Zhu B (2019) A 213-line topology optimization code for geometrically nonlinear structures. Struct Multidiscip Optim 59(5):1863–1879

Eschenauer HA, Kobelev HA, Schumacher A (1994) Bubble method for topology and shape optimization of structures. Struct Optim 8:142–151

Feijoo RA, Novotny AA, Padra C, Taroco E (2004) The topological-shape sensitivity method and its application in 2D elasticity. To appear in journal of computational methods in sciences and engineering

Guzina BB, Bonnet M (2004) Topological derivative for the inverse scattering of elastic waves. Q J Mech Appl Math 57(2):161–179

He L, Kao CY, Osher S (2007) Incorporating topological derivatives into shape derivatives based level set methods. J Comput Phys 225:891–909

Jia H, Beom HG, Wang Y, Lin S, Liu B (2011) Evolutionary level set method for structural topology optimization. Comput Struct 89:445–454

Novotny AA, Sokołowski J (2012) Topological derivatives in shape optimization. Interaction of mechanics and mathematics. Springer, Heidelberg

Novotny AA, Feijoo RA, Taroco E, Padra C (2007) Topological sensitivity analysis for three-dimensional linear elasticity problem. Comput Methods Appl Mech Eng 196:4354–4364

Osher S, Fedkiw R (2003) Level set methods and dynamic implicit surfaces. Springer-Verlag, New York

Osher S, Santosa F (2001) Level-set methods for optimization problems involving geometry and constraints: frequencies of a two density inhomogeneous drum. J Comput Phys 171:272–288

Osher S, Sethian JA (1988) Front propagating with curvature dependent speed: algorithms based on Hamilton–Jacobi formulations. J Comput Phys 78:12–49

Otomori M, Yamada T, Izui K, Nishiwaki S (2015) Matlab code for a level set-based topology optimization method using a reaction diffusion equation. Struct Multidiscip Optim 51:1159

Rao SS (2009) Engineering optimization theory and practice. John Wiley & Sons, Inc., Hoboken

Selvadurai APS (2000) Partial differential equations in mechanics 2, the biharmonic equation, Poisson's equation. Springer-Verlag, Berlin

Sethian JA (1999) Level set methods and fast marching methods: evolving interfaces in computational geometry, fluid mechanics, computer vision, and materials science. Cambridge monographs on applied and computational mathematics, 2nd edn. Cambridge University Press, Cambridge

Sethian JA, Wiegmann A (2000) Structural boundary design via level set and immersed interface methods. J Comput Phys 163:489–528

Sigmund O (1997) On the design of compliant mechanisms using topology optimization. Mech Based Des Struct Mach 25:493–524

Sigmund O (2007) Morphology-based black and white filters for topology optimization. Struct Multidiscip Optim 33(4–5):401–424

Sokolowski J, Zochowski A (1999) On the topological derivative in shape optimization. SIAM J Control Optim 37:1251–1272

Wang SY, Wang MY (2006) Radial basis functions and level set method for structural topology optimization. Int J Numer Methods Eng 65:2060–2090

Wang MY, Zhou SW (2004) Phase field: a variational method for structural topology optimization. Comput Model Eng Sci 6(6):547–566

Wang MY, Wang XM, Guo DM (2003) A level set method for structural topology optimization. Comput Methods Appl Mech Eng 192:227–246

Wang SY, Lim KM, Khoo BC, Wang MY (2007) An extended level set method for shape and topology optimization. J Comput Phys 221(1):395–421

Wei P, Li Z, Li X, Wang MY (2018) An 88-line MATLAB code for the parameterized level set method based topology optimization using radial basis functions. Struct Multidiscip Optim 58:831–849

Xia Q, Shi T, Xia L (2018) Stable hole nucleation in level set based topology optimization by using the material removal scheme of BESO. Comput Methods Appl Mech 34:438–452

Xie YM, Steven GP (1993) A simple evolutionary procedure for structural optimization. Comput Struct 49:885–896

Yaghmaei M, Ghoddosian A (2019) A level set topology optimization method using a biharmonic equation based on plate theory. Struct Multidiscip Optim 60:2431–2459

Yamada T, Izui K, Nishiwaki S, Takezawa A (2010) A topology optimization method based on the level set method incorporating a fictitious interface energy. Comput Methods Appl Mech Eng 199:2876–2891

Yang XY, Xie YM, Steven GP, Querin OM (1999) Bidirectional evolutionary method for stiffness optimization. AIAA J 37(11):1483–1488
Ethics declarations
Conflict of interest
The authors declare that there is no conflict of interest.
Additional information
Publisher's note
Springer Nature remains neutral with regard to jurisdictional claims in published maps and institutional affiliations.
Responsible Editor: Emilio Carlos Nelli Silva
Appendix
Appendix
To derive an explicit expression for the second term in the right hand side of (22), we need to find the boundary value problem that governs δui over the ωϵ. Noting that (14) and (16) should be held for each

, we can subtract (14) from (16) to obtain the following variation problem:

(50)
Integrating by part (that leads to Green's formula), the right-hand side in the above equation can be replaced as follows:

(51)
where nk denotes the outward normal unit vector of the ball \( {\overline{B}}_{\epsilon } \) which is equal to minus of the outward normal unit vector of the inserted hole \( {\overline{n}}_k \). According to the (13), the second term on the right-hand side in (51) should be zero. Therefore, (50) takes the form of:

(52)
where \( {\overline{n}}_k\left(=-{n}_k\right) \) is the outward normal unit vector of the inserted hole. Equation (52) implies that δui should be governed by following strong form of boundary value problem:
$$ {\displaystyle \begin{array}{c}\mathit{\operatorname{div}}\ {C}_{ijkl}\ \delta {u}_{i,j}=0\kern0.75em on\kern0.75em {\omega}_{\epsilon}\\ {}{\delta t}_l=-{\sigma}_{kl}{\overline{n}}_k\kern0.5em on\ \partial {B}_{\epsilon}\end{array}} $$
(53)
Since the removed ball \( {\overline{B}}_{\epsilon } \) is infinite small comparing to the domain ωϵ, the above problem can be described as a plate infinite extent with a circular hole of radius ϵ, which is subjected to the traction \( -{\sigma}_{kl}{\overline{n}}_k \) on the boundary of the cavity. Using the polar coordinate system and Mohr's circle (53) can be rewritten as:
$$ \left\{\begin{array}{c}{\delta \sigma}_{r r,r}+\frac{1}{r}{\delta \sigma}_{r\theta, \theta }+\frac{{\delta \sigma}_{r r}-{\delta \sigma}_{\theta \theta}}{r}=0\\ {}{\delta \sigma}_{r\theta, r}+\frac{1}{r}{\delta \sigma}_{\theta \theta, \theta }+\frac{2{\delta \sigma}_{r\theta}}{r}=0\end{array}\right.\kern1.5em on\kern0.5em \epsilon \le r<\infty and\ 0\le \theta <2\uppi $$
(54.a)
$$ \left\{\begin{array}{c}{\delta \sigma}_{r r}=-\left({\mathrm{S}}_1+{S}_2\cos 2\theta +{\sigma}_{12}\sin 2\theta \right)\\ {}{\delta \sigma}_{r\theta}=-\left({\sigma}_{12}\cos 2\theta -{S}_2\sin 2\theta \right)\end{array},\kern0.75em r=\epsilon \right. $$
(55.b)
$$ \left\{\begin{array}{c}\begin{array}{c}{\delta \sigma}_{r r}=0\\ {}{\delta \sigma}_{\theta \theta}=0\end{array}\\ {}{\delta \sigma}_{r\theta}=0\end{array}\right.,\kern0.5em r\to \infty $$
(55.c)
where
$$ {\mathrm{S}}_1=\frac{\sigma_{11}+{\sigma}_{22}}{2},\kern0.5em {\mathrm{S}}_1=\frac{\sigma_{11}-{\sigma}_{22}}{2} $$
(55)
The conventional approach for solving such a problem utilizes an appropriate guess for the Airy stress function φ, which satisfies the bi-harmonic equation ∇4φ = 0. The complete general solution of the Airy stress function φ(r, θ), corresponding to plane polar coordinates, is known (see, for instance, Selvadurai(2000)). The stress components in terms of the Airy stress function express as follows:
$$ {\displaystyle \begin{array}{c}{\delta \sigma}_{r r}=\frac{1}{r^2}{\varphi}_{,\theta \theta}+\frac{1}{r}{\varphi}_{,r}\\ {}{\delta \sigma}_{\theta \theta}={\varphi}_{, r r}\\ {}{\delta \sigma}_{r\theta}=\frac{1}{r^2}{\varphi}_{,\theta }-\frac{1}{r}{\varphi}_{, r\theta}\end{array}} $$
(56)
Noting the above relations, considering the expressions for the stresses on ∂Bϵ (see (55.b)) and boundedness of the stress field as r → ∞ (see (55.c)), we select φ(r, θ) to be of the form of:
$$ \varphi \left(r,\theta \right)=A\ln r+\left(\frac{B_1}{r^2}+{B}_2\right)\cos 2\theta +\left(\frac{C_1}{r^2}+{C}_2\right)\sin 2\theta $$
(57)
where A, B1, B2, C1, and C2 are constants. Substituting (57) into (56), we have:
$$ {\displaystyle \begin{array}{c}{\delta \sigma}_{r r}=\frac{A}{r^2}-\left(\frac{4{B}_2}{r^2}+\frac{6{B}_1}{r^4}\right)\cos 2\theta -\left(\frac{4{C}_2}{r^2}+\frac{6{C}_1}{r^4}\right)\sin 2\theta \\ {}{\delta \sigma}_{\theta \theta}=-\frac{A}{r^2}+\frac{6{B}_1}{r^4}\cos 2\theta +\frac{6{C}_1}{r^4}\sin 2\theta \\ {}{\delta \sigma}_{r\theta}=\left(\frac{2{C}_2}{r^2}+\frac{6{C}_1}{r^4}\right)\cos 2\theta -\left(\frac{2{B}_2}{r^2}+\frac{6{B}_1}{r^4}\right)\sin 2\theta \end{array}} $$
(58)
Using (55), all constants obtained as follows:
$$ A=-{\epsilon}^2{S}_1,\kern0.5em {B}_1=-\frac{1}{2}{S}_2{\epsilon}^4,\kern0.5em {B}_2={S}_2{\epsilon}^2,\kern0.5em {C}_1=-\frac{1}{2}{\sigma}_{12}{\epsilon}^4,\kern0.5em {C}_2={\sigma}_{12}{\epsilon}^2 $$
(59)
Therefore, the stress components are given as:
$$ {\displaystyle \begin{array}{c}{\delta \sigma}_{r r}=-{S}_1\frac{\epsilon^2}{r^2}-\left(4{S}_2\frac{\epsilon^2}{r^2}-3{S}_2\frac{\epsilon^4}{r^4}\right)\cos 2\theta -\left(4{\sigma}_{12}\frac{\epsilon^2}{r^2}-3{\sigma}_{12}\frac{\epsilon^4}{r^4}\right)\sin 2\theta \\ {}{\delta \sigma}_{\theta \theta}={S}_1\frac{\epsilon^2}{r^2}-3{S}_2\frac{\epsilon^4}{r^4}\cos 2\theta -3{\sigma}_{12}\frac{\epsilon^4}{r^4}\sin 2\theta \\ {}{\delta \sigma}_{r\theta}=\left(2{\sigma}_{12}\frac{\epsilon^2}{r^2}-3{\sigma}_{12}\frac{\epsilon^4}{r^4}\right)\cos 2\theta -\left(2{S}_2\frac{\epsilon^2}{r^2}-3{S}_2\frac{\epsilon^4}{r^4}\right)\sin 2\theta \end{array}} $$
(60)
Using the above stress field and taking into account that δε = c0(δσ), the second term in the right hand side of (22) is given as:

(61)
Considering the constitutive relation, (61) can be rewritten in terms of strain as follows:
$$ {\int}_{\omega_{\epsilon }}\left({\delta}^T\right){{\mathbf{c}}^0}^{-1}\left(\delta \right) d\varOmega =\left|{\overline{B}}_{\epsilon}\right|{\boldsymbol{\upvarepsilon}}^T{\mathbf{c}}^0{\mathbf{T}}^0{\mathbf{c}}^0\boldsymbol{\upvarepsilon} $$
(62)
About this article
Cite this article
Yaghmaei, M., Ghoddosian, A. & Khatibi, M.M. A filter-based level set topology optimization method using a 62-line MATLAB code. Struct Multidisc Optim 62, 1001–1018 (2020). https://doi.org/10.1007/s00158-020-02540-4
Received:

Revised:

Accepted:

Published:

Issue Date:
Keywords
Topology optimization

Level set method

Topological derivative

Airy stress function

Filtering regularization method

MATLAB code