Abstract
Efficient analytical sensitivity computations are essential elements of gradient-based optimization schemes; unfortunately, they can be difficult to implement. This implementation issue is often resolved by adopting the semi-analytical method which exhibits the efficiency of the analytical methods and the ease of implementation of the finite difference method. However, care must be taken as semi-analytical sensitivities may exhibit errors due to truncation and round-off. Additional errors are introduced if the convergence tolerance of the primal analysis is not sufficiently small. This paper gives a general overview and some new developments of the analytical and semi-analytical sensitivity analyses for nonlinear steady-state, transient, and dynamic problems. We discuss the restrictive assumptions, accuracy, and consistency of these methods. Both adjoint and direct differentiation methods are studied. Numerical examples are provided.
Access options
Buy single article
Instant access to the full article PDF.
USD 39.95
Price includes VAT (USA)
Tax calculation will be finalised during checkout.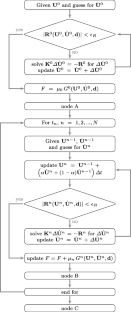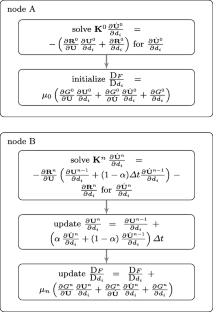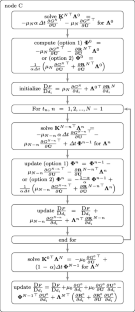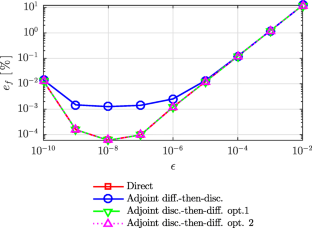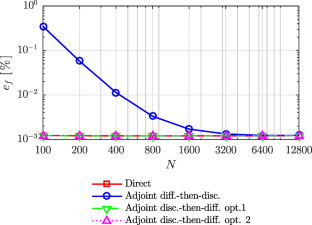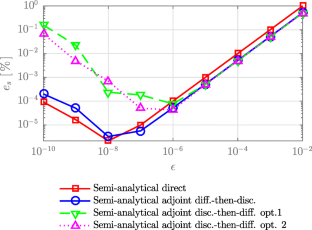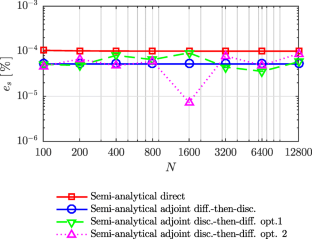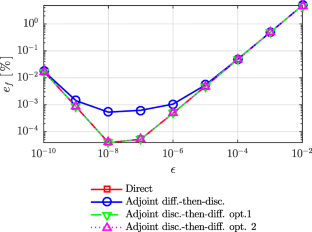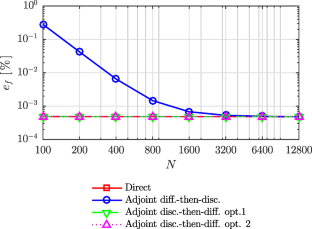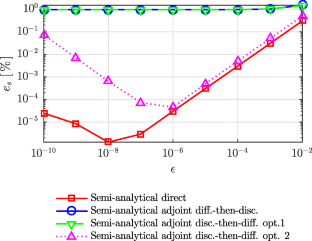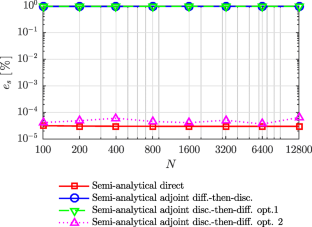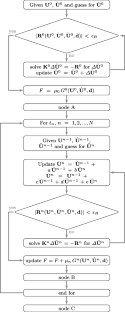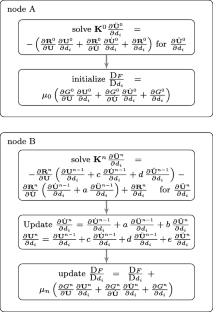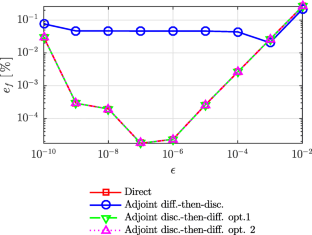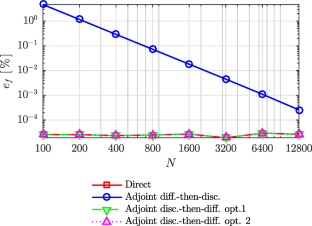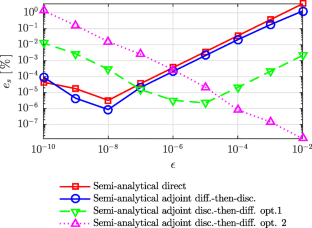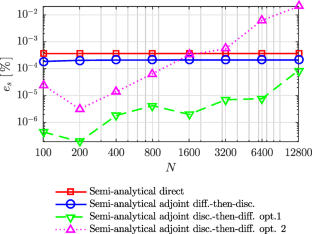 Notes
1.

For α = 0, 1/2, or 1, we recover the forward Euler, Crank-Nicolson, and backward Euler strategies respectively.
References
Adelman HM, Haftka RT (1986) Sensitivity analysis of discrete structural systems. AIAA J 24(5):823–832

Barthelemy B, Haftka R (1990) Accuracy analysis of the semi-analytical method for shape sensitivity calculation. Mech Struct Mach 18(3):407–432

Barthelemy B, Chon C, Haftka R (1988) Accuracy problems associted with semi-analytical derivatives of static response. Finite Elem Anal Des 4(3):249–265

Bernard J, Kwon S, Wilson J (1993) Differentiation of mass and stiffness matrices for high order sensitivity calculations in finite element-based equilibrium problems. J Mech Des 115(4):829–832

Bestle D, Seybold J (1992) Sensitivity analysis of constrained multibody systems. Arch Appl Mech 62 (3):181–190

de Boer H, van Keulen F (2000) Refined semi-analytical design sensitivities. Int J Solids Struct 37 (46-47):6961–6980

de Boer H, van Keulen F, Vervenne K (2002) Refined second order semi-analytical design sensitivities. Int J Numer Methods Eng 55(9):1033–1051

Botkin M (1982) Shape optimization of plate and shell structures. AIAA J 20(2):268–273

Brüls O, Eberhard P (2008) Sensitivity analysis for dynamic mechanical systems with finite rotations. Int J Numer Methods Eng 74(13):1897–1927

Camarda C, Adelman H (1984) Static and dynamic structural-sensitivity derivative calculations in the finite-element-based engineering analysis language (eal) system. NASA TM-85743

Chen B, Gu Y, Zhang H, Zhao G (2003) Structural design optimization on thermally induced vibration. Int J Numer Methods Eng 58(8):1187–1212

Cheng G, Liu Y (1987) A new computation scheme for sensitivity analysis. Eng Optim 12(3):219–234

Cheng G, Olhoff N (1993) Rigid body motion test against error in semi-analytical sensitivity analysis. Comput Struct 46(3):515–527

Cheng G, Gu Y, Zhou Y (1989) Accuracy of semi-analytic sensitivity analysis. Finite Elem Anal Des 6 (2):113–128

Deng Y, Liu Z, Zhang P, Liu Y, Wu Y (2011) Topology optimization of unsteady incompressible navier–stokes flows. J Comput Phys 230(17):6688–6708

Esping B (1984) Minimum weight design of membrane structures using eight node isoparametric elements and numerical derivatives. Comput Struct 19(4):591–604

Fenyes P, Lust R (1991) Error analysis of semianalytic displacement derivatives for shape and sizing variables. Amer Inst Aeronaut Astronaut 29(2):271–279

Gallagher R, Zienkiewicz O (1973) Optimum structural design: Theory and applications. Wiley, New York

Greene W, Haftka R (1991) Computational aspects of sensitivity calculations in linear transient structural analysis. Struct Optim 3(3):176–201

Gu Y, Grandhi R (1998) Sensitivity analysis and optimization of heat transfer and thermal-structural designs. In: 7th AIAA/USAF/NASA/ISSMO Symposium on Multidisciplinary Analysis and Optimization, pp 4746

Gu Y, Chen B, Zhang H, Grandhi R (2002) A sensitivity analysis method for linear and nonlinear transient heat conduction with precise time integration. Struct Multidiscip Optim 24(1):23–37

Gunzburger MD (2003) Perspectives in flow control and optimization. Advances in Design and Control, Society for Industrial and Applied Mathematics

Haftka R (1993) Semi-analytical static nonlinear structural sensitivity analysis. AIAA J 31(7):1307–1312

Haftka R, Adelman H (1989) Recent developments in structural sensitivity analysis. Struct Optim 1(3):137–151

Haftka RT, Gürdal Z (2012) Elements of structural optimization, vol 11. Springer Science & Business Media, Berlin

Haug EJ (1987) Design sensitivity analysis of dynamic systems. In: Computer aided optimal design: Structural and Mechanical Systems. Springer, Berlin, pp 705–755

Hooijkamp EC, van Keulen F (2018) Topology optimization for linear thermo-mechanical transient problems: Modal reduction and adjoint sensitivities. Int J Numer Methods Eng 113(8):1230–1257

Jensen J, Nakshatrala P, Tortorelli D (2014) On the consistency of adjoint sensitivity analysis for structural optimization of linear dynamic problems. Struct Multidiscip Optim 49(5):831–837

van Keulen F, Haftka R, Kim R (2005) Review of options for structural design sensitivity analysis. part 1: Linear systems. Comput Methods Appl Mech Eng 194(30-33):3213–3243. Structural and Design Optimization

Kiendl J, Schmidt R, Wüchner R, Bletzinger KU (2014) Isogeometric shape optimization of shells using semi-analytical sensitivity analysis and sensitivity weighting. Comput Methods Appl Mech Eng 274:148–167

Kramer JL, Stockman NO (1963) Effect of variable thermal properties on one-dimensional heat transfer in radiating fins. Technical report, NASA TN D-1878

Kreissl S, Pingen G, Maute K (2011) Topology optimization for unsteady flow. Int J Numer Methods Eng 87(13):1229–1253

Meric R (1988) Shape design sensitivity analysis of dynamic structures. AIAA J 26(2):206–212

Michaleris P, Tortorelli DA, Vidal CA (1994) Tangent operators and design sensitivity formulations for transient non-linear coupled problems with applications to elastoplasticity. Int J Numer Methods Eng 37(14):2471–2499

Mlejnek H (1992) Accuracy of semi-analytical sensitivities and its improvement by the natural method. Struct Optim 4(2):128–131

Mróz Z, Haftka R (1994) Design sensitivity analysis of non-linear structures in regular and critical states. Int J Solids Struct 31(15):2071–2098

Olhoff N, Rasmussen J (1991) Study of inaccuracy in semi-analytical sensitivity analysis a model problem. Struct Optim 3(4):203–213

Olhoff N, Rasmussen J, Lund E (1993) A method of exact numerical differentiation for error elimination in finite-element-based semi-analytical shape sensitivity analyses. Mech Struct Mach 21(1):1–66

Oral S (1996) An improved semianalytical method for sensitivity analysis. Struct Optim 11(1-2):67–69

Pedersen P, Cheng G, Rasmussen J (1989) On accuracy problems for semi-analytical sensitivity analyses. Mech Struct Mach 17(3):373–384

Ray D, Pister KS, Polak E (1978) Sensitivity analysis for hysteretic dynamic systems: theory and applications. Comput Methods Appl Mech Eng 14(2):179–208

Tortorelli D, Michaleris P (1994) Design sensitivity analysis: Overview and review. Inverse Probl Eng 1(1):71–105

Tortorelli DA, Haber RB, Lu SCY (1991) Adjoint sensitivity analysis for nonlinear dynamic thermoelastic systems. AIAA J 29(2):253–263

Tromme E, Tortorelli D, Brüls O, Duysinx P (2015) Structural optimization of multibody system components described using level set techniques. Struct Multidiscip Optim 52(5):959–971

Van Keulen F, De Boer H (1998) Rigorous improvement of semi-analytical design sensitivities by exact differentiation of rigid body motions. Int J Numer Methods Eng 42(1):71–91

Wang W, Clausen PM, Bletzinger KU (2015) Improved semi-analytical sensitivity analysis using a secant stiffness matrix for geometric nonlinear shape optimization. Comput Struct 146:143–151

Zhong WX, Williams FW (1994) A precise time step integration method. Proc Inst Mech Eng Part C: J Mech Eng Sci 208(6):427–430
Additional information
Publisher's Note
Springer Nature remains neutral with regard to jurisdictional claims in published maps and institutional affiliations.
This work was partially performed under the auspices of the US Department of Energy by Lawrence Livermore Laboratory under contract DE-AC52-07NA27344, cf. ref number LLNLCONF-717640.
Responsible Editor: Hai Huang
About this article
Cite this article
Fernandez, F., Tortorelli, D.A. Semi-analytical sensitivity analysis for nonlinear transient problems. Struct Multidisc Optim 58, 2387–2410 (2018). https://doi.org/10.1007/s00158-018-2096-y
Received:

Revised:

Accepted:

Published:

Issue Date:
Keywords
Non-linear

Semi-analytical

Sensitivity analysis

Dynamic

Adjoint

Direct